Between beloved and well-established local staples and a steady wave of new bars and restaurants popping up in and around Milwaukee almost every week, worthwhile dining and drinking gems can occasionally get lost in the shuffle. With Tucked Away, Milwaukee Record digs deep with the hope of unearthing some of these gems.
A factor that's oftentimes overlooked when acknowledging a restaurant's longevity is the fact that it didn't only manage to stand the test of time, it did so in the face of steady and, at times, heated competition. Since Ned's Pizza (3246 S. 27th St., 414-645-2400) opened in 1969, the restaurant has witnessed no fewer than four national pizza franchises rise to prominence. Along the way, this south side pizzeria has endured the concept of the 30-minute delivery guarantee, the invention and subsequent abandonment of stuffed crust pizza, the advent of ordering applications, and the immeasurable market-splintering brought on by more ubiquitous food trends than could possibly be tallied by the human brain. (RIP, tapas!)
Through it all, Ned's has survived under the impervious-yet-noble principles of friendly service, a welcoming environment, and really goddamn good pizza. Sure, its multi-shop metro Milwaukee spread has dwindled to just one location, but its flagship shop seems here to stay. Stationed on the high-traffic thoroughfare strewn with fast food and fast casual franchises, Ned's technically isn't tucked away. It is, however, overlooked. New restaurants demand column inches and first visits. Meanwhile, Zaffiro's is figuring out where to put its latest Best Of award and Pizza Man is continuing its suburban expansion. Through it all, this other long-tenured pizzeria cruises quietly under the radar, subsisting on loyal repeat customers and the almighty word of mouth.
The space: As referenced above, Ned's appears to be little more than a blip on a radar screen that's crowded with of chain restaurants, a classic custard joint, and big box retailers. The charming, outdated signage isn't exactly alluring, but it's indicative of what diners are to expect upon passing through the front doors. Inside, there's a pick-up counter—which still appears to be the business' bread and butter—that gives way to a modest dining room that's complete with about 12 booths and tables. Folksy motel room prints portraying anthropomorphic farm animals and avian life line the walls. Ned's soundtrack is supplied by a stereo playing rock hits of the '80s and '90s, along with the warm interactions supper club-clad servers have with regulars and newcomers alike.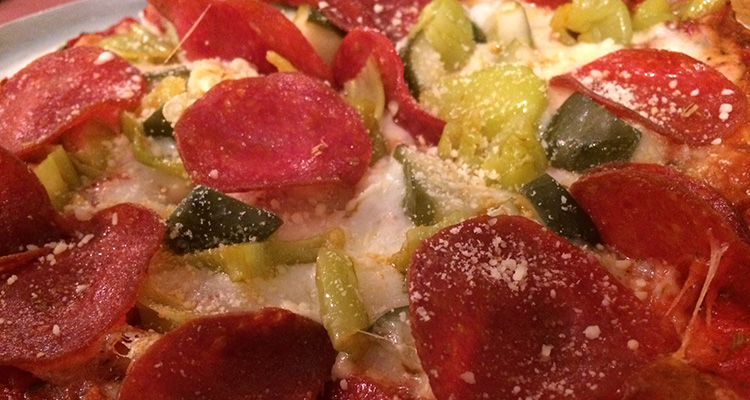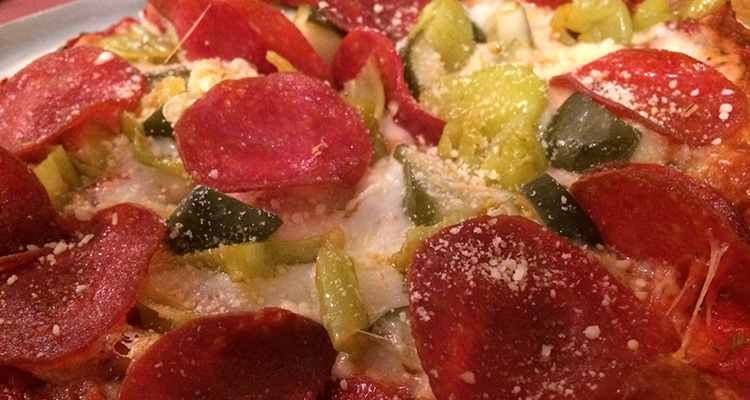 Milwaukee Record's food: As the name suggests, pizza is the main draw. Yes, they have beer (Miller Lite and High Life) and pitchers of soda. There are also about half a dozen sandwiches, as well as cheesy garlic bread, and other fried or winged appetizers. Still, pizza dominates the menu. Ned's proudly serves "Milwaukee's famous thin crust pizza." More over, Ned's helped craft and perfect that same cracker-thin style locals have come to claim as "Milwaukee style." Though you'd be hard-pressed to pass up a sausage and mushroom pizza, one of the mere two specialty pies Ned's offers absolutely steals the show. The "Triple P" ($13.85 to $22.25) comes loaded with pepperoni and pepperoncini pieces. The third P, you ask? Diced dill pickles. When combined with the fresh mozzarella and the semi-spiced sauce spread atop the crisp-baked wafer crust, the savory triad of P-words is nothing short of sublime. Stray all you want, but the "Triple P" is the kind of pizza to keep you coming back for 48 years and counting.
The verdict: Go.