One of our favorite things is Sculpture Milwaukee, the "outdoor museum" of world-class art that has spruced up Downton Milwaukee every summer since 2017. And hey, despite the ongoing pandemic and everything else falling apart, Sculpture Milwaukee is back! And so are our completely arbitrary rankings!
Some arbitrary rules for these arbitrary rankings: Five pieces from the 2020 collection have appeared in previous years (these shouldn't be confused with the four "Legacy Artworks" that are on permanent display.) These previous entries have been bumped down five spots from their original rankings. Why five? Don't know! Wouldn't it make more sense to consider them anew, taking into account how they stack up to the new new 2020 pieces? Probably! Enjoy anyway!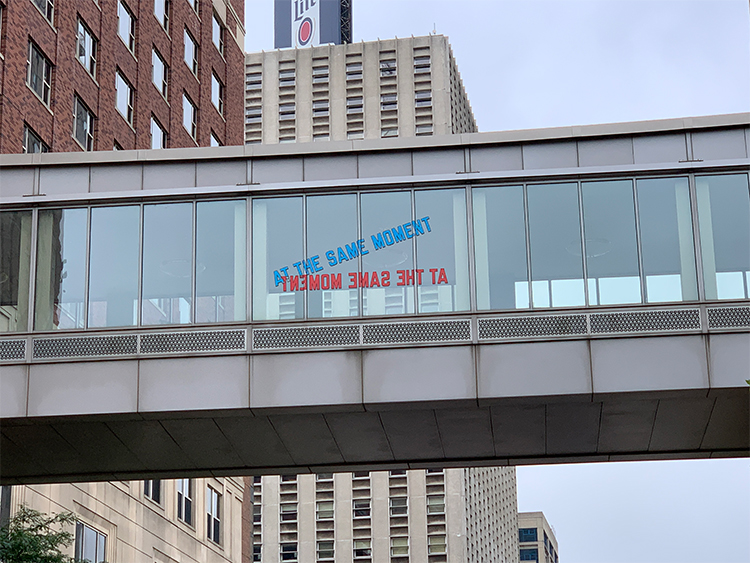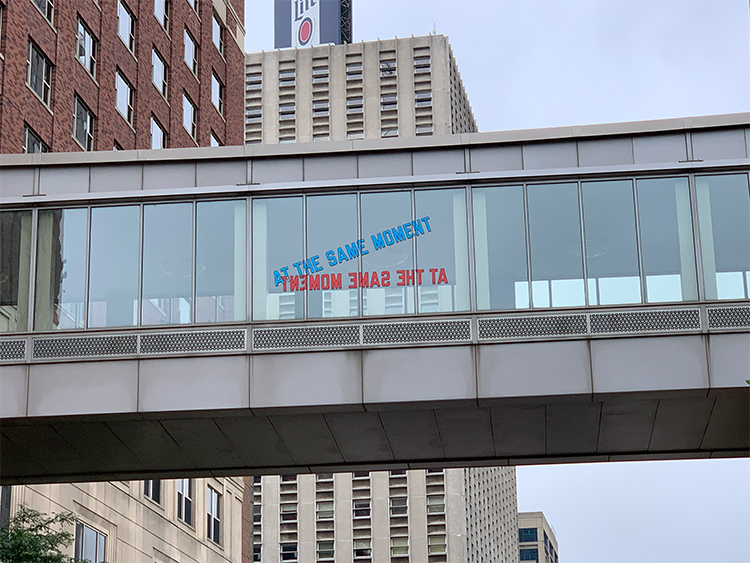 Lawrence Weiner
509 W. Wisconsin Ave.
Squint really hard at the Wisconsin Avenue-spanning skywalk that connects the Wisconsin Center and the Hilton Milwaukee City Center and you'll find this piece from conceptual artist Lawrence Weiner. It says "AT THE SAME MOMENT." It says it both forwards and backwards. It says it both forwards and backwards on both sides of the skywalk. Fun! It would be cool if a bunch of people were walking through the skywalk and past this piece on their way to the Democratic National Convention, but we all know how that turned out.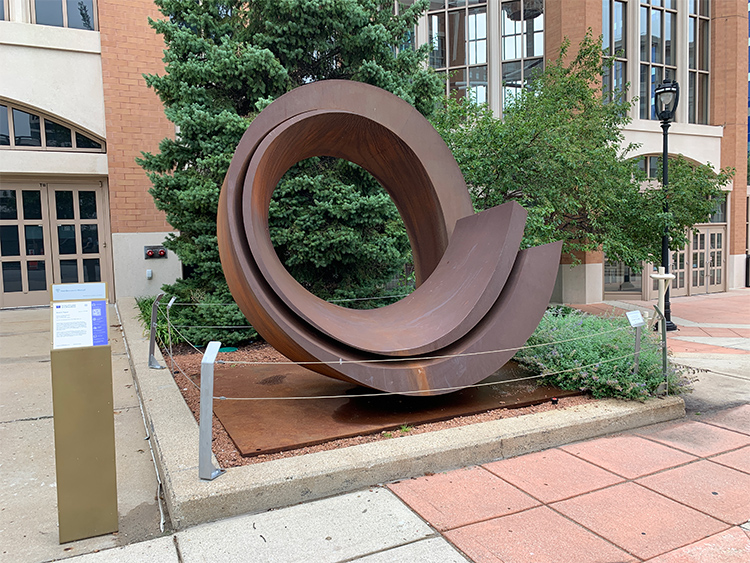 Beverly Pepper
450 W. Wisconsin Ave.
The first returning sculpture from 2019 (and the first victim of our arbitrary rules for returning sculptures; 2019 was a big year) still stuns, swoops, and swirls today. Our blurb from last year: "This piece is made out of Cor-Ten steel, yet its laid-back, whirling shape suggests something more natural. It's easy to imagine curling up in the thing and drifting off to sleep. (NOTE: Do not do this. Like Weird Al said, those ropes are there for a reason.)"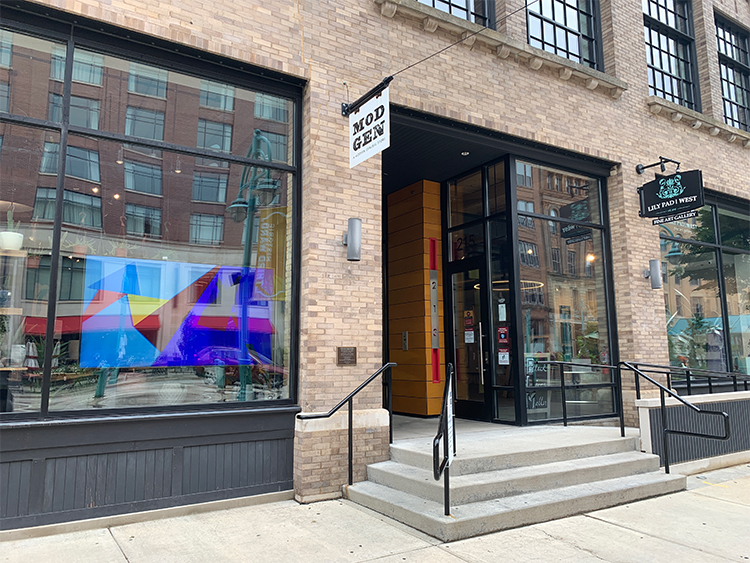 211 N. Broadway
Okay, so these are three videos that are being projected in the window of Mod Gen in the Third Ward. The only one we caught while we were hoofing it around downtown one muggy morning while wearing jeans for some reason was Mobile Animation Unit. It was cool! There was even sound coming out of some speakers on a light pole! We're looking forward to catching the other two pieces, but boy oh boy does I'll Remember You As You Were, Not As What You'll Become sound heartbreaking.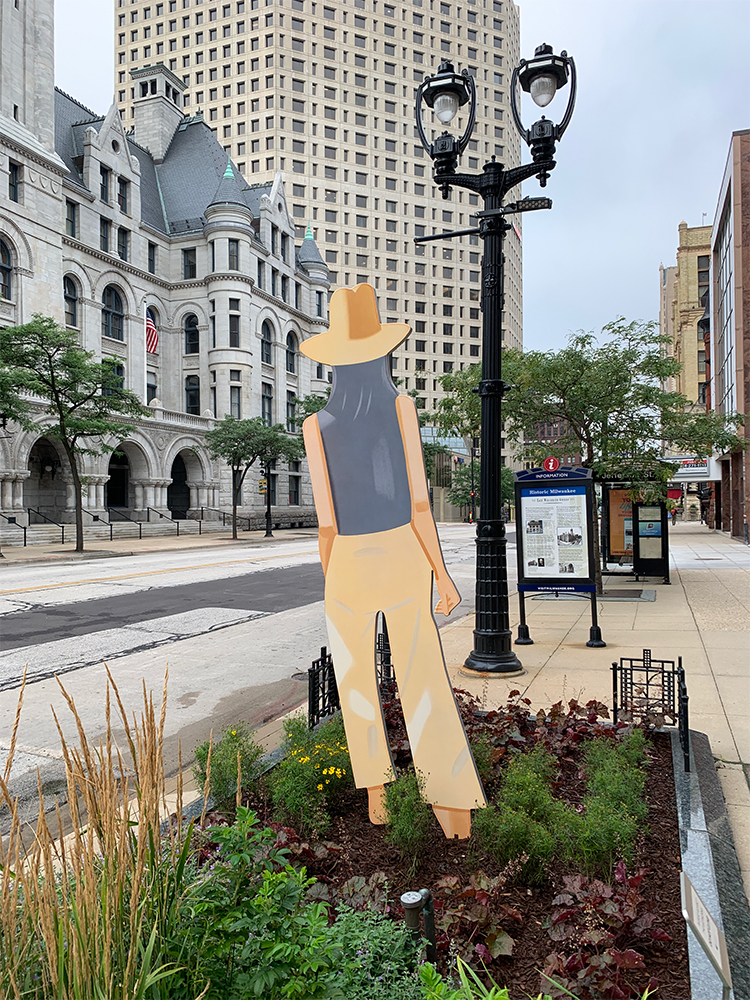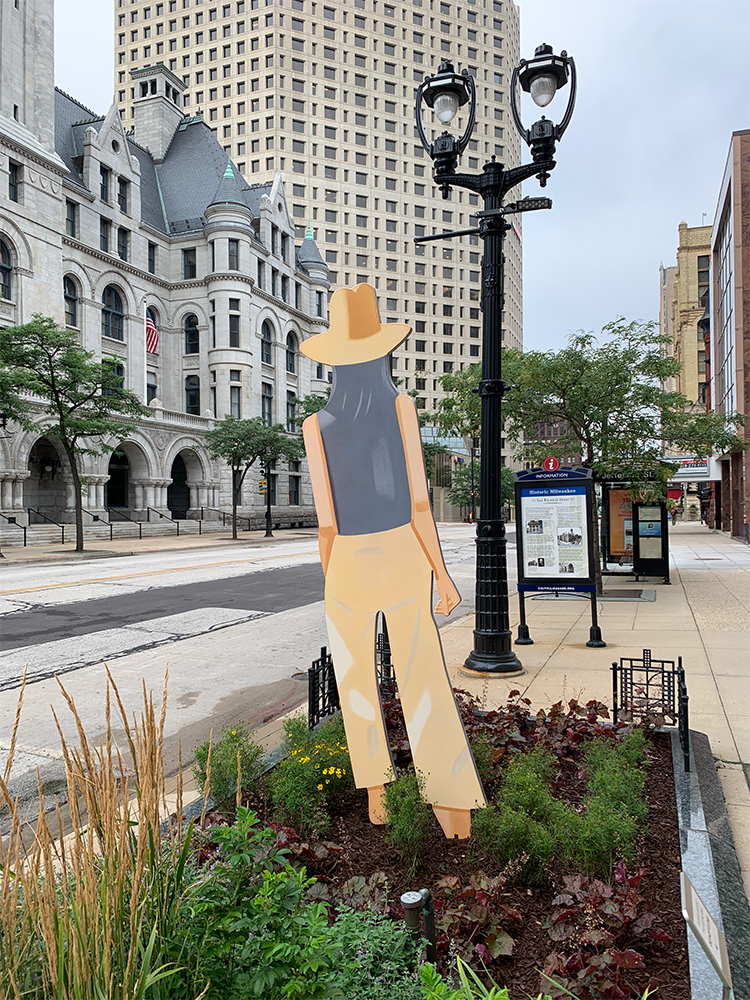 Alex Katz
526 E. Wisconsin Ave.
It's a fine line between fine art and those cardboard cutouts your grandma had in her garden where it looked like a lady was bending over and you could see her butt.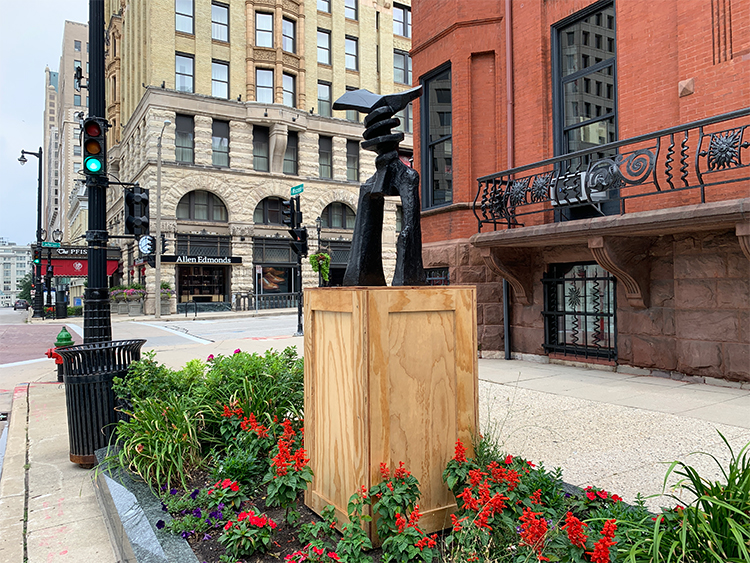 William Kentridge
500 E. Wisconsin Ave.
Getting vague Alien vibes from this one. The giant box makes it kind of funny.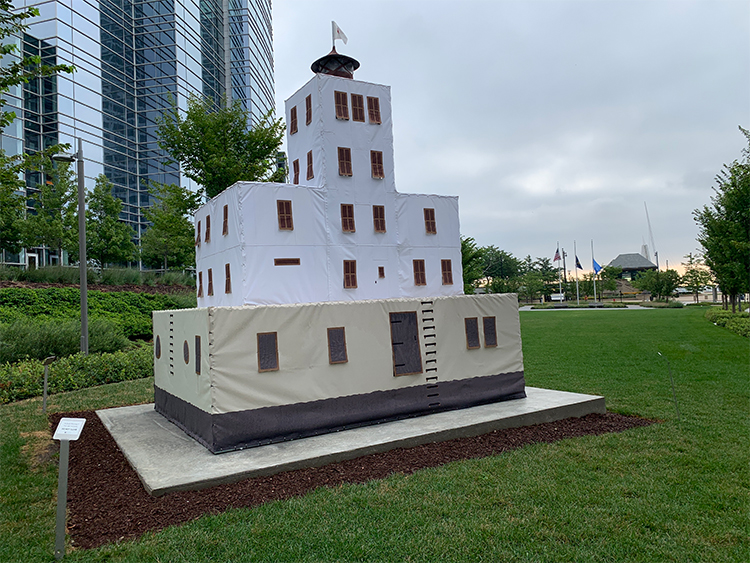 Maggie Sasso
720 E. Wisconsin Ave.
This is a recreation of the 1926 Art Deco Coast Guard station along Milwaukee's harbor breakwater and it also kind of looks like a cake and it also kind of looks like a miniature bounce house and it also kind of looks like something out of a Wes Anderson movie and it's great.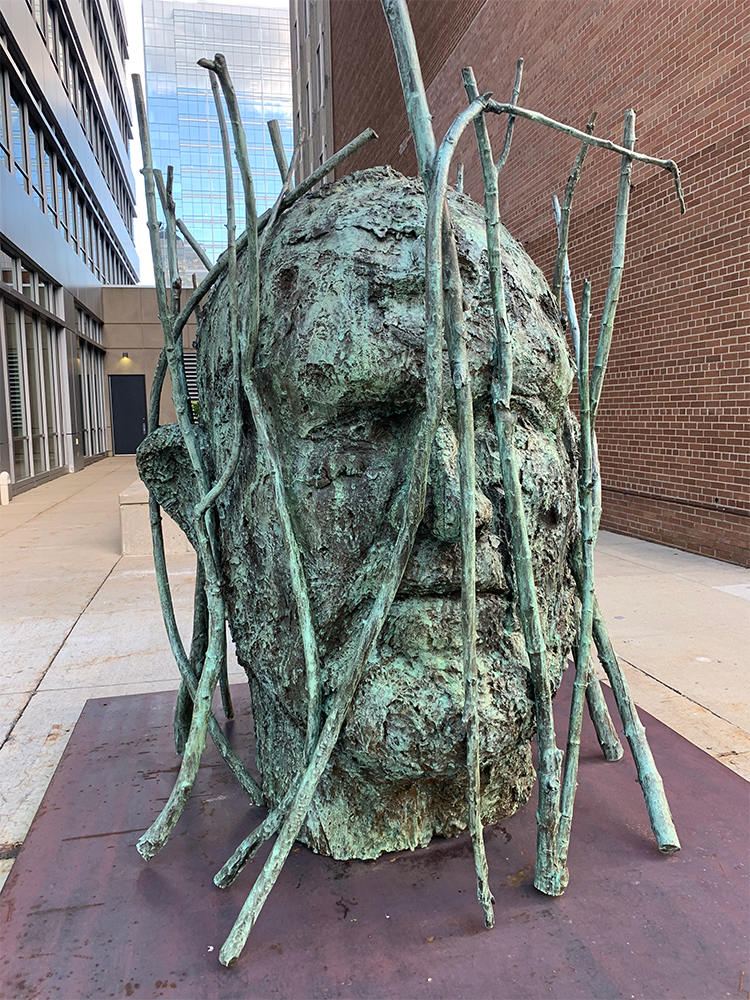 Jim Dine
875 E. Wisconsin Ave.
At first glance, this piece is exactly what it says on the tin: artist Jim Dine's head, with branches. But look closer and you'll find a textured and tool-marked surface that evokes the cruel passage of time and the crumbling and sagging and wrinkling nature of flesh, with branches. We're all going to die! Enjoy your stroll down Wisconsin Avenue!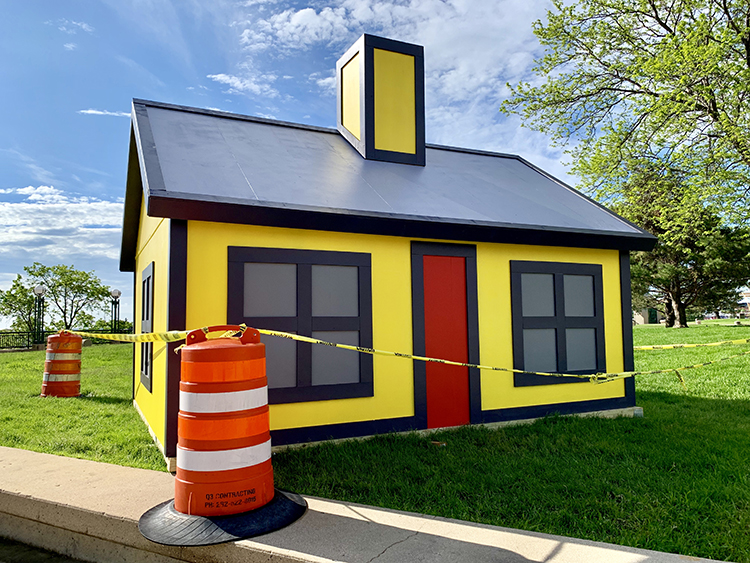 Richard Woods
929 E. Wisconsin Ave.
This piece from Sculpture Milwaukee's 2019 season originally came in at an impressive number 5, but it gets bumped down to number 10 this year because of our totally arbitrary rules. Sorry! Anyway, here's our 2019 blurb, which, surprise surprise, contains a Weird Al reference (oh yeah: the house was yellow last year but now it's pink): "There's a lot to say about this piece, but the only thing we can think of is, 'Hey kids, where do you want to go? That's right! To Uncle Nutsy's Clubhouse!'"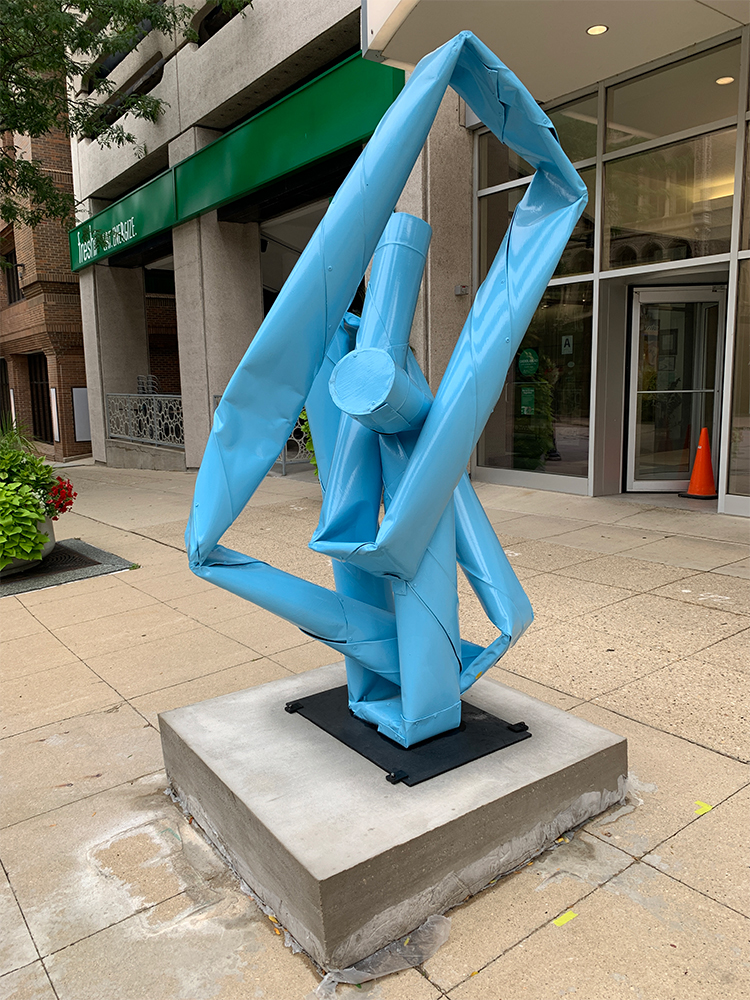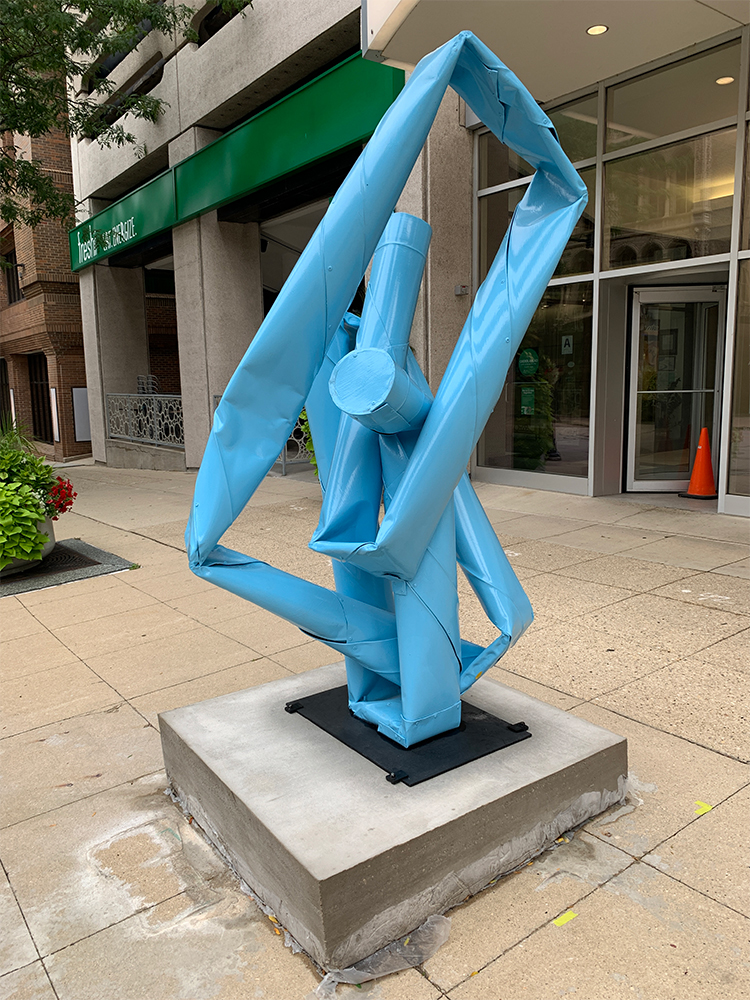 Anna Fasshauer
250 E. Wisconsin Ave.
This is one of those great "something that's soft and pliable in real life but now its metal" sculptures, like when an artist makes a giant sweater out of broken glass or whatever. In this case, it's a straw (we think) that has grown to 8,000,000 times its size and has calcified into an abstract aluminum form that demands to be inspected from every angle. (Also, we hadn't been downtown in a while and we were crushed to see that our favorite cigarette-and-Mountain-Dew place across the street from this piece, Convenient Corner, was closed. R.I.P. Convenient Corner!)
8. Shoreline Repast – 2017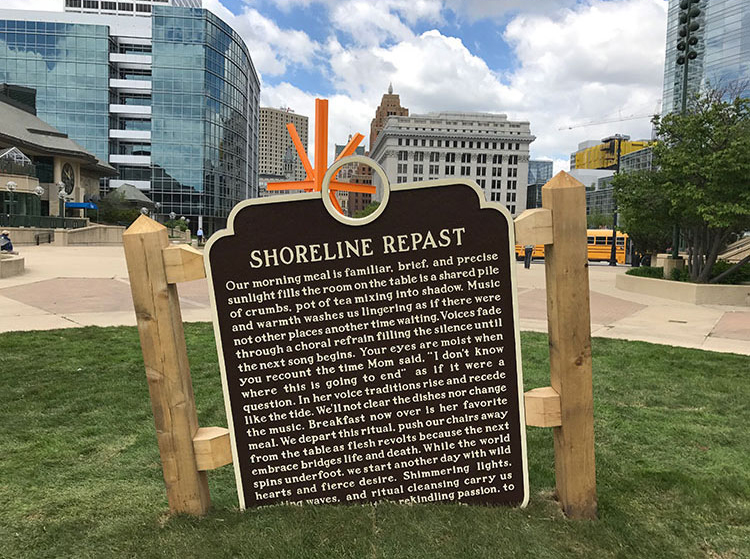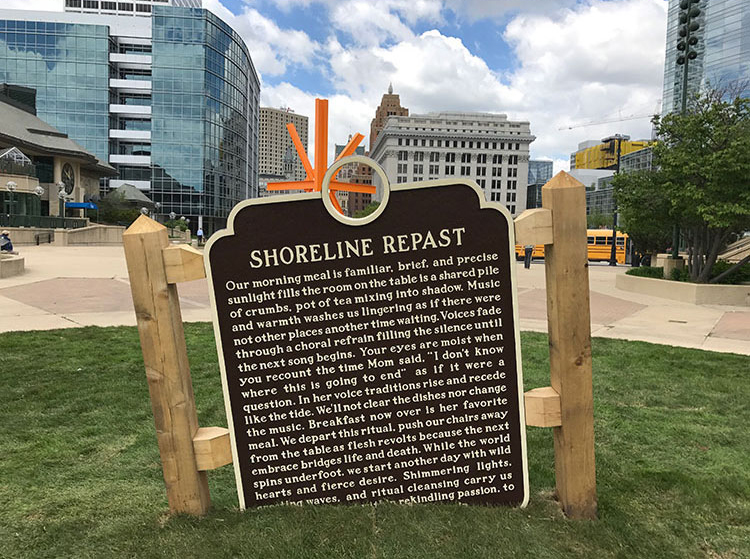 Paul Druecke
Catalano Square

This piece hails from Sculpture Milwaukee's 2017 season, though its location has changed. Instead of Downtown's O'Donnell Park, it now sits in the Third Ward's Catalano Square. (We forgot to take a new picture Tuesday morning! Ack!) Our blurb from 2017: "You may know Milwaukee artist Paul Druecke from his recent MAM show. You may also know Paul Druecke from his faux historical markers filled with cracked poetry and surreal flights of fancy. The double-sided Shoreline Repast is one of those markers, hilarious and silly one minute, poignant and human the next."
7. Cleft from the series Dendrites – 2018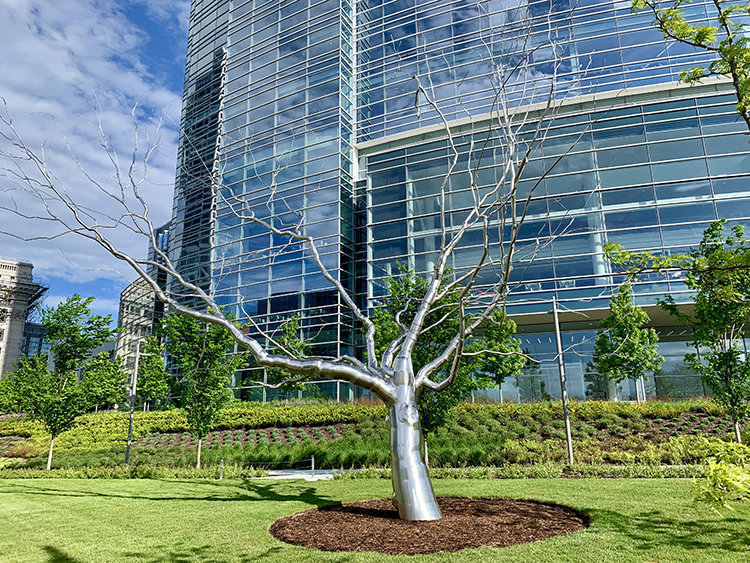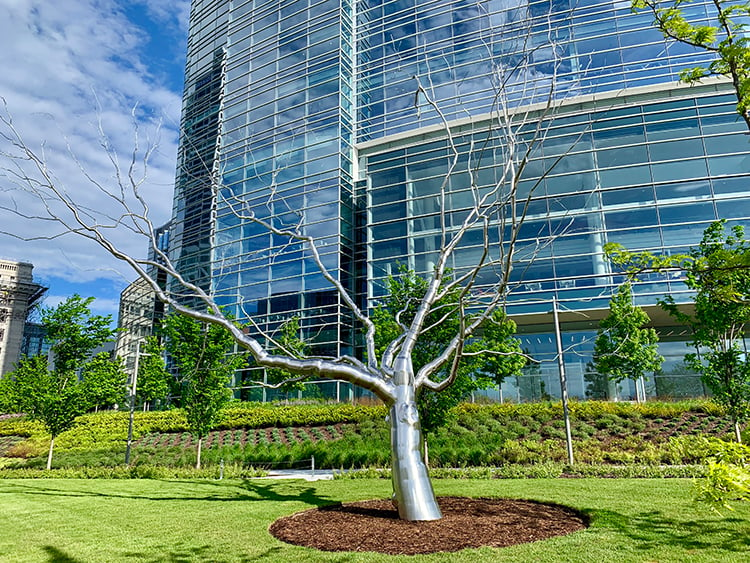 Roxy Paine
720 E. Wisconsin Ave.
Another returning sculpture—this one from 2019—that still rules today. Here's our insightful blurb from last year: "Anyone catch that Twin Peaks revival from a few years ago? Remember when Cooper was in the Black Lodge and he came across, um, 'The Evolution of the Arm'? Hell yeah. Anyway, this piece kind of reminds us of that. It's awesome."
6. Gild The Lily (Caribbean Hybrid I, II, III) – 2019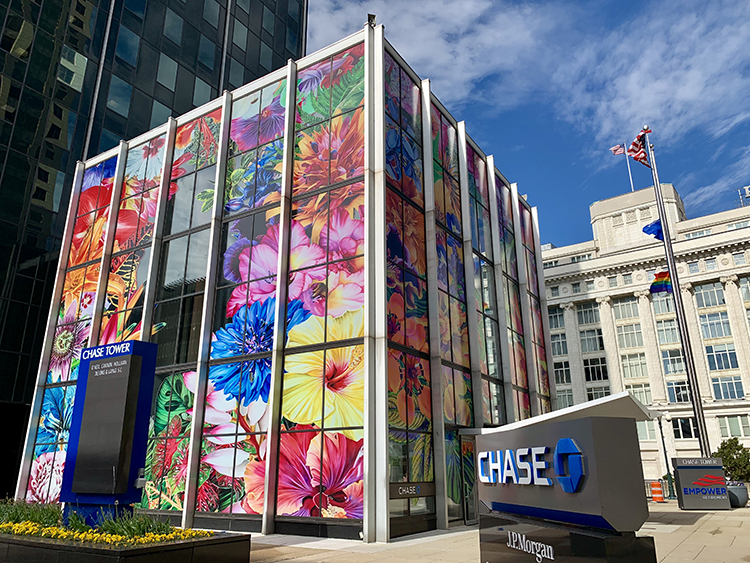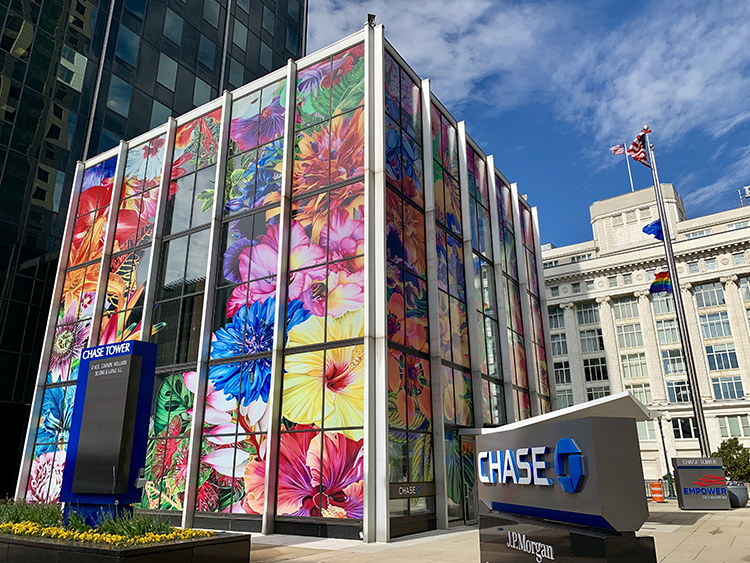 Carlos Rolón
111 E. Wisconsin Ave.
And make that another returning 2019 sculpture (installation?). This one's not just any returning sculpture (installation?), however, it's our number one sculpture (installation?) of 2019. Here's our clairvoyant blurb from last year: "It's one thing to plop down a sculpture on the sidewalk and call it a day. But that's not what Carlos Rolón does with his deceptively light Gild The Lily. This piece (or is it an installation?) completely transforms a building, a street corner, and an entire neighborhood. Point us to the Kickstarter that keeps these flowers in bloom forever."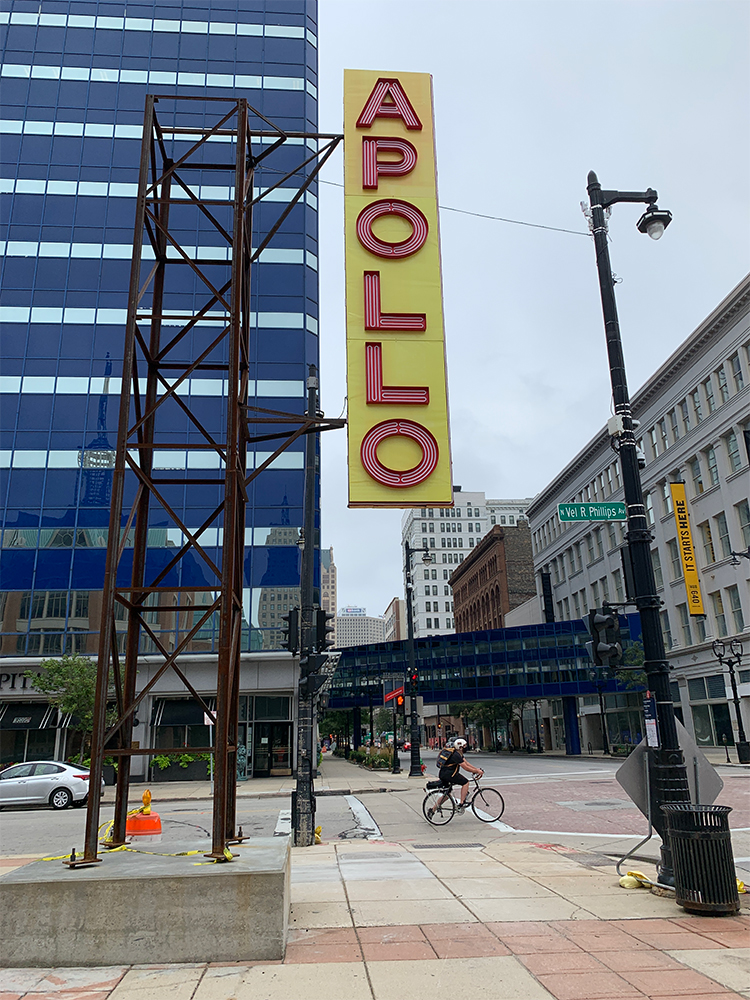 Nari Ward
400 W. Wisconsin Ave.
It's showtime…at the Wisconsin Center! Okay, the downtown convention center isn't getting much use these days, but at least this pop-art tribute to Harlem's iconic Apollo Theater is here to liven things up. (The "Poll" part of the title refers to the Apollo's audience-voting Amateur Night, by the way.) R.I.P. Howard "Sandman" Sims.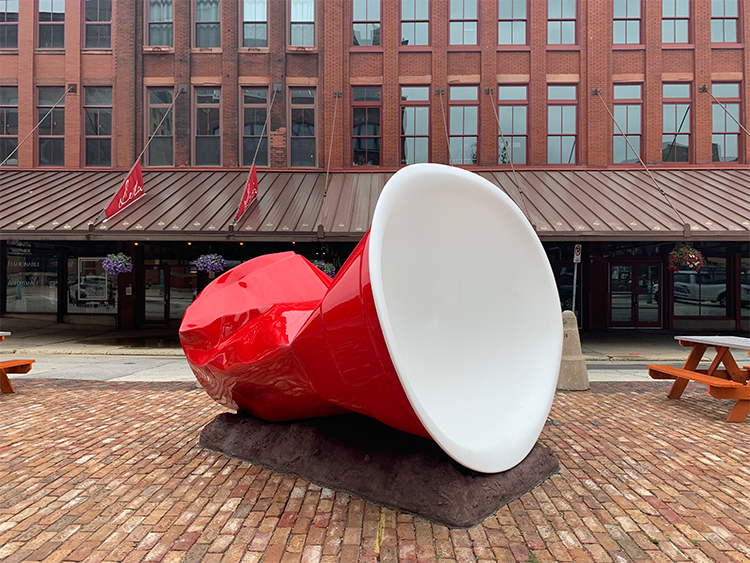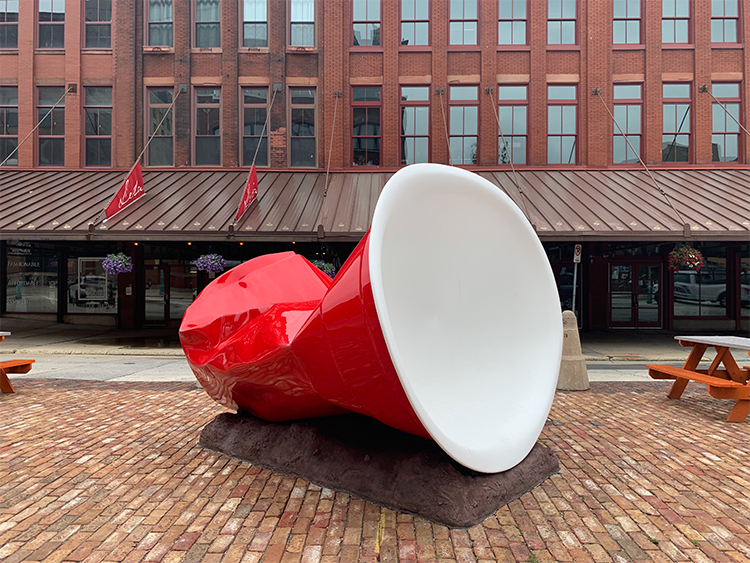 Paula Crown
322 N. Broadway.
A crumpled and discarded SOLO cup in the middle of the Third Ward—you don't have to be an art intellectual to get what Paula Crown is getting at here. Anyway, we just looked it up, and the fear of very large objects is called megalophobia. Do you ever get weirded out when you look at something absurdly massive, like a cruise ship or a skyscraper? Do you ever get extra weirded out when you look at something absurdly massive that shouldn't be absurdly massive, like this piece? Huh! (Bonus points to us for not dwelling on that Toby Keith song.)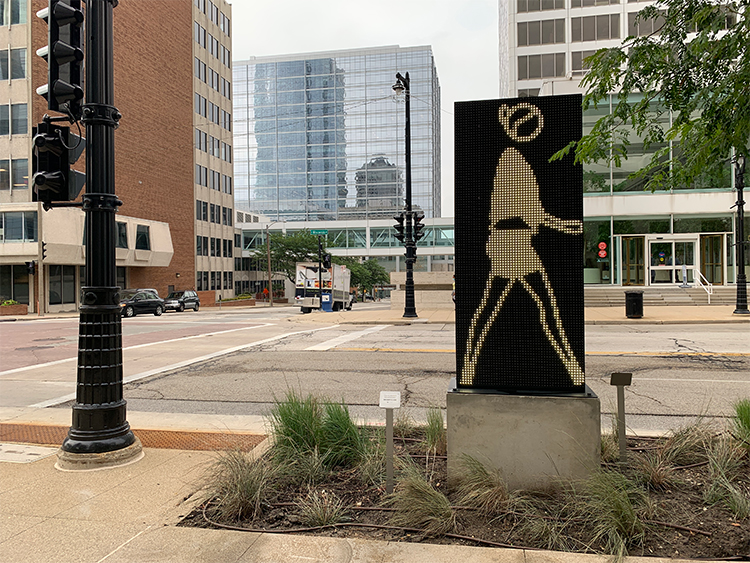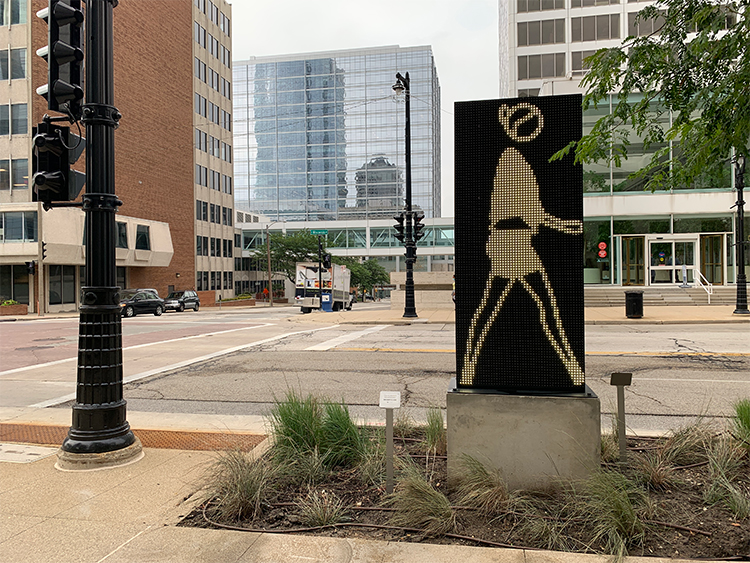 Julian Opie
720 E. Wisconsin Ave.
More larger-than-life sculptures incoming! This monolithic slab of double-sided LED goodness from London-based artist Julian Opie is great. It also needs to be seen in person—how else to appreciate the super-smooth animation used to give life to the endlessly walking pedestrian? Is it a comment on the hustle and bustle of the daily grind? An indictment of the male gaze? A tribute to the super-smooth animation of 16-bit video game classics like Another World and Flashback? Stare for hours and decide for yourself.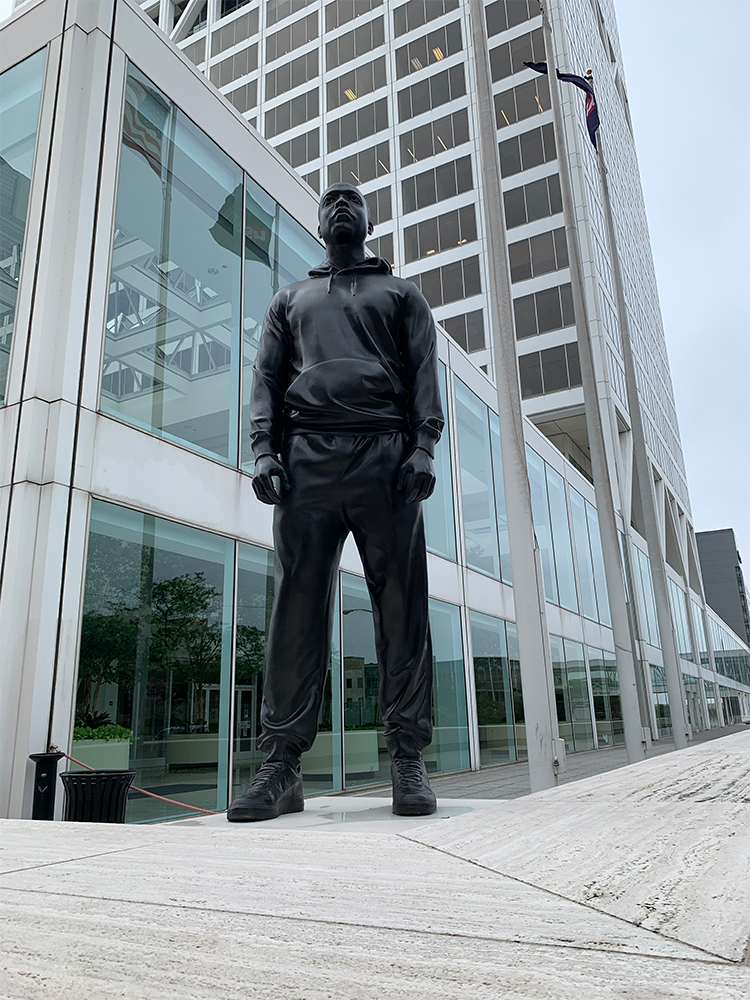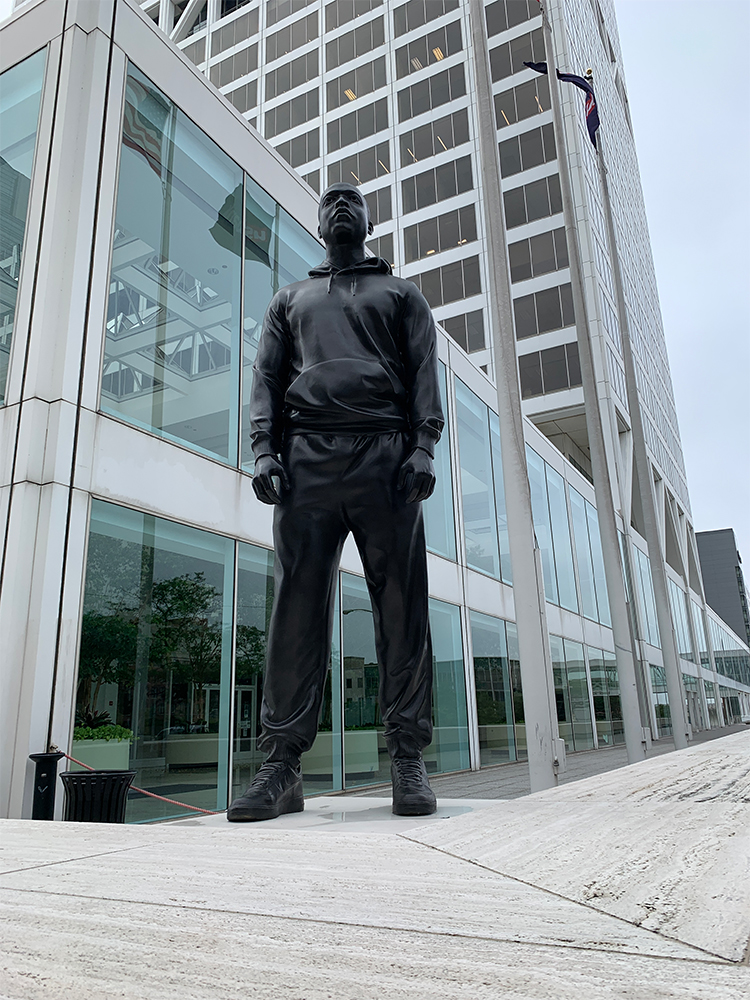 Thomas J. Price
777 E. Wisconsin Ave.
No pithy commentary here—this piece, located just outside the U.S. Bank Center, is incredible. We'll let the sculpture's description do the talking: "Price's title, Within The Folds (Dialogue 1), might suggest that Price is bringing his figure 'into the fold' of art history, but also his facility in rendering fabric in a hard material. Dialogue 1 may refer to Plato's Dialogues, whereby the philosopher used the format of give-and-take discussion to educate his students and readers on complex topics. Price has created a series of these portraits of idealized black male subjects, drawn from an area of London with a large Caribbean diasporic community. Like many artists of the 20th and 21st centuries, Price moves beyond the traditional public art narratives of community or nation-building by presenting us with our neighbor, someone whose history is often buried beneath the prejudices of our time."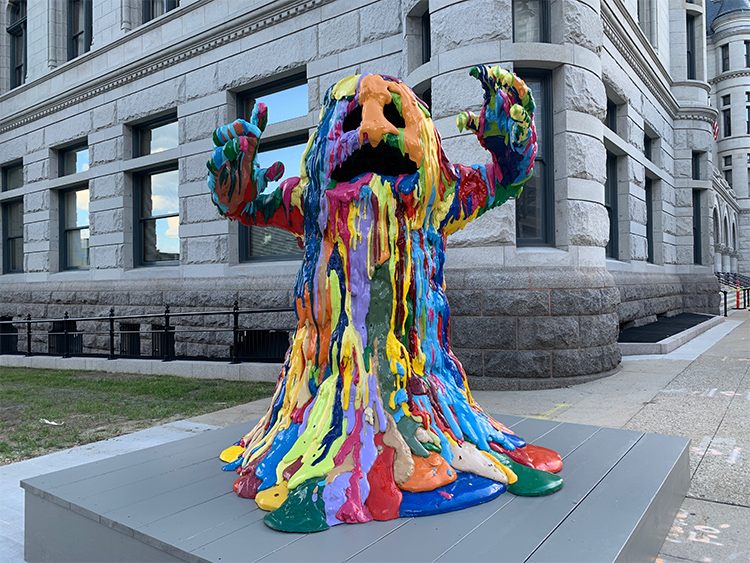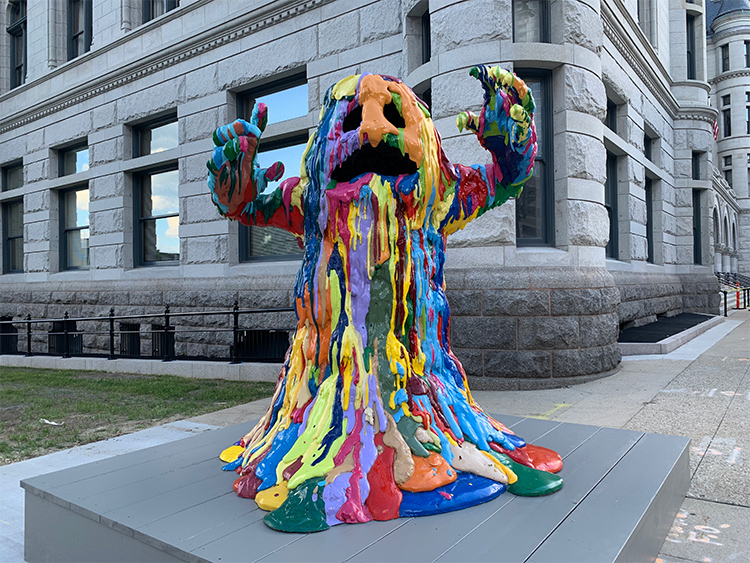 Tony Tasset
517 E. Wisconsin Ave.
Oh come on, you knew this thing was gonna be number one. It's a big, bright, bold, and completely ridiculous Scooby-Doo monster, a multicolored memorial to Pizza The Hutt, a day-glo nightmare that looks like a melted candle one minute and maybe something else the next. Or, you know, maybe a piece called Blob Monster is just supposed to look like The Blob. What preposterous piece of pop culture bubbles to mind when you look at it? Also, it's hilarious that this is outside the Federal Courthouse. We can't think of anything more 2020 than that. ("And the government would have gotten away with it, too, if it hadn't been for you meddling kids!")