Caleb Westphal hasn't missed a Friday fish fry since 2013. Follow along with his record-in-the-making here.
The Friday after Thanksgiving became my third week in a row outside of Milwaukee for a fish fry. I had celebrated the holiday the day before in Fond du Lac, and was invited to a Friendsgiving party in Neenah on Friday. There was to be a lot of food there, but that part was an afterthought; Fridays are for fish regardless of what is being served at holiday gatherings. I was looking for a fish fry spot in the Fox Valley before the party, and my friend Amos—frontman of Tenement, who also has his first solo album coming out—mentioned that the Club Tavern in Menasha (56 Racine St., 920-722-2452) was a good spot. I ended up meeting him there, along with Walt Hamburger (once again). It was a reunion of sorts, as almost a decade and a half ago, when Amos was playing in the Social Classics and I was playing in Offend Your Friends, we were both signed to Walt's record label, My Brother Stole My Records.
The Club Tavern has been in the same family for three generations, dating back to when Leo and Doris Szymanski bought it in the 1940s. In the 1950s, their son Richard and his wife Doris took it over. Richard and Doris opened Club Liquor in 1970, which is connected to the building. Richard has since passed, and Doris no longer runs the Club Tavern—her son Steve took it over in 2000—but at 84, you can still find her operating Club Liquor.
Because of the holiday weekend, Club Tavern opened at 4 p.m., and I arrived just after 4:15 to find all the booths that lined the left side full. Almost all the seats at the bar were taken as well. Thankfully, Walt had claimed a table in the back left corner. He told me that jostling for a table at the Club Tavern on Friday nights is an event—a sign of a quality fish fry establishment.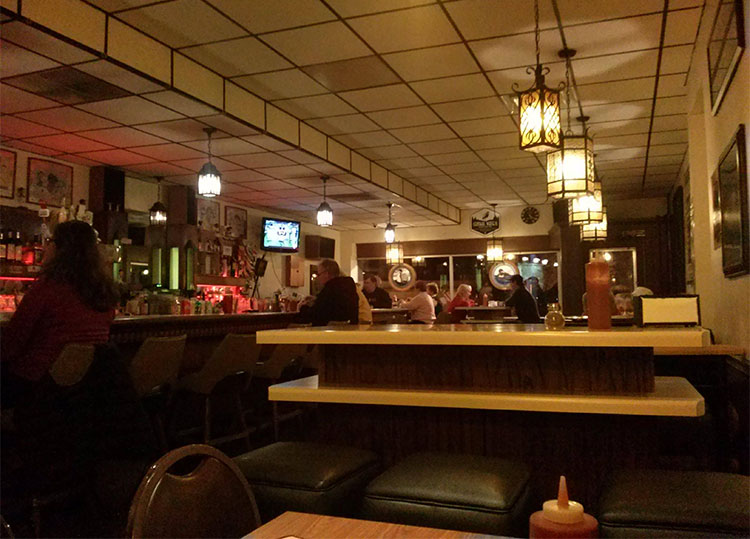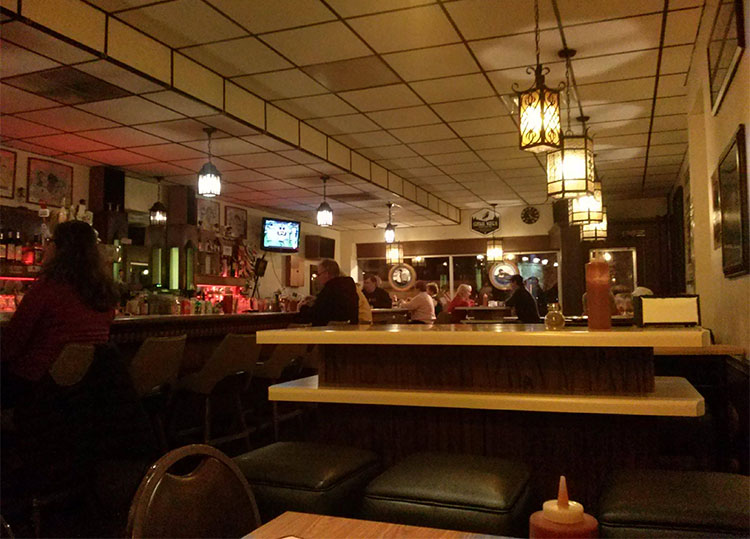 We ordered Old Fashioneds, and Amos arrived shortly thereafter and ordered a "cola" (for the record, the Club Tavern serves Pepsi, Coca-Cola, and Mexican Cola; he went with the Coca-Cola). I asked what the soups were, but as they didn't have clam chowder, I passed. There is a wide variety of fish and seafood options available at the Club Tavern: your usual fried fish options such as perch, pike, and haddock; seafood choices such as scallops and shrimp; and broiled options such as halibut, tuna, salmon, and swordfish. I couldn't decide between all of those, so I went with the Club Seafood Plate. Each option is available as either a single or double, with the double being almost twice the price. As my choice was $18, I decided to stick with the single.
The Club Seafood Plate came with one piece of haddock, one piece of pike, two shrimp, and three scallops, all of which were very good representations of their respective species. The pike and haddock had a light and flavorful breading, and the haddock fillet was quite large. There wasn't anything particularly exciting about the tartar sauce, but it wasn't bad. The shrimp were crisp, and the scallops were superb, with an inviting contrast between their crunchy coating and their juicy insides, which paired well with the melted butter that came with them. I chose fries for my potato, which ended up being waffle fries, which were excellent. The rye bread came buttered, and was fresh and soft. The highlight of the meal was the coleslaw, which came in a decent-sized container, and was juicy while still managing to be crunchy. It could best be described as fresh, and was full of greens; I could also see diced red and green peppers in it, as well as celery. I asked the waitress what was all in it, but all she would tell me was that it was a Szymanski family recipe that probably dated back to the 1940s.
As we were finishing, the bar and some of the tables began to open up. Maybe the rush picked back up again after we left, or maybe it was just a little slow because some people ate too much turkey the day before and stayed home. But being that it was packed right when they first started serving told me that the diehards had been waiting all week for fish, and went to their favorite spot right at opening. I'm glad I had the chance to join them. This was one of the better fish frys I've had at a bar in a while. It reminded me of Points East Pub in its quality, but was different in its style. Similarly, I did still find myself hungry after my meal, and maybe I should have gone for the double. Luckily I had a Thanksgiving party to attend afterwards.
Rating: Holy coleslaw!; where's the chowder?; lots of options; solid fish; average tartar; excellent scallops; it's connected to a liquor store; classic Wisconsin bar atmosphere that's been going for three generations; the "doubles" are out of my price range; I was still hungry but it's probably my fault because I am always hungry. 4 out of 5 stars.