Caleb Westphal hasn't missed a Friday fish fry since 2013. Follow along with his record-in-the-making here.
This is the second year in a row that I've stood up in a wedding, and with weddings come wedding rehearsals and rehearsal dinners. During such times, when the rehearsals end up on a Friday, fish frys must be carefully navigated as to not inconvenience anyone's plans for their special day. Last year I ended up eating a fish fry from a Copps grocery store out of a styrofoam container in the back of a car. This year ended up going a little more smoothly, but at first it was not certain that that would be the case. My itinerary originally said the wedding rehearsal was at 4:30 p.m., with the dinner at 6:30. I figured I'd have a little window in between to sneak off somewhere for a quick fish fry before many people noticed I was gone. But, the rehearsal got moved to 5:30, so I had some time to eat beforehand.
With the windows down and Charlie Musselwhite blasting, I drove U.S. Route 45 north along the western shores of Lake Winnebago towards Oshkosh—past Blanck's Lake Aire Supper Club, Wendt's on the Lake, a gun shop, an elementary school, an old motel, and various farm implements—and arrived at Parnell's Place (2932 Fond Du Lac Rd., 920-235-9770), a restaurant on the southern edge of the city. I was joined by cat saver, musician, and pescatarian Punk Rock Legend Walt Hamburger, whom I greeted in the parking lot.
There was a sign on the door of the building instructing patrons to ask for a number at the bar. I was given number five, and then told I could sit anywhere, and ended up at table 11. I was confounded by the numbering system, but nonetheless was excited for the meal to come. It was 4 p.m., and not too many people were yet in the restaurant, although a large staff showed they were ready for the inundation of people that was to come. Parnell's has been open since 1974, and its hard to pin down the exact vibe of the place. It's part bar-restaurant, part family restaurant, and part supper club.
I ordered an Old Fashioned, which was muddled with cherries, and also came with more cherries, an olive, a mushroom, and Brussels sprouts for garnish. The waitress had to return to our table a few times before we were ready to order, as we were pleasantly overwhelmed trying to choose among the huge amount of fish and seafood options. Not only were there many options on the printed menu, there were additional choices written on a white board. To name a few: bluegill, perch, cod, and haddock were all available. Eventually I settled on the seafood platter, which seemed like the easiest way to try as much as possible. With all the options they had available, they could have made various platters.
I was brought a cup of clam chowder, and didn't quite have it finished when the rest of the meal quickly arrived. The platter came with two pieces of perch, two pieces of haddock, two shrimp, and four scallops. All of it was very good, but in particular the flavor of the perch was excellent. It may have helped that Parnell's has top-drawer tartar sauce as well. By their nature, both perch and haddock are usually smaller fillets, but I did think in this case they were maybe a little smaller than the norm. In contrast, Walt ordered the bluegill, which had some of the largest bluegill fillets I've ever seen. My meal also included decent helpings of straight cut fries and cream-style coleslaw, as well as excellent fresh and buttered rye bread.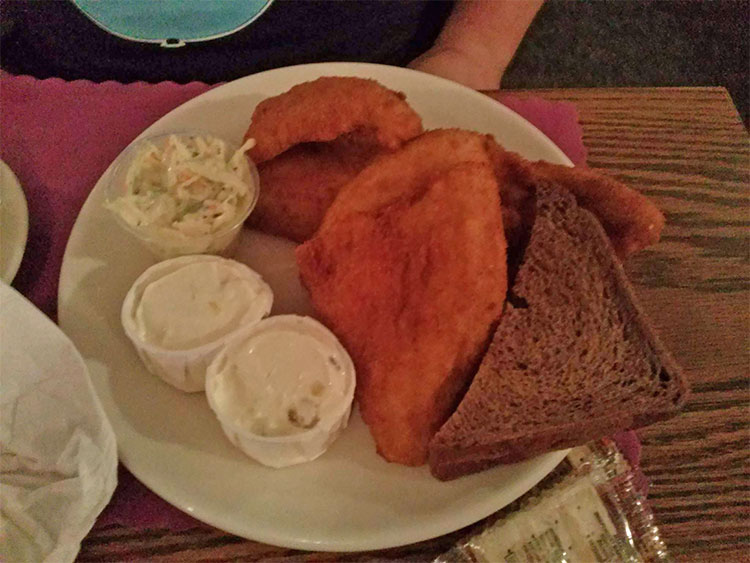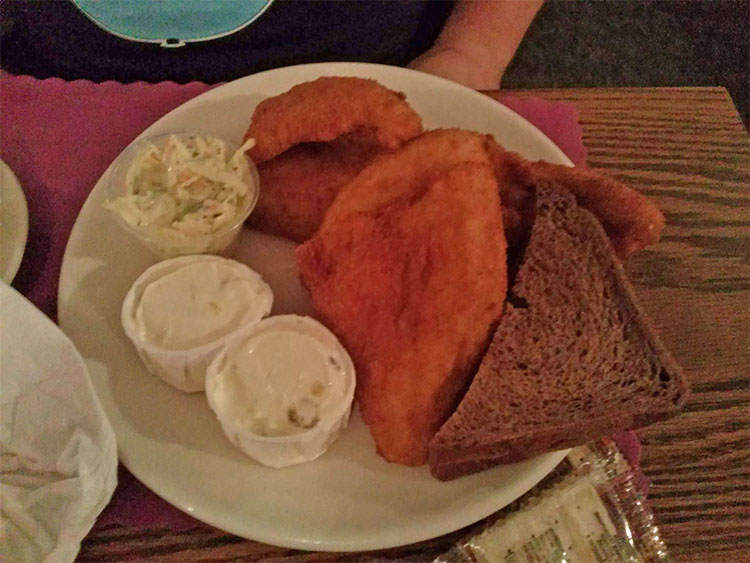 As I left, the bar and tables had completely filled up, so it was good that I had arrived when I did, or I probably would have missed the wedding rehearsal. If you happen to find yourself in Oshkosh anytime soon, Parnell's Place is a solid choice for a fish fry. As far as the rehearsal dinner? I ended up eating a pizza buffet at Cranky Pat's about two hours after my fish fry. Pizza is great, but I think it's time "Cranky's" joins the rest of Wisconsin and starts serving a fish fry on Fridays, or at the very least, a fried fish pizza.
Rating: Many many fish and seafood options; excellent flavor of perch and haddock, but portions a little small; humongous bluegill fillets; welcoming atmosphere; numbers!—you get a number for a table and then sit at a table with another number. 
3.5 out of 5 stars.