In stand-up comedy, "the light" is a common tool used to warn a comedian their time on stage is close to running out. Milwaukee comedian Jon Kuderer estimates he ran the light by at least five minutes the first time he took the stage. While such an unprompted performance extension is almost unheard of in local comedy, that doubling of his allotted open mic time is nothing when compared to the other, far more serious, time constraints he has ignored. When applied to other facets of his life, the 23-year-old mechanical engineer and comic hobbyist—a Make-A-Wish recipient who was diagnosed with a then-untreatable disease (the same disease that would later claim his brother) when he was a baby—has ignored the light signaling the end of his unthinkably-short set on the stage of life for years.
Kuderer was born with Childhood Onset Cerebral Adrenoleukodystrophy (ALD), a deadly degenerative brain disease that quickly ravages children's cognitive abilities, usually beginning around age six. He was tested and diagnosed when he was one, when the disease started to take hold in his older brother Joey.
"He was five years older than me. He got symptoms when he was six years old, and within months, he was completely vegetative," Kuderer says. "He actually lived that way for 10 years, in a vegetative state. So I lived with my brother for 11 years of my life and I never spoke a word to him, we never had a conversation. He was just always there."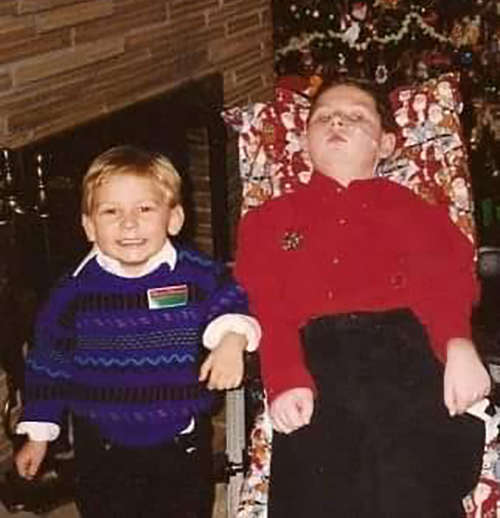 Kuderer says his parents kept him in the dark about his illness as long as they could. However, when he turned six, they could wait no longer. In a fairly experimental effort to combat the disease, he would have to undergo a bone marrow transplant followed by an aggressive round of chemotherapy and radiation treatment. He missed a year of school and, as a result of the radiation, had to remain in isolation (with no physical contact whatsoever) for four months.
"When it did come time for the bone marrow transplant, I was already pretty accustomed to being in that environment," Kuderer says. "It was pretty much a hospital at home taking care of my brother. We had feeding tubes, heart rate monitors, and all that stuff in the room next to me. I was pretty much numb to it."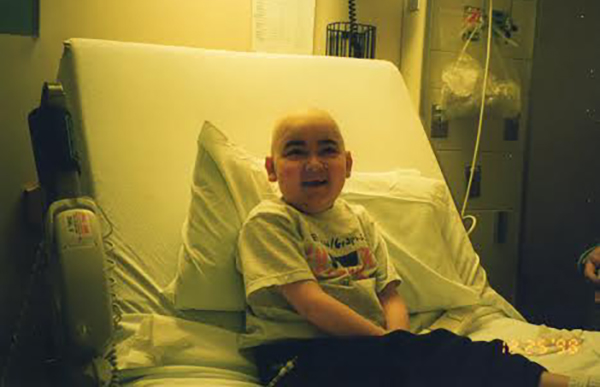 Now aware of his illness, the room next to Kuderer also held a glimpse at the grim future that possibly awaited him. The silent stranger he never got to know became a harbinger to the darkness and deterioration he could expect if his still-quite-unproven treatment wasn't successful. When Kuderer was 11, Joey died. With Joey gone and his own fate mired in uncertainty, Kuderer had no choice but to forge ahead.
"It really started hitting hard when I started hitting milestones," Kuderer says. "I turned 16 and I got my driver's license. That was the same [age] my brother passed away. That was something he was never going to get to do, and I was reaching all these things that he hadn't. I could've easily not been here."
While alive, Kuderer wasn't exactly well. As a secondary cause of ALD, Kuderer suffers from an adrenal disorder called Addison's Disease. The full-body chemo left him with Hypothyroidism (a non-functioning thyroid). The staggering cocktail of medications gave him Cataracts, requiring him to have eye surgery at age 20.
Though that's enough to sour most people on life, Kuderer remained positive. He was living on borrowed time. He funneled his lifelong interest in engineering into a degree from MSOE. He took up photography—"I just like to capture moments, I guess"—and, along the way, took to comedy. After years of watching comedy specials, Kuderer was pressed by a friend to give stand-up a shot in February of 2014.
"I wasn't ready. I didn't even know open mics existed, but I just bit the bullet and went up that night with no material, not rehearsed at all," Kuderer says. "I fell in love with it."
Instead of using his health issues and the loss of his brother as crutches, Kuderer strives to squeeze humor from his past and present hardships. While he admits he struggled out of the gates, his material and its significance aren't lost on his comedy counterparts. Author and comedian Patrick Tomlinson quickly took to Kuderer's style and has made sure to book him on some of his showcases.
"Most of us use comedy to try and fix what's hurt us at some level, but Jon's trials started in the womb, not once he was a mopey teen or an aimless twenty-something," Tomlinson says. "And he's still here, not just surviving but thriving."
Employing his "No adventure starts with the word 'no'" mantra, Kuderer takes his revealing material, his fearless style, and his unmistakably boisterous laugh to all corners of Milwaukee's scene.
"The thing I love about Kuderer is he does shows everywhere," comedian Ton Johnson says. "You'll see Kuderer at shows in the hood, East side, South side, wherever. Every audience can connect with him. His humor is accessible to everybody. That's awesome."
Few people could laugh off losing their brother to a disease, fighting for years to survive the same disease, being continually plagued by subsequent health issues, and living with the ever-present threat of falling gravely ill at any time. Somehow, Jon Kuderer can. More over, he's spreading that laughter to others long after the warning light was shined at him.
"I think think it's important to talk and laugh about tragedies. As awful as that sounds, the saying goes 'Tragedy plus time equals comedy,'" Kuderer says. "I had my brother die, and it's not something you can easily look back and laugh at, but you look at all the shit that I've been through and you just joke about it."
Jon Kuderer performs at The Suburban Showcase at The Main Mill  (Menomonee Falls) tonight at 8 p.m.