Caleb Westphal hasn't missed a Friday fish fry since 2013. Follow along with his record-in-the-making here.
I had been pretty tensed up last Friday and couldn't pinpoint why that was. Earlier in the day I had tried to loosen up by going for a swim at the Rite-Hite YMCA, and by stopping at one of my favorite record stores, Stardust Records in Thiensville, to dig for 45s. As fish fry time approached, I was still feeling anxious and a little off, but I was looking forward to the weekly ritual. A friend had suggested going to Points East Pub (1501 N. Jackson St.; 414-277-0122), a place I had never been to before, and that sounded fine to me.
Points East Pub, which opened in 1994, is probably best known for having some of the finest chicken wings in Milwaukee. Their website stresses, "WE ARE A BAR THAT SERVES FOOD. WE ARE NOT A RESTAURANT." On Friday August 4, 2017, this non-restaurant decided to expand their food selection and become a true Wisconsin establishment, by serving their first Friday night fish fry.
As I arrived with two friends, a mere three months after that special day, we found the building bustling and packed. Luckily, one table in the front room was available, which I held down as my friends ordered the fish frys. As Points East Pub is not a restaurant, all food must be ordered at the bar. I figured if I didn't grab that table, we would have to stand while we ate.
The room was dim and loud, with well-worn floors. Multiple people were walking around with pitchers of beer. One of my friends and I decided to walk to the back room, past the kitchen, to take a look around. For a second I thought maybe I had ended up in a different place altogether. It was brighter, quieter, with mellifluous background music and a nicer floor. The sharp contrast between the front and back rooms was almost comedic. My friend told me the back room hadn't always been so refined. At one point in time it had been home to a lot of rock and roll shows. It had been a dingy place, where my friend recalled, "super-dark black lights used to make everyone's teeth show up yellow when they talked. Everyone thought that was pretty funny. Some of the best shows I've seen were here, as well as at places like the Unicorn."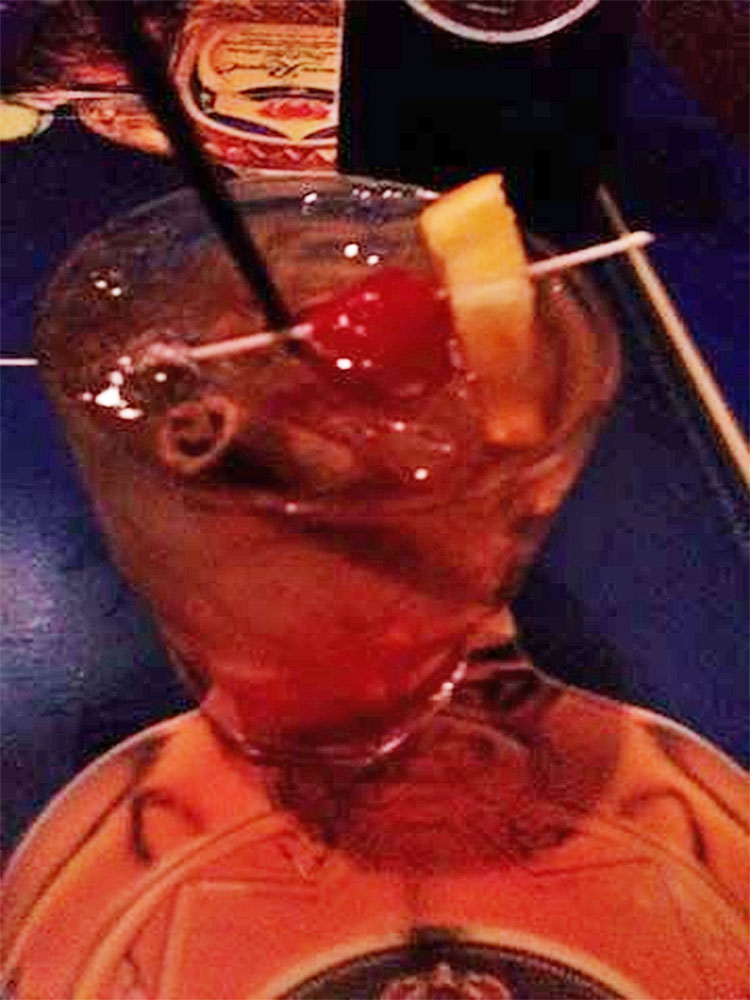 We returned to our seats and the fish arrived shortly after. There was one fish option, beer battered cod, and mine came with three rather small pieces. They really packed a wallop though, with an outstanding flavor and texture. The potato options were pancakes or fries, and although the fries probably would have been good, I sure am glad I ordered the pancakes. They were made in-house and were thin and soft, with just the right amount of chewiness to their texture. Green onions were evident in them, and were also used as a garnish on top. Potato pancakes don't get too much better than this. The coleslaw was sweet and tangy, and some raw red cabbage was also placed on the plate under the food as an added touch. Rye bread was conspicuously absent. My Old Fashioned was made with great care. It was muddled, had enough booze, and had a cinnamon stick—something that I usually like to add when I make them at home, but sometimes am too cheap to buy.
As I finished my meal, it occurred to me that the tenseness that had dogged me all day had dissipated. That was it! It was the fish! My inner calendar had just been trying to tell me it was time for a fish fry, and I hadn't given it what it wanted. Points East Pub relieved me of my uneasiness with their fry, which was one of the best fish frys I've ever had at a place that doesn't focus on food. The one thing that was a little disappointing was that I did leave hungry. I definitely could have eaten another full fry, and I left wanting more.
Rating: Good restaurant that's NOT A RESTAURANT; excellent potato pancakes; really good fish but the pieces were a bit small, so I could have used a few more of them as well as some rye bread; superb Old Fashioned with a cinnamon stick. 3.5 out of 5 stars.