Caleb Westphal hasn't missed a Friday fish fry since 2013. Follow along with his record-in-the-making here.
Each year in late November I have a tradition where I read books outside in the cold until I shiver enough to convince myself that winter has officially arrived, even though the calendar says it's still a month away. During this tradition I also bring along a gun and shoot at the deer that interrupt my reading time, and use their meat in slow cooker meals and spaghetti dinners throughout the rest of the year. In Wisconsin many people go "up north" for deer hunting, and I've spent many years doing so: in Pembine, Rice Lake, and in the Chequamegon National Forest while staying in a huge World War II army tent. My first few years of deer hunting were at my dad's friend's place near Richford, and that is where I have returned to these last handful of years. Although it isn't quite as far "up north" as other places I've gone, I think it still counts.
Last year I got my pre-hunt fish fry at Johann's Bar, which is close to deer camp, and is about as "Wisconsin" as a bar can get. This year I wanted to return to a place I had gone to my first few years of hunting, the Moose Inn (W6846 WI-21, Wautoma, 920-787-2241). Nestled between Silver Lake and Irogami Lake, and just a few minutes drive from the famed Milty-Wilty Drive-In and downtown Wautoma, I had been waiting half my life to return to its all-you-can-eat fish fry.
The main parking lot—which was gravel—was so full of cars that people were parking in the grass. Inside I put my name in, and was asked if I would be ordering anything besides the family-style, all-you-can-eat fish fry. The place was packed enough that it was hard to move, but not so much that I couldn't get an Old Fashioned at the bar. I was a little taken aback at the $9 price tag, but it was enjoyable nonetheless. My brother arrived shortly thereafter, and although I assumed it would be a long wait, it was only about twenty minutes.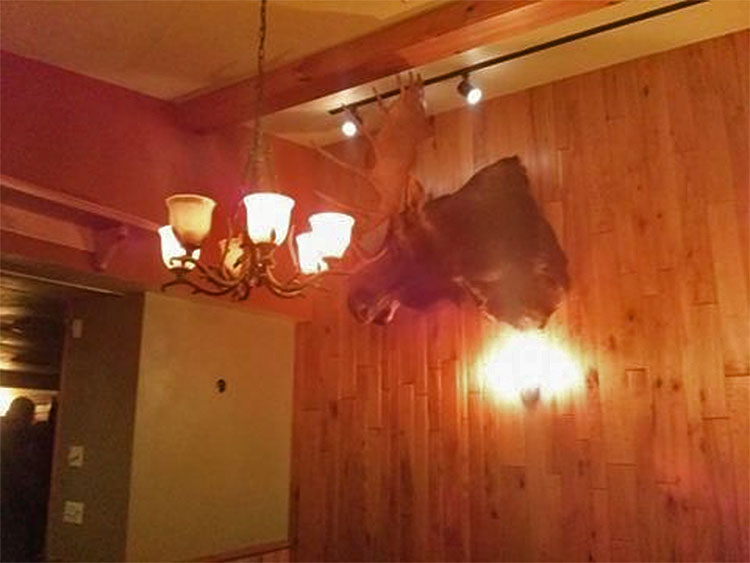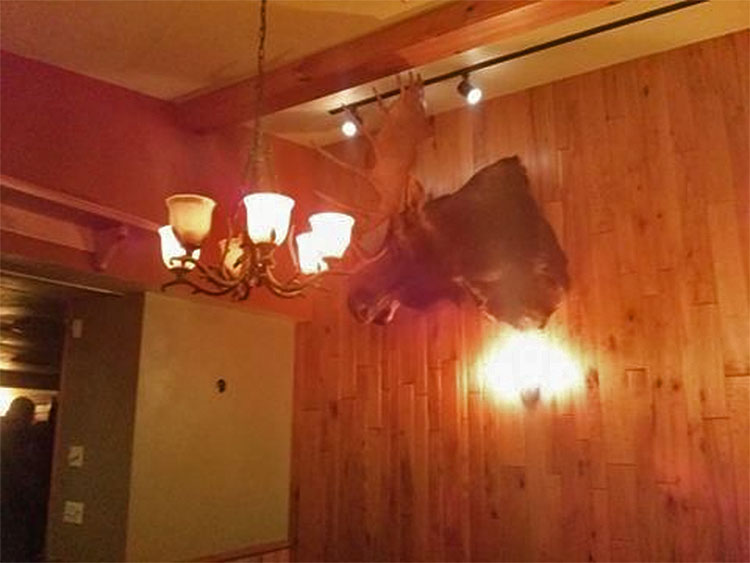 We were seated in one of the two dining rooms, and since the restaurant already knew we were having the fish fry, we were greeted at our table by rye bread, coleslaw, potato salad, tartar sauce, and paper plates. The coleslaw was vinegar based, but still managed to have a sweetness to it, and was made almost entirely of red cabbage. The potato salad was creamy with huge chunks of potatoes. We weren't given much of each, especially of the potato salad, but I didn't think to ask for more, as I knew the unlimited supply of fish was about to arrive.
Within minutes we had a basket of french fries and a platter of fish. The fries were golden and crisp. The fish was lightly breaded, which meant that instead of eating a crunchy coating, I was eating healthy portions of cod. The tartar sauce could be described as traditional, and it complemented the fish well. Once the platter of fish had dwindled to nothing, the waitress asked us how many more pieces we wanted, and we ordered another full platter.
As we sat at the table breathing heavily after two platters of fish, my cell phone started to ring. I ignored the call as I didn't recognize the number, and I let it go to voicemail. It was my bank's fraud detection service letting me know my debit card had had some unusual activity. It turned out that at the same time I was eating a fish fry at the Moose Inn, someone was going on a spending spree with my debit card information in Rockford, Illinois. I checked online and they had spent over thirty dollars at a fish and chicken restaurant called Da Catch. All I can say is these Illinois assholes better have ordered the fish fry. It was Friday.
Rating: All-you-can eat fish for only $10.99; solid fish and tartar; two types of potato included; my Old Fashioned cost almost as much as my fish fry. 4 out of 5 stars.