Caleb Westphal hasn't missed a Friday night fish fry since 2013. Follow along with his record-in-the-making here.
As I set foot in the parking lot of the 68th Street Pub (6800 W. Layton Ave., 414-282-9944), two things indicated to me that I had docked at a place of merit.  First, a strong aroma of fried fish encircled me, beckoning me into the building. Second, the place has a gravel parking lot. Now, I know it's subjective, but to me gravel parking lots at fish fish fry joints indicate quality. On one hand, it hints that they spend more time worrying about their food instead of parking lot aesthetics. On the other hand, there is an endearing quaintness to it. To me it is also nostalgic, as one of my favorite fish fry places growing up, the Freight House in North Fond du Lac, had a big gravel parking lot.
The 68th Street Pub building is small, and the entrance opens into the bar area. The dinner seating area is to the left, and the nine tables in the room barely fit. Beer signs and pictures adorn the carpeted walls, and somehow room is made for a handful of gambling machines. They don't take debit or credit cards, so you have to pay a three dollar convenience fee to use the ATM, which is inconveniently placed between the two bathrooms. I had to move while I was getting my money out so that someone could get to the bathroom.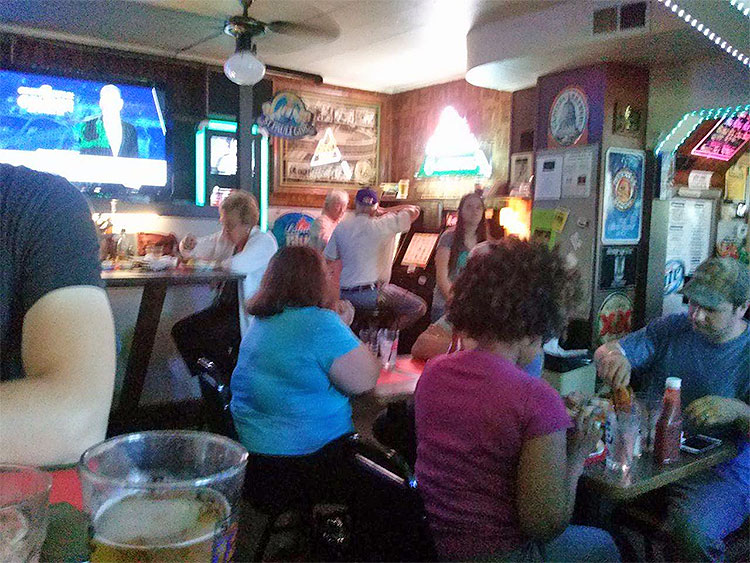 The restaurant was full, but not overly packed, and our table was called right as I took the first sip of my Old Fashioned. There is a whole page of the menu dedicated to fish fry options, which are available on both Wednesdays and Fridays. I went with the cod, walleye, and shrimp combo, which was $14.25. Every once in a while shrimp ends up on the menu, and while I obviously wouldn't buy it on its own as it's not fish, it's a nice add on. It came with one piece of walleye and two pieces of cod. The fish was all very good, although one side of the walleye was a little too crispy, and the cod pieces were a little on the small side. It just so happened that one of my friends got the cod fry, which came with four pieces that were larger than the two I was given, while another friend got the walleye fry, which came with two pieces that were uniform in crispness. I opted for potato pancakes for an extra two dollars, and they were excellent with a unique crisp coating. The coleslaw was first-rate, and the rye bread was some of the best I've had in a while. Taken as a whole package, the combo fry was well above average, although the sign outside that said "home of the best fish fry" was a bit hyperbolic.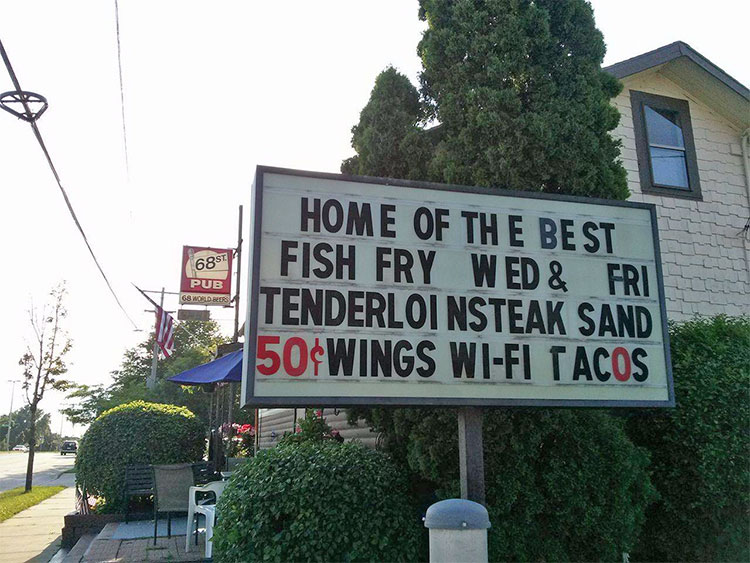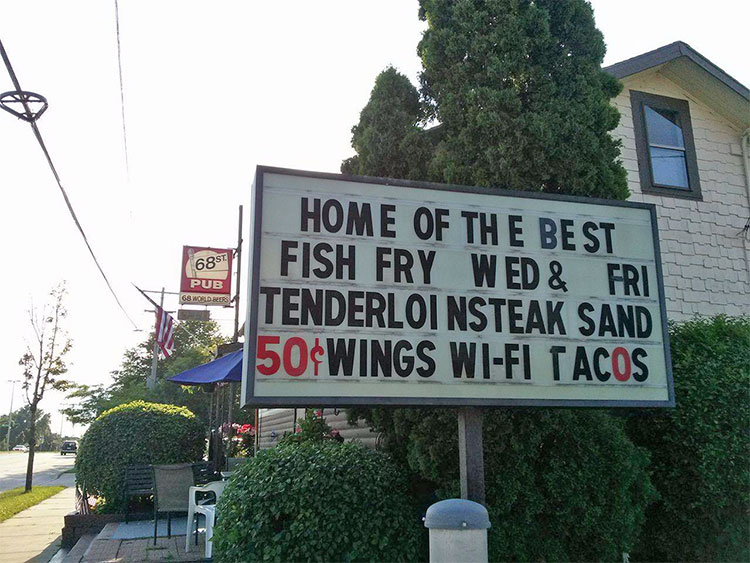 This was the second time I'd been to the 68th Street Pub, and somewhere down the long and winding fish river I'm sure I'll dock back at it again. A few years ago I decided to leave my house on Friday nights without a plan as to where I was eating, and stopped at random places that looked like they might have a fish fry. I ended up at a few places that turned out to just be bars, and at one of them the bartender asked me if I had ever been to the 68th Street Pub, because it was supposed to be good. That's how I ended up there the first time. I feel like one of these weeks I'll have to set out on an adventure like that again, and maybe I'll just keep my eyes peeled for gravel parking lots while I'm on it.
Rating: Multiple fish fry options, cozy and quaint classic Wisconsin bar atmosphere, gravel parking lot, each component of meal was above average, ATM fees, ATM that is totally in the way, like can't you get rid of one of those casino games and put it in its place? 4 out of 5 stars.