Tonight, Lakefront Brewery and Andy Junk will officially celebrate the release of Junk. The brewery's 31st "My Turn" installment is unlike any beer previously released in the employee-focused series. It's not just the first kettle sour Lakefront had attempted. It's also packed with cherry blossoms from Japan and more than 3,000 pounds of Door County cherries. Oh yeah, and it's called "Junk."
Lakefront's Export Manager and Social Media Manager has been waiting for his turn to make a beer since going full-time at the brewery roughly six years ago. With the long-awaited beer now hitting store shelves and draft lines, we decided to ask Junk's namesake a few questions about the new limited-release beer.
On what it's like to have his own beer:
It's been a long time coming. It feels so great. It's like a rite of passage here at Lakefront Brewery that people who don't work here don't get to experience. It's such an amazing feeling. I can't wait to have a pint of my own beer and I plan to go to as many establishments that carry it as I can. And it's a pretty great feeling to not have to bear the start-up costs of starting my own brewery to have my own beer.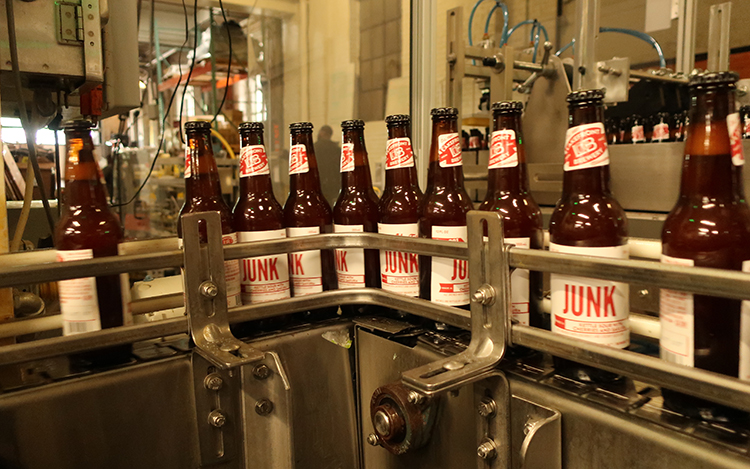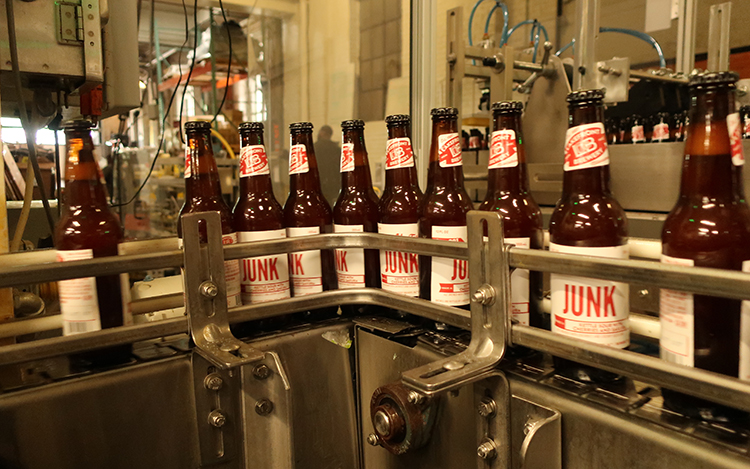 On how he arrived at the idea for the chosen style:
I'm good buddies with our old Special Projects Manager, Derek. He just moved on to Wyoming Distillery. My Turn: Junk was actually his last beer that he brewed here and brewed with me. Apparently, [Lakefront Brewery co-founder and president] Russ [Klisch] asked Derek to experiment with a sour beer. Once I heard that, I was like "Whoa. This opens up a door that I didn't know was available before. Alright. I'm going to do a sour beer."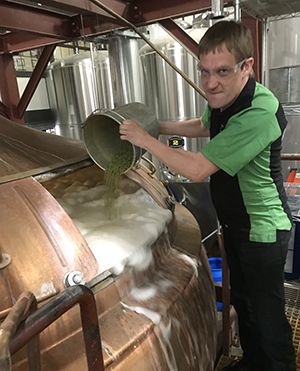 We decided last year that we were not going to make a cherry lager this year because we just weren't happy with how the barrel-aged one was turning out. I guess that was decided too late and we already had the cherries on order. I love our cherries. They're Door County cherries, so if I can use cherries and solve a problem, why not? As long as I could add some cherry blossoms to the mix. Because of my many travels to Japan, it's a flavor I really embrace and it adds a little bit of a backbone to it. It's cherry blossoms preserved in plum vinegar and sea salt. It's solving a problem and it's sort of a nod to Lakefront tradition because Lakefront, with those same cherries, was the first brewery in America to make a fruit beer since Prohibition with their cherry lager. It was all a series of happy accidents.
On why he called it "Junk":
There was resistance to that. My real last name is Jungwirth, but everybody here knows me as Junk. It's been my nickname since I was a teenager. I've kind of embraced it as a punk name because if you're into punk rock and you don't embrace a name, you might get one bestowed upon you later on that you have no control over. So I embraced that early on. People here at Lakefront rarely refer to me by my first name. They all just call me Junk.
I kind of had to fight for that [name]. With the Lakefront My Turn series—there are now 31 in the series—it's always been named after your first name, but if your first name has already been used, they tend to gravitate to your last name. I didn't think my last name would look as slick on a beer bottle as "Junk" would, and nobody calls me Andrew. I mean, if somebody named Joseph could use Joey, why can't someone named Jungwirth use Junk as their last name? That was not approved until, I'd say, three months before we were putting it into the production schedule. There may have been resistance by some in marketing, but I think it'll sell even better. And dammit, the proof is in the pudding. We're already pre-sold and oversold, so I have no doubts. It's so delicious and it's such perfect summer beer. I don't see it coming back from any retailers. I think it'll fly off shelves. And if it doesn't, I'll buy all the rest myself.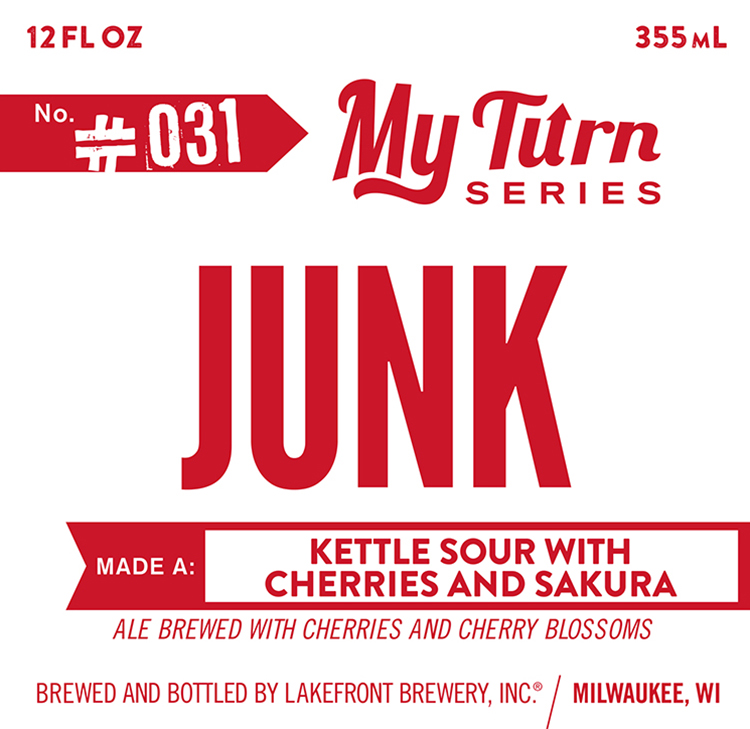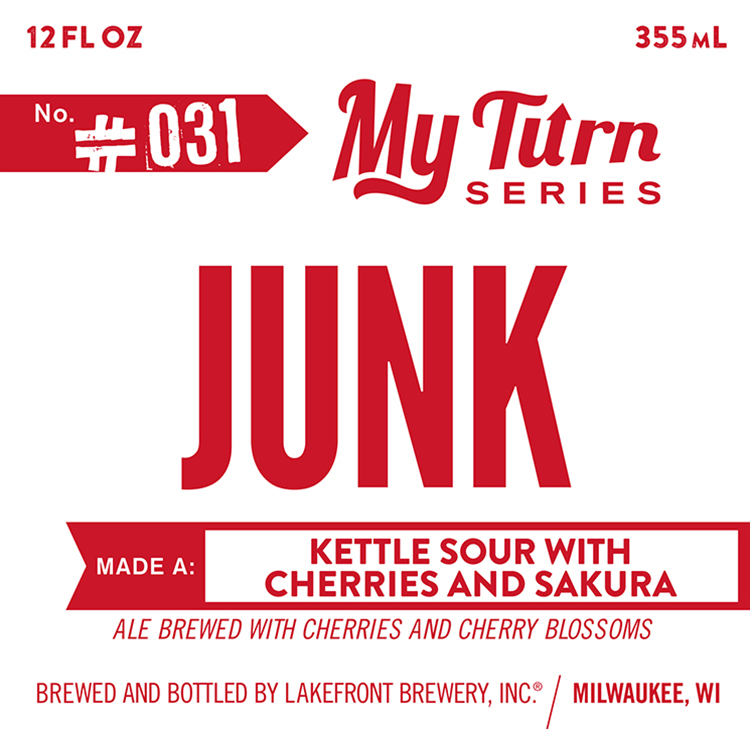 On why he chose the red and white color scheme:
That was absolutely all my choice. You have to factor in the process of elimination for all these beers, first of all. I'm not going to choose a beer style someone has already made because that's no fun. It's my beer. It's got to be unique. Of course, [the labeling] has to be approved and you can't do anything totally wacky. It's not like I can put a hologram on there or anything. It has to fit that standard template, which has changed a little over time. I wanted to do a white background because I thought that would stand out. No one has done that yet and I wanted to do red, simply, because if you look at the beer, it's got a lot of cherries in it. It's representational and I like that color scheme.
On his choice of bar for the release event:
Sugar Maple was my choice. I really thought that was going to be the best venue where I could also have a show. And it's also a non-standard venue for a show. I hang out there, I really like their beer selection, and they're good people. They actually reached out to me and pitched it. I said as long as they let me have a show, that sounded good to me. It's going to be two of my bands—Holy Shit! and Chinese Telephones. Holy Shit! has bee around for 18 to 19 years now and we've always been going. Chinese Telephones is kind of on a reunion, a couple-shows-a-year basis. Hopefully we end up playing more than a handful coming up because I think we might start writing some new stuff. This might kickstart a little Chinese Telephones actions. So it's those two and Nutritious And Delicious, which is two of my co-workers here at Lakefront.