To me, Milwaukee has always seemed like the city equivalent of that terrible trope where the "ugly" girl in the movie takes off her glasses, and you realize she was beautiful all along. I moved here from Minneapolis 13 years ago and have been forced to justify this choice ever since.
"Minneapolis is such a cool city!" the locals still sometimes say when they find out where I'm from. "Why would you move here?"
For some reason, people seem to take pleasure in roasting the Brew City. There was that Simpsons episode where Springfield beat out Milwaukee for the title of "World's Fattest Town." Stephen Colbert devoted an entire segment to portraying Wisconsin's largest city as a midwestern wasteland filled with abandoned malls and light beer-peddling, Fonzie-idolizing yokels. Even my extended family members have trashed Milwaukee TO MY FACE knowing full well that I've lived there for years.
But here's the thing, haters: I like it here. I come from a state often referred to as "Minnesota Ice" due to how tough it can be to make friends with people you haven't known your entire life. When I moved to Milwaukee, I was welcomed into new friend groups with open arms and six-packs. I'm continuously impressed by the incredible local food and music scene. You can buy liquor on Sundays here, a fact that only recently became true in Minnesota and dazzled my 20-year-old self when I first arrived. And laugh all you want about the Bronze Fonz, Stephen. I happen to love that Milwaukee deemed a fictional character important enough to erect a jeans-wearing golden idol on its glittering riverfront in tribute. Does Pittsburgh have that? I seriously doubt it.
At this point, I feel I've assimilated into the Milwaukee lifestyle fairly well. I spent the latter half of my 20s drinking PBR tallboys in venues like Cactus Club and Turner Hall. I once found a large black hair in my George Webb milkshake yet continued to patronize its East Side locations for years. I looked forward to watching that animatronic bear orchestra in the Grand Avenue Mall every holiday season during my breaks at Captel. Yes, there used to be an animated bear orchestra in that so-called abandoned mall, Stephen. I see you failed to include that little factoid in your Milwaukee smear piece. Does Phoenix have an animatronic bear orchestra? Not likely!
Okay, so there have been a few missteps. I was once booed out of the Walgreens on Oakland for wearing a Vikings shirt during a Packers game. Admittedly, I only made things worse by bringing up Brett Favre, who I wrongfully assumed would be the great equalizer. Of course, their "boos" were mostly in jest, although I did see one woman at the back of the line angrily brandishing a family-sized bottle of Ranch in my direction.
While I love my adopted city and the life I've created here, lately, I've been missing the Twin Cities in a way that seems to go beyond normal homesickness. The last time I was in Minnesota was December 2019, and while I try to make several trips back throughout the year, COVID has robbed me of those pilgrimages. I feel disconnected from my roots in a way I've never felt before, and the result has left me bitter and depressed. Angry and exhausted. Judgmental and paranoid.
I look back fondly on the early days of quarantine when celebrities released that godawful "Imagine" video that made everyone unite in their hatred for famous rich people. At least it still felt like we were all in it together. These days it seems like most people have simply gotten tired of caring and gone back to their normal lives. The novelty has worn off, and those whose jobs are secure are unbothered. But I never stopped quarantining.
With the painful thought of another holiday spent without my Minnesota friends and family members, I decided to buoy my spirits by seeking out Milwaukee's version of what is, to me, the most Minneapolis of all foods: The Jucy Lucy.
Matt's Bar originated this American cheese-filled beef bomb back in 1954. A hole-in-the-wall neighborhood bar that has since risen to landmark status, Matt's has welcomed American heroes such as President Barak Obama and Justin Timberlake to dine within its charmingly dank interior. My dad used to run a small community theater out of our church's basement, and after every opening night, the entire cast would go to Matt's for burgers and baskets of fries sitting on wax paper turned clear with grease. I have a distinct memory of plowing through a Lucy after portraying a child witch in "The Crucible," my 8-year-old face still caked with stage makeup.
While there was no way I could get my hands on an authentic Matt's Jucy Lucy, a quick google search revealed that the Crafty Cow in Bay View makes a similar version along with several other burgers stuffed with much fancier ingredients. I placed an order online for a Lucy topped simply with ketchup, mustard, and pickles and anxiously awaited my 5 o'clock pickup time.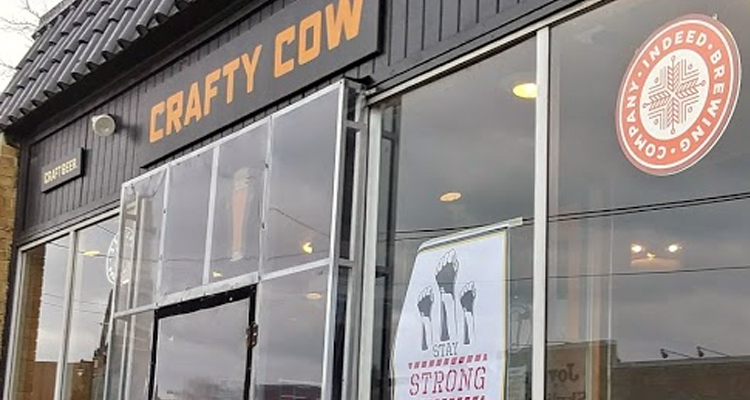 The curbside experience was swift and friendly. My car immediately filled with the seductive scent of cheese curds, which I also included in my order even though Matt's doesn't sell them. Upon returning home, I speed-walked through my front door and laid out my meal on my dining room table. The heaping pile of cheese curds was too tempting to ignore, so I grabbed an especially squeaky one and dunked it into the little container of sambal aioli. The 17-minute drive back to Shorewood had taken a bit of a toll on the crunch factor, but it was still a greasy little nugget of sunshine.
And then came the burger. I was weirdly nervous when I took my first bite (mostly because I'd been trained to fear the molten hot cheese of the Lucys of my youth), and while it was a bit less cheesy than I was expecting, the flavor was spot-on.
I'm not sure why but eating that liquified cheese-filled burger shifted something inside me. I felt better. A long and difficult day ended lighter. I was less depressed, more hopeful than I'd been in weeks, and filled with enough cheese to kill a small horse. It wasn't just that the food was good, but that it felt familiar. I was suddenly a kid back in Matt's searching the floor beneath the tables for jukebox change.
So, did an especially good takeout experience cure my homesickness? Not really. I still feel frustrated about being trapped in my house and find myself counting down the days until things return to "normal," whatever that may mean. But for one night, it helped. And with countless local restaurants in need of our business now more than ever before, I can't recommend surrendering to edible nostalgia enough.
While I realize that the equivalent of "eating my feelings" may not be the healthiest way to deal with my current situation, if I can find a way to feel closer to my hometown without actually leaving Milwaukee, I'll take it.
To go, preferably.