John Carpenter is a national treasure who seems to have the perfect life. He collects royalties, plays video games, makes music when he feels like it, and enjoys NBA basketball all the time. That last part includes watching Game 5 of the Milwaukee Bucks vs. Boston Celtics series last night. After the game, Carpenter tweeted out his delight in the Bucks victory.
My beloved tough-ass Bucks defeat the Celtics in the waning minutes of game 5. Hallelujah!

— John Carpenter (@TheHorrorMaster) May 12, 2022
Now, we knew that Carpenter has rooted for the Bucks, but his use of "beloved" in describing the team is a big deal. He's officially one of us. It is time for us to make John Carpenter the Sheryl Crow of this year's postseason. Either we get him to Game 6 or we have him out at the Deer District with a synthesizer live scoring it.
And Carpenter is right, this is a tough-ass Bucks team. Just like so many characters in his movies. Maybe that's why he likes the Bucks so much? So, armed with our film studies degree and fandom of the Milwaukee Bucks, here's the DEFINITIVE "Which John Carpenter character are you?" for most of the 2021-2022 Milwaukee Bucks.
Bobby Portis – Nada (They Live)
Bobby Portis seems to have some of the same characteristics as Rowdy Roddy Piper anyhow, but just like Piper's character in They Live, Bobby recently acquired a magical pair of glasses. And now, equipped with them, Portis can see all the subliminal movements while out on the court. How do you think he got that offensive rebound and tip-in to win Game 5? And it goes without saying that Bobby fucking Portis is here to chew bubble gum and kick ass…and he's all out of bubble gum.
Pat Connaughton – Snake Plisken (Escape From New York and Escape From L.A.)
We don't know why there's so much eye stuff with the Milwaukee Bucks, but when thinking of one of our players probably needing an eye patch, we've got to give it to Pat. How did he win it over Giannis and Bobby? Their recent eye injuries were to their right eyes, while Pat's eye injury against Brooklyn last year was to his left eye. What eye is the patch over for Snake Plisken? His left eye. Case closed.
Thanasis Antetokounmpo – The Thing (The Thing)
It doesn't show up in box score, but Thanasis impacts everyone on this Bucks team. His enthusiasm and excitement are infectious to every single player. So, if you removed all the negative elements of assimilation in The Thing and instead, it was all positive transformations, that's the role Thanasis serves. It's a perfect comparison.
Wesley Matthews Jr. – Jack Crow (John Carpenter's Vampires)
How does Wesley Matthews celebrate a three? His signature bow-and-arrow gesture. How does Jack Crow spear vampires? With a modified crossbow. There you have it.
Jrue Holiday – The film-within-a-film In The Mouth Of Madness (In The Mouth Of Madness)
Marcus Smart won the Defensive Player Of The Year, but in Game 5, Jrue Holiday turned him into John Trent at the end of In The Mouth Of Madness. Just picture Marcus Smart alone in the film room watching replays of Jrue's block and steal, while Smart laughs maniacally until he starts crying.
Brook Lopez – Jack Burton (Big Trouble In Little China)
Jack Burton and Brook Lopez both are big, goofy guys who can be the hero when the role is thrust upon them. We think Lopez was at his most Burton-esque in Games 5 and 6 of the Eastern Conference Finals last year. Heck, think of the poster for Big Trouble In Little China. We can totally see Brook wearing that outfit (sans weapon) to Disney World.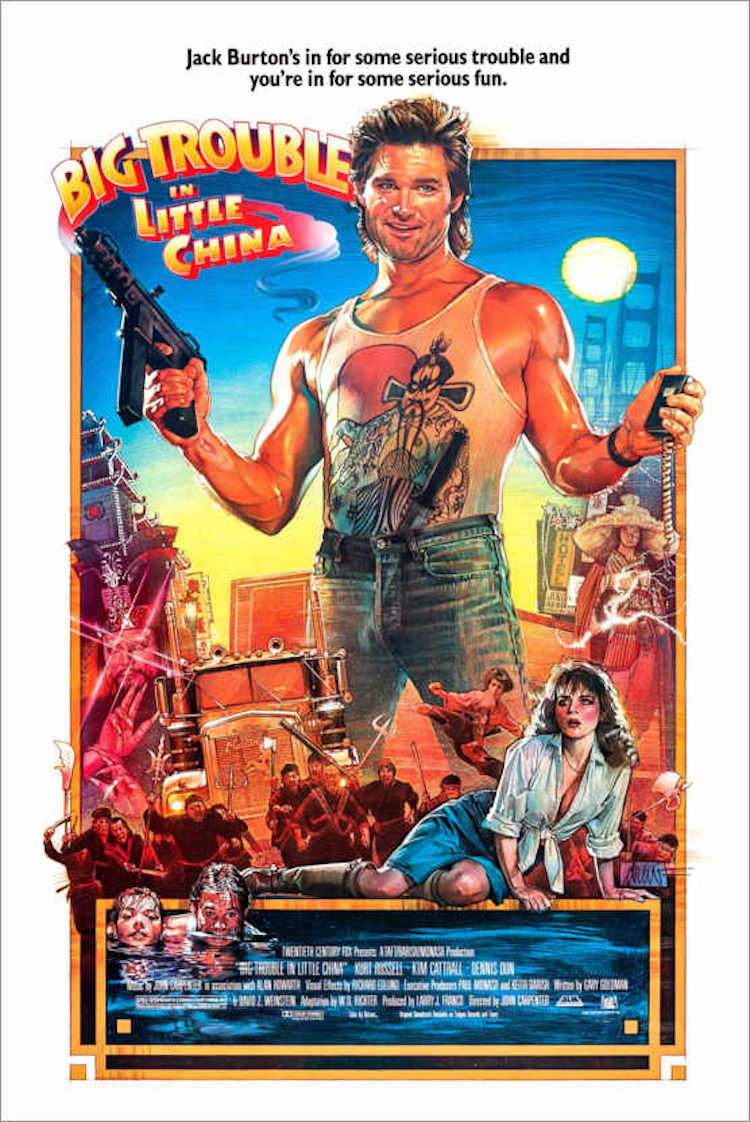 Khris Middleton – Scott Hayden (Starman)
Scott Hayden is the titular Starman, and Khris Middleton is a three-time NBA All-Star. So, the "Star" connection alone should be enough. Also, we're all hoping that just like Hayden at the end of the movie *SPOILER ALERT*, Middleton is fully healed soon!
Grayson Allen – Napoleon Wilson (Assault On Precinct 13)
At the beginning of the offseason, a lot of Bucks fans were upset that Allen was now a part of the team. In their eyes, he was a "criminal," someone with a bad reputation and a history. But now we're in the thick of it and there's no time to think about someone's past. All that matters is that they're on our side and fighting for the same thing…survival, however long it lasts.
Serge Ibaka -Nick Halloway (Memoirs Of An Invisible Man)
Milwaukee's big trade deadline acquisition has barely seen the court in the playoffs, which makes him a bit of an "invisible man." Memoirs Of An Invisible Man was reportedly an unhappy experience for Carpenter, so let's hope that Ibaka is still enjoying being a part of this run!
Giannis Antetokounmpo – Michael Myers (Halloween)
It was a toss-up between Elvis and Michael Myers, but ultimately, we had to go with Michael Myers for what Giannis is on the court to opponents. There is no stopping Giannis/Myers. They are the boogeyman. They can be anywhere at any time, and they are not held back by time and space. And though it isn't canon, we bet Michael Myers probably would like smoothies too?
FEAR THE DEER.