Caleb Westphal hasn't missed a Friday night fish fry since 2013. Follow his record-in-the-making here.
Some people go to church on Good Friday, and some people go to Schwabenhof (N56 W14750 Silver Spring Dr., Menomonee Falls, 262-252-4100). It is my supposition that more people probably go to Schwabenhof. This German restaurant and banquet hall claims to be able to seat 400 people at a time, and for as packed as it was this past Friday, I'll give them the benefit of the doubt.
Arriving at Schwabenhof was not unlike how I imagine arriving at a Texas ranch after a long journey would be: I traveled to the outskirts of Milwaukee, passed under an arched sign entering the property, found myself in a colossal gravel parking lot, and was famished. I put my name in and was told it would be a 45-minute wait. I maneuvered my way to the bar for a Brandy Old Fashioned.
As I sipped the unofficial state drink, I took in the layout of the building. At the north end a room was filled with people simply waiting for their to-go orders to be prepared. That's right, this place has a waiting room for fish! Tucked beyond this room is the kitchen. It seemed that every 30 seconds a waiter or waitress with a full tray came flying past the to-go waiting area and the bar, deftly dodging people as they made their way to the south side of the building where the banquet hall is located. Shortly after finishing my Old Fashioned my table was called, and I made my way through the one doorway that connects to the banquet hall.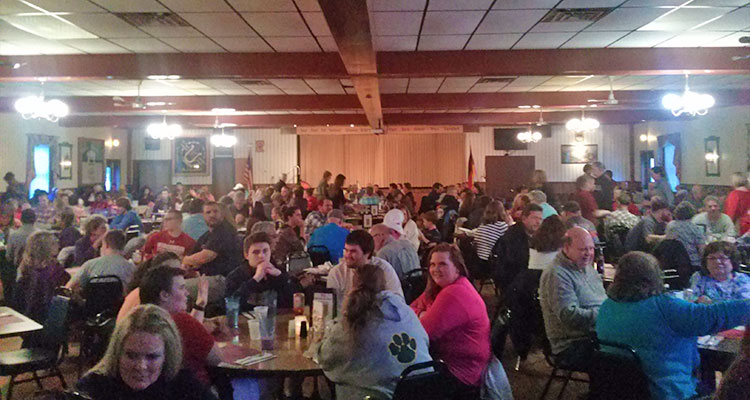 Lake Perch and Walleye Pike are on the menu, but I decided to go with the all-you-can-eat option once again, which is Cod, and is $13.99. The thing about AYCE at Schwabenhof is that it is $13.99 for AYCE fish, $13.99 for AYCE chicken, or $13.99 for AYCE fish and chicken. You can start out by getting the AYCE fish and then decide halfway through you want some chicken, too. Just like that, you have jumped to another menu option but you are still paying the same price. The chicken was tempting, but as to not commit blasphemy on Good Friday I stayed with the fish the whole meal.
While waiting for my meal I ordered a tapper of Stiegl Goldbräu and a cup of clam chowder. The waitress brought me a bowl and said there weren't any cups left, so I got a few extra ounces of chowder for free. When they brought my fish they also brought an extra plate and said, "You guys will be able to eat this one too, won't you?" So, although the fish is all-you-can-eat, by some circumstance I ended up with a whole second plate with everything. As much as I wanted to, I wasn't quite able to finish it.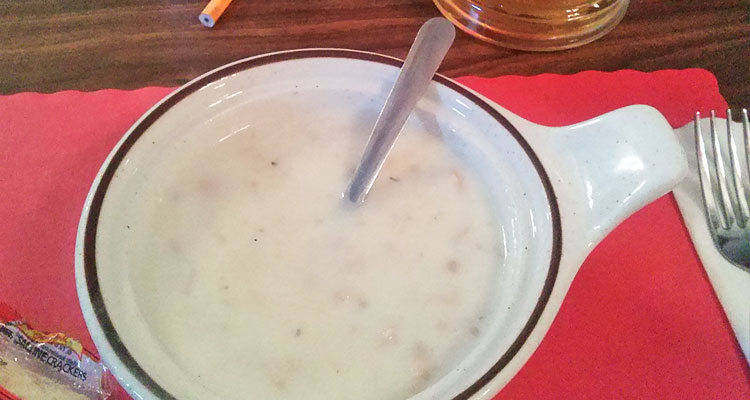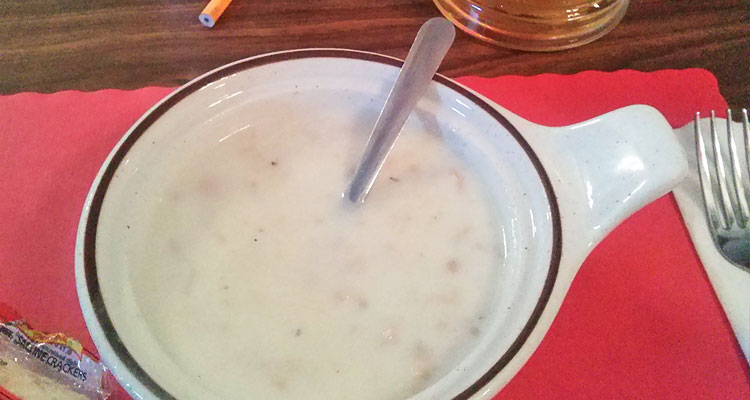 The cod pieces were huge, had a light breading, and were satisfying. The potato pancakes had a uniform shape, were soft, and had a lot of onion. The coleslaw was pretty standard, was cut into small cubes, and came in a small cup. The bread was a pretzel rye with salt on the edges.
Schwabenhof is steeped in tradition, which enhances the Friday night fish fry experience. The food is excellent, but to-go there on a packed Friday is an event in and of itself, and I almost enjoyed the ambiance as much as the food. Maybe this was just a Lenten finale fluke, but I'd suggest you make the drive under the arched sign and see for yourself.
Rating: Dynamic ambiance, hard working and efficient wait staff, AYCE options, excellent food, tradition, an all-around experience. You can't get much better than this. 4.5 out of 5 stars.