Caleb Westphal hasn't missed a Friday night fish fry since 2013. Follow along with his never-ending adventures here.
This has probably happened to you more than once. You are driving over the Hoan Bridge, taking in the beauty of the Milwaukee skyline or gazing across Lake Michigan, thinking about the awesome city you live in…and then the smell of sewage hits you and you almost go full-on Blues Brothers in an attempt to escape it. I wasn't driving over the bridge this past Friday, but I was hanging out at a place pretty close to it, and the aforementioned smell was constant. I needed to leave the stench of sewage, Milorganite, and rotten fish for something more soothing: the smell of fried fish. So I got in my Bluesmobile 2006 Ford Focus and made my escape.
There were a handful of places with fish nearby, such as Drink Wisconsinbly and O'Lydia's, both of which I have been to and will probably return to at some point. But I wanted to go to a place that I had somehow never been to and that had been on my list for awhile: St. Paul Fish Company (400 N. Water St. 414-220-8383).
Located in the southeast corner of the Milwaukee Public Market, St. Paul Fish Company has been around since 2005, being one of the original businesses in the market. It is both a full-on restaurant and a fresh seafood center. St. Paul has an inside dining area, an outside bar covered with a thatched roof, an oyster bar, a case with fish and seafood on ice, a case with prepared seafood dishes, and a live lobster tank, to name a few things.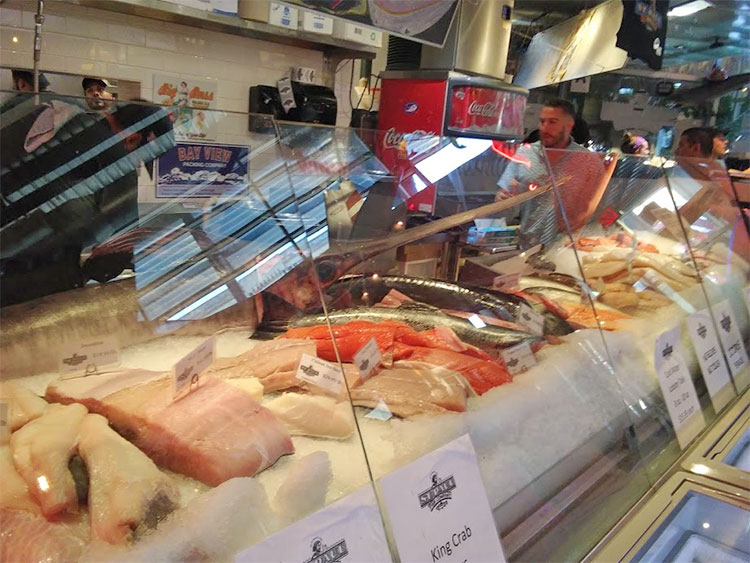 Just about any type of fish or seafood you can think of can be purchased there, either fresh or prepared. Their dine-in menu has grilled fish dinners, seafood sandwiches, a lobster dinner special, mussels, clams, calamari, oysters, and more. Of course, there also is a fish fry. Schlitz battered cod, grouper, walleye, catfish, and perch are all available. On Friday, from 4-8 p.m., the price of the perch fry drops from $14.95 to $12.95.
My companions and I were told it would be about a 35 minute wait to get a table in the dining area; as the Public Market has seating upstairs and outside, we decided that getting our food to-go would be easier. I went with the perch fry, as well as a cup of clam chowder. After ordering, I was told it may be about a 25 minute wait for food, which made me think we could have just put our name in for a table anyway. The wait ended up being a little shorter, though, and we got our food in about 15 to 20 minutes. I walked towards the exit with my bag of food, being surprised by how heavy it was.
It was just about the perfect late-summer weather for eating outside, and we found a spot along the building on St. Paul Avenue. I opened the bag and was pleased to find both a fork and a soup spoon, some napkins, and some ketchup packets. The heavy bag did not disappoint. When I opened the box of food I found four butterfly fillets of perch. There was a hefty mound of fries, but for once they were buried under the fish, as they should be, instead of on top of it. I was also pleasantly surprised to find two containers of tartar. Hooray! Beyond that there was the usual container of coleslaw. Notably absent was rye bread, which St. Paul doesn't include with their fish frys for some reason.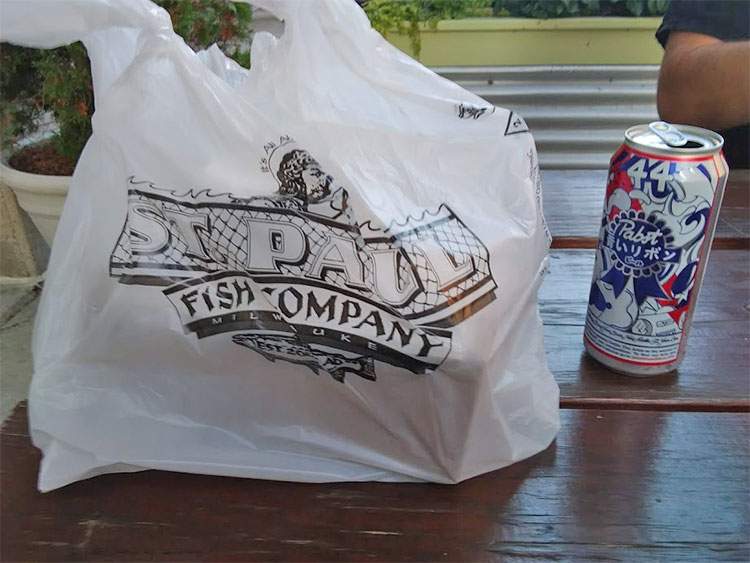 I switched back and forth between the fish fry and the clam chowder. The chowder had a thinner consistency, almost souplike, and had some large chunks of potatoes. Being that I was at a place that specializes in seafood, I thought there would be something notable about the clam, but it seemed pretty standard to me.
The fish was of high quality and had an inherent mild flavor. The fillets were covered with a heavier, textured breading that appeared as if it would crumble, but it actually held together quite well. This made the fish perfect for hand dipping into the tartar sauce, and the two blended well together. Overall, the fish was markedly above average.
As my meal was winding down, one of the new Milwaukee streetcars drove past. Some people take pictures of streetcars, and some people take pictures of people who take pictures of streetcars. I attempted to take a picture of a piece of perch with a streetcar in the background.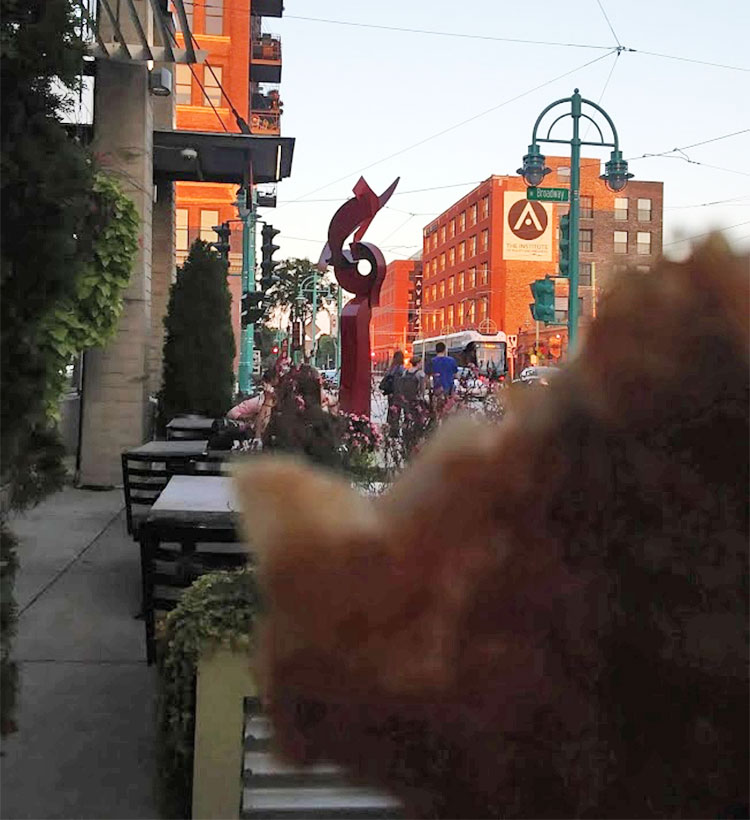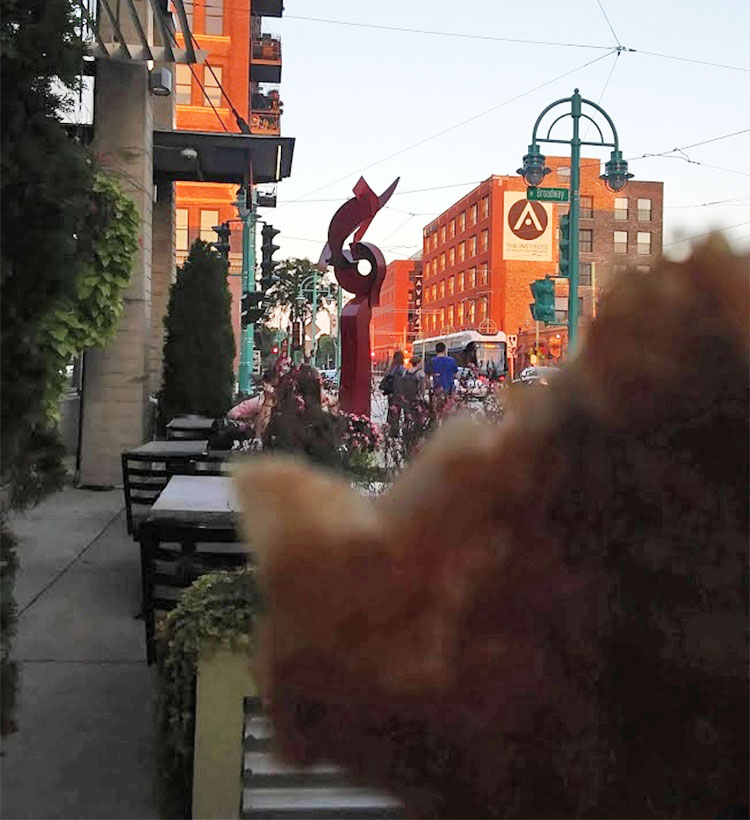 After my meal, as I was walking back to my car, I began reflecting on how the evening pretty much encapsulated Milwaukee. The smell near the Hoan Bridge, a fish fry, a streetcar driving past—for better or for worse, these are the things that shape the city we love. Just about the only thing more "Milwaukee" that could have happened at that moment would have been for the Milverine to walk past. Did it happen? Yes. Yes, it did. I hope he was going to get a fish fry.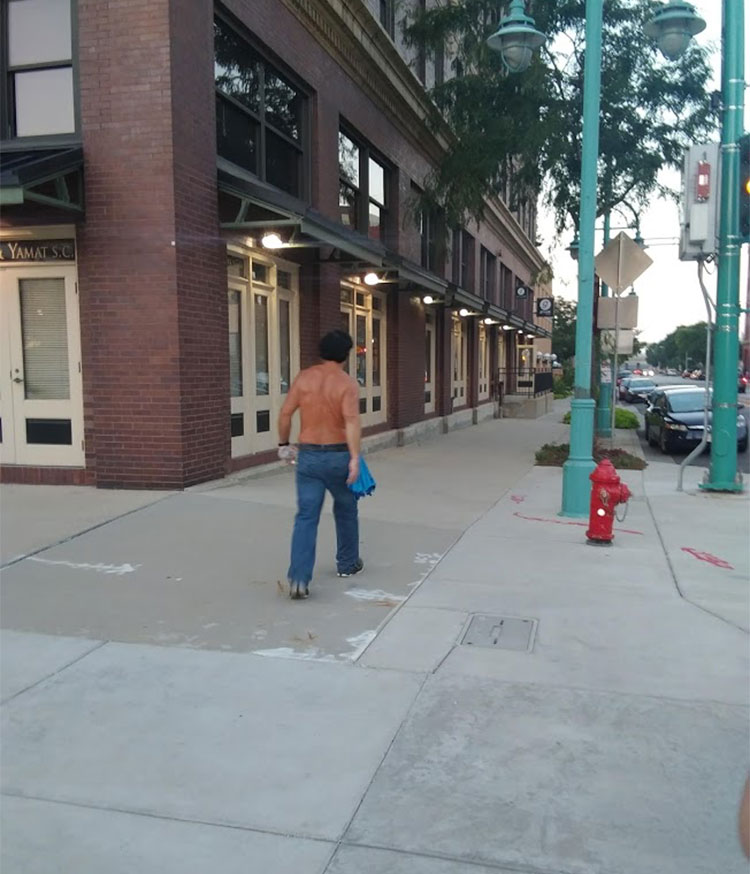 Takeaways: there is a bunch of fresh seafood in a case and I want to try all of it; also, you can buy fresh perch and cod and put it in your freezer just in case you ever need to make an emergency fish fry; they have an oyster bar and an outside bar; if you don't have time to get a table in the dining room, you can sit upstairs or go outside; hefty portion of fish and fries; high quality perch; I got two tartars; you don't get rye bread; very "Milwaukee"—I escaped that Hoan Bridge smell and saw a streetcar and the Milverine. RECOMMENDED