Caleb Westphal hasn't missed a Friday night fish fry since 2013. Follow along with his never-ending adventures here.
In the past, when I've thought of noteworthy history about the village of Grafton, I've thought of how it was the home of Paramount Records, the label that recorded blues artists such as Blind Lemon Jefferson, Son House, and Ma Rainey in the 1920s and '30s. But with this week's fish fry, I learned there is much more of note that happened in the area. It all started coming into focus after I came across Juice's Ghost Town (990 Ulao Rd., 262-376-9003), where I ended up going with two of my friends who live in Grafton.
The ghost town referred to in the restaurant's name is Ulao, which also was known as Port Ulao. Located between Grafton and Lake Michigan, Ulao sprang up in 1847, on account of James Gifford, who created a place for settlers to sell wood they had cut down while clearing land for farms. He built a 1,000-foot pier into Lake Michigan, and a chute that carried wood from the bluffs above to the beach below. Gifford sold the wood to the crews of wood-burning steamships that traversed the Great Lakes.
Shortly after Gifford started selling wood, a plank road was built from Ulao to just west of the Milwaukee River in Grafton. This is now where Ulao Road (County Highway Q) and Highway 60 are located. Juice's Ghost Town is on Ulao Road.
In 1850, Captain John Randolph Howe took over Gifford's operation. One of his sisters, Jane, was married to Luther Guiteau. They also lived in Ulao and had a young son named Charles. Charles Guiteau would later become infamous, after he shot President James Garfield in July of 1881. Garfield lingered for a few months before dying, and Ulao's most noteworthy former resident was hanged the following year.
The village gradually began being abandoned following the Civil War. The main factor in Ulao becoming a ghost town was that steamships no longer needed wood for fuel, as the shift to coal was made. Yet, in the late 19th and early 20th centuries, some buildings were still being built, including the building that is now Juice's Ghost Tavern, which was built in 1902. It was the Ulao Tavern and Dance Hall until about 1928. Since then it has had many owners and has gone by a few names, such as Ghost Town Tavern and the Ulao Inn. It has been Juice's Ghost Town since 2005, when it was taken over by Mike "Juice" Gannon.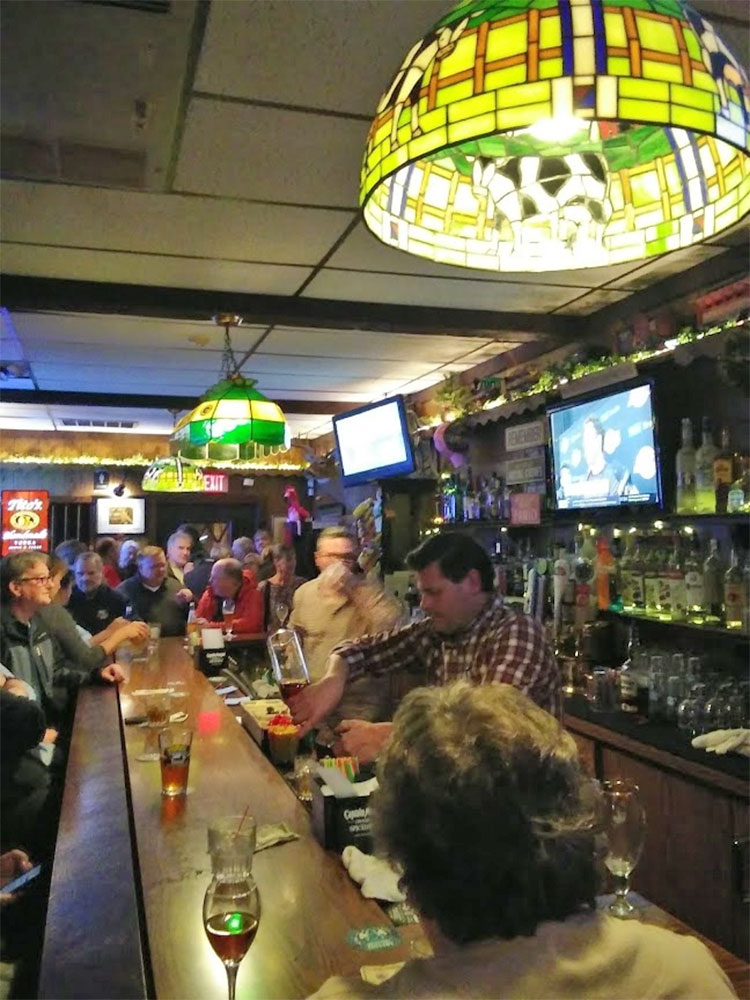 My friends and I arrived at the restaurant around 6:30 p.m. to find it completely packed. We squeezed through a crowd of people to get to the far side of the bar to put a name in, and were told it would be about a 45-minute wait. After getting an Old Fashioned—which had the largest cinnamon and spice flavored mushrooms I've ever had for a garnish—the coziness of the place took over. It was almost as if we were insulated from the outside world, with the carpeted floors and wood-covered walls protecting us.
Over the bar hung three green lamps; the one in the middle had a Packers logo on it, while the two on the ends were covered with dairy cows. People were eating at a few tables in the bar room, as well as in the small dining room connected to it. Unbeknownst to us, there was another, even smaller dining room near the kitchen, that couldn't be seen by looking into the main dining room. It was in this smaller dining room where we were seated after about an hour wait.
Fish options include breaded or beer battered perch ($14.50/ extra piece $4.00), breaded or beer battered haddock ($11.50/ extra piece $2.00), and breaded or beer battered walleye ($14.50). The fish is also available broiled or pan fried. Potato options include french fries or baked potato, or homemade potato pancakes for an extra dollar.
I ordered the haddock, and asked if it was possible to get both beer battered and breaded with the order. I was told this may be possible, but there wasn't any guarantee. (In hindsight, I should have ordered either one or the other, and then ordered an extra piece of the opposite type for $2.) I went with the potato pancakes, and added on a cup of seafood chowder.
The chowder was pretty typical, but unique in that it had yellow, red, and green bell peppers. I ended up with two pieces of breaded fish, and traded one of them for a beer battered one from one of my friends. The breading was made with the smallest of crumbs, and both types of fish had a similar, mild flavor. The fish was appetizing, and I ordered a third piece, but there was nothing particularly remarkable about it to set it above the pack. The tartar sauce was okay, but again, there was nothing that made it memorable.
Rounding out the meal, the potato pancakes had an amazingly soft inside, almost like mashed potatoes. They had a crispier outside, with a varying shape. The coleslaw was of high quality, being extra creamy and thick. The meal came with a pretty decent piece of marble rye as well.
I was feeling pretty satisfied and relaxed by the end of the meal, but I knew there was one more thing I had to do. I drove about a half mile down Ulao Road and turned around in the driveway of the Guiteau family home. Is this something people often do after their meals at Juice's? Probably not, but I wasn't going to pass up the chance. It's not every day you get a fish fry in a ghost town.
Takeaways: The restaurant is located in a ghost town; the ambiance is hard to beat; decent fish and pancakes; so-so tartar; a fine creamy slaw; after your fish fry, you can drive by a house where a presidential assassin lived as a child.