Caleb Westphal hasn't missed a Friday night fish fry since 2013. Follow along with his never-ending adventures here.
Oftentimes a restaurant is an oasis, and a fish fry is a respite from the storms of life. For me, this has become the case even more so during the past few years, as a frequent hobby has taken on almost sacramental proportions. This past week it was the journey to and from the fish fry that was the storm—from driving darkened roads through backed-up traffic and construction on my way, to having a surreal and almost nightmarish experience on my drive home afterwards. But, in the middle was the shelter, the always steadying force, the fish fry.
It was going to be a later fish fry; I was going with a friend who worked until 7, and would be following him to the restaurant. He had suggested Country Lanes (11231 W. Forest Home Ave., 414-529-4700) in Franklin as an option. I hadn't been to a bowling alley fish fry in a few years, and after looking at the menu, it sounded like a decent idea.
As night fell, I followed my friend south on Highway 43. We hit traffic—presumably from an accident— left the highway, and returned to it after it became Highway 894. After once again exiting the highway, we hit construction near Highway 100 and Forest Home Avenue. After clarifying where we were and turning around, we eventually reached Country Lanes. It was shortly after 7:30.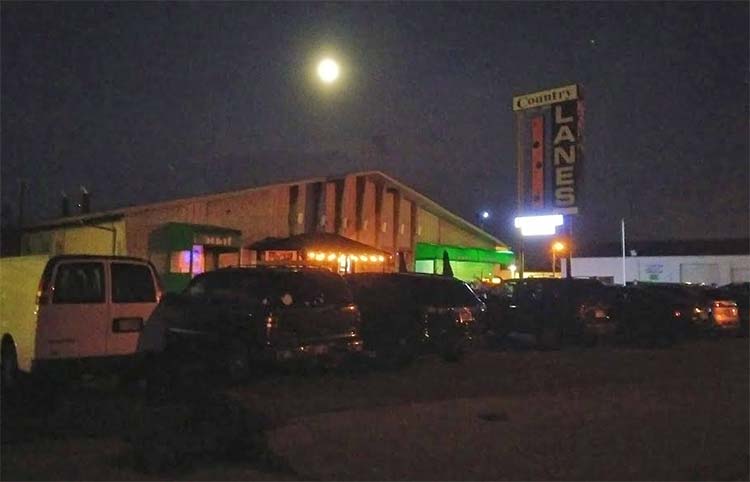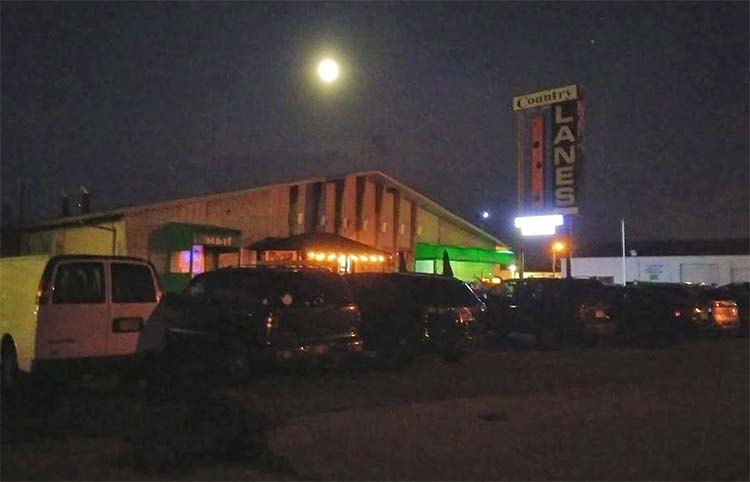 We found the bar area, and put in an order for drinks and food before finding a seat. After ordering an Old Fashioned—which was somewhat sugary and syrupy, and was served in a pint glass—I took a look at the fish options. They include fried ($11) and baked ($12) cod, lake perch ($16), and a seafood combo platter of cod and shrimp ($14). Potato options are seasoned crinkle-cut fries, tater tots, or homemade potato pancakes. I chose the fried cod with pancakes, and also ordered a cup of clam chowder ($3).
The bartender told us we could have a seat anywhere we liked. Besides seats at the bar itself, there were a few tables and a few booths to choose from. We took a booth. The room had a handful of gambling machines lining one wall, an unlit fireplace, and carpeting emblazoned with blue, red, and purple bowling pins and balls. Music from artists such as Nazareth, Ozzy Osbourne, and John Mellencamp could be heard overhead.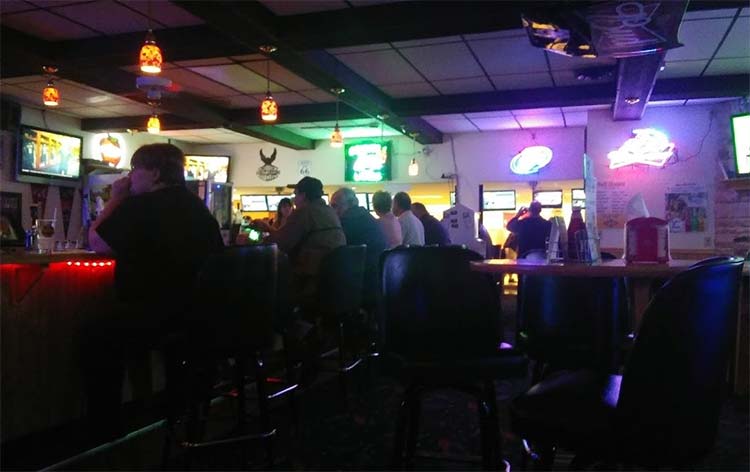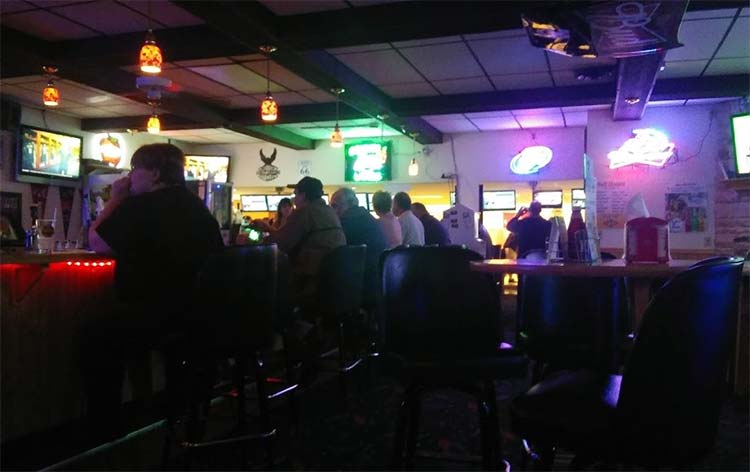 The clam chowder arrived quickly, and I was told it had been made that morning. Overall, it was a solid chowder. It had a good balance of flavor, consistency, and clam and potato morsels.
The fish fry arrived soon afterward, and there are a few things to mention about it before getting into specifics. First, almost everything was made from scratch, including the tartar sauce, coleslaw, potato pancakes, applesauce, and breading on the fish. Second, Country Lanes has just gotten a new fish fry menu and kitchen staff, this only being the second Friday with the new recipes. That was another thing that had piqued my interest to go there in the first place.
I was given about seven cod loins. The melt-in-your-mouth morsels were covered with a thin, seasoned breading, of which dill appeared to be one of the ingredients. The tartar was just fine, and I ate not only mine, but that of my anti-tartar friend as well. The potato pancakes were rather thick and uniform in nature, and were spiced up with what seemed to be onion powder. The creamy coleslaw had a hint of what I thought was a peanut taste, but then I realized it contained sunflower seeds (I later realized this was listed in the menu as well). It was otherwise a pretty standard coleslaw, but this made it unique. Finally, the rye bread was of high quality, and had a memorably soft texture.
As I was just about finished with my meal, the chef came out and asked how everything was. I can't remember the last time this has happened to me, and I thought it was a fine gesture. On a similar note, I should mention that the bartender and another worker were also on top of their game.
Now, I am no expert on bowling alleys, or even bowling alley fish frys, but this may have been the best bowling alley fish fry I've ever had. Whereas you might assume a fish fry at such a place would consist of pre-breaded fish and potato pancakes that go straight from a freezer into a deep fryer, this is not the case at Country Lanes. Almost everything is handcrafted, and is at least as good, if not better than what is served at most sit down restaurants.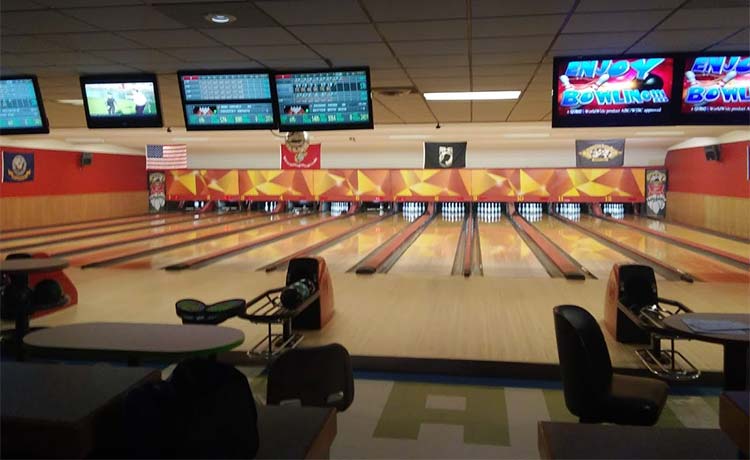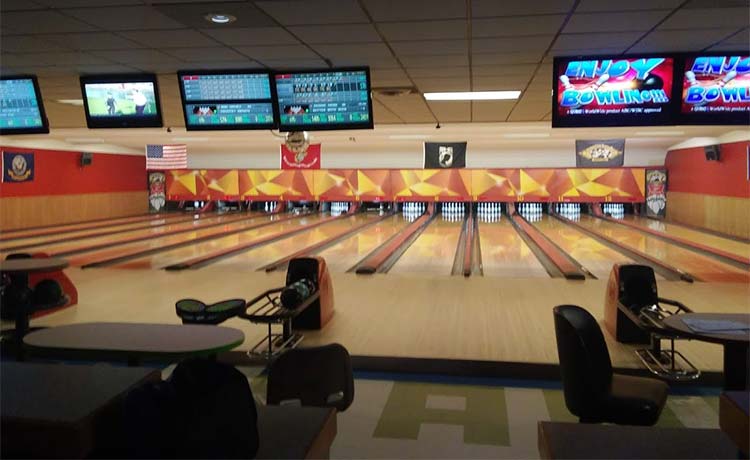 After eating, I wanted to get home quickly to relax, especially since I had had a hectic time getting to the bowling alley in the first place. I decided to switch on my GPS, erroneously thinking this would simplify my trip back home.
As I headed east on College Avenue from Highway 100, I was anticipating turning left on 92nd Street and heading north. The trees started to thicken on each side of the road, and I assumed I was going through Whitnall Park, an area I had driven through before, but not in a few years.
As I was just about to get to my turn, someone wearing a yellow reflective jacket and holding a red wand directed me off of College Avenue. I drove a little bit farther, and came upon a few more people directing me to continue a certain way. Where were they directing me? Did something happen with traffic on the main roads? Did something even more serious happen somewhere? Was I being directed to an event? Would I have to pay a fee when I got there? Was I already supposed to have paid? Was there an exit or would I be stuck there? These were all thoughts that raced through my head, as well as, "Well, this is it, at least my last meal was a fish fry."
After winding through the dark, tree-lined roads, and being directed about five times by people in the same outfits, I came upon a grass clearing. The car in front of me parked, I parked next to it, and a car parked next to me. "Act normal, like this is where you were trying to go," I thought. I got out of my car in a daze, and looked off to the distance, where I saw some fantastical looking lights.
I did not focus on them enough to see what they really were. I attempted to snap a quick picture, but was so distraught that I didn't actually end up taking one. I scanned the perimeter of the parking area for an escape, and saw a few cars moving towards what I thought may be an exit. I got back in my car, drove towards them, and found my way back to Forest Home Avenue, coming out right by Clifford's. I am always happy to see Clifford's, but at this moment it was nothing short of magnificent.
At home, I looked up where I had been. It turned out I was just a fucking idiot and I had inadvertently been directed to, and drove into, the opening night of China Lights: Panda-Mania at Boerner Botanical Gardens. It had been a struggle getting to fish and an even bigger struggle getting home afterwards, but in the middle was the fish itself, giving shelter from the storm.
Takeaways: they just started a new fish fry setup a few weeks ago; almost everything is handmade; above average, hand breaded cod; there were sunflower seeds in the coleslaw; scrumptious, soft rye bread; reasonably priced fish fry for the quality; Old Fashioneds in pint glasses are weird; for a few minutes I thought I had eaten my last meal, but at least it was a fish fry; if you go here in the next four weeks you can stop at China Lights: Panda-Mania afterwards.