Caleb Westphal hasn't missed a Friday fish fry since 2013. Follow along with his never-ending adventures here.
I'm hoping that Wisconsin's winter season is finally over. A blizzard hit us the second weekend in April, and then we had another dumping of snow the following Wednesday. This year, winter seemed to last about six months, and at some point I thought it was going to suffocate me. It eroded my ambitions, and some days got pretty bleak. But in the back of my mind I kept having visions of winding and hilly Wisconsin country roads, lush fields, rolled down windows, a warm shining sun, and blaring rock and roll music. Would a destination even be desired in such a scenario? Probably not unless you realized that small towns dotting the Wisconsin countryside have restaurants that serve cherished Friday night fish frys. The sun may not have been fully cooperating this past Friday, but being that there were droplets of rain coming down and not flakes of snow, I figured it was time for a fish fry on the road.
The Nite Cap Inn in Palmyra (227 S. 3rd St., 262-495-2659) had been suggested to me a few times, and everyone who had brought the place up always raved about their potato pancakes. A guy I used to work for first told me about them, and most recently a guy randomly messaged me online saying I should go there. I figured I'd heard enough about it, and had to check it out for myself.
I left Milwaukee about 3:45 p.m., and put on John Prine's new album as the soundtrack to the journey. As I drove the stretch between Mukwonago and Palmyra, I passed rolling fields, pine trees, and a stretch of blacktop painted with "turtle crossing." My stomach grumbled as I went by the Brookwood Pub and Grill, which had a sign that said "The best fish fry." I went past a picturesque scene of an old red barn with an American flag hanging off of it, and past Horseriders Campground, where horses could be seen tied up at camp, giving me the feeling I was passing a western movie. Finally I made it into Palmyra, which felt like a sleepy old town with the exception of one thing: Night Cap Inn.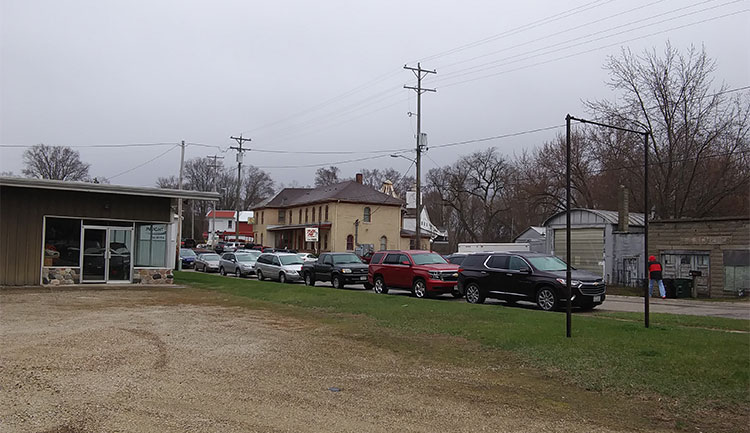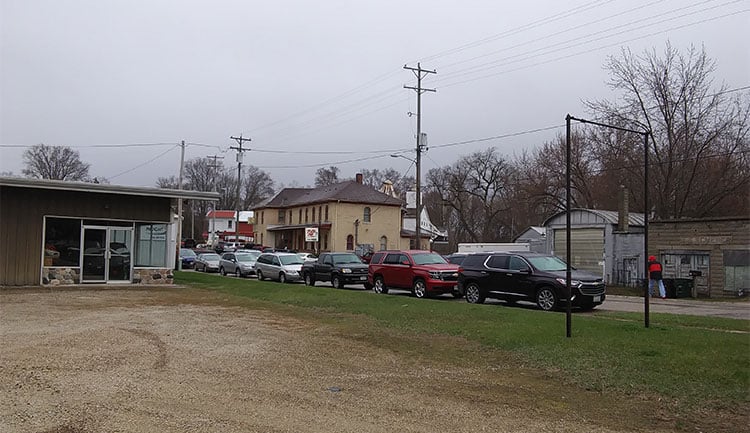 It was about 4:45, and it was anything but sleepy inside the restaurant. I was on my own for the evening, but being that I had driven so far to a place of such promise, I decided there was no way I was going to do my usual eat-at-the-bar-when-I'm-by-myself move. I put my name in with the hostess. Then, in what has to be the best way to order food in the world, she said, "Fish?" "Yes," I replied. "Pancakes?" "Yes," I affirmed again. It was that simple. Who would think of choosing differently?
The Night Cap Inn has been standing since 1857, and has mainly been a hotel, restaurant, bar, or combination of those things over the years. From the 1870s into the early twentieth century, it went by names such as The Commercial House and The Commercial Hotel. It was purchased by William and Lily Braasch Reich in 1915 and became "Reich's Hotel." Their son Bill and his wife Isabelle took it over in 1938, and Isabelle restarted the restaurant part, which had been dormant for years. It appears food has been a part of the building ever since. It changed hands a few times over the following decades, until John and Betty Betenz bought it in 1974. Betty, who passed away in 2016 at the age of 93, was already known for her potato pancakes at the time, and her legend continued to grow until she became known as the "Potato Pancake Queen of Palmyra." After John died in 1986, Betty ran it for another two years on her own; Helmut and Sue Nestler bought it in 1988 and have owned it since.
If last week felt like a trip to the 1970s, this week seemed to take me somewhere timeless. As I hovered around the bar, it wasn't out of reach to imagine myself waiting for a meal in the early 1960s, or even in the late 1980s, during the time when I was a child. The best Wisconsin establishments have this timeless quality, where even though winds of change blow outside, the inside stands sturdy in tradition. Red swivel chairs encircled the keyhole-shaped bar. Thin red curtains covered a few windows, and a thin red cloth covered a piano that Helmut used to often play. Red carpet with a blue lined pattern covered the floors, and when I ordered an Old Fashioned, the bartender grabbed a glass from one of the many hanging from the ceiling. It is remarkable just how intact the Nite Cap Inn appears after so many years of use.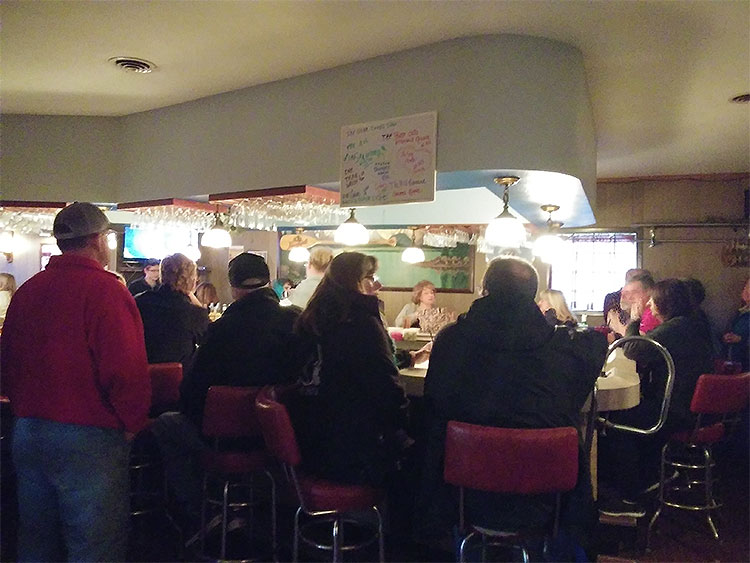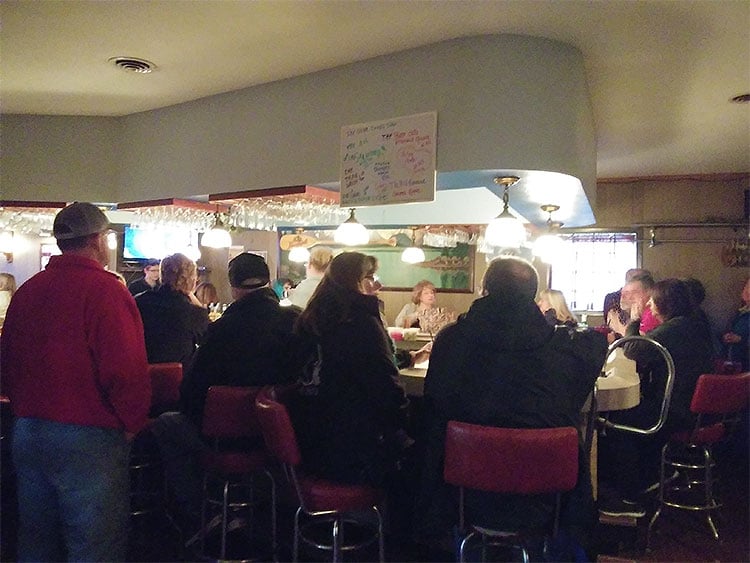 As I looked around, most people weren't playing on their phones, but were actually talking. The age demographic was older, but even the young bartender seemed as if he was from a different time. I heard phrases such as "It's how I remember it" and "Some good things don't change" being used in conversation. People kept asking the hostess when their table would be ready, and because it was so packed she would jovially say things such as "You'll eat when you eat" or "Who knows how long it will be?" In between, she would call out names of ready tables over the loud bar conversation.
After I had been there for awhile I left the bar area and sat on a chair that overlooked the dining area.

 Shortly afterward, the hostess pointed out a table that had just been cleared right inside of the dining area, and said it would soon be mine. Dishes of tartar, coleslaw, and applesauce were placed on the table. A few minutes later a plate and silverware was set, and a few minutes after that I was told I could sit down. As I settled into my seat I saw a framed fish fry article on the wall that was titled, "Fish fries worth some extra miles." I thought this was pretty ironic, considering I had just driven pretty far myself, so I tried to take a picture of it. "No paparazzi!" a voice startled me from behind. It was my waitress who had brought my food—a plate with three pieces of cod and two potato pancakes, and a basket with a piece of dark rye bread. 

After she had left I took a picture of the setup, and after doing so the hostess walked back over to me. "You're not a food critic, are you?" she queried me. My brain started racing as I had never been in this predicament. Just then a comedic moment took place, and I thought I wouldn't have to answer the question. A whole group of people she had just called came up to be seated. They ended up having to go back in the bar area, because she had called a table for Bill and they were a table of Phil. She came back and pressed me again. I waffled, and I rationalized in my mind, "Well, you aren't a food critic, you are a fish fry critic, and you really aren't even a critic, you are just a guy who rambles about random shit." Then I panicked and blurted out "No."
I started eating my meal, but I knew there was no way I could enjoy it, or review it properly, with this cloud hanging over me. I pride myself on trying to be truthful and having integrity, and this was not going to stand. There was no way in hell I was going to sully the impeccable name of the Milwaukee Record either. I had been found out and I needed to fess up.
"So, you were right."
"Oh?"
"Yeah, about the food critic thing."
And just like that my tenseness subsided. She brought out some old pictures of the building for me to look at, and then the owner's daughter, Michelle, came out to talk to me. Michelle told me what history she knew. You could tell she was very proud of the business being in the family for thirty years and that they made all of their food from scratch. It turned out that her daughter was my waitress—the third generation working at the restaurant. Is this how food reviewing is supposed to work? You just say who you are and you get the inside scoop on a place? It seemed much easier than my usual under the radar approach.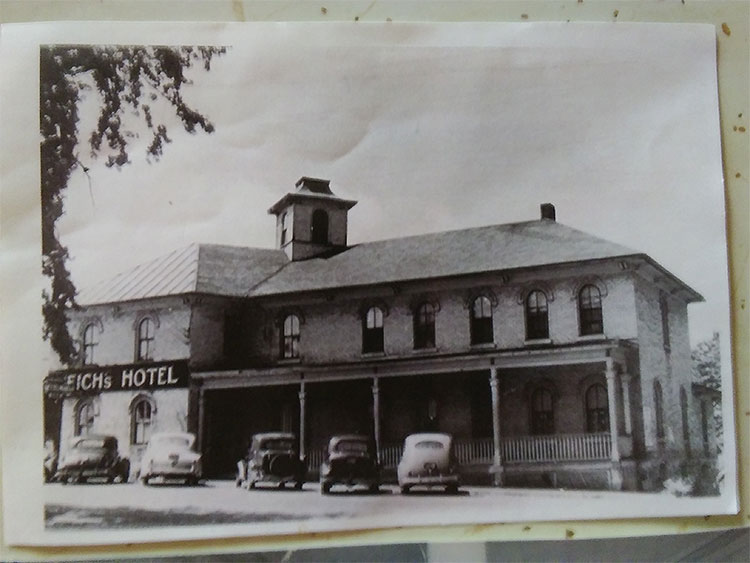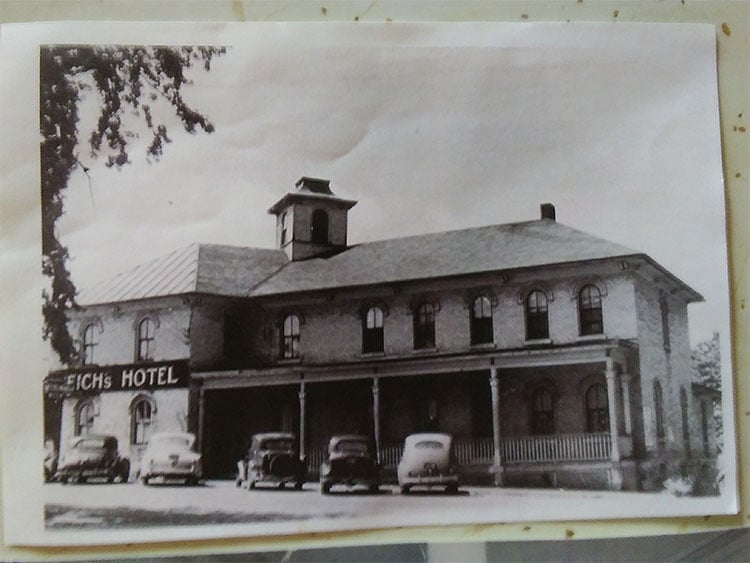 The cod was lightly breaded with a great texture—it wasn't overly crunchy and it held together nicely. It had a somewhat mild flavor that went well with the straightforward homemade tartar. The coleslaw was an above average creamy slaw. The pancakes had a perfect balance of texture: they were thin, crisp edged, and had a moistness inside—but not too much. Just like the fish, their flavor was rather mild, but in a good way. Michelle told me that the pans being used to make them dated back many decades. The tradition of good pancakes that was started by Betty Betenz continues into the present day.
All of the food together had an understated magnificence to it—a certain balance. Each part seemed to complement the other, and the setting seemed to perfectly match the food as well. In total I had seven pieces of fish and five potato pancakes. I was offered a dessert on the house, and although I was appreciative of the offer, I didn't want any special treatment, and I turned it down. In hindsight I should have seen if I could have just gotten some more fish and pancakes to take home as my dessert. I could sure go for some right about now.
Takeaways: Everything is homemade; top notch potato pancakes with fish that is not too far behind; AYCE for a reasonable price ($12.95); family owned and operated for 30 years, and has been the Nite Cap Inn for even longer; timeless ambiance; get there early and plan on a somewhat long wait (I left my house in Milwaukee at 3:45 and got home around 7:45); they found out I was a "food critic" and I was startled enough to forget to order clam chowder or take better pictures of the food; besides fish and pancakes they are known for German cuisine; I saw a horse walk by outside while I was eating; their 30th anniversary party is May 11…that's a Friday; this place is the real deal, folks—it's totally worth the drive. RECOMMENDED