Since 2017, Milwaukee Krampusnacht has celebrated the half-goat/half-demon Krampus—a.k.a. a figure from Alpine folklore who punishes naughty children and acts as a foil to the do-gooding Saint Nicholas—with a family-friendly night of costumes, music, food and drink, and arts and crafts. The inaugural Milwaukee Krampusnacht packed Lakefront Brewery, while all subsequent shindigs took place at the Bavarian Bierhaus. (There was no Milwaukee Krampusnacht in 2020 due to the pandemic.)
This year's Milwaukee Krampusnacht will take place in the Brewery District (between 9th and 11th Streets on Juneau Avenue) on Sunday, December 4, from 3-9 p.m. Best Place at the Historic Pabst Brewery will be home to the Krampus Holiday Market and other activities. On Tap at The Brewhouse Inn & Suites will host the Krampusland Party Patio. Central Waters Brewing will have plenty of Krampus-themed food and drink. Outdoor stages and other goodies may be involved. It'll be a blast.
But Krampus is being extra tricky this year, because there's a competing Krampusnacht celebration scheduled for the same day. Even worse, it's at the former home of the original Krampusnacht celebration, the Bavarian Bierhaus. Yes, we live in a city where there are two competing Krampusnacht celebrations.
"It's come to my attention that our former Milwaukee Krampusnacht venue is attempting to steal our thunder with a Knockoffnacht," says Milwaukee Krampusnacht organizer Tea Krulos in a social media post. "This event has nothing to do with us. Milwaukee Krampusnacht is happening Sunday, December 4 at the Best Place at the Historic Pabst Brewery and surrounding businesses in the Brewery District. There are numerous reasons we left our last venue. I urge you, always, to support events like ours which are built as a labor of love, rich in social capital and creativity, and not ones designed as a cash grab. And to all of our volunteers, performers, and supporters, you are much appreciated. We will work hard to make this year's Milwaukee Krampusnacht the best yet."
Krulos' other big creepy/delightful annual event, the Milwaukee Paranormal Conference, wrapped up this past weekend.
So there you go. When choosing between two competing Krampusnacht celebrations, choose the original. Here's more info on what's scheduled for that original celebration:
---
1. Best Place (9th and Juneau) This beautiful venue is housed in the former Pabst Brewery Visitor Center. There are three rooms being used (each w/ it's own bar!):
• The Great Hall is where the Krampus Holiday Market vendor floor will be set up.
• St. Nick's Speakeasy is the bar underneath the Great Hall. There will be karaoke, the white elephant gift exchange, and a photo booth. The password to get in is HO HO HO.
• The Blue Ribbon Hall is where we will have three activities– Kid's Krampus Hour, an all-ages Krampuskarten (Krampus card) workshop and a presentation by Chad Lewis, "Legends and Folklore of Winter." These will be separately ticketed activities with limited spots. More info soon.
2. On Tap (10th and Juneau) They will be open for food and drink and their patio will be used as the Krampusland Party Patio where we'll have games (like Krampholio) and a DJ. The Brewhouse Inn & Suites is in the same building and is our official event hotel. We'll have a discount code for attendees soon.
3. Central Waters (11th and Juneau) They will be open for food and drink.
We're also working on some outdoor stages and spaces (permit pending) that we'll announce when we have more info. General admission tickets will be available after we figure out some paperwork and costs. There is a large parking garage right across the street from Best Place and lots of options for street and lot parking nearby.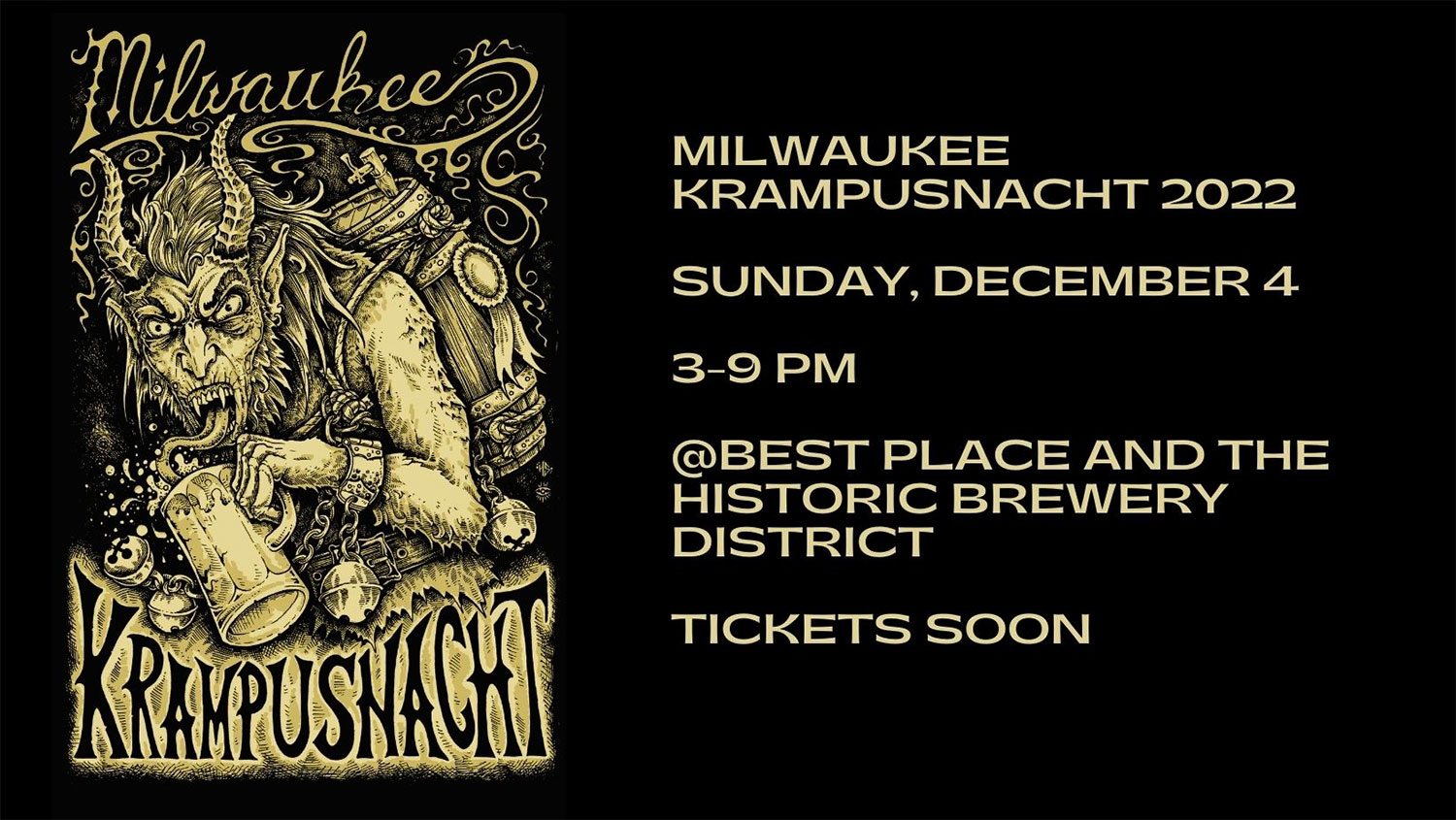 Exclusive articles, podcasts, and more. Support Milwaukee Record on Patreon.