The Milwaukee Paranormal Conference has been celebrating ghosts, ghouls, aliens, cryptids, and the folks who love them since 2015. Founded by journalist and author (and Milwaukee Record contributor) Tea Krulos, MPC is a homegrown affair that punches above its weight: panel discussions, special guests, vendors, ghost walks, live music, films, and spooky afterparties are just some of the things you can expect from MPC.
The 2022 MPC is set for Saturday, October 15, and Sunday, October 16. Saturday will feature speakers, panels, and vendors at Alverno College (3400 S. 43rd St.). It's all free, thanks to the fine folks at American Ghost Walks. (Just register HERE.) Sunday will be MPC's "Activities Day," with oodles of events (some free, some ticketed) happening throughout the city. And while there are no official MPC pre-game events on Friday, opening night of the Twisted Dreams Film Festival at the Avalon and a Witches' Ball at Linneman's are right in the conference's wheelhouse.
"This year we are dedicating the conference to the memory of Louis Dean Dubrosky, one of our event volunteers who passed away earlier this year," says MPC. Check out the full schedule below:
Saturday, October 15
Milwaukee Paranormal Conference
Alverno College
SPEAKER ROOM A (room right next to vendor floor room)
10 a.m. Timothy Hughes, "Theories on the Possible Origins of UAPs"
11 a.m. Shannon Bailey Grace, "Decontextualizing the Ghost Story: The Good, the Bad, and the Ugly"
12 p.m. Terry Cullen, "Iceman: The Only Contemporary Non-human Hominid Remains Ever Found"
1:30 p.m. BREAK
2 p.m. Allison Jornlin, "Milwaukee Forteana: Premonitions & Crisis Apparitions"
3 p.m. Macabre Milwaukee panel w/ Gavin Schmitt, Anna Lardinois, Matthew Prigge (moderator Tea Krulos)
4 p.m. Barnaby Jones, "What is Cryptozoology?"
5 p.m. Jeff Finup "Badgerland Legends"
ALUMNAE HALL (room behind vendor floor across hallway)
10 a.m. "The Secret: Where is it?" Town Hall discussion, hosted by Tom Klein (Off the Rails podcast) Tom discusses theories on where Byron Preiss's hidden treasure from The Secret is.
11 a.m. Donna Lea Wells Fink, "Beast of Bray Road Update"
12 p.m. Death Cafe session w/ KD Teague
1 p.m. BREAK
2 p.m. Taylor Nicole, "Gothsconsin"
3 p.m. Insane Asylum podcast Live
4 p.m. American Ghost Walks Tour Presentation
Special Workshop: "Intuition and Psychology Self Defense Workshop," presented by Wes Manko at Ascended Gifts, 3pm, $30 fee. Wes will be available for readings after the workshop. More details HERE.
7 p.m. Milwaukee Paranormal Conference AFTERPARTY hosted by Gothsconsin @ X-Ray Arcade (5036 S. Packard Ave., Cudahy).
Doors at 7 p.m., free event. DJ set by Skymall, vendors, fun, spooky times.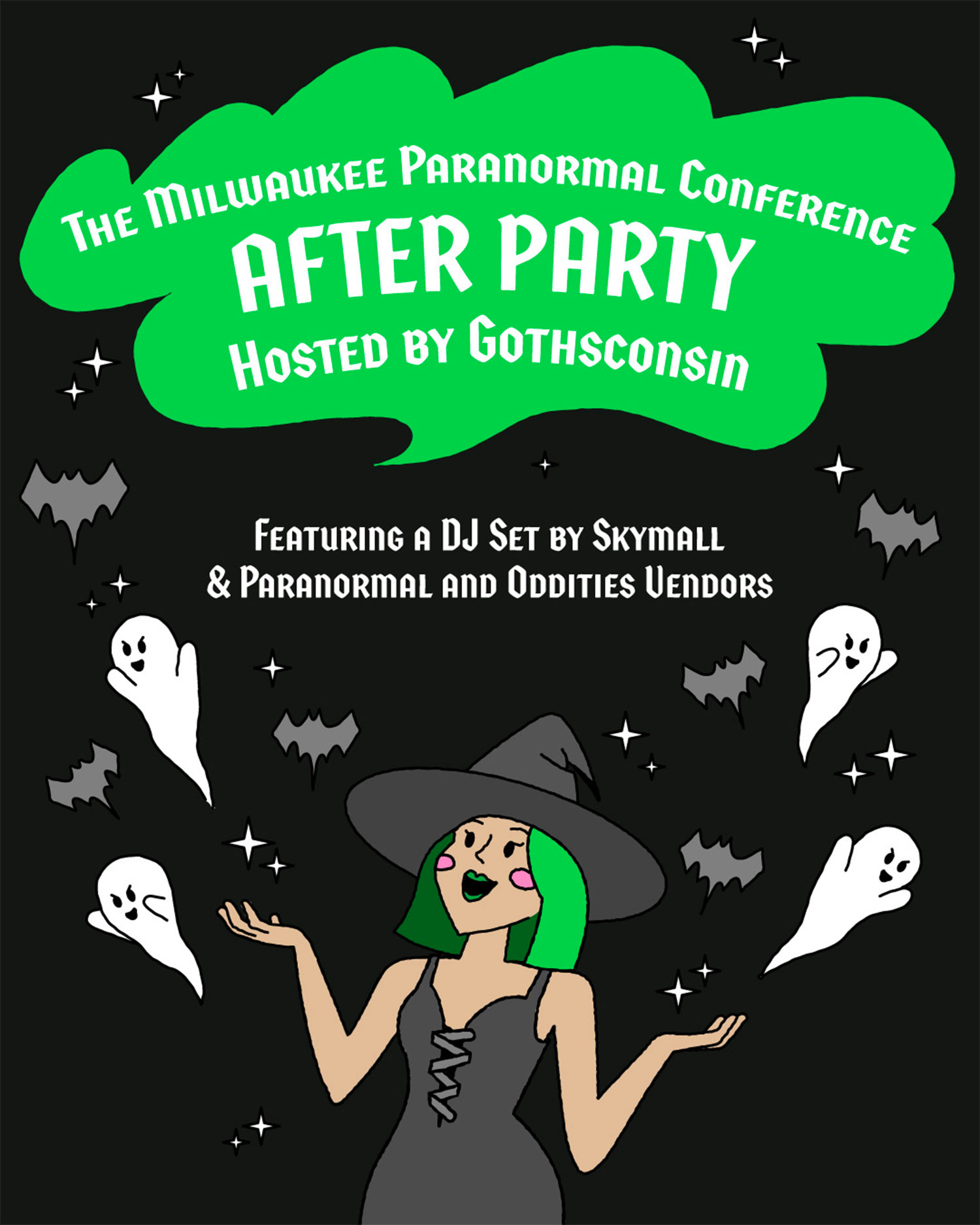 Sunday, October 16
Milwaukee Paranormal Conference Activities Day

12-5 p.m. Witches Faire @ Kochanski's Concertina Beer Hall (1920 S. 37th St.)
Presented by Milwaukee Paranormal Conference and Milwaukee Pagan Unity Community, this is a fun day of vendors, tarot and oracle readers, and workshops (at a bar that is reported to be haunted!). Free event.
1 p.m. Yoga in the Cemetery @ Forest Home Cemetery (2405 W. Forest Home Ave.)
Stretch your bones at this event, a favorite from last year's MPC Activities Day. Enjoy a peaceful yoga practice under a canopy of trees in Milwaukee's oldest, largest cemetery and arboretum. Instructor: Matt McFall. Parking: Enter at Lincoln Avenue. Park anywhere near the Chapel. Experience: All levels welcome! Bring: Mat/Towel/Water & Sunscreen. Make sure you have a towel to place under your mat as the lawns can be dewy. In case of rain, class will be indoors in the Halls of History.
2:30 p.m. Smokers, Drinkers, and Trouble Makers tour @ Forest Home Cemetery (2405 W. Forest Home Ave.)
In 1916 Milwaukee Daily News headline declared "Milwaukee Is The Wickedest City." Come on this walk through the vices that earned the Cream City this dubious distinction! Limited to 30, tickets are $15, rain or shine. Parking: Enter at Lincoln Ave. Park anywhere near the Chapel.
2-5 p.m. Ghost Story Open Mic and Pop-up Pumpkin Patch @ The Sugar Maple (441 E. Lincoln Ave.)
A nice fall afternoon on Sugar Maple's patio (or inside if weather is bad). Features pumpkins for sale, an appearance by the Milwaukee Krampus Eigenheit group and at 4pm we're going to host our classic Ghost Story Open Mic session, hosted by Heidi Erickson.
7 p.m. Nosferatu screening w/ live movie score by Ratbatspider @ Avalon Atmospheric Theater (2473 S. Kinnickinnic Ave.)
We've teamed up with the Milwaukee Twisted Dreams Film Festival to bring you a celebration of the 100th anniversary of the seminal silent horror film Nosferatu (1922). It features a live musical score by horror punk greats Ratbatspider at the beautiful and historic Avalon Theater. A great way to conclude MPC Activities Day. Ticket info soon.
7:30 p.m. American Ghost Walks Bloody Third tour (meets at Water Street and St. Paul Avenue outside Milwaukee Public Market)
This classic tour shares history and ghost stories on a 90 minute walking tour through the Historic Third Ward. You'll hear about Irish street gangs, the mafia, the Third Ward Fire of 1892, and, of course, plenty of ghosts. Tickets HERE.
Exclusive articles, podcasts, and more. Support Milwaukee Record on Patreon.
---
RELATED ARTICLES
• Twisted Dreams Film Festival will return with Lloyd Kaufman, live-scored 'Nosferatu,' more