Summerfest 2018 ended its 11-night run on Sunday, and one might think Milwaukee audiences are completely out of concert-going energy. Well, it turns out they aren't–at least, not yet. On Tuesday night, Riverside Theater was packed with excited Pretenders fans eager to see the legendary new-wave band perform an electrifying, unforgettable set. Those expecting a night to remember certainly were not disappointed.
The Pretenders performed with a magnetic energy and a sophisticated swagger that is often imitated, rarely duplicated. The ravenous crowd could hardly resist the band's infectious grooves. A few zealous fans in the balcony gave the band a standing ovation after every single song. The group's lineup has changed a few times since its '70s debut, but original members Chrissie Hynde and drummer Martin Chambers continue to tour with the band.
Hynde was naturally the star of the show. Though 66 years old, the rocker is still a force to be reckoned with. She made shredding guitar and singing along look both effortless and effortlessly cool. She led the five-piece band with her signature badass-ness and enviable confidence.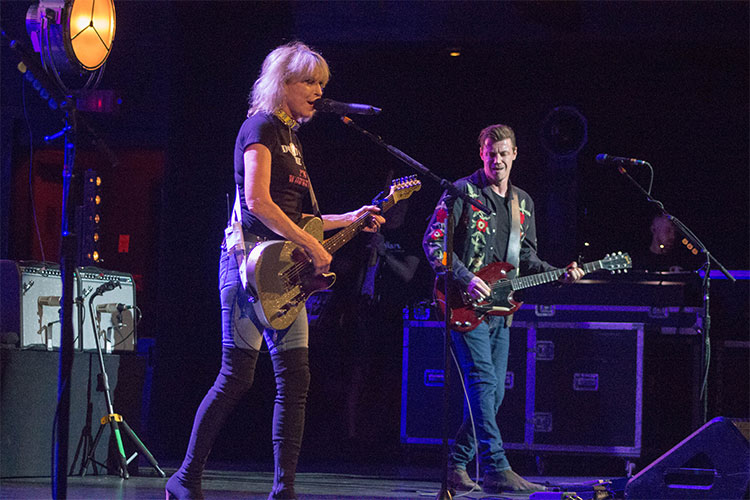 Playing both older hits and a few newer tracks, Pretenders kept fans on their toes the entire night. In 2016, the band released "I Hate Myself," a brooding, self-loathing track about, uh, self-hatred. Hynde's delivery of the angst-ridden anthem was both chilling and comedic, and the performance was one of the night's most memorable moments. She explained the song was inspired by waking up in the morning, taking a look in the mirror and thinking to yourself, "What an asshole." After finishing up the performance, Hynde turned to the audience with a twinkle in her eye.
"I don't really hate myself," she quipped. "I think I'm fucking awesome."
Hynde proved her awesomeness even more upon receiving some unwelcome comments from audience members. When one fan yelled that Hynde could come to their house and do whatever she wants, Hynde took a long, cool pause and replied, "I'm doing what I want right now."
The Pretenders could easily fill an arena—or at least a festival stage—with their anthemic rock sound, so to see the band perform in a venue the size of Riverside Theater was an absolute privilege. Hynde spent the night switching back and forth between singing and singing/playing guitar, and the band's sound was noticeably more full while Hynde played along.
Before the group's five-song encore, Hynde took off her guitar and held it triumphantly in the air. The Pretenders have lived many lives, and their set was a reminder that they've only improved with age and maturity. Here's hoping the band makes a triumphant return to Milwaukee soon.