Milwaukee got into the Halloween spirit last weekend with its third annual Paranormal Conference. Boasting a busy schedule of ghost tours, spooky film screenings, and live music and dance performances, there was something for everyone. For me, being socially avoidant and quietly skeptical, there was Sunday's schedule of presentations at the Irish Cultural and Heritage Center. For my third year in a row, I returned with an open mind to see if someone could provide me with irrefutable evidence that something else is out there.
The Paranormal Pub Series kicked off with a presentation called "Magic Behind Words: A Discussion on Secret Societies and Symbolism," led by Kristan T. Harris. You may know Harris as the guy from American Intelligence Report who "exposed" the Veterans Park Memorial as an occult ritual site. Despite this, I kept an open mind going into his talk. Secret societies are interesting to me, and are one of the things discussed at the conference that can be proved as legitimate without a doubt. Harris began by boasting his attendance with this year's Bilderberg group meeting, a yearly event that is highly secretive, elite, and something I actually happened to know a thing or two about. However, it went downhill from there—he swiftly jumped from the dangers of self-driving cars to proclaiming that pushing a "1" and a "3" together makes a "B," as if it had a profound relevance.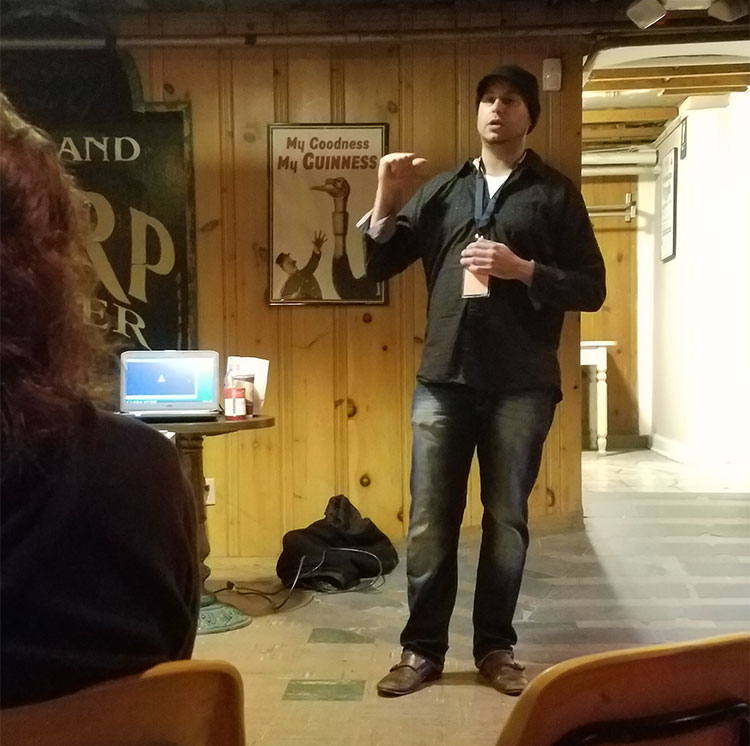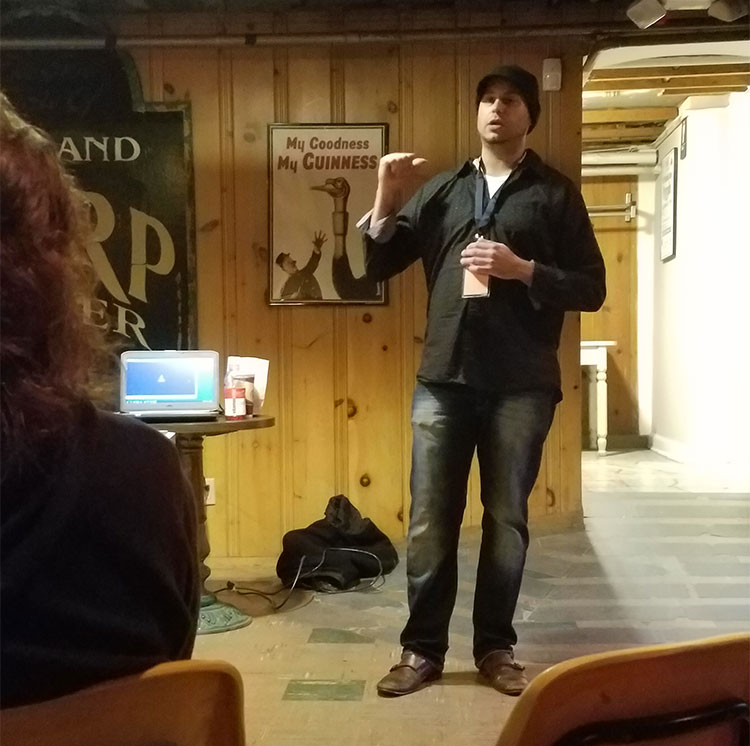 Fortunately, this was followed up by an entertaining and educational presentation by Noah Leigh, the founder and lead investigator of the Paranormal Investigators of Milwaukee. Entitled "Based on True Events: When Hollywood Deviates From Reality," Leigh discussed the lives and investigations of Ed and Lorraine Warren. The Warrens have recently skyrocketed in notoriety due to the Conjuring films, as well as the mystery surrounding the Amityville Horror. Going film by film, Leigh explained what happened and what didn't to a captive audience. Also noteworthy was the way he began the session by stating his investigative motto: "If it's furry and in the woods, it's probably a bear and not Bigfoot." Recognizing that there are probably logical and conventionally accepted explanations for strange phenomena gains a lot of cred with me.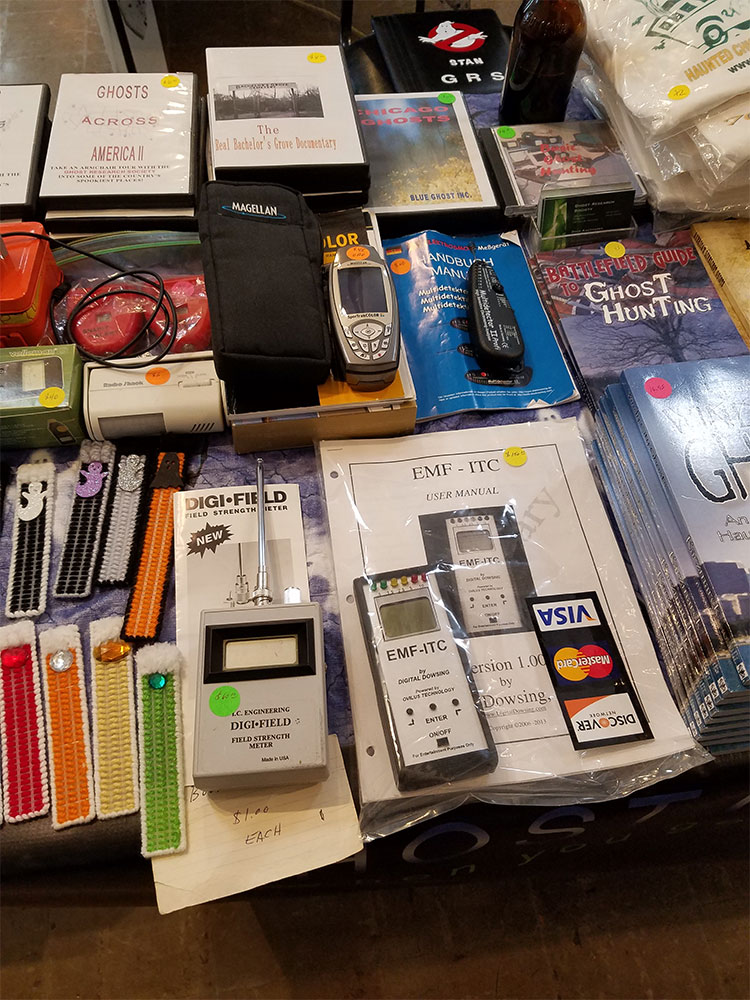 Next up was the Milwaukee Krampusnacht Planning Session with local Krampus-enthusiast Robert Schoenecker. The attendees were small in number but were quite enthusiastic. One of the organizers from the Chicago Krampus group discussed how he'd grown his event over the last several years, and gave insight into German festivity planning prep. Both he and Schoenecker brought in their traditional masks used in the activities.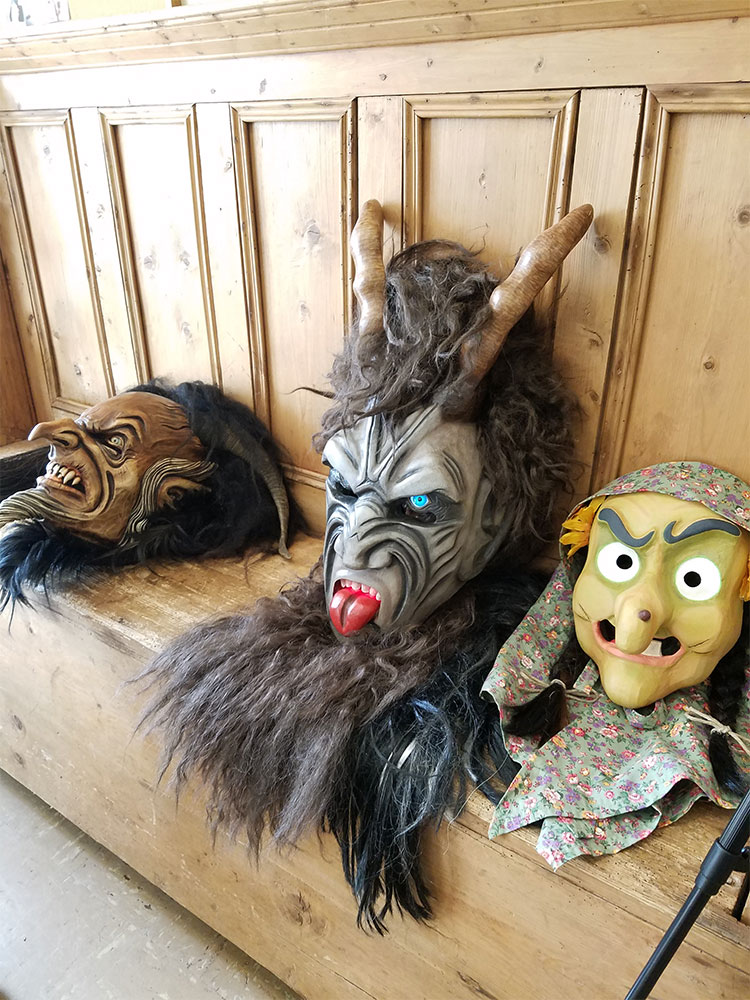 Returning from a brief intermission that included finding an ATM and spotting my favorite vanity plate ever ("NOT GOTH"), I came back to the Irish Cultural and Heritage Center. This time, I was welcomed by a door that opened by itself when I approached and closed behind me. There was no one around the door inside, and no one was playing any sort of trick on me. Sure, there could have been a wind tunnel that forced the door open, but I was spending my day being open-minded.
In one of the vendor rooms, there were concessions. This wasn't a quick setup of a sub sandwich party platters though—these were good eats. I got a brat; though fairly standard fare, there were plenty of condiments to spice it up including some spicy and tasty ghost pepper jelly. The African peanut stew, one of the vegan offerings, was the highlight. Full of flavor and a large portion to boot, I kind of wish I could have purchased some to-go.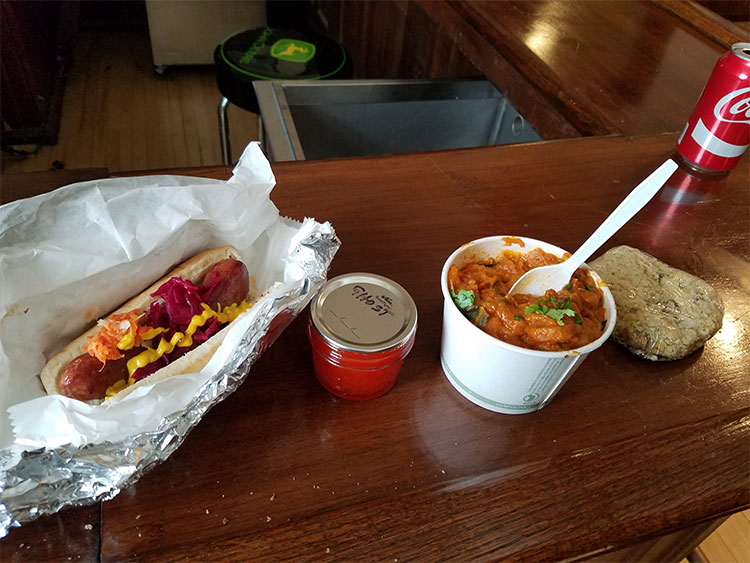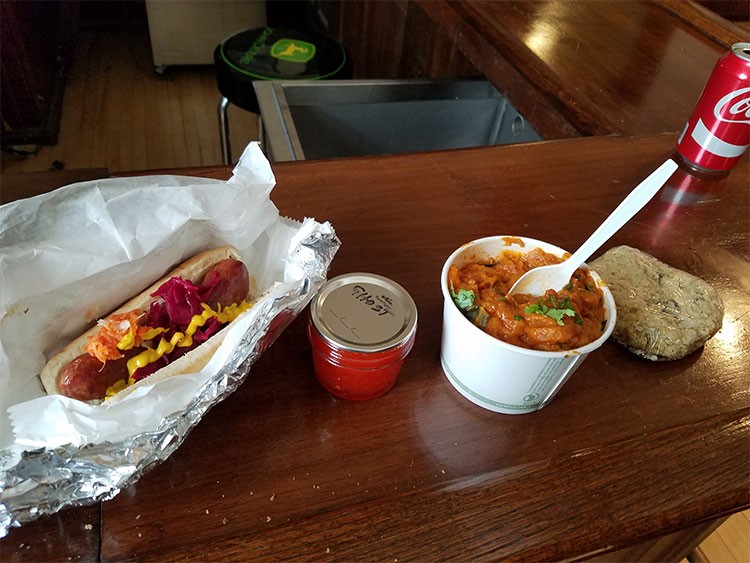 Also among the vendors was a table set up with an auxiliary Xbox camera connected to a laptop. Drawn in by the technological display, I asked the lady there to tell me about her booth. She was there as a part of the Northern Wisconsin Paranormal Society, a group headquartered in Rhinelander that does investigations in the upper third of the state. They investigate a couple of cases a year and have found everyday explanations for the disturbances, as well as inexplicable occurrences. She also relayed that not everyone wants to rid their homes of a haunting; sometimes it's a deceased relative who helps around the house.
Next up was a presentation on ghost photography by Dale Kaczmarek. Kaczmarek is the president of the Ghost Research Society, and reminded me of my dad if he had a mustache and was at all into the paranormal. That being said, I trusted him. Offering his insight on ghostly figures on film, Kaczmarek showed examples of hoaxes and also of instances he couldn't explain. He dismissed many mysterious glows as cigarette smoke, exhalation in cold temperatures, light lag, and over-imagination. He did share a spooky Polaroid which appeared to have a double exposure, though that particular film could not be doubly exposed.
To finish out the day, I got my first tarot reading courtesy of Dark Star Ministry. Not knowing Alien is one of my favorite movies, a deck illustrated by H.R. Giger was selected for me (the art was cool, albeit a little heavy on alien dick). The experience felt very much like reading a horoscope—it was vague enough to apply to anyone, but I could point out where specific cards were relevant to me. And yes, I got the death card.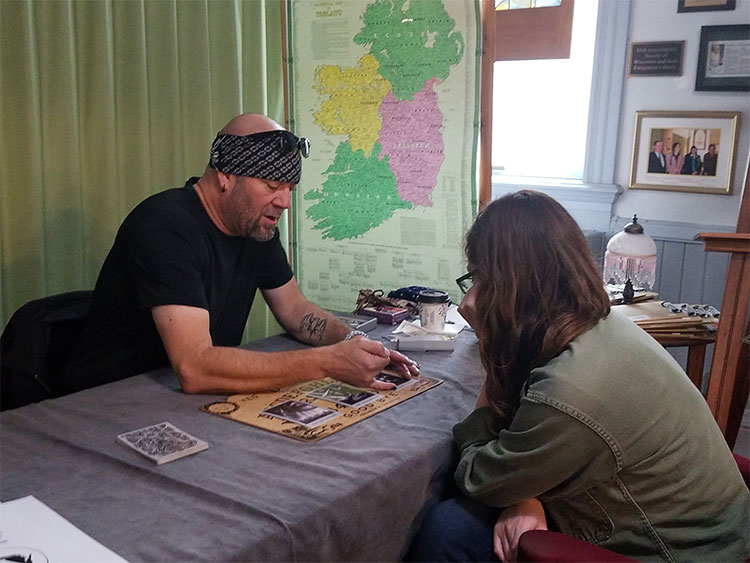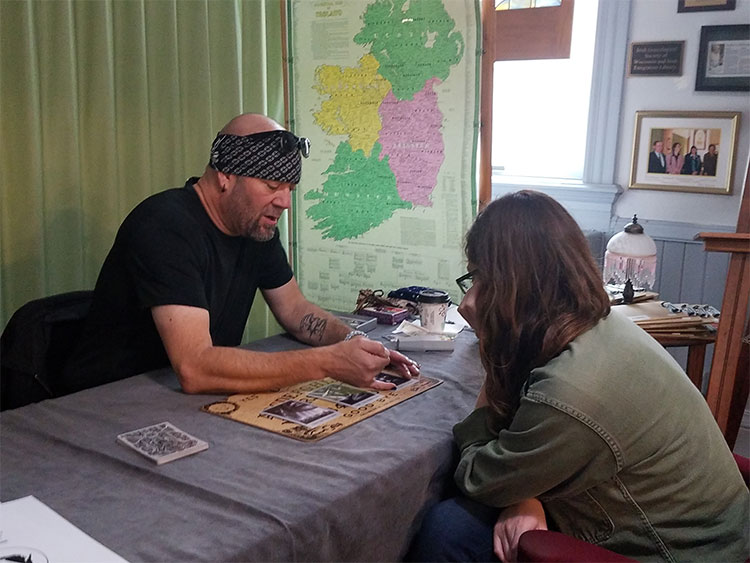 Year three of the Milwaukee Paracon was enjoyable (especially because I didn't watch the flaming trash fire that was the Packer game). While a lot of the evidence presented at these sessions wasn't solid enough for this skeptic, I will keep coming back. As they say, I want to believe.