Caleb Westphal hasn't missed a Friday fish fry since 2013. Follow along with his never-ending adventures here.
After musing last week about how I never get to Cudahy for fish, I started thinking about my relationship with another Milwaukee suburb: Oak Creek. Sure, it has a newer Pizza Man and BelAir, but I rarely make the trek to them because, well, there are closer locations in Milwaukee. And don't even start talking to me about the soon-to-be-open IKEA store. I suppose I have gone to a few classic film screenings at the South Shore Cinema, but in all likelihood, 50 Cent probably spends more time in Oak Creek than I do, and I guess I'm okay with that. But a friend of mine works in the city, and we were planning on getting fish this past week, so I figured it was an opportune time to make a stop back.
In a somewhat rural section in the southwest corner of the city, in an area that was once known as Oakwood, I found The Cellar Pub & Grill (812 W. Oakwood Rd., 414-762-9844). The imposing three-story building has been standing since around the time of the Civil War, and was once the heart of Oakwood. The restaurant's website says it was established in 1863. For over a half century it was known as Henry Studer's Oakwood Hall. Studer's name is listed at the location on a plat map from 1876, and it is still listed as such on a map from 1928. It was a meeting place of sorts, and all three floors were utilized. It housed a general store, a saloon (with large pool tables and card tables), living quarters, rooms for boarders, a restaurant, and a dance hall known as the Grand Ballroom, which was located on the third floor. After Studer passed away, his son-in-law, Louis Goelzer, continued to operate it for a time. The ground floor became a tavern in the 1950s, fittingly known as The Cellar, and it still has that name today.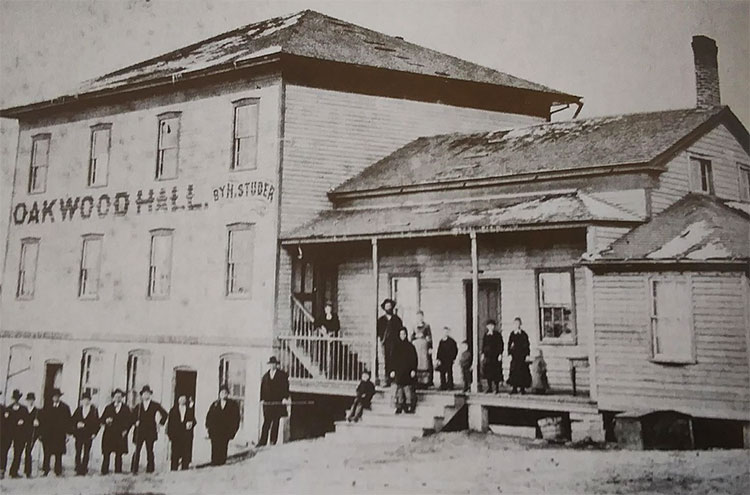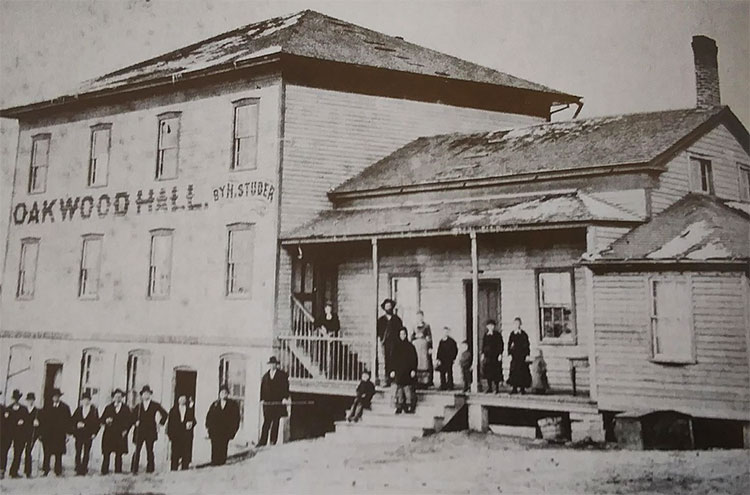 With such an imposing exterior, I was surprised to find the inside rather modest in size. The entrance opens into the bar area, from which the back dining area cannot be seen. The walls, ceiling, and bar are made of wood, and the floor is carpeted. I took a seat at the bar and ordered an Old Fashioned while I waited for my friend. The cocktail was muddled in front of me with sugar, bitters, cherry, and orange. Shortly thereafter, my friend arrived, and we went to the back dining area. The back area isn't particularly large either, with a few booths and eight or so tables of varying sizes.
We were given two menus, one of which had the specials of the evening. Both menus listed deep fried cod and bluegill, as well as baked cod. The "specials" menu also listed lake perch. I was thinking of going for the perch, but I've been on such a cod kick lately that I couldn't bring myself to do it. In reality, I should probably start ordering two fish fries at once, or at least see if I can order a few pieces of a different type of fish on the side. That should be possible, right?
While waiting for the fish, I was visited by my trusty friend clam chowder. Its base was very thin, almost water-like, but its taste was excellent. The carrots, celery, and clam stuck out like an iceberg in a chowder sea. About 90 percent of an iceberg is located underwater, and at The Cellar, more than 90 percent of the chowderberg is under the surface, too. There may have been more carrots, celery, and clam in this chowder than in any I have ever had.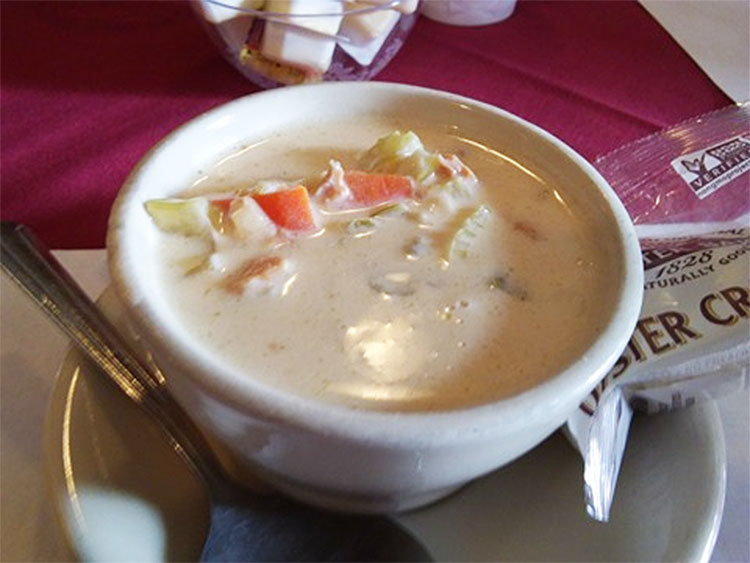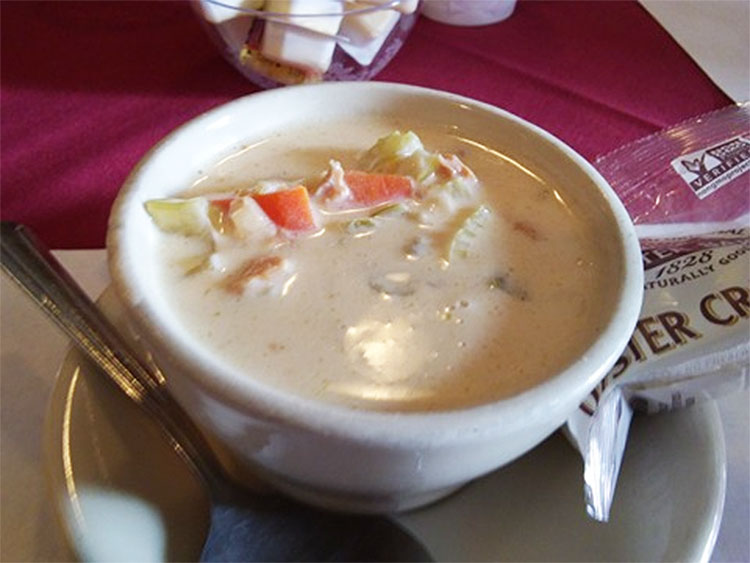 Soon the meal arrived. The main menu said that potato pancakes were only available during Lent, but I thought I'd double check, and it turned out they were still available. They were soft, and almost moist, but were in no way soggy, and were made with fresh green onions. My friend tried the coleslaw and said it tasted exactly like the kind his grandma used to make. "It's amazing how you can not taste something for years," he said, "and it can take you right back to that time and place." I tasted it too, and his grandma must have made some pretty good coleslaw. What was most noticeable to me was there were a few small green pepper pieces in it. The bread was a nice piece of marble rye. There was a discrepancy, as the main menu had said that there was to be a bread basket, but I asked, and was told the fish frys just came with a piece of bread.
As of late I've realized I'm usually a bigger fan of breaded fish than beer battered, but The Cellar has some excellent beer battered fish, of which I was given three loins of. Just as the coleslaw was reminiscent of an earlier time for my friend, the fish reminded me of some homemade fish I had as a child. The batter wasn't too thin or too thick, or too soft of too crunchy, and had a great flavor on its own, even without the tartar. The tartar wasn't particularly memorable, but was definitely above average.
Is it worth it to drive all the way to Oak Creek for a fish fry? Well, it's always worth it to drive anywhere for a fish fry, but I was particularly pleased with how my experience at The Cellar turned out. This may be attributed to the homelike feel of the dining room, and the handmade food being served there, which is able to take you back to a time and place you have long since forgotten.
Takeaways: Homemade slaw and fish that elicits memories and tastes great; solid potato pancakes; chowderberg; a building that dates to the time of the Civil War; the place is known for its pizzas, and they are probably good on days of the week that don't start with an "F," while it's no Clifford's, Pat's, or Randy's, and there is no all-you-can-eat option, I still think I'll recommend it. RECOMMENDED.