Caleb Westphal hasn't missed a Friday fish fry since 2013. Follow along with his never-ending adventures here.
How can I have gone a whole year of writing this column and not once gotten a fish fry in Cudahy? In that period of time I've passed the city three times for frys in South Milwaukee. With an accessible mayor who drives a repossessed "drug mobile," and a Pick 'n Save that once had the world's best Gatorade display (note: not enough people were buying the Gatorade and the Pick 'n Save is now closing), Cudahy just has to have a place with a good fish fry, right? This past week I ventured to Joe's K Ranch (4840 S. Whitnall Ave., 414-481-1775) to see what they had to offer.
Joe's K Ranch, most known for its prime rib and other steaks, was opened by Joe Kotarak in 1958. At 88 years old, Joe no longer runs the place. His son Jerry has the reins, and there are family members in the generation following him that will likely operate the business down the road.
With an expansive square bar, a front dining room, another dining room beyond that, and an additional bar in the back, "ranch" is a fitting name for the establishment. I thought about getting a table, but as the place was pretty full, and I was frying solo, I ended up at the bar. I ordered an old fashioned and perused the menu as "Sweet Child O' Mine" and "Every Breath You Take" played in the background. Joe's K has a two piece "batter dipt" cod for $10.99 (an extra piece can be added for $2.49), broiled cod, breaded perch, and walleye—either "batter dipt," broiled, or pan fried. Other seafood options include cod Oscar, stuffed cod, scallops, shrimp, and a seafood combo with shrimp, scallops, and crab legs. I went with the "batter dipt" cod and added on an extra piece. Of course, I also ordered some clam chowder.
I was brought a bread basket that had both Italian bread and some deep fried bread that was made in-house. And then, as "Come On Eileen" played from somewhere in the ceiling, the clam chowder arrived. Can you picture anything more beautiful than a full bread basket next to a bowl of clam chowder? This was some excellent clam chowder too. The clam could actually be tasted, but wasn't overbearing. The chowder had a perfect creamy texture, included some solid sized celery, and had a good mix of potatoes. What an auspicious start!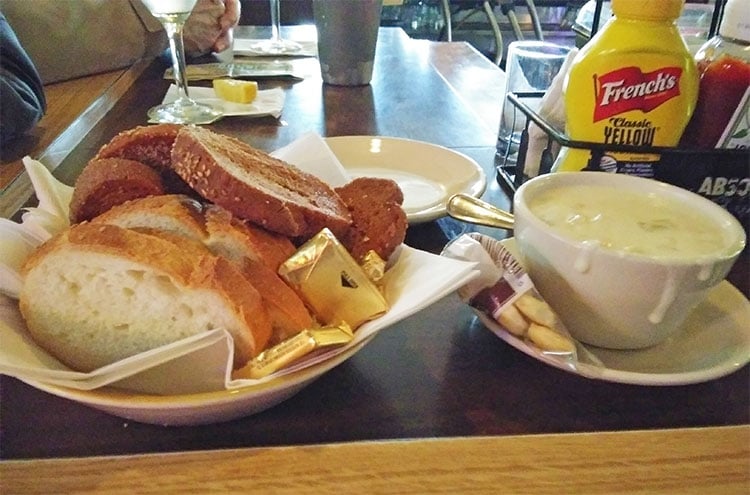 The rest of the meal soon arrived. The pancakes weren't particularly exciting, as they weren't homemade, and tasted exactly like numerous others I've had in the past. The three fish pieces were hearty with a crispy batter. Overall the fish morsels and batter had a pretty mild flavor—nothing too outstanding, but not bad. I was given two tartar sauce containers, which every restaurant should take note of; they were pretty sweet-flavored as some I've been having as of late, but tasted pretty commonplace. The coleslaw also was not very memorable.
As I struggled to finish off the last bites of my meal, "Don't Stop Believin" started playing, and gave me the extra push to victory. An older couple had been sitting next to me and drinking martinis ("We're getting old, can you make just one more martini? Vodka. Dry. And then split it in half.") Up until this point they had mainly been talking about if the pope really did say that there was no hell. Now that they were both on their second (although this time shared) martini, the lady started talking to me and trying to arrange a marriage between myself and the bartender, after noticing we both didn't have rings on our fingers. Eventually that ended when their table was called ("They called our name dear…leave him alone…they called our name dear…") This wasn't my first time having interesting experiences with older martini drinkers during a fish fry, and it may or may not be my last. What is certain is there will be more fish. Fridays, they always come back around.
Takeaways: Why does an Old Fashioned cost $7.25 in Cudahy?; excellent clam chowder—why can't it always be this good?; deep fried bread in a basket; cod had a nice crispy texture but not much for taste—it's "dipt" though; pancakes weren't very original; you can see the beautiful Cudahy water tower through the window in the dining room; great supply of songs you know but never attempt to listen to from the 1980s; always sit near the old people drinking martinis.