Caleb Westphal hasn't missed a Friday night fish fry since 2013. Follow along with his record in the making here.
As I walked into Zak's Cafe (231 S. 2nd St., 414-271-5555) I saw a few spots open at the bar and sat down between a group of three people to my right, and a guy sitting against the wall to my left. Within about 30 seconds of settling in and starting to look over the menu, I heard a voice from behind me calling the people next to me "deadbeats," and insisting they leave their spots, which they did. At this point I was thinking more of clam chowder than confrontation, so I just assumed they knew each other. This part of the story is important later on, so pay attention.
Two somewhat elderly men replaced the three that were to my right, and as I ordered my clam chowder they ordered Martinis. It was the 74th birthday of the guy doing all the talking, and he was hanging out with his friend Jerry. As I ate my chowder, which was decent, I noticed the guy to my left had fish and wasn't really eating it too quickly. He was mainly playing on his phone, so I got a little nervous I had picked a dud of a place for fish.
That was not the case. I ordered perch and was given five super crispy beer battered pieces that hit the spot. The potato pancake looked almost exactly like a breakfast pancake, and was one of the better ones I've had in awhile. Instead of the standard cup of applesauce or syrup that usually comes with a potato pancake, there was a small dollop of sour cream with bacon chunks on top, with some sort of candied apple slice next to it. The coleslaw was extra creamy, but was also pretty mild.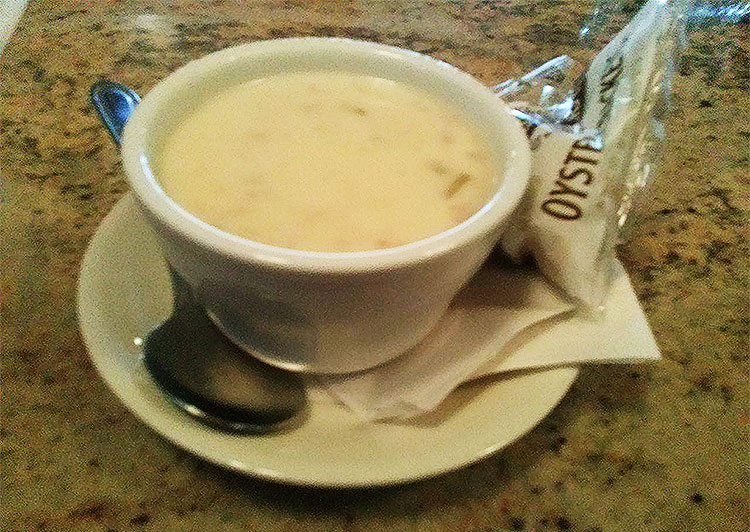 As I was eating, Jerry and the birthday boy decided they wanted to put a deposit on their Martini glasses and take them over to the new Jamaican restaurant close by in order to put their names in there for dinner. They were in a hurry because Jerry needed to get to the Brewer game in 45 minutes, and the birthday boy needed to get home to watch lacrosse. The bartender said they couldn't take the glasses, and couldn't have to go cups either. They decided they were just going to leave their glasses at the bar and come back after they put their names in.
As they walked out, the three people who had been sitting next to me when I arrived returned to the bar and reclaimed their seats. This whole time I had been oblivious that they really had been called deadbeats by these entitled septuagenarian birthday revelers, and that they had been sitting behind me at tables the whole time. They informed me that in fact, since I had been sitting at the bar when the incident had happened, I too had been called a deadbeat. The guy to my left who had been silent up until this point said he was getting sick of being called a deadbeat every weekend. The rest all seemed pretty shocked at how they had been treated, and it turned out they all worked at Zak's.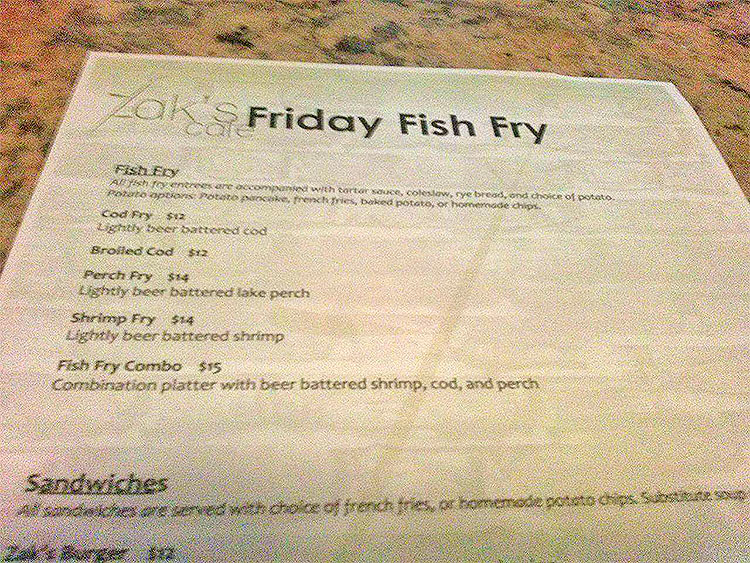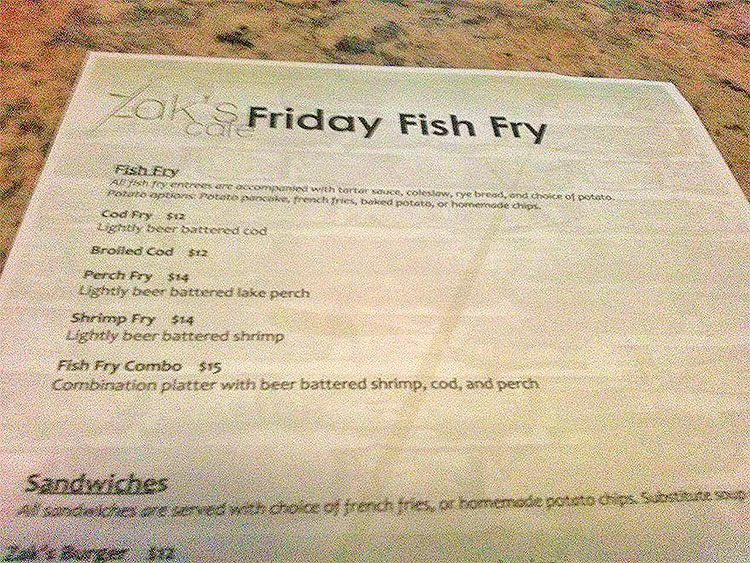 The two Martini drinkers came back and thankfully only shrugged a sigh of "uh-oh" and took their seats at tables. I paid my bill and called the workers at the bar deadbeats as I walked out. The fish fry at Zak's was better than average, but the evening will always be remembered as the time I was unknowingly called a deadbeat.
Rating: Solid perch, original potato pancakes, employees that really aren't deadbeats, you may be called a deadbeat 3.5 out of 5 stars.