After eating more than 170 consecutive Friday Night fish frys, my palate has become pretty snobbish. In one bite I can tell where the coleslaw, fish, potato pancakes, fries, and rye bread rank in an imaginary Fry Hierarchy in my head. Servers ask me how my meal is, and of course, being the polite and cowardly person I am, I say it's good even if it isn't. Well that shit stops now. I am here to give you the good and bad on what each week's catch was, and if it was closer to a Dead Fish (1 star) or a Whopping Walleye (5 stars). Not only will I tell you if the french fries were soggy or if the fish was still smelly, I'll also give you my thoughts on the ambiance, feel, and character of the joint. Alright, jump in the boat.
This week I went to Chuck's Place Family Restaurant up in Thiensville (406 N. Main St., 262-242-9797). I've long been meaning to get there because of this outstanding YouTube video about "Big Bill," the All You Can Eat Fish Protestor.
The building appears to be a castle from the outside, but once you step inside it feels like an old-school diner. There's an indoor patio area with high-top patio furniture and string lights, and that is where I was seated. As I glanced around I noticed most of the customers were north of the 50-year-old mark—probably most in their sixties or seventies. While looking over the menu I was given a bowl of pickles to chomp on. I went for the All You Can Eat Cod ($11.99) to see if I could match "Big Bill." (Other items listed under "Friday Fish Fry" were Lake Perch, Rainbow Trout, and Shrimp Fry).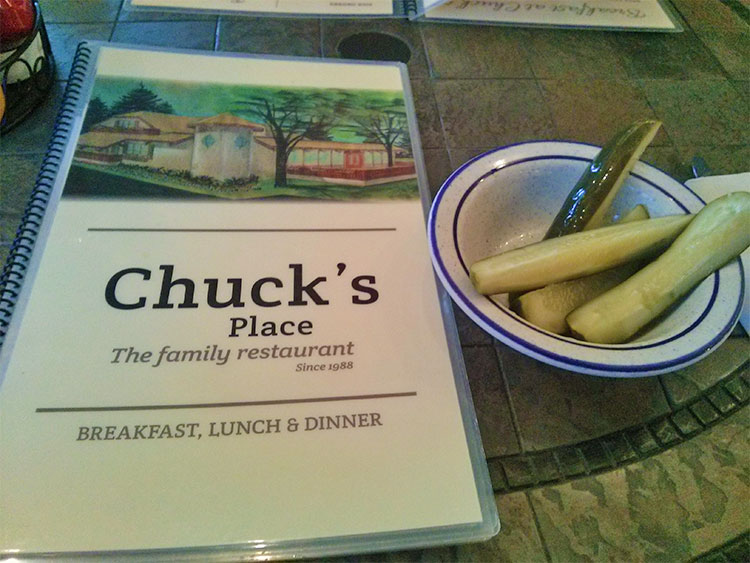 When clam chowder is an option I almost always go for it, partly so my stomach can be held over while waiting for fish. At Chuck's the chowder is included in the AYCE price (whoa!), and they don't give you a four-spoonful cup either. You get a big bowl. The quality of the chowder was at least average, if not better. I usually start out with an Old Fashioned as well, but my server wasn't sure if she could make one or not. I did see some liquor behind the counter when I was leaving, and this is Wisconsin after all… Anyway, I went with a Spotted Cow instead.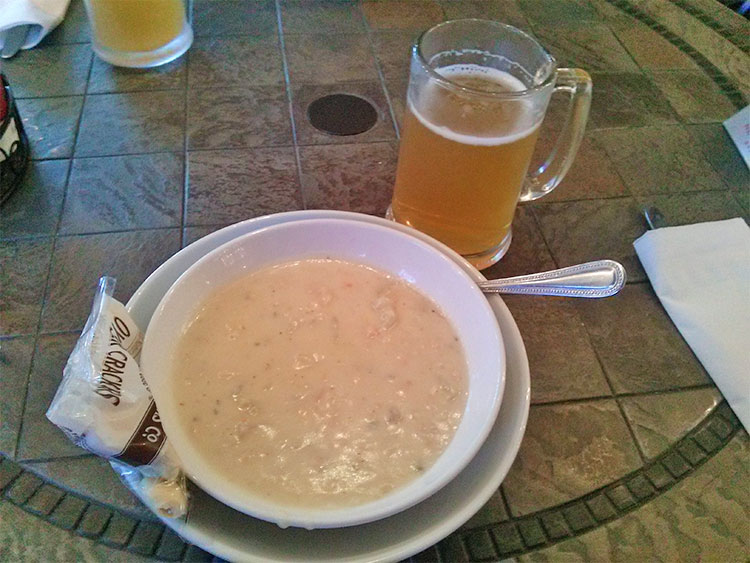 The fry comes with four small pieces of fish, tarter sauce, two potato pancakes (with applesauce), a small cup of coleslaw, a piece of rye bread, and a lemon wedge. The fish flaked nicely, had a crispy batter, and a better than average flavor. The potato pancakes were heavy on the pancake texture, had a sweetness to them, and didn't have much onion like one usually finds. The rye bread was nothing special and the coleslaw wasn't great. I ended up having three more pieces of fish, deciding to let Bill keep his blue ribbon and cut it off there.
I knew I couldn't leave without letting my server know that I had voyaged to their castle to feast at the tables that "Big Bill" had been at. She didn't know who he was. Thankfully, I got to have a conversation about "Big Bill" with the owner while paying. Business really spiked after news broke of his protesting, but the owner seemed surprised that people were still making the pilgrimage all these years later. I was told "Big Bill" has been permanently banned for his "shenanigans." "Big Bill" really loves the place more than anything else, but they found him lining his coat with plastic bags to take food home, and feeding his son AYCE when he hadn't ordered any.
I really feel like I need to hear "Big Bill's" side of this, though, so if you are out there Bill, how about a Friday night fish fry? We can go anywhere but Chuck's Place.
Rating: Excellent price for amount and quality you get, quirky mishmash ambiance, and legendary back story. 3.5 out of 5 stars.