Is it over? Is it really over? Boo. Yes, after 15 days, countless films, and one long weekend to let it all soak in, the 2018 Milwaukee Film Festival is officially in the books. The tenth annual fest was an absolute blast, and it's sure to stick in our cinema-addled brains as we patiently tick off the days until the 2019 installment. Here are just a few of the many, many standout moments from MFF2018.
Opening night
Is there anything better than squeezing into a packed Oriental Theatre on the opening night of the Milwaukee Film Festival and watching an unabashedly crowd-pleasing film? No, no there is not. This year's opening night selection, Science Fair, gave Milwaukee a glimpse into the lives of a diverse and continent-spanning group of teenagers as they prepared for the annual International Science and Engineering Fair. The students ranged from hilariously self-confident to hilariously laid-back, and they were all given time to shine, share their stories, and fret about what kind of poster board to use. Introducing the documentary were co-directors Cristina Costantini and Darren Foster; the former is a Milwaukee native, and she was clearly thrilled to be screening her work at the gorgeous Oriental.
Later that night, the opening night party at Good City Brewing proved to be a crowd-pleaser, too. In between music from Rio Turbo and B~Bree, we had the following exchange with Mark Borchardt:
Us: Hey Mark. What's up?
Mark: Keeping busy, man.
Us: It's a good time of year [autumn] to be keeping busy.
Mark: Three-hundred-sixty-five days a year is a good time to be keeping busy.
Bisbee '17
The incredible story: In 1917, in the mining town of Bisbee, Arizona, nearly 2,000 immigrant workers were rounded up by deputized locals, herded into cattle cars, and shipped out to the New Mexico desert. The incredible film: In 2017, one hundred years after the "Bisbee Deportation," the town of Bisbee and a crew of filmmakers re-stage the event. Millions of miles removed from the sometimes stilted Ken Burns style of documentary filmmaking, Bisbee '17 blurs the line between performance and journalism, art and "real life." The story packs a wallop, leaving you to ponder the nature of history, family, and fear; the film leaves you pondering reality itself.
Sijan
The story of Captain Lance P. Sijan is nothing short of remarkable. While the story has special significance here in Milwaukee because the Medal of Honor winner grew up in Bay View, the life he lead during his brief 25 years is certainly worthy of the national and international recognition he has received. Sijan's sister, Janine Sijan Rozina, is the producer of this documentary, which covers Sijan's life from childhood through his disappearance during the Vietnam War. Interviews with fellow soldiers, family, and friends illustrate his early life as a great football player who also loved art and theater, his often difficult times at the Air Force academy, and the 45 days he survived in the Laotian jungle without food or water. With family and neighbors in attendance, this was a very emotional screening for everyone at the Oriental.
Catwalk: Tales From The Cat Show Circuit
Set in rural Canadian legion halls, dander-covered domiciles, and crowded convention centers, Catwalk: Tales From The Cat Show Circuit chronicles the ultra-competitive—yet still quite polite—world of feline beauty contests. As we follow these primped and pampered creatures and their, uh…let's say "committed" owners around Ontario and Nova Scotia for a series of cat shows, we gain a greater understanding of this unique pastime based around pets, and are introduced to the characters who love them. The lighthearted documentary elicited reactions that ranged from "Aw!" to "Um…," but, altogether, it was an almost purr-fect way for cat lovers to spend a night at the movies.
A Page Of Madness (featuring Alloy Orchestra)
We've lost track of how many times the Alloy Orchestra has live-scored a film at the Milwaukee Film Festival, but the group's mostly-annual appearances remain captivating. This year's selection, a long-lost silent Japanese featured called A Page Of Madness, was something of a departure for the scrappy orchestra; past films like Metropolis and The Lost World have been well-known classics, but Madness was a deep cut. And a genuinely disturbing deep cut at that, telling the dreamlike story of a janitor in an insane asylum. We'd be lying if we said we followed the plot (wait…that was his wife?), but the experience of seeing the film with live accompaniment was second-to-none.
Borg vs. McEnroe
We all know John McEnroe. The volatile tennis star dominated opponents and terrorized officials from the early '80s until 1994, before turning his position as a cultural touchstone into a post-playing career as a television host and actor. But before McEnroe truly became a household name and American sports hero, he was just another person chasing Björn Borg. Borg vs. McEnroe tells the story of this short-but-significant early-'80s rivalry from the once-unstoppable Swedish tennis star's perspective. While seeing the immense pressure Borg (Sverrir Gudnason) put himself under to stay on top and getting a hint of why his young opponent (played shockingly well by Shia LaBeouf) seemed plagued by personal demons, the film follows two very different players on their path to the 1980s Wimbledon finals—culminating in a tense match that's brimming with emotion, athleticism, and astounding camera work.
So You Signed Up For An Axe Murderer-Themed Party At AXE MKE
Did we spend the second Thursday of the 2018 Milwaukee Film Festival at the East Side's premier axe-throwing bar, AXE MKE? Yes we did. Did we throw some axes at some zombie targets? Yes we did. Was it strangely cathartic and kind of a hoot? You bet. Thanks to AXE Milwaukee for hosting us, thanks to Milwaukee Film for humoring our idea, and thanks to everyone who joined us! Oh, and thanks to everyone who saw Let The Corpses Tan immediately after our event. That movie was messsssed up.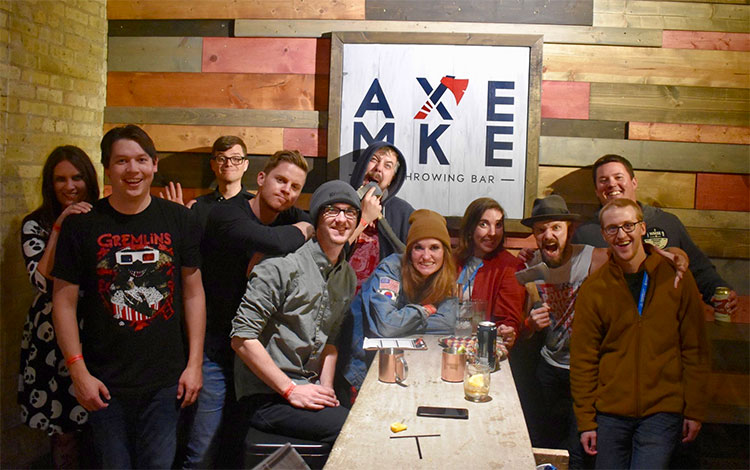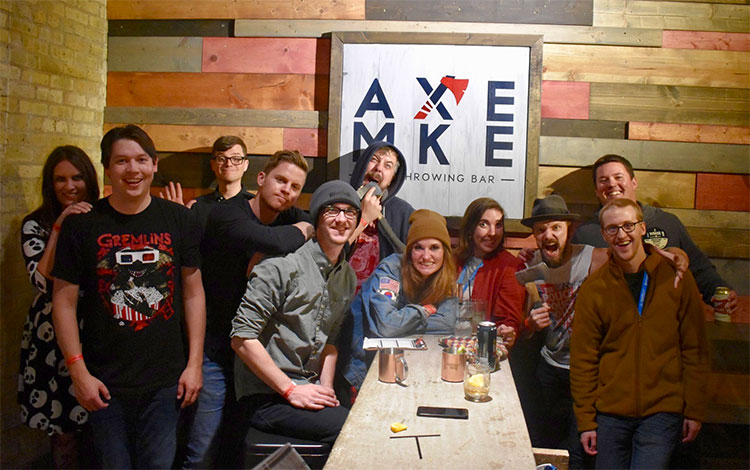 United Skates
The disappearance of rolling skating rinks in the United States points to a departure from that sort of recreation, but this documentary points to the fact that it also represents the erosion of a culture. United Skates shows how financial factors and racist practices have kept African American rolling skating culture at an underground level for decades, close to the point of extinction. The film gets into details about the history of rolling skating in African American culture, including how famous acts like N.W.A. and Queen Latifah came to perform at roller rinks in the 1980s. However, it also follows modern day skating enthusiasts, from rink owners to general skaters, and shows how the shrinking of the scene affects them. Watching this film with an Oriental main roomful of cheering local and regional roller skaters made this a really special experience.
Rafiki
Splashed with bright colors and dripping with raw adolescent emotion, Rafiki was an absolute highlight of the festival's loaded GenreQueer category. The Kenyan feature—which is banned in the African nation—follows Ziki and Kena, daughters of political opponents who strike up an unlikely friendship (which quickly buds into an unexpected romance). Rafiki—which translates to "friend" in English—more than capably blends important religious and societal commentary (in a country where same-sex relationships are outlawed), dazzling visuals, and a touching coming-of-age love story over the course of just 83 minutes. We went in blind and left smiling through tears.
Freaks And Geeks: The Documentary
Let's just get this out of the way—yes, Martin Starr was there, and no, he did not dance. We spent the pre-screening minutes debating with Milan and Dori Zori about whether various people and things in our lives are more freak or more geek. The fact that we were doing so certainly made us all more geek. The documentary itself is exactly what we hoped it would be. Interviews with all of the major players tell the story of the series' origins, its impeccable casting, its struggles to stay on the air, its cancellation, and its legacy. The film illustrates Judd Apatow's fight to keep the show on the air and how the experience galvanized the cast and crew for years afterwards. Plus, there are some perfect clips from Dennis DeYoung of Styx that simultaneously stick out and fit perfectly.
Mr. SOUL!
This loving portrait of artist, entrepreneur, television revolutionary, producer, and host of SOUL!, Ellis Haizlip, poked at about 20 different parts of our heart, along with the hearts of everyone else in the Jan Serr Studio audience. Director Melissa Haizlip was in attendance to share the experience with everyone and answer questions (including some very passionate ones) after the screening. The film documents the entire life of SOUL!, from its launch as a local New York show in 1968, through its nationwide reach in the late '60s and early '70s to its fight for support and eventual cancellation. The lineup of artists and musical guests over the 130 episodes is incredible, but Haizlip himself, a homosexual man running this particular show in the 1960s and '70s, is the star of this film.
Hale County This Morning, This Evening
This year's winner of the Herzfeld Competition Award is unlike anything else we saw at this year's festival. The documentary by RaMell Ross presents the predominantly working class African American Hale County, Alabama as a mosaic of slices of life, mostly focused on a specific handful of people and the scenery that surrounds them. The stories told through these images allow us to get to know individuals, but also tell the story of Hale County overall. Dreams, fears, victories, crushing losses, touching family moments, backyard conversations, church, fun, thunderstorms, sadness, and babies are all made very real and significant by this powerful film. One of the best we've seen in recent years, for sure.
Love, Gilda
We went into Love, Gilda expecting to laugh, learn, and cry. Yup, yup, and yuuuup. This portrait of comedy mastermind Gilda Radner presents her life story as told by those who worked with her, by those she inspired, and by Gilda herself. The documentary travels through childhood home movies in Michigan; through all of her appearances on television, stage, and film; and all the way to her hospital room movies with Gene Wilder in the months before her death. There are sad moments that also make you laugh and hilarious moments that also make you cry. If you don't cry at her song about being cancer free, you're a monster.
Shorts: Out Of This World
You never quite know what you're going to get with Milwaukee Film's various shorts screenings, but you can bet your ass you'll leave happy. Those who packed the Oriental Theatre for the final showing of the Out Of This World shorts installment were brought into an eclipse-obsessed cult (Souls Of Totality), shrunk down to be tormented by Brett Gelman (End Of The Line), invited to a perplexing dinner party (Shadow Animals), mistakenly told they'd die in a week (The Beetle At The End Of The Street), transported in and out of another dimension (Two Puddles), and asked to suspend disbelief for a few minutes of linguistic-based hilarity (Wave). The six works lasted a mere 96 minutes, but touched upon subjects and characters few would've ever expected to encounter.
The woman at the wonderfully rowdy Halloween screening of Ghost Stories who yelled out "I STRUCK GOLD" before this year's ubiquitous sponsor trailer, which featured Lex Allen's "Struck Gold." Oh, and the costumed couple next to us who spent the movie, um, redefining the idea of "striking gold."
I STRUCK GOLD!