More than 50,000 people packed into Milwaukee's Veterans Park on Saturday to witness the city's first-ever Red Bull Flugtag. The event featured 34 (mostly) local teams pushing their zany, hand-crafted, human-powered aircrafts off a 27-foot platform and into Lake Michigan—and hoping the things would fly. Designs included a flying deer head, a flying brat, a flying N95 mask, and a whole lot of beer and cheese. It was super fun! Kwik Trip gave out free Glazers, and one of the teams dressed up like little old ladies.
Watch some of the flights, crashes, and splashes below:
Sadly, we didn't get footage of the eventual champions—team "Flight For Your Right To Party," whose Viking-themed aircraft sailed an impressive 66 feet. (Teams were judged on creativity, showmanship, and distance. Donald Driver was one of the judges!) But we did get footage of a bunch of other crafts, including a (non-competing) Kwik Trip semi, and a glider that more or less fell apart on the ramp.
Red Bull Flugtag ("flugtag" is German for "flying day") began in 1992. Since then, it has traveled to 50 countries and 96 cities around the world. The Milwaukee edition was extremely well-run and extremely packed. Seriously, 50k sounds about right. Nice job, Red Bull! Nice job, Milwaukee!
Here are those little old ladies: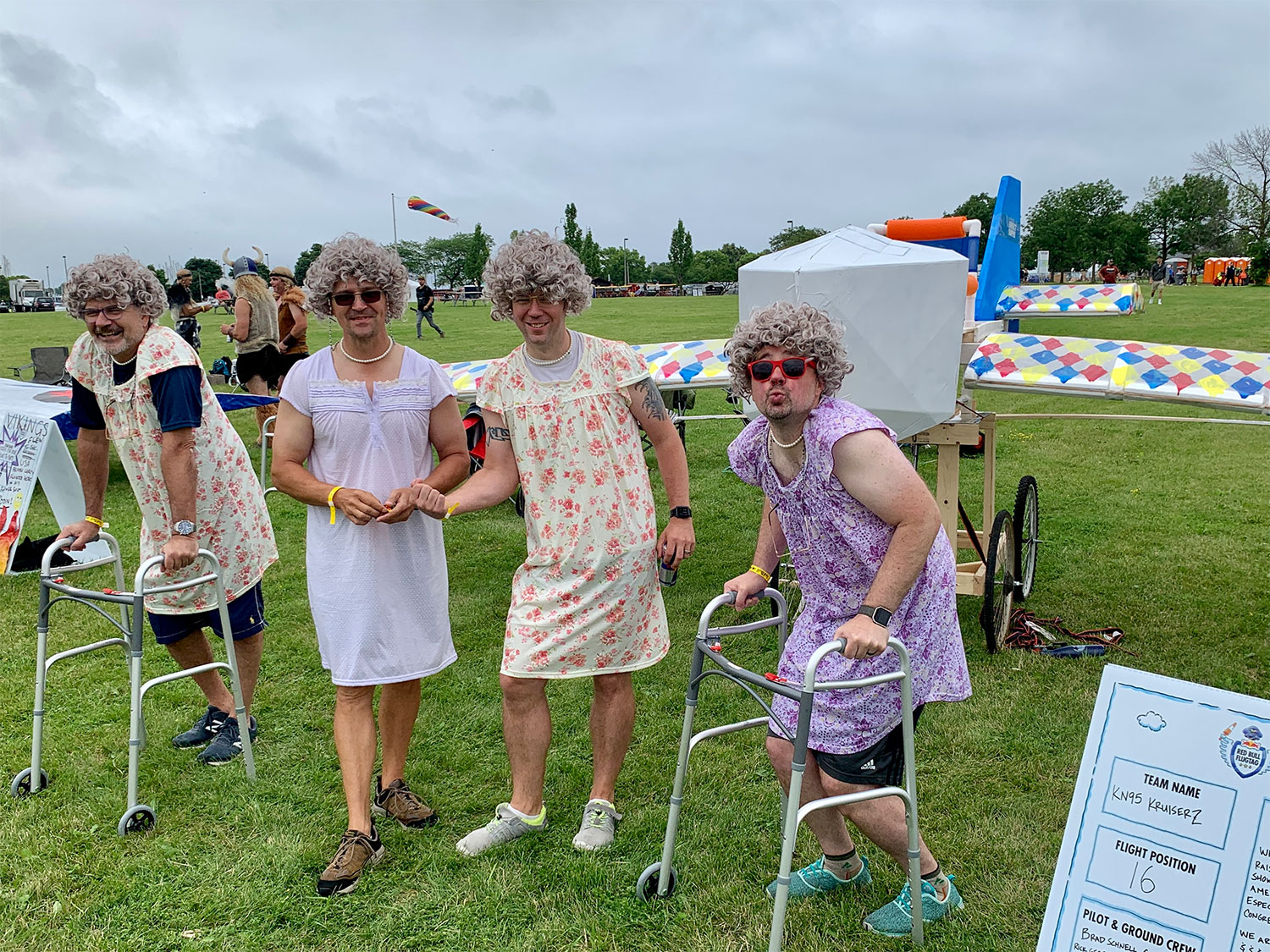 Exclusive articles, podcasts, and more. Support Milwaukee Record on Patreon.
---
RELATED ARTICLES
• Milwaukee edition of Red Bull Flugtag will feature flying bratwurst, giant KN95 mask, more
• Red Bull Flugtag will take flight (briefly) at Milwaukee's Veterans Park July 16