Caleb Westphal hasn't missed a Friday fish fry since 2013. Follow along with his never-ending adventures here.
It's been almost a year since I started writing this column, but more importantly, it's been almost a year since I've gotten a Friday night fish fry at Pat's Oak Manor (1804 15th Ave., South Milwaukee, 414-762-4660). I've been meaning to get back at some point, but wanted to wait until Lent started, in hopes that the near-religious fish eating experience I had last time could be repeated again. One thing that I feel I haven't been getting to enough of are all-you-can-eat fish frys, and that was another reason I wanted to get back to Pat's. So, this past Friday, I had nothing but nuts, seeds, and a lettuce salad for lunch, and anxiously waited for evening to arrive.
Pat's Oak Manor exists in an expansive building that houses a bar, a few big halls, and a wedding chapel. The building was built in 1928, and opened as the John Pliszka Recreation Center, featuring bowling and billiards. Vestiges of its time as a bowling alley remain: the original bowling floor endures in the hall where fish is now served, an old bowling shirt and pictures of the building's bowling days hang on the wall by the cash register, and one of the benches that was used when it was an alley now sits next to a pool table.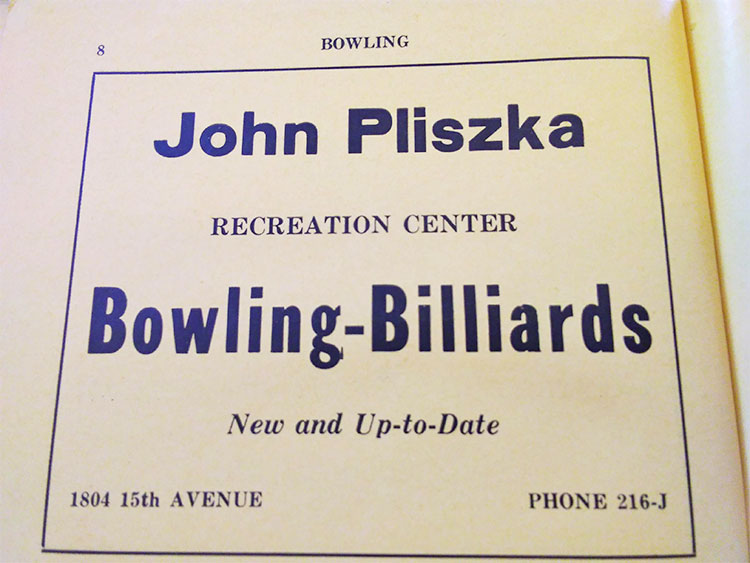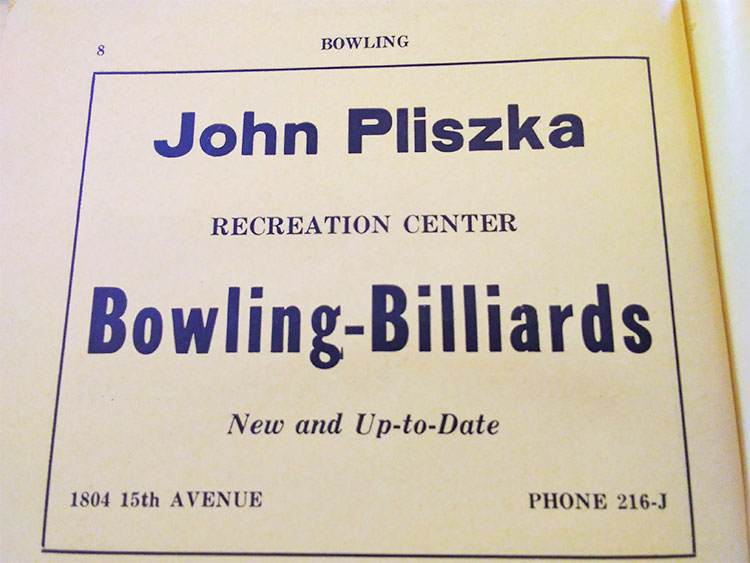 Pliszka had the building for decades, but in the 1960s it became the Admar Golden Note Tavern, which it was well into the 1970s. It was Oak's Manor in the 1980s, and became Pat's Oak Manor when Pat James refurbished and reopened it in 1992. Today it is run by Jessica Winiarski. Over the years the halls have been used for just about everything, from wedding receptions to funerals to dances. Most of the time the halls aren't open to the public, though, but this isn't the case on Friday. Friday nights are special.
As I dropped anchor outside of the building around 5 p.m., more than a few people were heading inside—presumably for fish. I made my way past the bar to the hall in the back, and scanned the room for tables as I waited to be seated. I wanted to be towards the front of the room, where an electric keyboard was set up, because I knew this meant that Tony Jaszewksi would be playing his interpretations of pop standards to a electronic rhythm backing (I mentioned him in last year's Milwaukee Record interview.) He was yet another reason I had wanted to return to Pat's. I tried to keep myself from jumping up and down in excitement as I pointed out a prime seating spot to the host. "I just need to wipe it down," she told me, and I was then able to relax.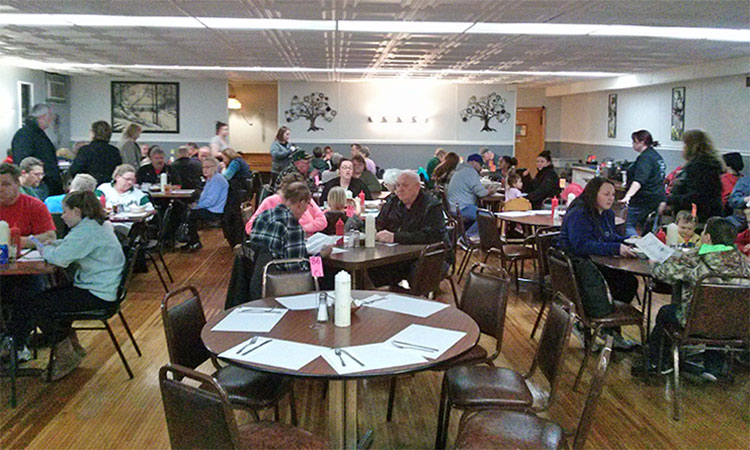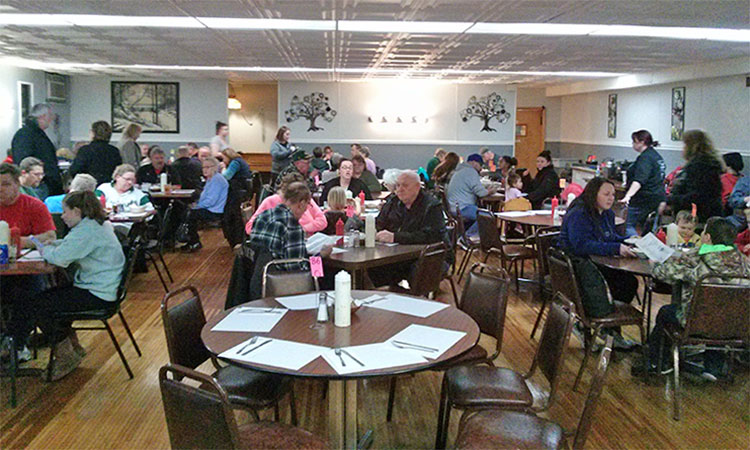 There are a lot of fish fry options at Pat's, including walleye, bluegill, perch, catfish, and cod; there's also a seafood platter. The regular cod fry is $8.95, but for an extra $1.55 it can turn into all-you-can-eat, and that is what I made happen. I also ordered some clam chowder and an old fashioned—my first Friday touching alcohol in four weeks, after one of my self-prescribed detoxes.
As I waited for my food, I looked around and saw a lot of families eating, many of multiple generations. I did see one kid eating pizza, though, and thought about having a talk with him about how pizza is for any day of the week except Friday, but I calmed myself and let it go. Tony started playing the keys, and I started trying to decipher what the hell songs he was playing. Throughout the evening I was able to pick out "Yesterday" and "Norwegian Wood," along with a few others.
The chowder arrived with the rye bread and coleslaw. When Pat's says they have clam chowder, they mean CLAM chowder. Sometimes you have chowder somewhere and poke around and think, "Was that a piece of clam?" Here they make sure it is the main ingredient. The bread was just some light basic rye. The coleslaw was super creamy but still had a crunch, signaling that it was pretty fresh.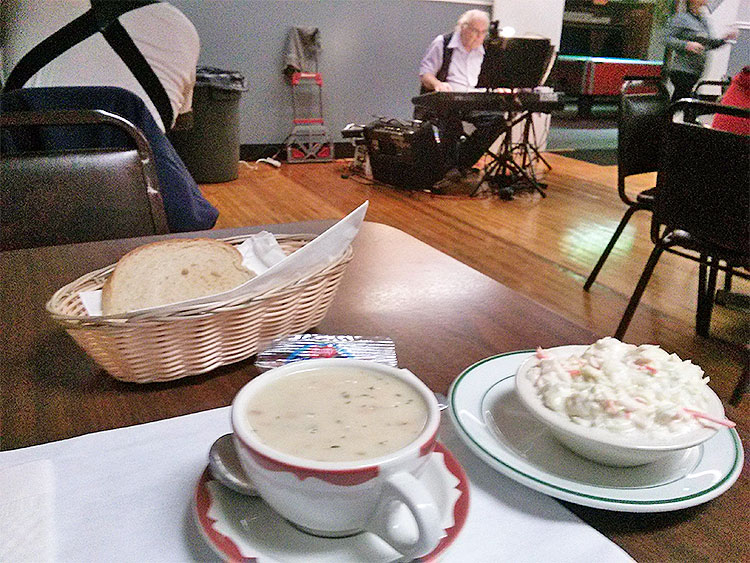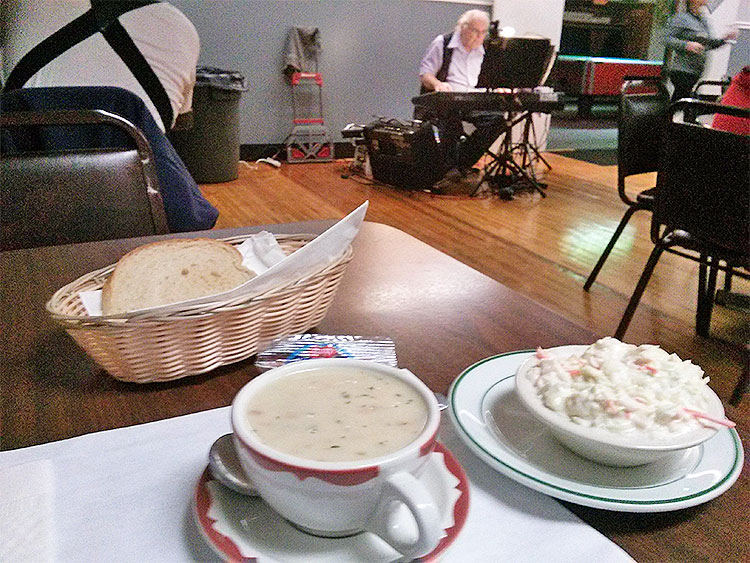 The first plate of fish arrived with the potato pancakes. The fish was crispy, but not too crunchy or overdone. It had an excellent flake to it, and overall was superb—definitely the best cod I have had in at least three months. The tartar was the kind that is in a bottle that has been sitting on the table for who knows how long, but still manages to be really good. The homemade potato pancakes were lighter than most, and somewhat soft, but enjoyable. Before I was even halfway done with my first batch of fish, my waitress asked me if I wanted more, and I ordered two more pieces. This happened again, but the second time I only ordered one piece. This piece ended up being bigger than the others, and it took me a few pauses to listen to Tony's songs before I could finally finish it.
Pat's Oak Manor is an excellent all-around fish fry experience that I highly recommend. The cod is great, you can eat as much of it as you want, and it is reasonably priced. An old hall that once housed a bowling alley, a guy playing a keyboard—these things are pure Wisconsin, and there is a certain warmth and familiarity that you feel when you are dining there. The only downside is that it takes a little while to get moving again after eating so much good food.
Takeaways: Top-notch all-you-can-eat fish; creamy and crunchy slaw; the clam chowder had a lot of clam; Tony plays the keys, make sure to tip him; excellent for families, just don't let your kids eat pizza on Fridays; there is a chapel in the basement for weddings, and if anyone wants to marry me we can have this fish fry for our rehearsal dinner; I sat in a chair for an hour and a half without moving when I got home, but then I forced myself to walk up and down Kinnickinnic Avenue for a full hour to try to burn off some calories; the overall experience of Pat's Oak Manor is what you want for a Wisconsin Friday night fish fry. RECOMMENDED.