Caleb Westphal hasn't missed a Friday night fish fry since 2013. Follow along with his record-in-the-making here.
During the warmer months I like to catch a few fish fries outside on patios. Being that this is Wisconsin, the warmth will soon give way to cold, and before you know it we'll be trading in our bobbers for tip ups. This past week I strolled down to the South Shore Terrace in anticipation of eating fish in the sun on the banks of Lake Michigan. As I walked up to order, the lady behind the counter announced, "Just so everyone knows, we are currently out of fish!" I asked, in the least concerned way I could make myself sound, if they would be getting more fish, and she said she wasn't sure. My exit was an immediate hungry-gut reaction, and I'm sure it looked frantic to her and everyone else standing nearby. I made a beeline for Barnacle Bud's (1955 S. Hilbert St., 414-481-9974), a seafood shack hidden behind warehouses on the banks of the Kinnickinnic River.
As I arrived at Barnacle Bud's after a half-hour power walk, I was told it would be about a 45-minute wait for a seat on the patio-like dock. Just to be safe, I asked if they thought there was any chance they would run out of fish. I was told it was a pretty safe bet I'd be okay. They had various types of fish, so I figured there would at least be something to choose from. I sat at the bar and immediately ordered a beer and clam chowder. The chowder was okay, with big red potato chunks. I should have followed that up with some raw oysters, something Barnacle Bud's is known for having, but I didn't have to wait too much longer and ended up getting a seat in way under 45 minutes.
The best part of Barnacle Bud's is sitting outside on the wooden patio where boats dock along the Kinnickinnic River. Being that it is so tucked away, it almost feels like you aren't in the city at all, and there is a bit of an exotic feel to it. The US Bank Center and new Northwestern Mutual Tower are visible in the distance, bringing you back to reality, but also giving you a beautiful view. During my meal the sun began to set, and there was a calmness on the water. It was quite a peaceful experience. I'm no expert on patios, but this has to be one of the best in the city.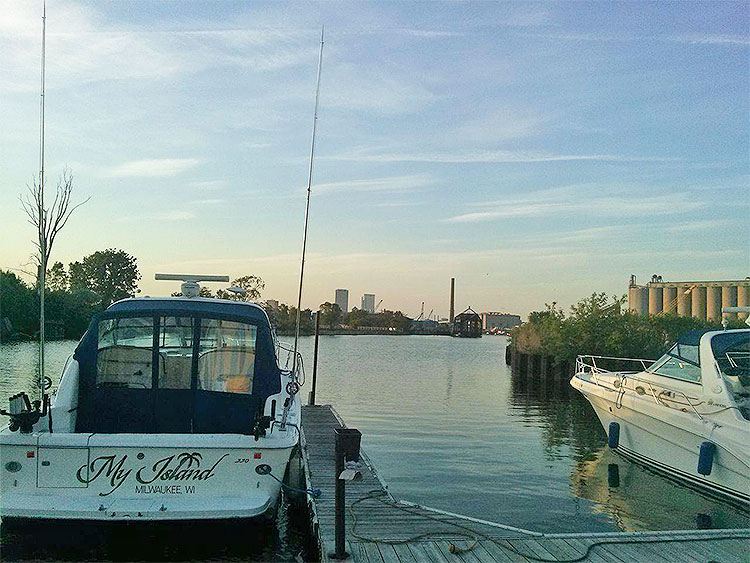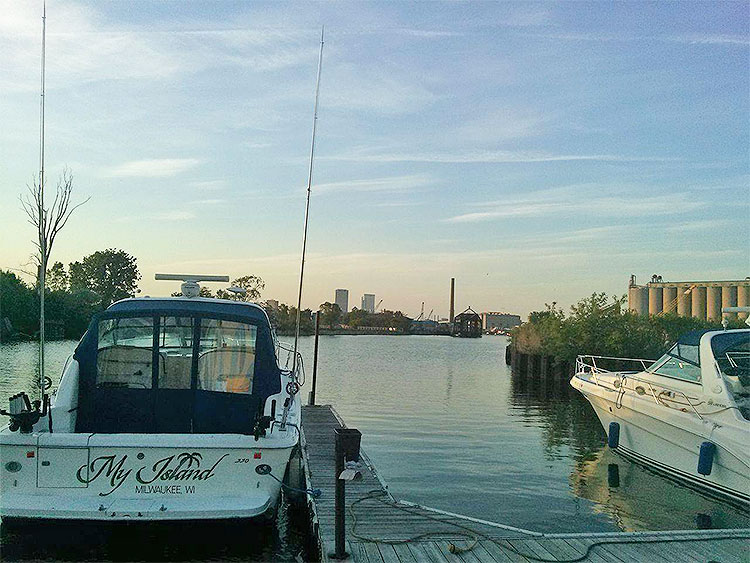 There are a variety of fish options and I went with the cod. In hindsight, I wish I would have gotten the smelt, just because it is not seen on a menu very often. The fry came with three pieces of fish that were pretty decent, but nothing spectacular. I wasn't that impressed with the tartar sauce that went with it. The french fries were your basic crinkle cut fries, and the coleslaw was not that exciting. Overall the portion sizes were pretty small as it all arrived in a basket.
I usually get out to Barnacle Bud's about once a summer or so, and would recommend everyone else do the same. The fish fry isn't the draw—it's the outdoor seating along the river, which makes you feel like you might have just washed ashore. Maybe I'll try to stop back before the summer is out and have some oysters and Bloody Marys.
Rating: Average fish fry, outstanding patio, unique location. 3 out of 5 stars.