Caleb Westphal hasn't missed a Friday night fish fry since 2013. Follow along with his never-ending adventures here.
Three days after the midterm elections, I headed to American Serb Hall (5101 W. Oklahoma Ave., 414-545-6030), a place that has long been known for two things: fish frys and politics. Located on the corner of 51st Street and Oklahoma Avenue, Serb Hall has been a stop for almost everyone who has ran for president since it opened in 1950, with some candidates even partaking in its Friday fish fry, which began in 1967.
John and Jackie Kennedy campaigned at Serb Hall two days before the Wisconsin primary in 1960. On Good Friday in 1972, the Friday before Wisconsin's primary, four Democratic contenders showed up at Serb Hall's fish fry: Hubert Humphrey, George McGovern, John Lindsay, and Ed Muskie. The Milwaukee Journal reported that Humphrey was the only one of the candidates to sit down for a full meal, although the paper did include a photo of Muskie stuffing his mouth with fried fish while standing. George Wallace had rallied there the previous evening; Hunter Thompson had been there for it, and wrote in Fear And Loathing: On The Campaign Trail '72 that Wallace had "jerked this crowd in Serb Hall around like he had them on wires."
The list of candidates who have stopped at Serb Hall goes on and on. Ronald Reagan campaigned there in 1980. George H.W. Bush bowled—and slipped and fell onto—one of its lanes in 1984. John McCain was there in 2008, and Mitt Romney made a stop in 2012. In 2016, Ted Cruz and John Kasich gave speeches there at an event that included a Friday fish fry; Cruz was headquartered there the following week when he beat Donald Trump in the Wisconsin primary. Stops at Serb Hall for campaigning, a fish fry, or a little of both have been a part of state and local candidates' routines as well. Even Mayor Barrett has gotten in on the fun.
American Serb Hall often shows up on "best of" lists for Milwaukee fish frys, and it is one of the largest—if not the largest—fish frys in the city. Not only is fish served in one of the building's large halls, but it can be picked up to-go at a drive-thru and walk-up window as well. Fish frys are a daylong event, being served from 11:30 a.m. to 9:00 p.m.
When I arrived around 6:30 p.m., I was immediately brought into the Wisconsin Room and given a seat at one of the 40 or so tables that were covered with green tablecloths. The south half of the room was closed off for some other event, but being that the capacity sign for the whole room said 1086, you can imagine the size of the place. A little under half of the tables were filled, and people were spread out around the whole room. A PA system was set up in the northeast corner.
I started looking over the menu as the music started up. At first I tried to figure out whose version of "The Girl From Ipanema" was playing, but when I turned around to face the PA, I found the song was being sung by a karaoke lounge singer. I turned my attention back to my menu. The fish options at Serb Hall are deep fried haddock ($10.95 for 4 piece/ $13.95 for all-you-can-eat); deep fried, baked, or Serbian style Icelandic cod ($12.95 for 3 piece/ $10.95 for 2 piece/ $8.95 for 1 piece); "classic" cod ($12.95 for 3 piece); surf & turf ($12.95 for a choice of 2 piece cod or 4 piece perch, and 2 chevaps); and deep fried lake perch ($11.50). The potato options are french fries or mashed potatoes. Homemade potato pancakes can be purchased for $2 each from the à la carte menu. Clam chowder is also available. I ordered the all-you-can-eat haddock with french fries, a cup of clam chowder, and an Old Fashioned.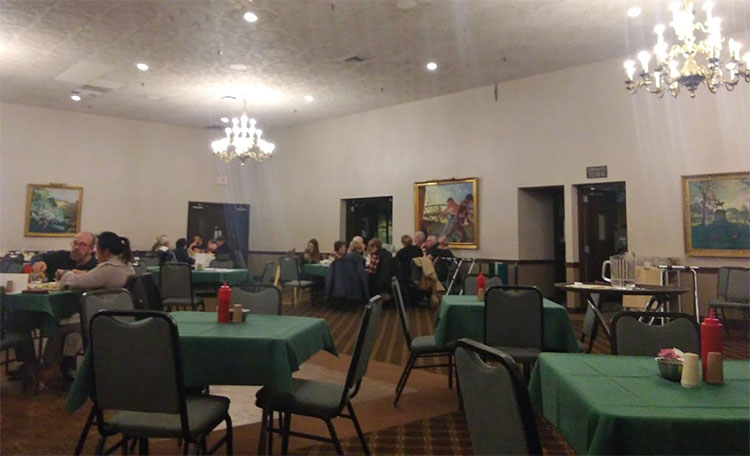 I soon had my drink and a bowl of clam chowder (I'm pretty sure I had ordered a cup, but I will not turn away extra chowder). The chowder was hearty, dense, and filled with clam, carrots, potatoes, and plenty of seasoning. It reminded me a bit of my grandmother's cream of cauliflower and cream of broccoli soups, and was almost a meal itself.
Although I was dining alone, everything else was still served family style. I was brought a medium-sized bowl of coleslaw, a basket with three pieces of bread, and a plate with four tartar sauces and five lemon slices. The coleslaw tasted fresh and was vinegar-based with a mild flavor.
Moments later, a plate with four pieces of fish arrived. The breading had a high quality texture, and overall the fish was decent, although the most salient aspects of it seemed to be the breading was a little salty and the meat was a little dry. The tartar had a heavy lemon flavor, and wasn't too noteworthy beyond that. By the time the basket of french fries (perfect texture inside and out, mediocre flavor) and another plate with four more pieces of fish came out, I started questioning my judgment in ordering all-you-can-eat.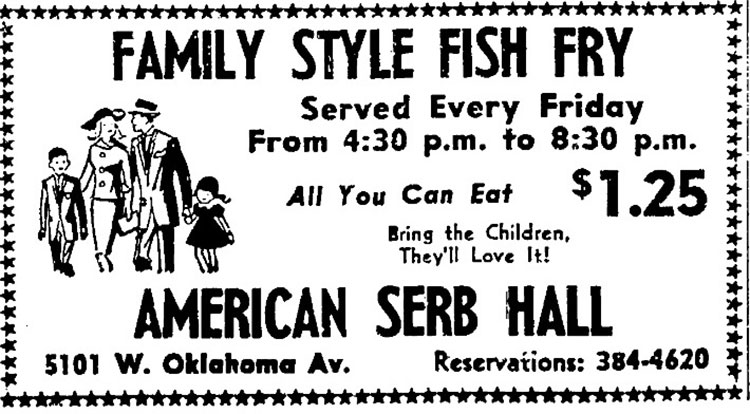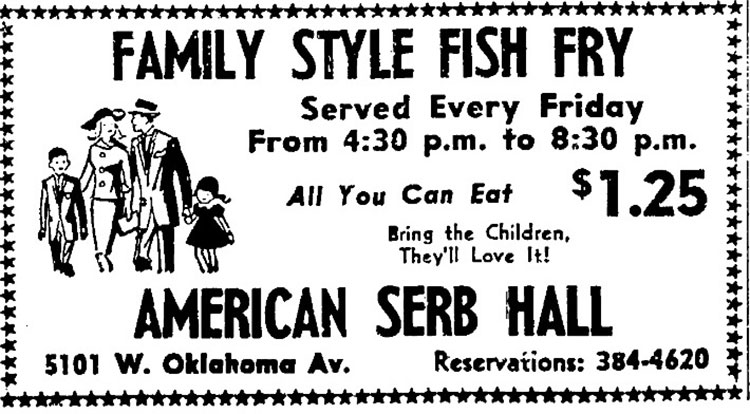 I must have sat at my table for about an hour. I listened to the singer go through a series of songs from the Great American Songbook, such as Cole Porter's "I Love Paris." He ventured off the traditional path with a cover of Dion's "The Wanderer" and a jazzy version of The Boxtops' "The Letter." I slowly ate. I looked up at the chandeliers and embraced the anonymity that could be felt in such a large room. That feeling allowed me to drift far away and envision myself somewhere else. I took in the music and imagined I was in Rick's Café in Casablanca. My waitress came by and said, "You look like you are struggling." I was struggling. There was just so much food.
My waitress returned again and asked if I would like a chocolate cupcake. "I think I can get that down," I replied. The fish was a battle, and I never did get all the way through the fries or coleslaw. But, as I thought would be the case, I destroyed the cupcake.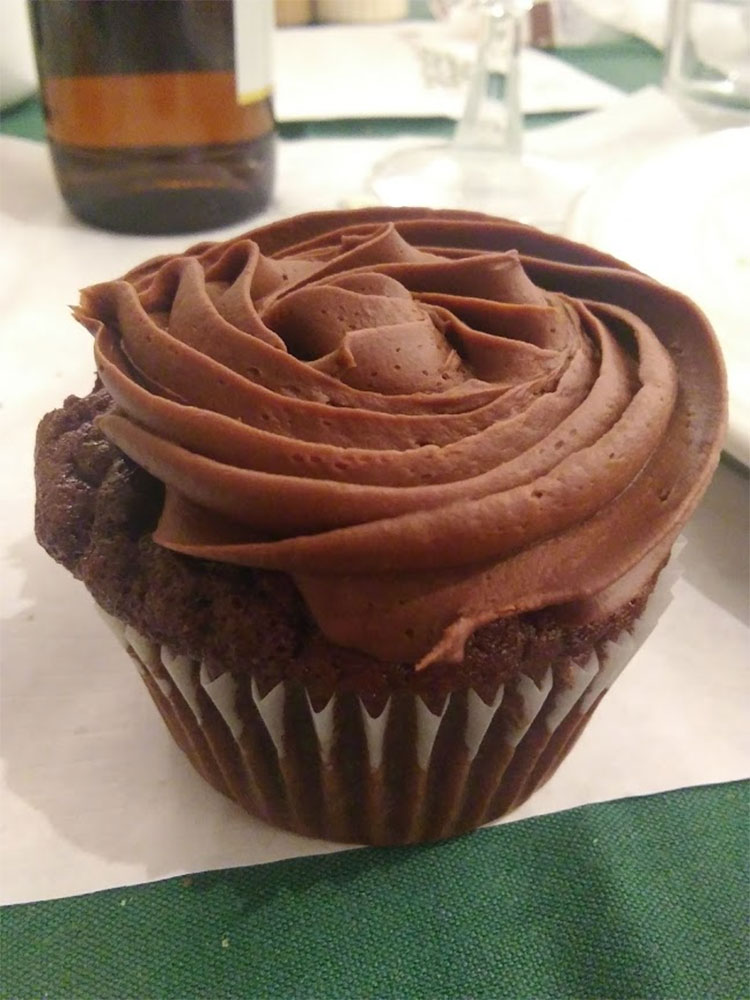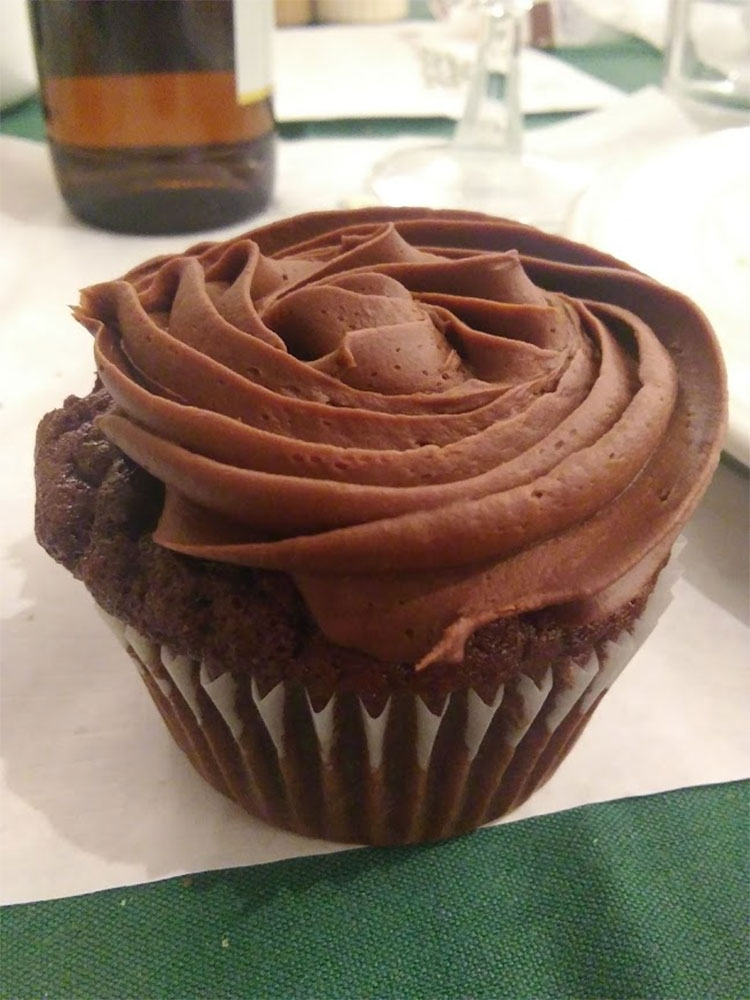 The fish fry at American Serb Hall is above average, but I expected it to be even better considering the sterling reputation it has. In particular, I was hoping for a little more when it came to the fish and tartar. But, the classic hall environment was great, the food was largely satisfying, and I came away fully satiated.
The politics are gone for now—there are no more television ads and most of the yard signs are down. But the fish frys remain. You may sometimes feel like you aren't getting enough honesty, integrity, or fulfilled promises from politicians, but one thing is for sure: you can always count on getting enough food with your fish fry at American Serb Hall.
Takeaways: I ate like two fish frys for the price of one; food is served family style; I was given four tartar sauces to start with; the clam chowder was like a meal before the meal, and it was good; the fish and tartar were decent, but I was expecting more; fresh coleslaw; so many fries; awesome chocolate cupcake; karaoke singer; tons of politicians have stopped here, and some of them even had a fish fry; Al Roker once worked the drive-thru window and was trying to joke with customers when someone told him, "I want my fish, don't joke with me."