Way back in March, Milwaukee Record ran a list of the best Brewers players of all time. Over the course of three articles, a trio of contributors crunched numbers, considered some intangibles, and tried to set aside their personal preferences in order to rank the 50 finest athletes to ever suit up for the Brew Crew. By list's end, the incomparable Robin Yount wound up claiming the top spot.
While "The Kid" certainly earned the number one nod for his real-life accomplishments, Yount should consider himself lucky that fictional Brewers weren't included in our player pool. Had we included actors who were portraying Milwaukee Brewers in movies, his status as the franchise's best player ever would've certainly been in jeopardy.
Recently, while looking up the lifetime stats of Sam Malone as we watched Cheers, we decided to look into the career numbers of another, more localized fictional baseball player. After a few minutes of digging, we managed to find the fabricated career stat line of Stan Ross, Bernie Mac's character in the 2004 sports comedy Mr. 3000. With a premise rooted in Ross—played by the late, great Mac—returning to the diamond after a 10-year absence in an effort to cement his Hall Of Fame case, we knew the character was supposed to be very good…and even borderline great. However, we were shocked to see Ross' numbers were good enough to make him arguably the best hitter in Milwaukee Brewers history.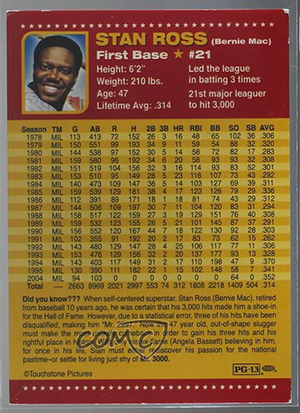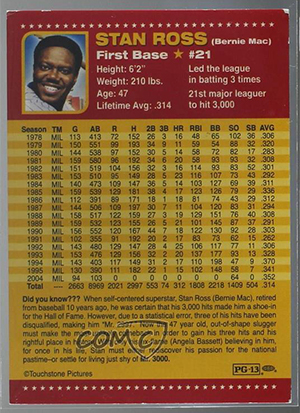 The statistical support came by way of a Stan Ross baseball card, which was a promotional item for the film. In addition to a image of Mac donning a Brewers uniform on the front of the card, the reverse of the keepsake included a fairly detailed rundown of the stats Ross put up during his 18-plus-year career.
Of course, we already knew he was knocking on the door of the 3,000-hit milestone, but the rest of the veteran first baseman's numbers suggest Ross—the brash baseballer who called himself "one of the greatest hitters alive"—was actually one of the greatest offensive players to ever play.
Before even diving too deep into the actual stats, you'll notice the card states Ross apparently won three batting titles. The only other Brewers player to win a batting title is Christian Yelich, who earned the honor in both 2018 and 2019. Without spoiling the 16-year-old movie (which has a 55 percent rating on Rotten Tomatoes!), the protagonist's approximately 3,000 career hits would put Ross behind only Yount's 3,142 mark on the team's all-time hit list.
In fact, Ross trails Yount (and only Yount) in a few categories. The fictional Ross had an 18.5-season career to Yount's 20-year run. During their respective spans, which would've overlapped for all but two seasons of Ross' career, Yount played in just shy of 200 more games. Robin also has about 2,000 more at-bats than Ross did, though their career plate appearances are much closer. Yount also had 30 more doubles than Ross, 52 more triples, and 4,730 total bases to Ross' second-best team mark of 4,630.
That being said, there are more statistical departments in which Ross would've actually been the team's all-time leader. And honestly, most of those are more significant the aforementioned categories Yount leads. Ross amassed a team record 2,021 runs (Yount's 1,632 runs are the next highest), 2,218 walks (Yount is next with 966), 1,808 RBI (Yount is next with 1,406), 504 stolen bases (topping Paul Molitor's 412 and Yount's 271), and a career .314 batting average (besting Jeff Cirillo's .307 career average).
In 2014, Harvard Sports Analysis Collective—using the Stan Ross promotional baseball card as source material—dug even deeper and determined that, at least numerically speaking, the fake player was a no-doubt Hall Of Fame talent. Their article uses Sabermetrics to lend some statistical support to Ross' case. HSAC determined Ross had a .466 career on-base percentage (better than Prince Fielder's .390 team record), an adjusted OPS+ of 174 (topping Fielder's current record mark of 143), and 2,150 runs created (better than Yount's team record of 1,655). Most importantly, they determined Stan Ross had a career WAR (Wins Above Replacement) of 105.4, which isn't only leaps and bounds ahead of Yount's 77.3 career WAR, it's the sixth highest WAR in Major League Baseball history.
Even if—okay, SPOILER ALERT!—Ross wound up just shy of the 3,000-hit milestone, he still had a career any player would dream to have. And yes, he had a career every Milwaukee Brewers player would kill to have as well because, according to a baseball card that was probably put together by a marketing intern with limited baseball knowledge, Stan Ross put up good enough numbers to be the best offensive player in team history. Sorry, Robin.