Following a Kickstarter campaign, considerable construction, various delays, and approval from the City of Wauwatosa, Stock House Brewing (7208 W. North Ave., 414-739-9876) officially opened last week. Owned by avid Wauwatosa-based home brewer Mark Henry Mahoney and Milwaukee beer historian Paul Hepp, the brewpub—located in the heart of East Tosa—has been in the works for almost a year. The owners were originally hoping to open the brewery that "will never make the same beer twice" in the up-and-coming Milwaukee suburb back in May, but those plans were dashed. As recently as 10 days ago, a true opening date still wasn't clear. However, Stock House announced on Facebook last Monday that it was officially opening to the public on November 12.
With Milwaukee's craft brewery marketplace having never been more crowded—including the new Vennture Brew Co. already doing excellent things less than 20 blocks away—and more places in the works, does Stock House Brewing do anything to set itself apart, or it is simply more of the same in a different neighborhood? Milwaukee Record wasted no time before going to East Wauwatosa's first true brewery to find out for ourselves.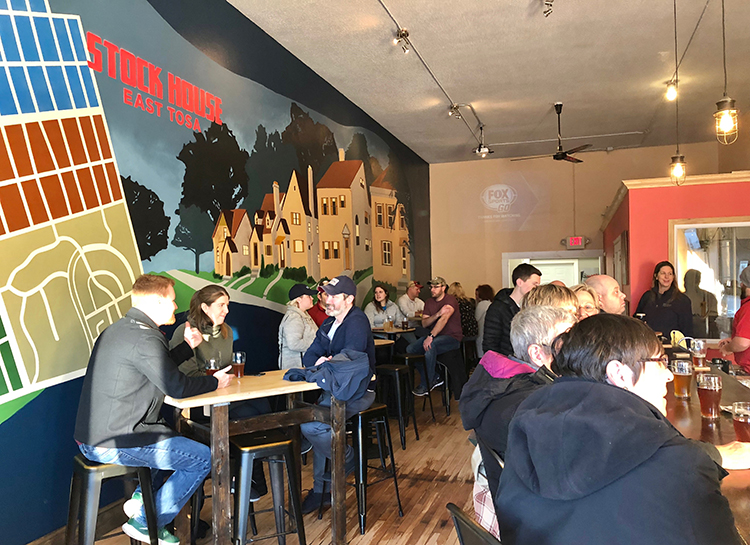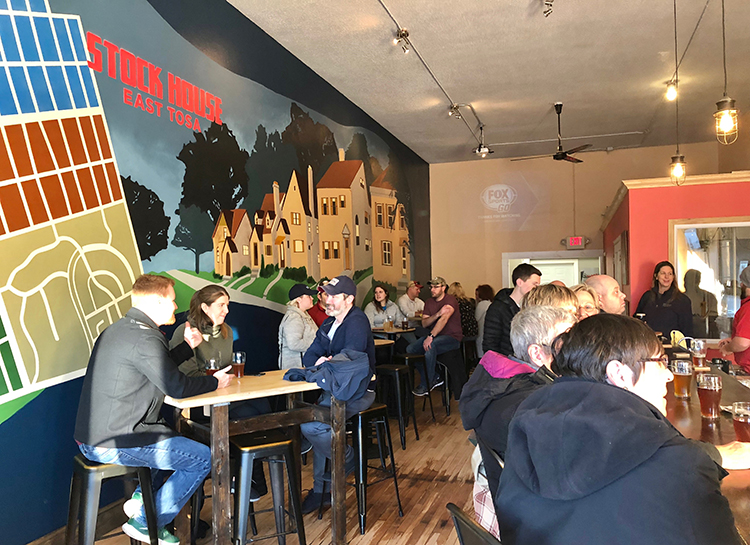 The space: Located amid a wealth of restaurants and cafes on high-traffic North Avenue, Stock House blends right into the neighborhood. Other than a shiny, brand new canopy displaying the brewery's name, the new business' exterior doesn't really stand out from the various other storefronts in the vicinity. Upon entering the space, though, customers are met by a colorful and massive mural of the neighborhood that stretches all the way across one of the brewpub's walls. The other side of the fairly thin corridor in the quaint craft brewery features televisions, an L-shaped bar that can host approximately 10 to 12 patrons, and a window that gives a glimpse of Stock House's modest brewing setup.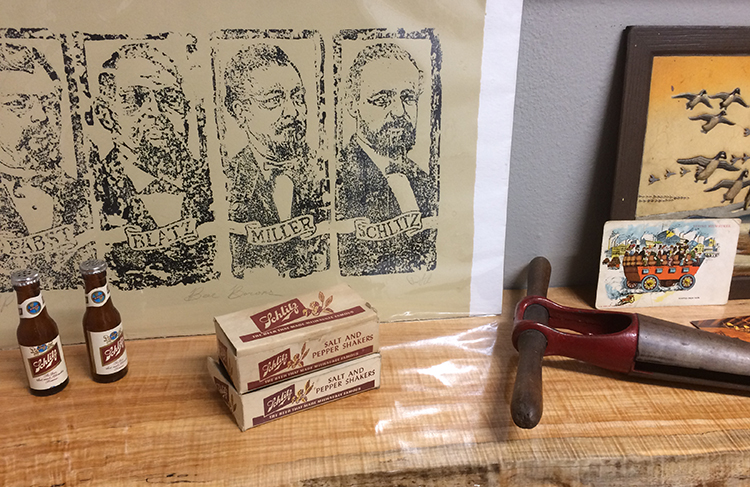 At the rear of the space, beyond a small cluster of bar stools and pub tables, there's a "Beer + History Gallery" that's presented by Happ's affiliated Fun Beer Tours Milwaukee venture. There, you can enjoy a pint while looking at vintage brewery photography, old advertisements, and antique beer memorabilia. The collection is extremely small, but it (along with the mural) help to spruce up and slightly differentiate an otherwise basic and limiting location.
Milwaukee Record's drinks: With just a few—likely busy—days beneath their belt, the young brewery only had two of its own beers on tap this weekend. The bar is equipped with six tap lines, and half of those were devoted to guest taps (The Fermentorium among them) and the time of our visit, which left Stock House with only three of its own beers…two, after one sold out. Figuring they promised to "never make the same beer twice," we weren't going to wait any longer to try beers that might never be available again. After all, these were the beers Stock House was using to help formally announce its presence. Following a brief explanation from Mahoney himself, we ordered the duo of remaining Stock House brews.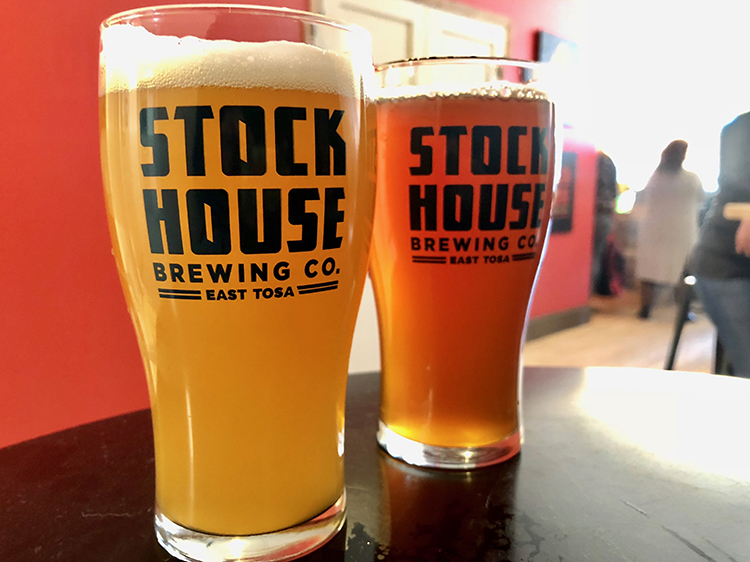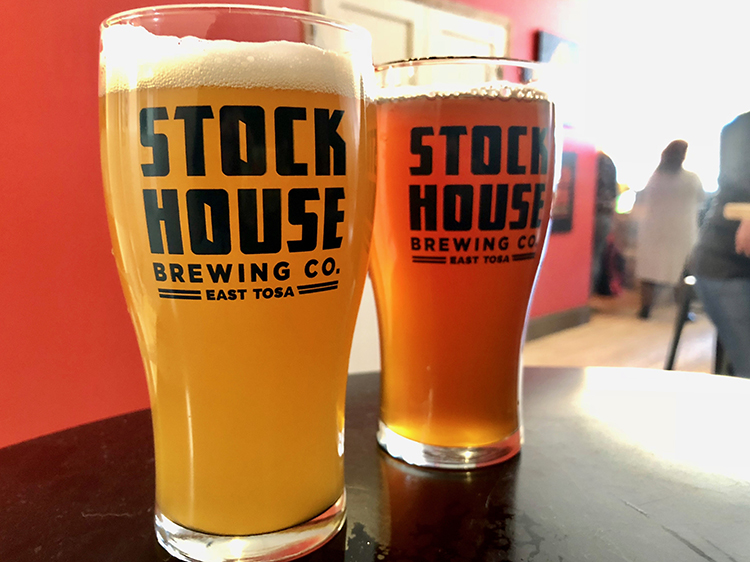 The Air Cool Alt (pictured above right) was a clear favorite, despite Mahoney's description of it being an old world style "the peasants would drink." For being a time-tested and apparently low-brow beer, we found it to be crisp, light, flavorful, and something we could see ourselves going back to again. Unable to acquire "Not Another IPA" before it sold out, we took a chance on a sour pale ale called "Funky Drummer." With a bright and hazy body, the purported sour fell short of our expectations. Instead, the bitter aspects of the pale ale came through most noticeably. Even if they weren't phasing it out, we wouldn't recommend that Stock House keep it in its limited six-tap arsenal. That said, we'd love if Air Cool Alt stuck around a while longer.
The verdict: With an apparent desire to continually shake up the types of beer it offers, Stock House Brewing Co.'s quality is sure to fluctuate as its stock shifts. While its early selection was extremely limited, one of its beers left us encouraged that this cozy neighborhood taproom wasn't detracting from greater Milwaukee's growing and improving craft beer scene. Only time will tell if Stock House and its ever-changing draft list will help add to that reputation.