Rejoice, McGivernheads, for the wait is almost over.
Yes, John McGivern's Main Streets—a.k.a. the long-awaited new travel show from beloved Milwaukee host/actor/entertainer/Cedar Crest pitchman John McGivern—will begin airing in January 2022. In Milwaukee, the show will air Sundays at 10 a.m. on FOX6. And because Main Streets finds McGivern traveling outside Wisconsin and into the general Midwest, it'll air in other cities and states, too. Here's the schedule: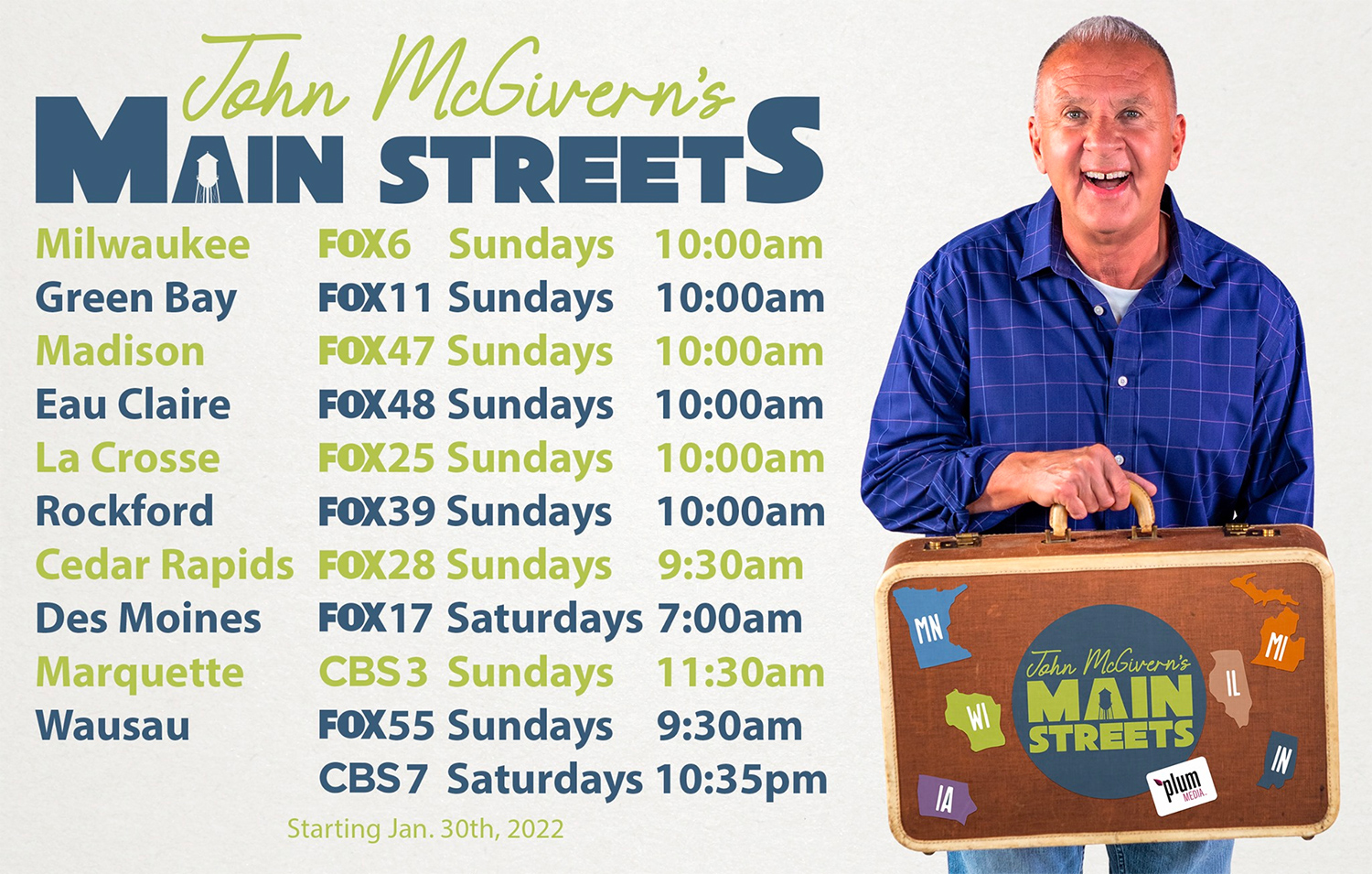 Season 1 is made up of 13 episodes, which will run for 13 consecutive Sundays. After that, all 13 episodes will repeat for 13 more consecutive Sundays.
Here are the cities/areas McGivern will be visiting, in order of their airdate:
Dubuque, Iowa
Green Lake, Wisconsin
South Haven, Michigan
Rockford, Illinois
Stillwater, Minnesota
South Bend, Indiana
Milwaukee's Harbor District
Galena, Illinois
Rochester, Minnesota
The Dunelands (Indiana)
LeClaire, Iowa
Kalamazoo, Michigan
Sister Bay, Wisconsin
"John is setting his GPS for 13 main streets all over the Upper Midwest," explained an earlier press release, "traveling from Wisconsin to Michigan, Minnesota, Iowa, Illinois and Indiana. Season 1 of John McGivern's Main Streets will showcase more than a dozen destinations as only John McGivern can, through entertaining conversations and fun facts that will no doubt lead to laughs. The show will highlight great communities in and out of Wisconsin, giving viewers even more places to learn about and explore."
Main Streets is the successor to Around The Corner With John McGivern, which was dropped after nine seasons by Milwaukee PBS in 2020. Milwaukee PBS cited production costs as one of the reasons for dropping the show, as well as increasing the station's focus on "the impact of COVID-19, racial injustice, and economic disparity on southeast Wisconsin." This didn't sit well with many viewers (we're still getting emails about this for some reason), especially those who had HAD ENOUGH OF THE PANDEMIC AND JUST WANT TO SEE MCGIVERN CHECK OUT A CHOCOLATE COMPANY IN SOUTH BEND, INDIANA OR SOMETHING.
Exclusive articles, podcasts, and more. Support Milwaukee Record on Patreon.
---
RELATED ARTICLES
• No longer exiled, John McGivern is heading to 'Main Streets'
• Milwaukee PBS reveals 2021 production plans (with no new John McGivern shows)
• Milwaukee PBS releases statement on future of 'Around The Corner With John McGivern'
• The last straw: 'Around The Corner With John McGivern' reportedly won't return for another season
• Watch John McGivern and John Gurda, who are best friends, talk to each other over Zoom
• 12 pictures of John McGivern and John Gurda hanging out and being friends