We've now reached a point in which there's a new brewery opening in Milwaukee every month. An incredibly busy 2017 in local microbrewing—the likes of which had never been seen before in Milwaukee—now looks to be the precursor to even more breweries opening up and helping to strengthen the "Brew City" moniker. At their base, each establishment is producing the same beverage. However, the varieties, the quality, the taprooms, the ideologies and origins, and the brewing backgrounds of businesses making the beer all differ. Those differentiating factors—no matter how subtle or vast—are what make each and every new Milwaukee brewery special, what inspires visits from a perpetually thirsty populace, and what keeps newcomers making the decision to enter a suddenly-crowded local craft brew scene.
On July 10, just a couple weeks after Component Brewing Company quickly opened up in the former site of Eagle Park Brewing, Vennture Brew Co (5519 W. North Ave., 414-856-4321) completed a three-year transformation process that went from idea to execution when the taproom and coffee roaster quietly opened in Washington Heights. Founded by three Milwaukee photographers with a sense of wanderlust and an interest in both coffee and beer, the trio managed to raise close to $22,000 on Kickstarter to help transform their hobby of "Brew Vennture"-ing around the country to experience barley and beans in new ways into Vennture Brew Co—a local cafe and brewery with a permanent home on North Avenue.
With more breweries on the way soon, Milwaukee Record ventured (venntured?) close to the Wauwatosa border to see if the latest character incorporated into Milwaukee's long, growing, and ever-changing brewing story had staying power.
The space: With three photographers at the helm, you'd better believe Vennture looks great inside. With a white and soothing blue color scheme, the taproom and roastery manages to be stylish and clean without coming off as sterile. There are stools lining L-shaped counters against the side walls and front windows (which can be opened to bring an open-air feeling into the brewery when weather permits). Past the counter space near the entrance sits a cluster of four-tops and communal picnic tables. The wood tables and whitewashed walls are accented with plants, sleek metallic light fixtures, and subtle decor consisting of geometric shapes (akin to those in the Vennture logo). The taproom's western end is home to the bar, which has about 20 stools and allows for extended interaction with the brewery's three charismatic and friendly owners.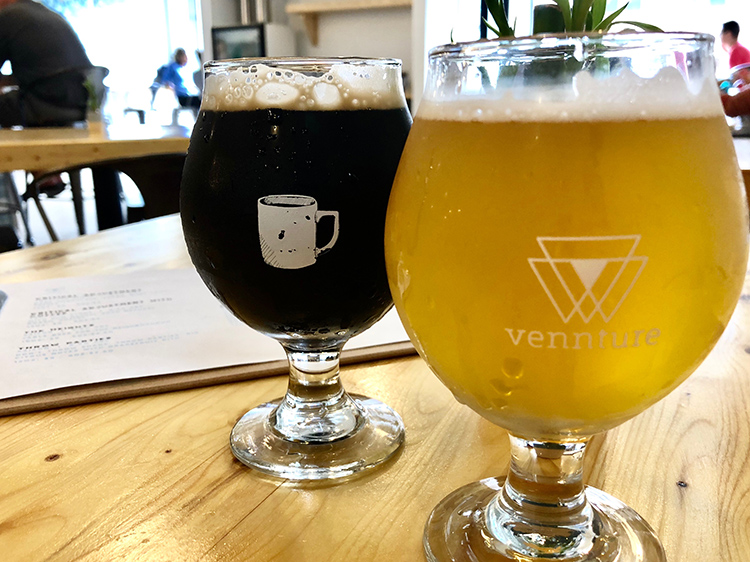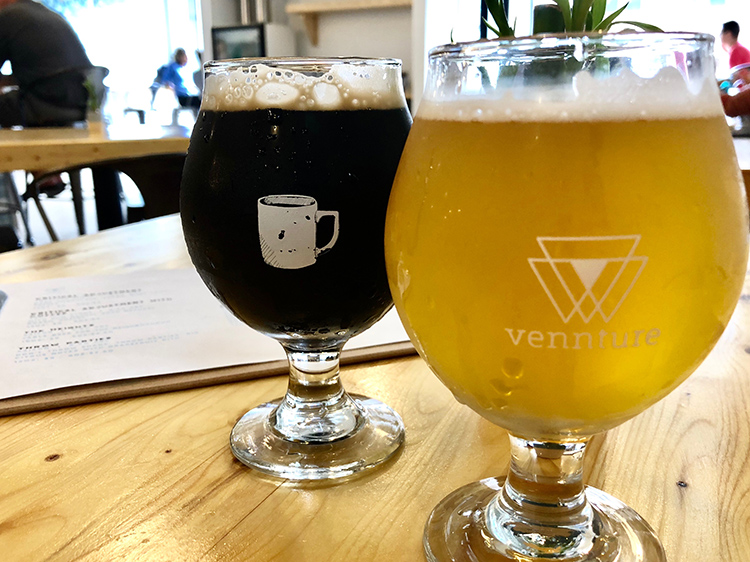 Milwaukee Record's drinks: With a few years of prep time, Vennture was able to amble out of the gates with six different beers, or seven if you count the variation of its Critical Adjustment tropical stout that has rum barrel-aged Brazil coffee in it. We started with that coffee-infused variant of Critical Adjustment ($6) and found it to be a more-than solid coffee stout with an enjoyable dash of sweetness in the mix, as well as the underlying sting of booze that isn't all that unlike a bourbon barrel stout…except with a modest 6.5 percent ABV instead of a double-digit figure. We countered that malty, caffeinated treat with a 12-ounce glass of 49th Street ($6)—a purported "New England IPA." Though we struggled to find the oft-described "hazy" and "juicy" aspects in Vennture's take of this trendy style, we still liked this hop-forward IPA, which also offered a refreshing kiss of citrus. It's a serviceable summer IPA, even if we missed the New England connection.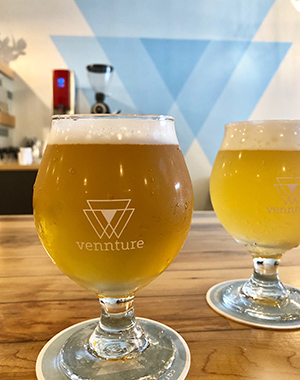 With a few families with babies and toddlers encroaching our table, we freed up some space moved up to the bar to continue working our way down the tap line. A sour IPA called "Cat Shirts" (pictured left, $6) followed. It fit the sour distinction, with the beer's Azacca and Idaho 7 hops countered by a gentle-yet-winning tartness that was conveyed by tangerine and pineapple. Throw parties (right, $5) was less tart, but shared some similarities with Cat Shirts—even down to the 6.4 percent ABV, which seems a bit on the high side for a saison.
We bypassed another saison—a sessionable "table beer" called "The Heights"—in favor of a Berliner called "Bruv" (not pictured, $5 pint). The weiss was light, smooth, and had a dry sweetness we'd be liken to a hopped cider or watered down champagne (meant in the best possible way). We went in expecting the taproom, which doubles as a cafe that offers a full selection of coffee shop beverages and opens at 5 a.m. daily, would have mostly dark beers. We left having enjoyed the single stout in its arsenal, and having been pleasantly surprised by the quality of both the IPAs and (especially) the Berliner.
The verdict: The city is now home to far more breweries than ever before. While the brewery bubble's oft-predicted burst could be nigh, if places like Vennture—a successful blend of style, execution, and originality—keep opening up, people will have reason to venture to new neighborhoods to give them a try. Milwaukee's once-lacking craft brewery scene is getting crowded all of a sudden, but the latest taproom invited to the party is a welcomed and worthy guest with staying power.