Caleb Westphal hasn't missed a Friday night fish fry since 2013. Follow along with his never-ending adventures here.
I may have eaten a fish fry on every Friday for the past 245 weeks, but I have also gone to Wiener & Kraut Day in Waterloo, Wisconsin, on the second Saturday of September for 33 consecutive years. My mother grew up in Waterloo, and even though my grandfather passed away in 2009, I have continued to return to the festival each year for wieners, kraut, and rummage sales.
During my youth, my family and I would arrive at my grandfather's house the night before, and my dad and I would get up early the next morning to go rummaging. Since my grandfather's passing, I stopped going to Waterloo the night before—until this year. Walt Hamburger told me the vinyl release show for his new album was taking place Friday at Waterloo's Mode Theater, and I couldn't pass up the opportunity to visit this city of my youth. I was told I could spend the night at a friend's place outside of Madison, so the drive back to Waterloo in the morning would be short.
There was just one thing that had to be figured out: fish. My initial thought was to find a place inside of Waterloo's city limits. It looked like Hartwig's Waterloo Diner might have a fish fry, but they closed by 7 p.m. There very well could have been other places inside of the city that served fish, but none grabbed my attention. On the outskirts of town, the Pine Knoll Supper Club, which I had gone to as a child, had long since been closed down, so that wasn't an option.
Thankfully, Jefferson County has a lot of other small communities with great fish fry spots. I've been to a few of them this year, such as Palmyra and Fort Atkinson. Another small community, just a 15-minute drive from Waterloo, is the unincorporated village of Milford. Milford is right off of I-94, but you wouldn't know it, because it doesn't even have its own exit.
The community wasn't always so ignored. In the early years of Jefferson County, Milford was on the rise. The Milford mill—which gave the village its name—was built in 1845. Powered by the Crawfish River, it was the largest mill in the county, and had seven millstones. Sadly, the mill burned down in 1883, and many people moved to nearby Lake Mills, leaving Milford to never be known for anything again. Well, except for maybe Crawfish Junction (W6376 Co Rd A, Johnson Creek, 920-648-3550).
Crawfish Junction. Where had I heard that name before? After thinking about it, I realized it was one of the places that was featured in Ron Faiola's film We're Here For a Fish Fry! It turns out it is one of the favorite fish fry places of Mike Seidel, a guy who has eaten more fish frys than me, and who appeared in the film while eating at the restaurant. Perfect, I thought. Not only could I get a fish fry close to Waterloo, but it could be at a place that is known for having good fish.
Crawfish Junction is so named because it is located at the junction of Highways A and Q, near where the Crawfish River crosses. I met Walt and his bandmate Jason Lemke (whose new project, Car City, was produced by Walt and Amos Pitsch (DUSK/Tenement), and is being released on Plant Music Record Company), and we put our names in and sat outside on the front patio. After an Old Fashioned and an hour or so of conversation, our table was ready.
Fish options include hand breaded Lake Erie perch (1/2 pound for $16.95), hand breaded bluegill (1/2 pound for $16.95), fried cod (2 piece $9.95; 3 piece $11.45; 5 piece $13.95), baked cod ($13.95), and Canadian walleye ($17.95). The restaurant also offers grilled salmon, as well as other seafood options such as scallops, shrimp, crawfish, and alligator. All of these dinners come with a choice of potato, coleslaw, or rye bread. A number of items—scallops, perch, bluegill, shrimp, cod, and wings—can be paired together to make a combo dinner ($16.95). I ended up getting the perch and bluegill combo—which came with 1/4 pound of each type of fish; I also ordered fries, as potato pancakes were not an option.
There wasn't anything particularly noteworthy about the fries, coleslaw, and rye bread. They were all fine, but in some sense they seemed to be filler, and were indistinguishable from those of hundreds of other fish frys. But, the centerpiece of the meal was the fish, as it should be, and it didn't disappoint.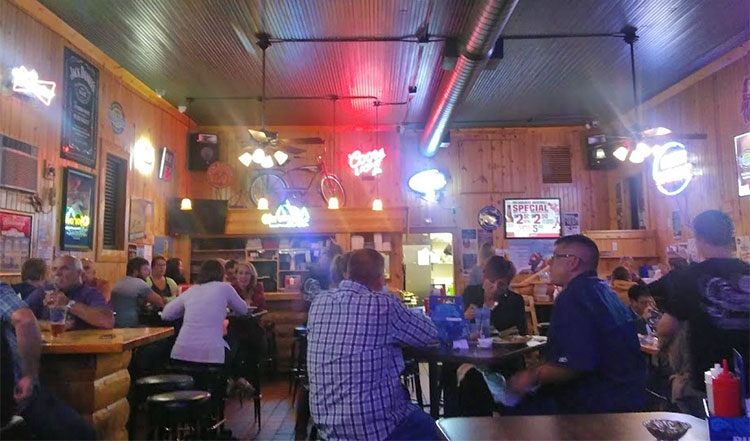 I was given three pieces of bluegill and four pieces of perch. The thin, non-greasy breading allowed the fish to curl a bit. The fish had a limber texture and golden color, showing in part that it had been left in the fryer for the right amount of time. The perch had a salutary flavor, and the bluegill had that usual distinct bluegill flavor, but was not overpowering as the fish can sometimes can be. It was some of the best flavored bluegill I've had in recent memory. The fish went well with the tangy, mayo-heavy tartar, which was in a big bottle on the table.
If you find yourself on I-94 somewhere between Milwaukee and Madison on a Friday, it's worth it to weave through a few small towns on back country roads until you come upon Milford and Crawfish Junction. The restaurant's website claims Milford is a "booming metropolis." That may be complete balderdash, but who needs a metropolis when you have perch and bluegill combo fish frys
Takeaways: a decent amount of fish options and you can make it a combo dinner; the hand breaded fish was pretty awesome, but the rest of the meal was pretty standard; fittingly, you can get crawfish—Walt got some and let me take a picture of them but was very stingy in his sharing; after 2 p.m. on Fridays there is a different, pared down menu that focuses on fish, because they know how important fish is; the mailing address of the place is Johnson Creek—poor Milford, it has trouble even making it on an envelope; I had six wieners and kraut at Wiener & Kraut Day the next day.