In Search For The Perfect Packers Bar, Milwaukee Record contributor and Green Bay native Maggie Iken sets out to find the best Packers viewing experience Milwaukee has to offer. Catch up with Week 1, Week 2, and Week 3.
This was my first time stepping foot inside Company Brewing since it opened this past May. The space is absolutely gorgeous. My favorite part of the renovation is the open kitchen, which shows off the cleanliness of the entire establishment. The kitchen, dining area, bar—all spotless. There are some plants hanging above tables providing much needed greenery while the state of Wisconsin prepares itself for the unavoidable, brutal winter. The stage, when not in use, is a lovely comfy lounge area. The entire space is hip and current without being in your face.
On to undoubtedly the most important part of any brewpub: the beer. I prefer beer over any other alcoholic beverage and consider myself somewhat of a beer snob. Every brewpub I've been to, however, has something a little "off" with their beer. Maybe it's a little flat or a little sour or not hoppy enough—for whatever reason, it never stacks up to the well-known microbreweries in the area. I am extremely pleased to say this was not the case at Company. After consuming the Lunchpauze (saison), Bounce House (session wheater), Highlo (pale ale), and Riverwest Backyard Hops (IPA), I've declared myself a fan. Happy hour pricing applies during games, making pints $2.50 or $3. There are also two different sizes of growlers available for purchase.
In addition to the curry roasted peanuts and yellow raisins (of which I ate, like, three bowls), I grabbed food at half time. Company had barbecue pulled pork and jibarito (grilled steak, lettuce, tomato, and mayo between two plantains) sliders for $3; I ordered one of each. The jibarito was great, but it paled in comparison to the pulled pork. These sliders were a little bigger than regular sliders, so I only needed two to fill myself up. I would come back and order three of the pulled pork and be uncomfortably full, though. #worthit, or something.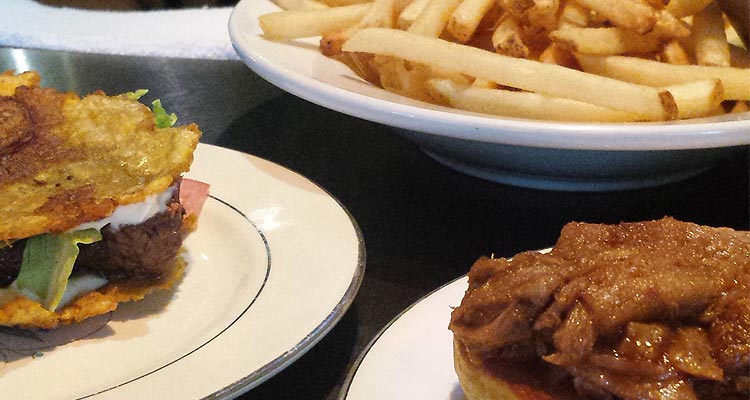 While the beer, food, and décor were phenomenal, the game day atmosphere was a little lackluster. Company's Facebook event page stated it would have a 95-inch projection screen set up, which was a huge draw for me. Unfortunately, it was nowhere to be seen. The TVs above the bar were adequate, but I would have loved to see my boy Randall Cobb blown up close to life-size.
Company had a game day tomatillo Bloody Mary, however ($10), that looked intriguing. There was a choice of vodka or tequila, and I opted for the latter. It had a garnish that had tostones and fried avocado, which were great. I wasn't into the beverage itself. I'm not quite sure what I was expecting, but it resembled alcoholic salsa. I honestly think it would have been much better if I was eating chips or a taco, where the salsa could have incorporated itself into other flavors. Whatever, it was new and different.
The crowd was also not very attentive. I was the only person clapping and yelling through the game. This may be because the game was honestly not that interesting. Between the less-than-energetic patrons and the less-than-highlight-worthy game, I myself stopped watching for a while to talk to others. If you're more of a casual fan who enjoys the social aspect of sporting events more so than whether the Packers win or lose, this is your place.
This win has kept the Packers undefeated this season, joining other historically wonderful teams such as the Bengals and the Falcons (ha). With a final score of 17-3, this was the least exciting game of the season. Maybe that's what happens when the defense outshines the offense. Sam Shields' fourth quarter interception kept the 49ers' comeback out of reach, and was honestly the highlight of the game. Clay Matthews and Julius Peppers each had a sack. The final score spoke to the effectiveness of the Packers D. The most troubling aspect of the game, however, was Cobb's hard fall on his shoulder immediately before half time. He appeared to be fine afterward, so I'm crossing my fingers he wasn't playing through the pain. Oh yeah, and Matthews decided to trash talk Kaepernick.
Final verdict: Company Brewing is a lovely brewpub with a calm vibe, tasty food, and some damn good beer. Its game day offerings could use a little revamping, but I will surely be a repeat customer.