When news broke last fall that Company Brewing would be replacing Stonefly Brewing at 735 E. Center St., it was greeted with a fevered enthusiasm usually reserved for new "placemaking" initiatives or Milwaukee appearing on another online list. Finally, the long-faltering Stonefly would be put out of its misery. Finally, a team with fresh, innovative ideas—in this case, former Colectivo coffee director George Bregar and Bavette la Boucherie owner Karen Bell—would be injecting new life into the criminally underutilized Riverwest space. Finally, the neighborhood would have a new high-profile business to be proud of. Hell, maybe someone would finally figure out what to do with that outdoor patio/junkyard.
Weeks and months passed. Updates on Company Brewing's progress were treated like Star Wars spoilers. Bell's premature departure due to an antiquated licensing issue was given all the gravitas of a presidential candidate dropping out of a too-close-to-call race. (Executive chef Rosy Rodriguez would soon replace Bell.) A handful of pre-opening-day concerts gave Milwaukee a tantalizing look at the revamped space. Previews started rolling in. Finally, last Sunday, Company Brewing opened its doors.
So, does the new Riverwest brewpub live up to the hype, or does it, to go back to placemaking and listicles, simply organize another arts and crafts fair and/or round up 13 more places to get a yummy Bloody Mary in Milwaukee? We stopped by the former Stonefly (née Onopa) to find out.
The space: For better or worse, little has changed since the Stonefly days. The space remains as cavernous and ungainly as ever, with multi-level seating and tables scattered throughout the floor. The paint job is largely neutral and unremarkable. The graffiti on the inside of the men's bathroom is still intact, as are the ancient band stickers adorning the circuit boxes outside that bathroom door. (We can personally attest that the Holy Mary Motor Club sticker is at least 10 years old.)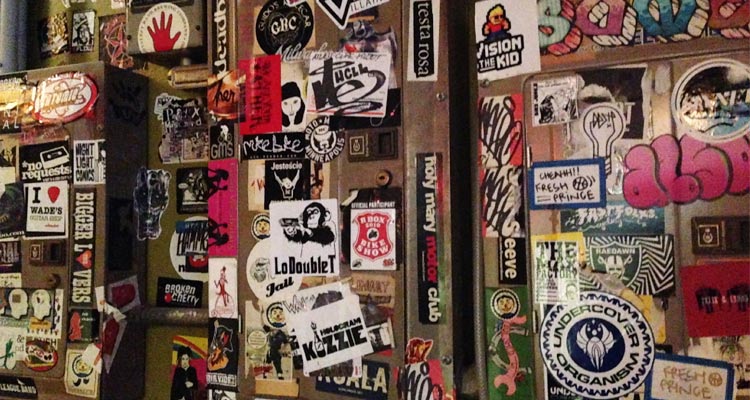 Still, there are significant changes, all of them welcome. Chief among them is an open-air kitchen surrounded by low-slung seats and a lunch counter. Similar to a grocery store deli, it feels like a cozy and unique space-within-a-space. Two communal-seating high top islands—complete with hanging planters—are positioned in the middle of the room. The taps behind the bar stand out against a gold backdrop. Two flat screen TVs are set flush with the above-bar menu, and are framed by a curved wood backing reminiscent of the dining area of Comet. That wood shows up again in pleasing zigzag patterns on opposite corners of the room, giving the space a simple but effective through line. Finally, the northwest corner has been outfitted with a pair of comfy couches, perfect for candle-lit drinking sessions spent reminiscing about that giant mousetrap that used to hang from Onopa's walls. (Oh, and remember when the stage was in the northeast corner? Weird.)
The service: We visited Company Brewing during its second day in operation; judging by the service, you'd think it had been in business for a year. The staff was clearly made up of industry professionals who had seen their share of high-profile openings. As such, there wasn't much to report. Quick, friendly, helpful, and cheery—what more can you ask for?
Milwaukee Record's food/drinks: Company Brewing lives up to the second half of its name with a selection of "Company Taps" ranging in price from $5-$6 for full glasses, and $3-$4 for "cuppers." We tried half-pours of a seasonal wheat beer called Bounce House (4.5% ABV) and an oak-aged red ale called Oaky Doke (6.5% ABV). The Bounce House was dark, smooth, and perfectly not-too-hoppy. The Oaky Doke was light, crisp, and clean. Both were terrific. (Rounding out the in-house brews are a rye porter called Night Rye'd and a grapefruit IPA called Pomp And Pamplemousse. The rest of the drink menu is filled with "Guest Taps" from companies like Oskar Blues, Central Waters, Door County Brewing Co., and Colectivo Keg Co.; a small but ample wine list; and in-house cocktails ranging from $7-$10.)
Executive chef Rodriguez has gone the "world cuisine" route with the food menu, which means its goodbye Stonefly tater tots, and hello Company Brewing grilled octopus ($12). Other appetizers include twice-fried tostones ($6), a mushroom pate ($8), and pork belly sliders ($12). With Stonefly's comfort snacks firmly in the past (a $6 side of "fried smashed potatoes" is the closest you'll get these days), we took a breath and ordered the fried pig's ear ($9). We were glad we did: crispy, crunchy, served over lettuce and topped with fish sauce and peanuts, the piggy chunks and onion-ring-like strings were excellent.
For entrees, Rodriguez has loaded up on eclectic veggie dishes like pickled apple salad ($9) and a chickpea fritter sandwich ($12); fish dishes like mussels ($12) and roasted branzino ($21); and good old fashioned meat dishes like roasted pork shoulder ($16) and morcilla—a.k.a. blood sausage ($14). But what was this? Nestled in the menu between the one-half roasted chicken ($17) and the grilled bavette steak ($19) was simply a "Company Burger" ($12). We ordered it up, and were immediately struck by the substitution of an English muffin for the standard bun. Also striking was the sheer thickness of the burger, which resembled a particularly beefy hockey puck. Unfortunately, the English muffin looked good on paper (and smelled even better in person), but the juices from our medium-cooked burger threatened to swallow it whole. It was far from a disaster, but we found it necessary to break out the silverware to tackle this monster. The burger itself was juicy and appropriately burger-rific, and blended well with the onions and Le Cabrie cheese. The fries that accompanied it all wouldn't have felt out of place at a George Webb—in other words, they were fucking good.
As our server took away our plate, she asked if we would be staying for drinks. Though the bar was filled with plenty of local notables—Hey, it's Tarik Moody!—we declined. The burger was a (tasty) gut-buster, and pouring beer on top of it seemed like a recipe for disaster. Next time, Company Brewing.
The verdict: Like Stonefly and Onopa before it, Company Brewing is a Milwaukee-unique combination of brewery, bar, restaurant, and music venue. Unlike those past businesses, however, Company Brewing seems to know how to make its various identities work together as a coherent whole. While nothing about it is exactly revelatory, this is the kind of place a slightly grown-up Riverwest needs right now: good beer, adventurous food, and the occasional show. Now, if only someone could figure out what to do with that patio.