Caleb Westphal hasn't missed a Friday fish fry since 2013. Follow along with his never-ending adventures here.
For those who prefer the taste of fried fish over magic mushrooms, but would still like to enjoy a slightly psychedelic and otherworldly evening, The Fireside Theatre (1131 Janesville Ave., Fort Atkinson, 800-477-9505) is the place to be. Unique architecture and a seemingly never-ending supply of visually stimulating rooms, make it reminiscent of the House on the Rock, and its theater and gift shops make it feel like a Medieval Times for grown-ups.
Designed by Helmut Ajango, who also masterminded The Gobbler, The Fireside was opened by Dick and Betty Klopcic in 1964. Originally a pyramid-shaped restaurant that could hold 120 diners, and named after the fireplace at its center, The Fireside has been expanded and renovated multiple times, and is now run by a third generation of Klopcics. In 1978, it was joined with a nearby building that was converted into a theater-in-the-round, and The Fireside became the Fireside Theatre. It has since showcased professionally performed musicals, with visitors coming by the busloads from in and out of the state. But on most Friday nights you won't find a theater production happening at The Fireside. This is Wisconsin—on Friday nights people arrive to experience the only entertainment that is necessary: the Friday night fish fry. This past week I joined them.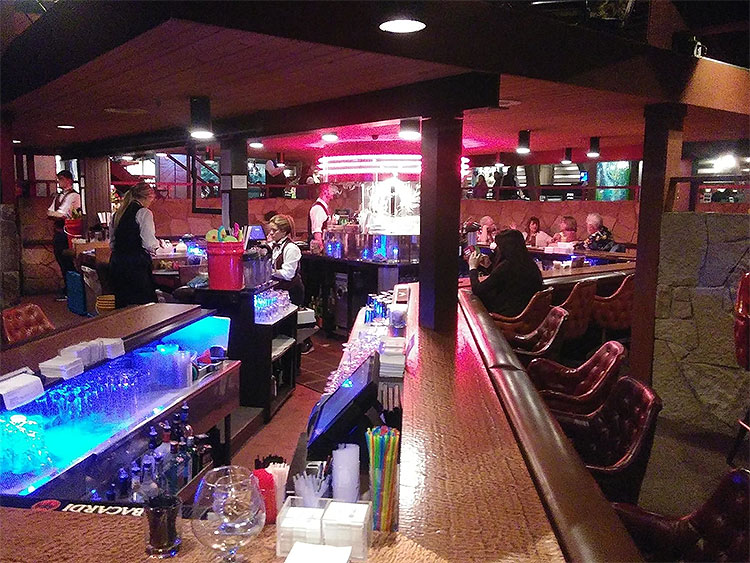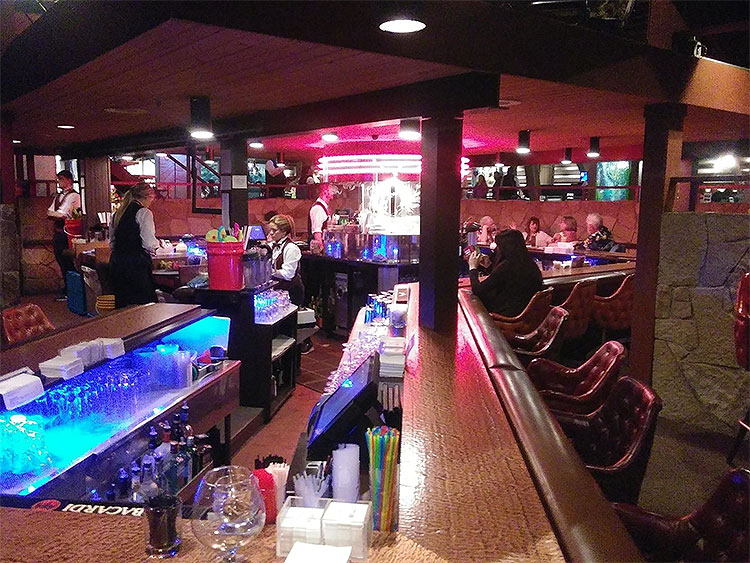 Immediately upon entering The Fireside, I found myself in a multicolored-carpet-covered hallway that was flanked by numerous gift shops. Although a great amount of time could have been spent exploring, it was already around 7 p.m., so my group and I barreled past them. After the hallway twisted a bit and went past the theater entrance, it opened into the original pyramid-shaped room with fireplace and bar. We walked up to a desk that looked like it belonged in a hotel lobby and requested a table. Within a few minutes we were on our way to our seats.
We were brought past a few dining areas and seated in a booth. Panes of glass adorned with sea creatures were arranged throughout the area. Foliage and bricks held back a lit-up lagoon, and the whole room had a teal-hued tint to it.
"Are we in the Ocean Room?" I asked our waiter.
"No, this is room G," he replied.
"How many letters of the alphabet do the rooms cover?" I pressed.
He paused for a moment, and tried to count them up in his head, coming up with 16 as an answer. I made a mental note to go exploring after the meal. We ordered drinks and perused the menu.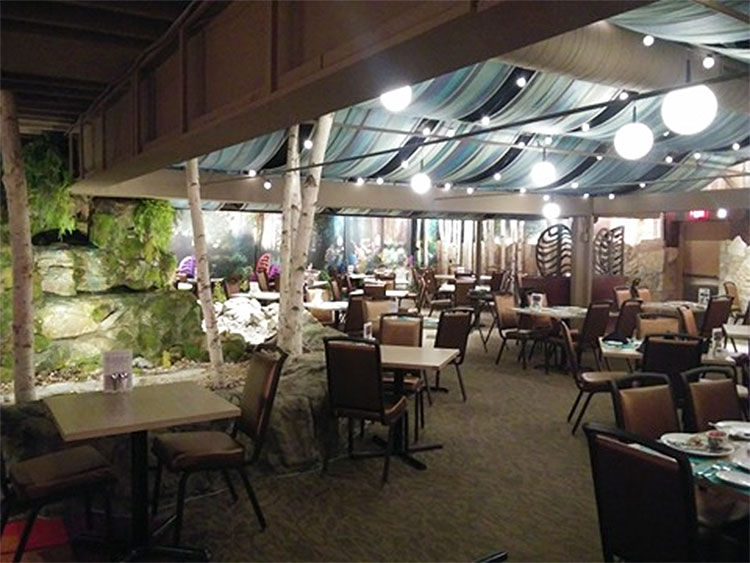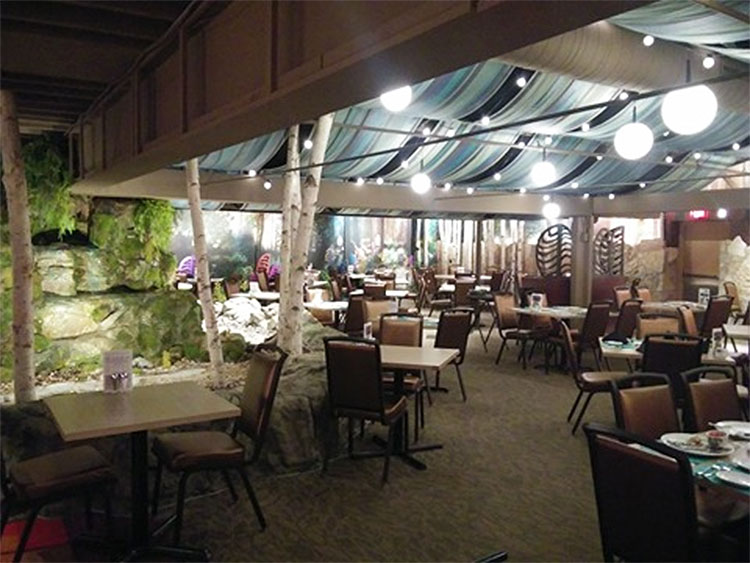 Fish options at The Fireside include deep fried beer battered cod, and steamed cod with peppercorn beurre blanc sauce. Baked chicken is also an option. For $13.95 you can get one of them, and for $15.50 you can get two or all three. Now, if I was doing a proper food review, I suppose I would have gotten all three. But doing a proper food review is not what this is about. This is about trying to maximize the amount of fried fish you can get, so that's what I ordered. Potato options include french fries, potato wedges, baked potato, or potato pancakes. Besides clam chowder, Wisconsin beer cheese and French onion (topped with Wisconsin cheese, of course) soups are available. There are a few more options for the kids menu, but besides desserts, that is the whole Friday food menu. After realizing this, I looked around at all the people eating and thought, "IT'S POSSIBLE THAT EVERYONE I AM LOOKING AT IS EATING FISH RIGHT NOW." As Wavy Gravy said at Woodstock, "We must be in heaven, man!"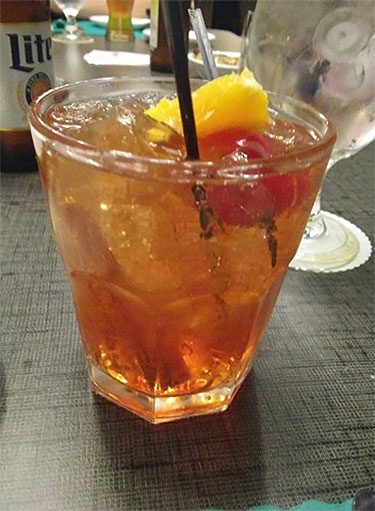 As we waited for our food, I noticed that kids at nearby tables were all ordering funky non-alcoholic drinks. Some kid at the table next to us had ordered something that was called the Orange Dream, or something of that nature. I imagined a lot of these kids waited all week for these high calorie cocktails, just like I had waited for my Old Fashioned (a solid Old Fashioned, by the way). At about that time, I started getting distracted by the frequency of the lights. They were set in such a way that a trail was left behind your hands if you moved them too quickly. I started getting carried away with this, moving my hands every which way, as quickly as possible. Eventually I stopped after the kid drinking the Orange Dream and half of his table looked over at me, wondering what the hell I was doing.
Then came the clam chowder, and the bread and coleslaw. Just like Baby Bear's porridge, the chowder was "just right," having a perfect balance of flavor and texture. I do think a little more could have been fit in the cup though. Wrapped in a cloth napkin in a basket, the in-house bread was warm, and had a soft middle with a crispy crust. The juxtaposition of these textures enhanced the bread's appeal, as did the fact that we were brought both rye bread and cheddar cheese bread. We were given two family-size bowls of coleslaw—a classic green cabbage and carrot creamy slaw.
Soon afterwards, the rest of the meal arrived. The fish, of which there were four pieces, was covered with a thin, tastily greasy beer batter, and was of moderate-to-good quality. The tartar had what was perhaps a hint of lemon and garlic to it. The potato pancakes were extremely crispy—so crispy that they had a thick outer shell and could be eaten as finger food. They were right on the edge of being burnt, but weren't, and were quite good. They came with chunky and bright red apple cinnamon flavored applesauce. Fresh roasted vegetables were also included, consisting of green beans, red bell pepper, cauliflower, broccoli, and carrots.
After finishing my meal off with a dinner-included coffee (tea and milk also are included), my companions and I began wandering around The Fireside like children at Willy Wonka's Chocolate Factory. We found a room which I will call the Forest Room, as well as a Fire Room, and a few rooms upstairs inside the original pyramid, where miniature, model hot-air balloons hung from the ceiling. Finally, we settled into the sunken-down lounge area and pulled up a seat at the bar (where the bartenders are sunken down even farther, being eye level with you as you sit). I saw a lady having a cocktail with a colorful fan in it, and asked the bartender to make me whatever she was having. So it was I ended my slightly psychedelic evening with a Mai Tai and a giant colorful fan. Who would have thought that journeying to Fort Atkinson would have been a trip in more ways than one?
Takeaways: It used to be a cornfield, and it's in a city with less than 13,000 people, but it showcases professional theater productions and people come from miles around; there is a room that looks like an ocean, and one that looks like a forest, and one that looks like a fire, and they are given boring names like "room G"; there were some crazy frequency lights by our table and I couldn't tell if I was tripping or having a stroke—it turns out it was just the lights; Baby Bear's chowder; super crispy pancakes; tastily greasy beer battered cod; cinnamon stick in the Old Fashioneds and multicolored fan in the Mai Tai; unlimited top-notch bread and coleslaw; bread and other fresh baked good available for purchase at bakery; multiple gift shops that I avoided, so you'll just have check them out yourself. RECOMMENDED