Caleb Westphal hasn't missed a Friday night fish fry since 2013. Follow along with his never-ending adventures here.
Do you remember last week, when I almost died in the heat at Summerfest, while trying all their fried fish options? Neither do I. Thankfully, the weather this past Friday was much more pleasant. It was one of those summer days in Wisconsin when the sky was clear and the sun was out, but the temperature was only about 70 degrees. Being that it was so nice out and I didn't have any fish fry plans, I figured it was the perfect evening for a drive through the countryside.
Recently I've been more curious about little towns and villages surrounding Milwaukee. In particular, I've wondered where people in those towns go for fish on a Friday night. Sure, I've gone to places like Cudahy, Oak Creek, and South Milwaukee, but what about the towns and villages a little bit farther out on the periphery, the places that are talked about even less—places like Kneeland, Raymond, Elm Grove, and Granville? Where are people eating fish in those places?
And what about Caledonia? It's a place I can't recall ever going to, and when someone says the word, all I do is think of the Louis Jordan song with the similar sounding name. But they just have to have a great fish fry somewhere, right? So that's where I headed, with the intention of eating at The Depot. Sadly, when I got to the restaurant, I found out they were closed. (I could have avoided this if I would have taken a closer look at their Facebook page, on which they had posted that they would be closed.)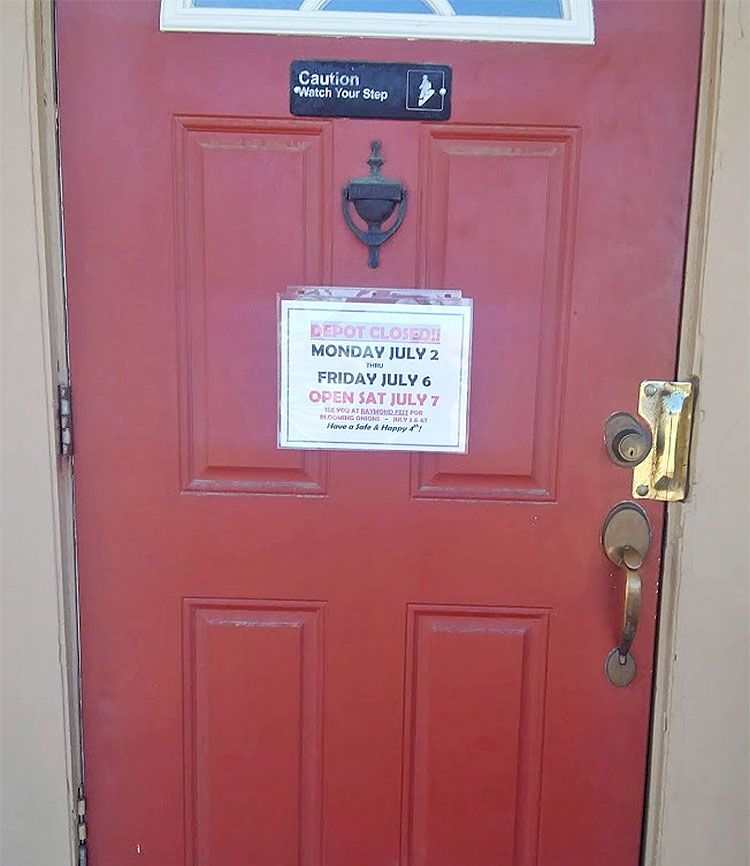 I had just crossed into Racine County, and there was no way I was going to cross back over the county line without a fish fry. I thought about heading to another small town, but then figured that since I was halfway to Racine, I might as well just go there. Hell, I hadn't been there in almost a year, not since the time I was front row in a lawn chair for a Booker T. Jones show. After looking at my phone for about only 30 seconds, I found a place that was listed as having both all-you-can-eat fish and homemade potato pancakes, and that was all the information I needed to decide where to go.
From the moment I spotted the building, I had a feeling that Cliff's Boathouse Cafe (301 Hamilton St., 262-633-1767) had been a good choice. On one hand it is unassuming, with its diminutive size, solid-white paint job, and hand-painted signs, but at the same time the red-lettered signs loudly proclaim the goodness within: "HOME OF THE SECRET RECIPE POTATO PANCAKES" and "FISH FRY ALL-U CAN EAT." Inside, mounted fish such as perch, salmon, and blue marlin cover the wood-paneled walls, as does a patchwork of other things, like sports memorabilia, an advertisement for a lost dog, some old pictures, a piece of paper reminding everyone that drinking during a pregnancy can cause birth defects, and a chalkboard sign saying "CASH ONLY." A large bell hangs on the door and rings when a customer comes in. The place actually feels like a boathouse, or maybe a juke joint, and there are less than 10 tables in all.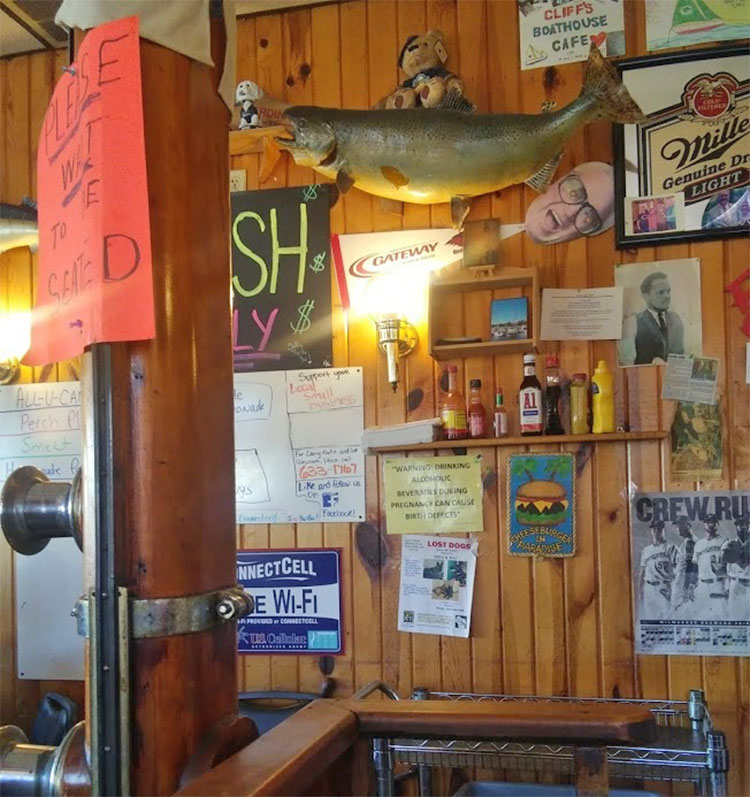 Owned by Cliff Wolosek, the restaurant just celebrated its 31st birthday, being opened on July 3, 1987. Cliff's stepson, Marc Brunette, started working there when he was 13, and now is the one who really keeps the place moving. This was on full display when I was there: He was taking orders, clearing tables, running back into the kitchen, and going outside to tell people their tables were ready. His daughter happened to be my waitress, and from what I could tell, there was only one more person working there, who was cooking in back. I didn't see Cliff, but I suppose he could have been in back cooking, too.
There are a few fish options at Cliff's. All-you-can-eat snow cod (Alaska pollock) is $11.75. This is also available as a three piece plate for $7.50, or a six piece take out meal for $10.75. Smelt plates are available for $8.50, and the lake perch plate is $11.75. I went with the all-you-can-eat with potato pancakes. Homemade potato salad is also available as a potato option. The menu said they had canned beer for $2.75, and after being told they had Miller Genuine Draft and Miller Lite, I went with a Miller Lite.
I was given seven small pieces of fish and three potato pancakes, as well as a small container of coleslaw and two half pieces of rye bread. The fish had a thin coat of beer batter, which allowed the pieces to gently curl. The flavor was exactly what you would hope fried fish would taste like if someone invited you into their home and made it themselves. And that's basically what is happening when you go to Cliff's, and has been happening for over three decades. While it wasn't the absolute best fish I've ever had, it was way above average.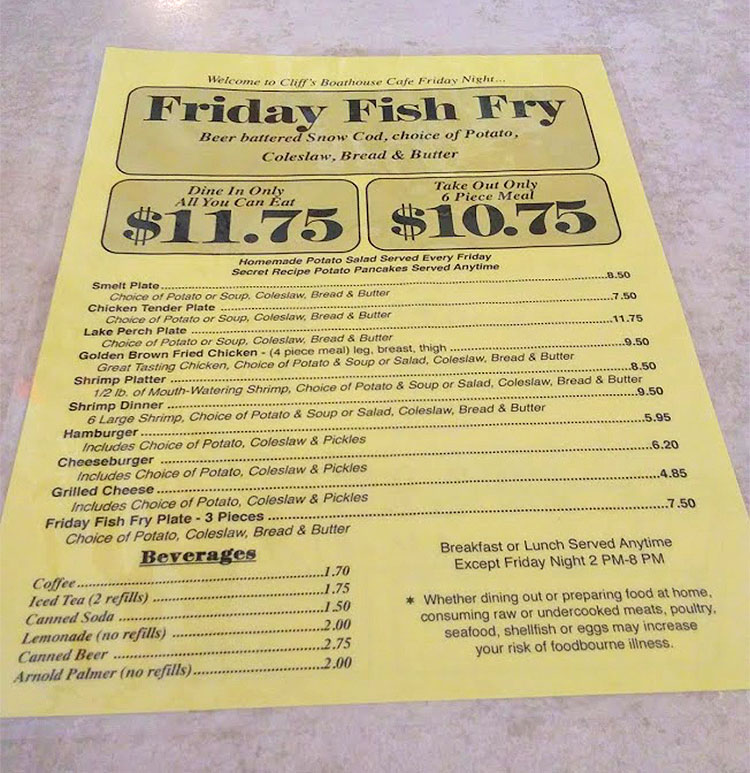 And then there were the homemade potato pancakes. They were thin, had a well-balanced texture, and had notes of onion, salt, and butter. In addition, they had pats of butter atop them. They were so good that the sour cream that came with them wasn't needed. I usually use a decent amount of ketchup on potato pancakes, too, but that wasn't necessary either. The rye bread and coleslaw were pretty standard, but with the fish being well above average, and the outstanding potato pancakes, it really didn't matter.
I was almost done with my plate when I was asked if I wanted more. I said a few more potato pancakes and some more fish would be nice, and my waitress replied, "We'll just give you another plate." The second plate didn't have the coleslaw or bread, but once again had three potato pancakes, as well as six pieces of fish. After I was almost done with my second plate, my waitress once again asked me if I would like some more, but this time I declined. By that point I had already had six potato pancakes and 13 pieces of fish.
There's a chance that sometime I'll head back to The Depot in Caledonia, but for now I'm still smiling at the fortuitous circumstances that brought me to Cliff's Boathouse Cafe. The fish is almost up to the caliber of what you'll find at what by now I'm calling the holy trinity of the Milwaukee area fish frys—Clifford's, Pat's, and Randy's—and the potato pancakes are right up there with the Nite Cap Inn, if not better. Is it worth it to drive all the way to Racine for a fish fry? It is if you head to Cliff's Boathouse Cafe. Absolutely.
Takeaways: What a home cooked fish fry should taste like; family owned and they've been doing it for over three decades; amazing all-you-can-eat potato pancakes—I think the secret recipe mainly includes butter; above average fish; cash only; open Thursday-Sunday; the place is small, which means you may need to put in your name and wait, but it is a pretty cool building to get a fish fry in. RECOMMENDED