Caleb Westphal hasn't missed a Friday night fish fry since 2013. Follow along with his never-ending adventures here.
As I spilled beer on myself while riding a shuttle to the Summerfest grounds, I was thinking more of the fish I was going to eat than about how I would be seeing Social Distortion for the seventh time. Last year, after apologizing for not eating every fish fry available at the festival, I got one at the Venice Club. This year I decided I wouldn't let anyone down, and resolved to eat fried fish at every location where I could find it.
According to the Summerfest website, there are three places serving fried fish at Summerfest this year: Ward's House of Prime has "Fish & Chips," Trinity Three Irish Pubs has a "Fish 'n Chips Waffle Cone," and the Venice Club has a fish fry on Fridays. So, from what I could find, there really is only one place that has a full fish fry on the Summerfest grounds, and it is the place I went to last year. If I just would have eaten one of the fish and chips meals, would my fish fry streak still be going? Or don't fish and chips count? Thus, another reason I decided to eat at all three places was so I would be on the safe side.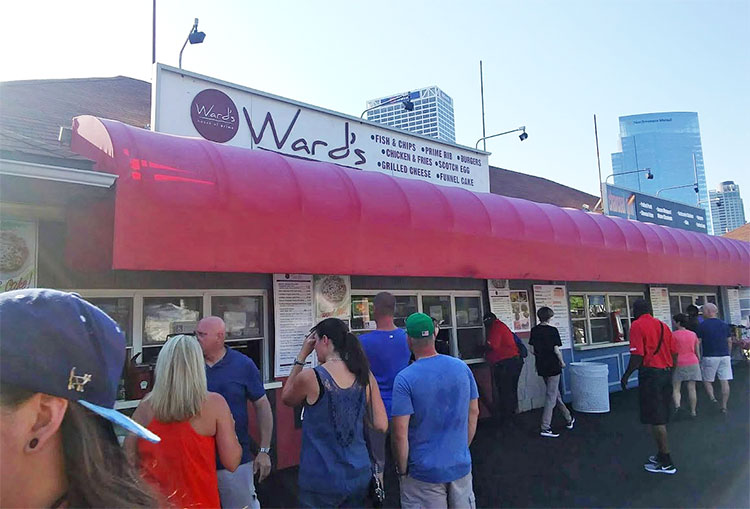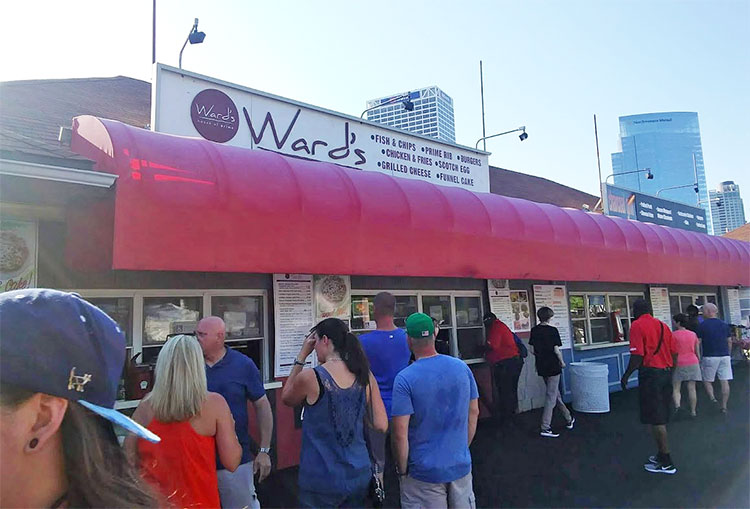 The first place I stopped at was Ward's House of Prime. After getting my food, I found a spot at a table in the blazing sun. It was 95 degrees out, and I saw one guy pulling his table towards the building so that he could partially be in the shade. The heat was so great that sweat was puddling in my eyes, and I could barely see anything when I started eating. Consequently, I became disoriented, and I was about halfway done with my first piece of fish before I realized I was eating fish, not a potato wedge. I concentrated to regain my composure, wiped the sweat, and examined what was in front of me.
I had been given three pieces of fish and a handful of potato wedges in a paper container. The fish was halfway decent, I guess. The outer shell was nothing to shout home about, being somewhat greasy (or was that just my sweat falling into it?). The quality of the fish itself was about average. After trying the wedges, I found them to be flavorful and well seasoned, and of an ideal texture. I ate the whole thing in less than five minutes, and sat there, sweating into the empty paper container, contemplating if what I had just eaten counted as a fish fry.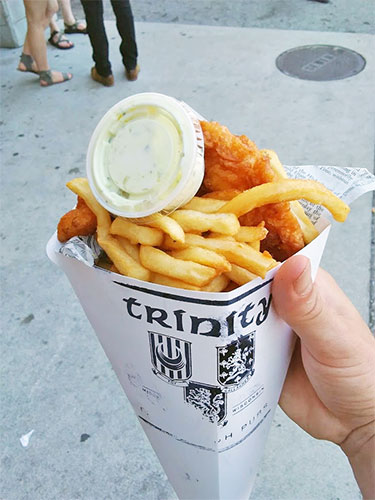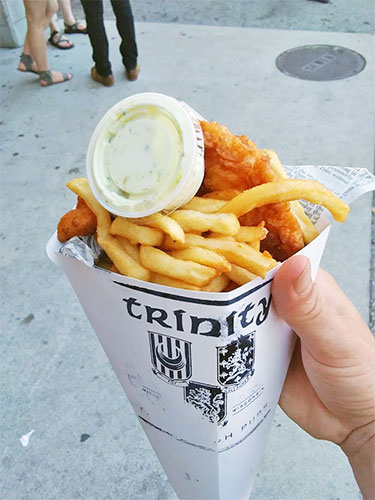 I stopped to buy a refreshing, overpriced Summer Shandy, and caught the O'My's set before arriving at the second fish fry stop, as the temperature dropped to 93 degrees. Trinity is listed online as having their fish and chips in a waffle cone, but sadly this is not the case—it comes in a cone-shaped container. There were two pieces of fish on the top, and then about a pound or two of fries inside of the cone. The fish was of better quality than Ward's, and seemed good enough to be served at a restaurant on a weekly basis. The fish had a dark golden batter and had been left in the fryer for just about the perfect amount of time; it also flaked quite well. The tartar was of a decent quality too, but was sort of green, which I guess meant it was relish heavy. After I ate the two pieces of fish on the top, all I could see were fries. Like a kid hoping for the chocolate at the bottom of a Drumstick, I was hoping there were a few pieces of fish towards the bottom of the fry-cone as well. I became impatient and ripped the whole container apart, but there were only fries! So many fries! Now, I have a rule that says all fish at a fish fry must always be eaten, but if you leave a little of something else such as fries, you are not debauching the sacredness of the fish fry. So was the case here, as I definitely didn't eat all of the fries. As I was still pretty parched, I had another Summer Shandy with this meal as well.
After two fish frys in the scorching heat, I stumbled around aimlessly until I came upon an oasis: an MCTS bus with its air conditioner blasting. After drinking a beer on it for a good 10 minutes, I hovered under a nearby walk-thru water mister. By the time I made it to the Venice Club for the last fish meal, the temperature had dropped to a blistering 90 degrees.
The meal was pretty comparable to last year's, although this year I was given three pieces of fish instead of two. Unlike the fish from the other two locations, the fish at the Venice Club was breaded, not battered. The flavor and texture was of average quality, and the tartar was unmemorable. I ate the coleslaw in three bites, and spread the already-melted butter packet on the rye roll. Last year, "the fries managed to be both soggy and limp and sort of burnt at the same time." And what about this year? Exactly the same. I picked one up and held it out to gauge just how soggy it was, and it bent and then broke in half. Needless to say, I didn't finish all these fries either—but I did finish all the fish. I also broke down and finally bought a $4.50 water.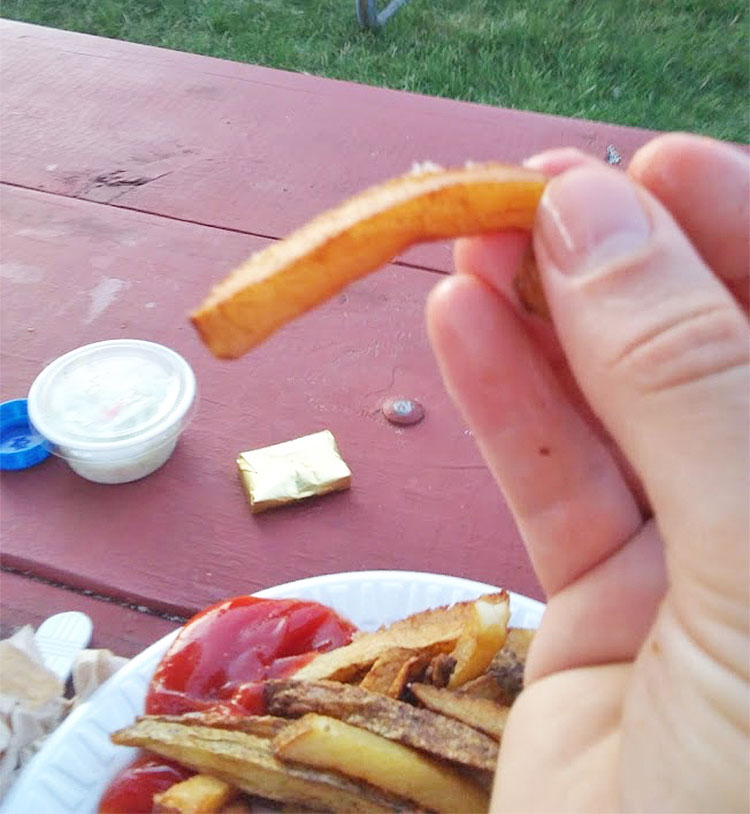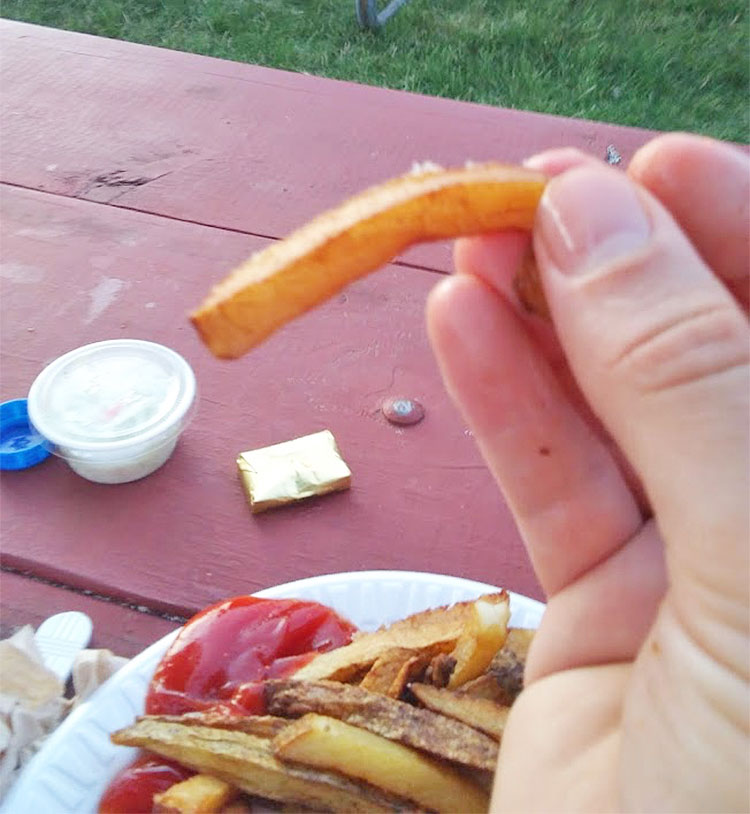 Did I eat three fish fries at Summerfest? Did the first two count? Does anyone even care? Are there more fish fry places at Summerfest that I missed? I don't think so. Should there be more places? Absolutely. Summerfest needs to step up its fish fry game. I'm not expecting places to be on par with restaurants when it comes to quality, but they should be close. I am urging Summerfest to do something for next year. The easiest solution would be for a place that is already on the Summerfest grounds to bring their fish fry from their brick-and-mortar location. There is a Lakefront Brewery tent. How about they bring down their fish fry on Fridays? There also is Pitch's Presents Miss Katie's Diner, which could bring along their fish fry, too.
But where should you go this year? There isn't any one place that is markedly better than the others, so it really depends on what you are looking for. I would rank the fish and fries of each place as such:
Fish
#1 Trinity
#2 Venice Club
#3 Ward's
Fries
#1 Ward's
#2 Trinity
#3 Venice Club
Prices
Ward's: $10
Trinity: $8.50
Venice Club: $11.50
Takeaways: I got fried fish at every Summerfest location where it's available (I think); Ward's had some pretty good wedges; Trinity's fish and chips were almost all chips, with only two pieces of fish on top; Venice Club raised their prices a dollar from last year, but you get one more piece of fish; their fries are still "both soggy and limp and sort of burnt at the same time"; fish fries don't cool you off or rehydrate you in hot weather, but that doesn't bother me at all.