Last February, Ray's Wine & Spirits and Indiana's beloved 3 Floyds Brewing joined forces to help metro Milwaukee battle the winter blues with an outdoor celebration that was rooted in the love of beer and in defiance of cold weather. The mid-winter parking lot party at Ray's was dubbed "Wückfinter."
Following that successful first installment that consisted of rare tappings and woefully under-dressed drinkers refusing to bow down to the season, Ray's and 3 Floyds decided they'd boldly take on winter yet again by bringing the event back in 2020. You've already been warned about the second annual Wückfinter, but you might not be ready for downright amazing beer list that will be coming to the "Rayborhood" from noon to 6 p.m. on Sunday, February 23.
This year's Wückfinter will offer those who are bold enough to brave the elements an opportunity to enjoy more than 25 specialty craft brews from 3 Floyds, including some rarities like Alpha Kong and an aged and infused "French Vanilla Militia" variant of the brewery's famous Dark Lord. There will also be spiked hot chocolate and an event-specific slushie that's made with Deesko Berliner Weisse. Here's the full list.
Outside
Gumball Head (cans)
Crom's Beard
Sauvage Flö
Alpha Khan
Arctic Panzer Wolf
Stone Feathers
Zombie Dust
Speed Castle
Back Handed Panther
Sköll
Geordonnay
Necron 99
Yum Yum
Alpha King
Robert The Bruce
Von Munsthür
Outside Specialties
Dark Lord French Vanilla Militia — Russian-style imperial stout that's aged in a sauternes barrels with vanilla, cocoa nibs, and coffee
Alpha Kong — Belgian-style sextuple with 13 percent ABV
Cherry Canis Invertus — Flemish sour with cherries
Grapes of Smash — Tart Saison brewed with chardonnay and viognier grapes, aged a year
Inside
Moloko
Lazer Snake
Behemoth
Flying Tigersault
Blot Out The Sun
Space Station Middle Finger
Deesko
Zombie Dust
Inside Specialties
WückDeesko — Blueberry Mint flavored Slushie with 3 Floyds Deesko Berliner Weisse
Hot Chocolate For All or Hot Chocolate For Some — Hot chocolate with a spirited shot of liqueur for a little extra warmth
•••
In addition to the incredible beer list, this year's Wückfinter will offer amenities like an event-appropriate playlist curated by Rushmor Records DJs, oversized games like Jenga and Connect Four, a few outdoor heaters, and more. There's also going to be some great food. The Vanguard and Bavette have been added as vendors this year. Like last time around, there will also be a food truck on-site that's operated by 3 Floyds chef Cole Ersel (a Milwaukee expat, formerly of Wolf Peach). Here's what Ersel and company have in store for Wückfinter.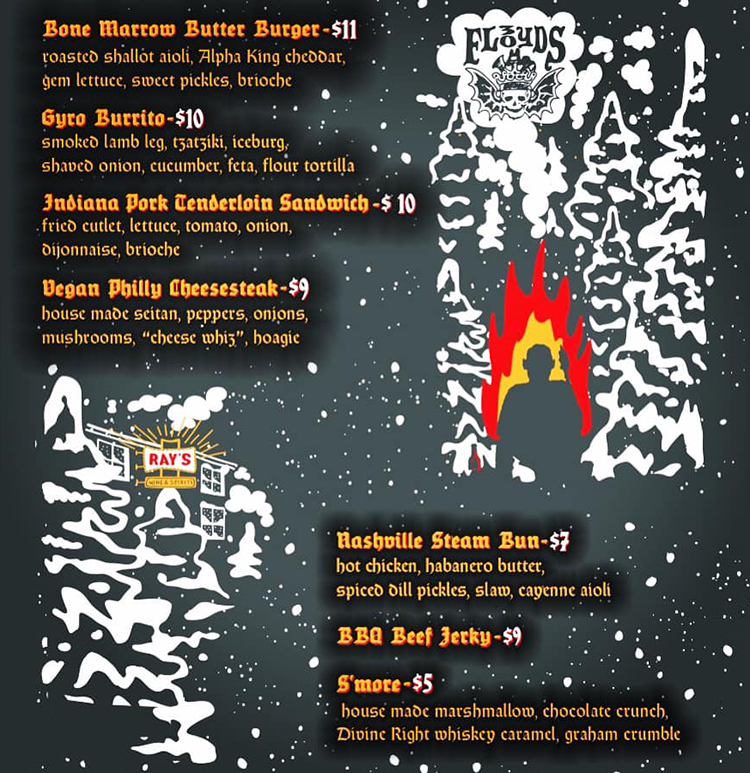 Now that you have a handle on what you'll be able to eat and drink at the event, you should probably just go ahead and mark your calendar for February 23 now. Wückfinter is coming.