When we first introduced you to Carter Deems back in 2017, the comedian and noted battle rapper had just moved to Milwaukee and he was learning his way through his new city's comedy scene. Since that outset, Deems has accomplished quite a lot. The incomparable comic opened for Joe Pera, Gareth Reynolds, Jon Daly, and a few other nationally-known stand-ups. He landed a writing job on TBS show Drop The Mic and continued to travel the world to bestow his friendly brand of battle rap unsuspecting opponents. Along the way, Deems became one of Milwaukee's most active comedians and, most notably, he was selected to be a cast member on the upcoming season of Wild 'n Out. 
Prior to sharing the stage with Judah Friedlander during a Milwaukee Comedy Festival show on August 2 and before Season 14 of the hit VH1 show airs, we caught up with Deems to see how he's acclimated to his adopted comedy scene, how his experience as a battle rapper informs his stand-up, and what it was like to perform on a set with Nick Cannon.
Milwaukee Record: When we first spoke a few years ago, you were new in town and just starting out in stand-up. What's been going on since then?

Carter Deems: I think I was a year into stand-up when we first talked. So for the last two years, I've tried to be as involved in the Milwaukee comedy scene as possible. I think the scene is getting stronger and stronger, and it's a lot of DIY stuff, so I'm just trying to do as many shows as possible. Me and A.J. Grill started producing our own show at Riverwest Radio. I think that's probably one of the things I'm most proud of. We've started this little show that's kind of turned into something really special and really fun. We broadcast the show live and we have a live studio audience and we do silly games. I also got to open up for Joe Pera, who is one of my favorite comedians.
MR: And you were at the Vanguard Halloween show and Jon Daly was on that show, which is another awesome credit.
CD: That was nuts! I got to be on the show with Jon Daly, who is an incredible comedian. It was a crazy surprise, and I had no idea. I would have worn a nicer shirt if I had known he was going to be there.
MR: In the last interview, we also talked about your experience as a battle rapper. I think you were about to go to Australia for that. Are you still rapping?
CD: Yeah, I still do some rap battles.
MR: What's the balance between rap battles and your comedy? Where do those forms meet and how much of your artistic effort do you put into each?
CD: I've been doing some rap battles. I did one at SXSW earlier this year in Austin. I really want to go into comedy and be a stand-up comedian, but I really think battle rap is a good way to use a different part of my brain—the wordplay part and the aggressive part. I don't really like to be mean to people though, and I think that's one of the essential parts of battle rap is to be mean.
MR: I think you balance it well. You take—at least in the videos I saw—an alternative angle where you're nice to a fault and you make fun of yourself.
CD: I think my biggest goal in battle rap is to make a new friend by the end of the battle. I want my opponent to be like "I feel bad about saying those things about you. Let's go to Chili's or whatever." I went to IHOP with a guy I battled and we bought each other's meals. It was a beautiful moment in battle rap history.
MR: Back to comedy, it seems like you arrived right after a number of local heavy-hitters left. I was during sort of a period of adjustment. As an outsider, I think you've been a major part of restoring the comedy scene and advancing it. Was it hard to learn your way around a new city and its scene? And is it nice to know there are opportunities to both open for national talent and to start your own shows here without a lot of roadblocks in the way?
CD: Honestly, I can't say it enough, the Milwaukee comedy scene has been really accepting. I feel like we're at the height of it right now, as far as Milwaukee comedy goes. There are a ton of really good shows and the festival is coming up. I feel like Milwaukee is the perfect size for someone like me because you get a chance to do an open mic any night of the week and you're guaranteed to go up. I've bombed in every bar in the city that's let me have a microphone, so that's been pretty cool. It's great because you get lots of chances to get up.
We have Milwaukee Comedy, the group that does a lot of great shows and the Comedy Festival, but we don't have a dedicated comedy club right now. That forces people that want to keep the show alive to produce their own shows and I think that's really led to lots of awesome shows. As far as my role in the scene, I try to do anything I can to help it progress. It's also an incredible place because everyone in the scene is so accepting, so it's a great place to make friends too.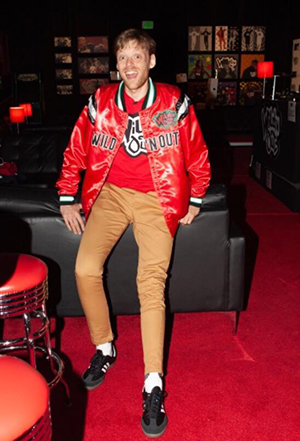 MR: How did the opportunity with Wild 'n Out come about? Was it an open call that you submitted to or were you recruited?
CD: I saw on Nick Cannon's Twitter that there was an open call for auditions, so I sent a video in. I've been doing battle rap for 11 years. I've spent thousands of dollars and probably failed a few classes in law school because of battle rap, and I've probably spent thousands of hours writing ridiculous rhymes. It's a weird hobby, but it actually kind of paid off because I had some videos of my rap battles that I sent in and I was lucky enough to get an audition. I auditioned in Atlanta at Tyler Perry Studios and, yeah, I wound up going through the first two rounds of tryouts and there was a week of…almost like training camp for the show. Then we started filming the season. We filmed for two weeks and it was one of the greatest experiences of my life. It was incredible. Everyone on the cast and crew were the easiest people to work with. You get paid every day to rhyme, crack jokes, and have fun. It doesn't feel like it actually happened and, depending on if I get edited out or not, it may not have happened. We'll see!
MR: What did you learn from the experience of being around people who have a variation of your unique skill set? You're in the room with a lot of different perspectives that all have one similar aim. Is there anything you took away from being on set?
CD: While doing Wild 'n Out, I was around some of the funniest people I've ever met every day. It's friendly competition, but you want to one-up each other and make it as entertaining of a show as possible. The cast is comprised of people from all different aspects of comedy. There were a lot of stand-up comedians, roast battlers, improvisers, and people known for their Instagram and YouTube videos. It's really just a concentration of some of the funniest people in the world. It was tough. After that first day, I was like "Man, I am not funny."
The skill level of everyone was just incredible and they were some of the quickest and wittiest people I've ever met. It was like "What am I doing here? I gotta pick it up." It challenged me to really commit. I don't really have an improv background, so I had to figure out how to commit to any joke or character in the sketch I was placed in. It really helped me grow, being placed in a different comedic position of having to respond rather than being in control with my own stand-up or my own rhymes. It's an improv show and there are about 150 to 200 people in the audience. It's not scripted or jokes you've worked on or jokes that have been tested. If it bombs, it bombs. You're just standing up there on stage and it's the loneliest place in the world. But then, you know, you laugh it off and you move on. And when that joke hits, it's like it's your birthday. It was a rush every time.
MR: Is there anything else you'd like to mention about that experience of being in Atlanta and filming?
CD: I think the craziest thing about my experience is that I started dreaming in rhyme. All my dreams were in rhyme form and I'd wake up at 2:30 or 3 a.m. with a diss for somebody on the show. It was insane.
MR: What was it like to have a joke work out in front of Nick? Did it mean a little more when he liked something?

CD: On the show, the cast is usually divided into two teams, so a lot of the time I got to be on Nick's team. It was really cool getting to work with him. Bouncing jokes off of Nick Cannon was wild. Nick was one of the most supportive people I've ever met in comedy. He loves comedy and he's hilarious himself, so it was great to work that closely with someone that I grew up watching. It's an iconic show that I used to watch every day, so getting to be there was like a crazy dream that didn't feel real. I hope it was.
You can catch Carter Deems on the upcoming season (Season 14) of Wild 'n Out. New episodes air Sundays at 9 p.m. on VH1. Carter will also open for Judah Friedlander at Shank Hall on Friday, August 2.