During the 1960s, Stax Records of Memphis was at the forefront of American soul music, possibly only being eclipsed by Berry Gordy's Motown. Otis Redding and Sam & Dave were the biggest artists to come from the label, and Wilson Pickett recorded at the studio. This was at the height of the civil rights movement, and Jim Crow segregation left a shameful cloud over the South. While Memphis was highly segregated, something beautifully different was happening at Stax. Black and white musicians wrote, played, and recorded together. This was most exhibited by the instrumental group Booker T. & The M.G.'s, which consisted of two black musicians and two white musicians. They essentially were Stax's house band; they recorded hundreds of tracks with Stax artists, as well as backed many artists live, including Otis Redding at his memorable performance at the Monterey Pop Festival in 1967. Booker T. & The M.G.'s were the backbone of the Stax sound, and Booker T. Jones was at their center. He has recorded and played with many other artists over the years since, and has been in the Rock and Roll Hall of Fame for 25 years. On Wednesday night he played at the Racine Zoo for $20 in a bandshell on the shores of Lake Michigan.
The Racine Zoo concert series, known as "Animal Crackers," has been going on for 31 years. I'm no stranger to zoo concerts, as I saw Randy Newman at the Portland Zoo in 2013 ("Now that I played that fucking Toy Story song your kids can fall asleep and I'll play the good stuff"), but I'd never been to the Racine Zoo's concert series before. I made sure to arrive when the doors opened, and after getting inside, I frantically weaved past animals, tiki torches, and people with lawn chairs and coolers, so I could get a good spot at the stage. Although many people made it to the stage area before I did, I was surprised to see most people setting up their large spreads of food, chairs, and tables far away from the stage, leaving me the opportunity to set my chair close to Booker T.'s Hammond organ.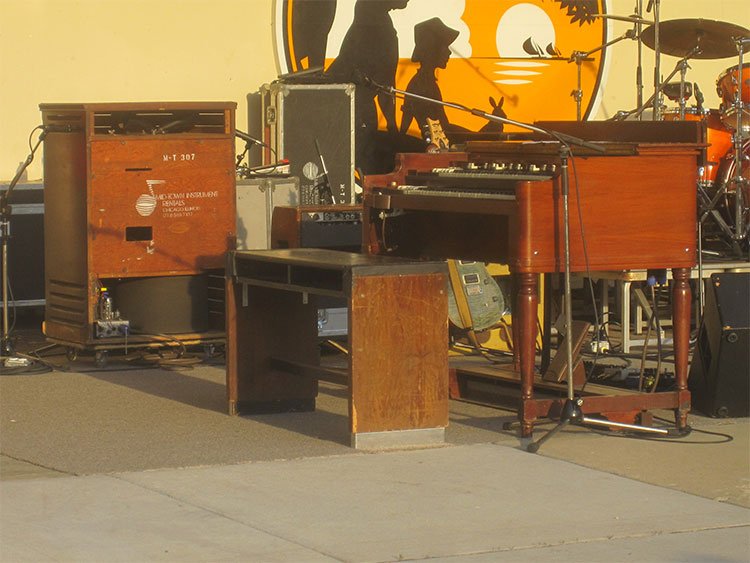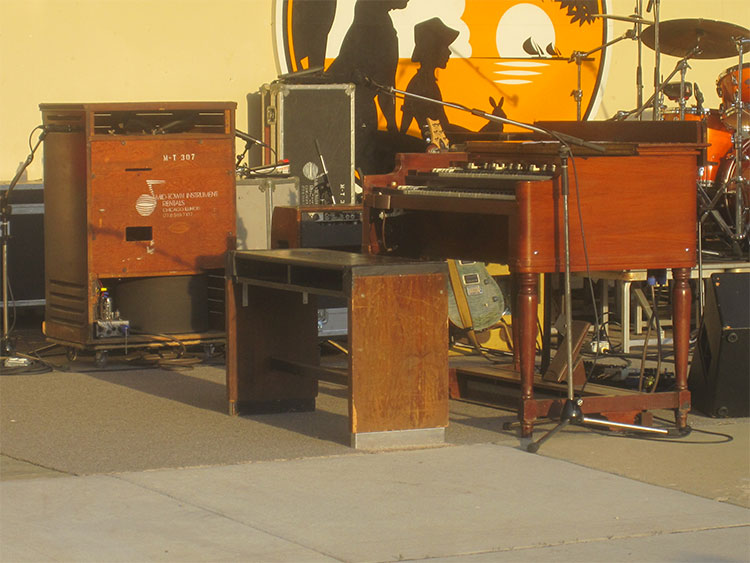 Once I claimed my spot, I had an hour and 15 minutes to kill, so I headed to the concessions area. Many local restaurants catered in food, and it is also worth noting that a full bar was and will continue being available at future events, as long as people stop trying to smuggle in their own alcohol (this was announced twice from the stage).
Shortly before 7 p.m., Booker T. arrived on a golf cart and walked backstage. His band, which included his son Ted on guitar, stepped up, and Booker T. was announced. He walked out to the front of the stage and waved to the crowd, looking debonair in a suit coat and pork pie hat. He then took his seat and the party began.
I can't stress enough about how much the whole thing was a funky soul blues groove. A FUNKY SOUL BLUES GROOVE. The band was tight on every song, and the concert showcased Booker T.'s songwriting ability, demonstrated his deftness at interpreting other artist's songs, displayed his versatility, and confirmed his longevity as a performer.
He opened with "Hang 'Em High," a composition by Dominic Frontiere that was used for the eponymous film starring Clint Eastwood in 1968. Booker T. & The M.G.'s also recorded the song the same year. This was followed by the M.G.'s 1964 tune "Soul Dressing." Booker T. then went into a story about how we co- wrote "Born Under A Bad Sign" with William Bell for Albert King. Albert needed a song, and Booker T. said it was composed the night before King went into the studio.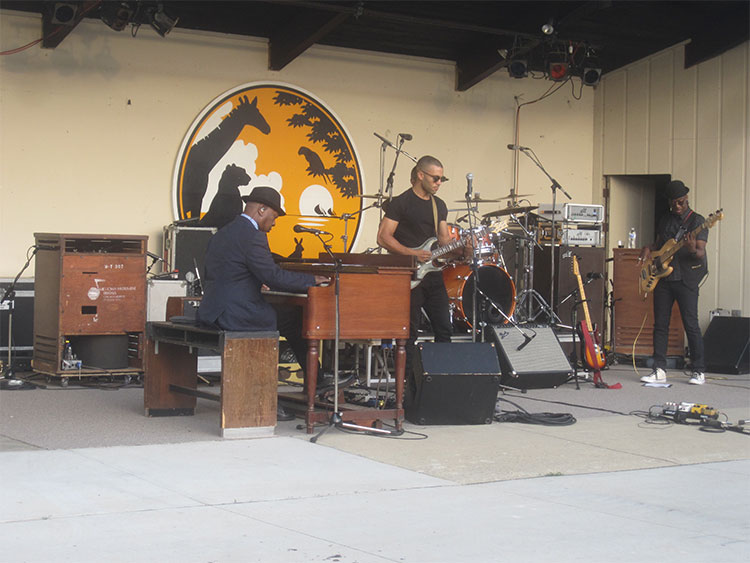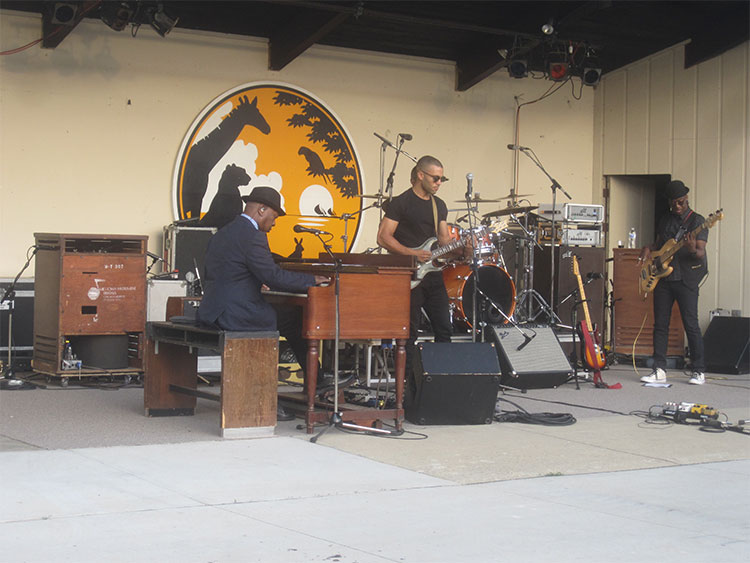 After that song, the Hammond was vacated and Booker T. strapped on a guitar and quipped that he was turning 73 in November, and that his doctor had told him not to sit on the job so often. He then tore into the first of a few tribute covers, Muddy Waters' "Mannish Boy." A story was then recalled of seeing Jimi Hendrix as the guitarist for the Isley Brothers in the early '60s, and then of seeing him play at Monterey in 1967. Jimi was given tribute by the playing of "Hey Joe." Booker T. went back to his organ for the 1971 M.G.'s song "Melting Pot."
The first set closed with the M.G.'s biggest hit, "Green Onions." Booker introduced this song, and many other from the evening, by saying, "I want you to hear a song now, recorded by Booker T. & The M.G.'s." He did it in such a nonchalant way, you never would have known he was about to play one of the best rock and roll instrumentals of all time. He did make sure to add, however, that he wrote and recorded the song when he was 17.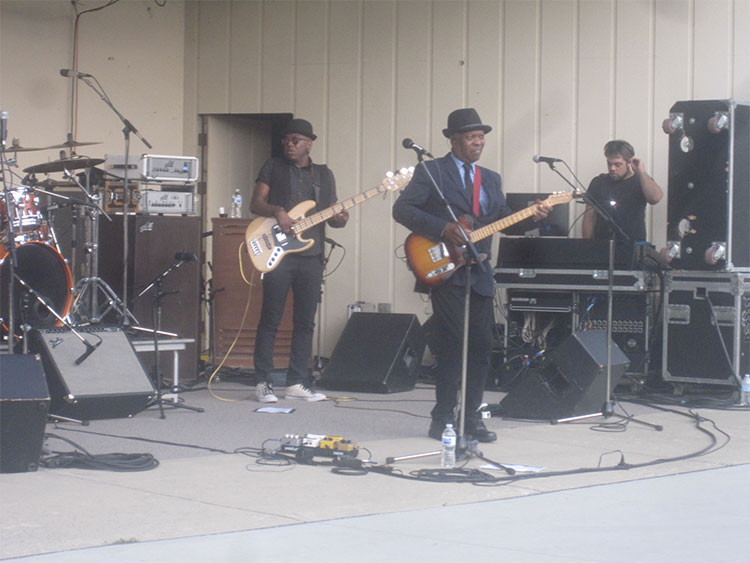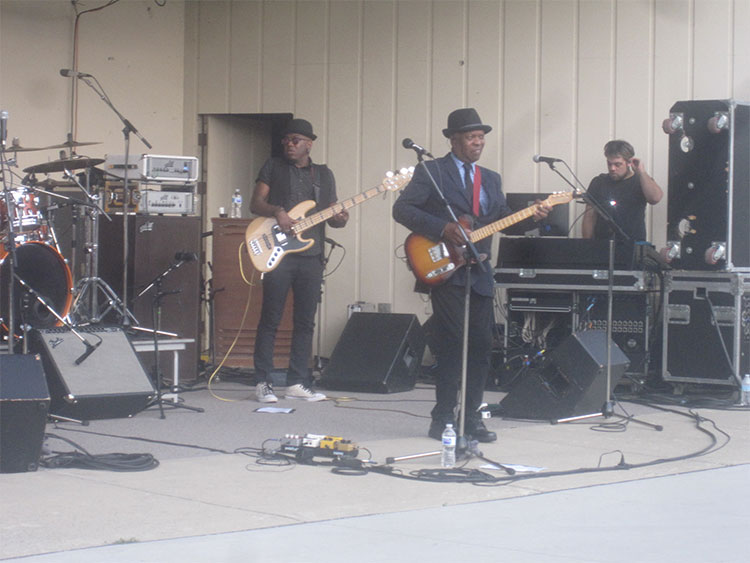 After a short intermission, which included a 50/50 raffle, Booker T. once again rolled up on the golf cart, and as the sun went down, the second set was kicked off with the 1967 M.G.'s composition "Hip Hug-Her." This was followed by Bill Withers' "Ain't No Sunshine," after which Booker T. returned to the guitar and shared a story about Withers visiting him in Malibu with a big book of songs in the early '70s. Booker T. then recalled once receiving an award from a young Prince in Minneapolis, and "Purple Rain" was played. This was perhaps the one moment of the whole concert that wasn't a funky soul blues groove. This was ethereal and it made you float.
It was then back to the organ for George Gershwin's "Summertime," followed by the M.G.'s "Soul Limbo," a song that is most famous for being used by the BBC for cricket games. Next up was a cover of Lauryn Hill's "Everything Is Everything," which Booker T. has recorded a version of with The Roots.
With great sincerity, Booker T. thanked everyone for coming, and started "Time Is Tight" with a slow church-like introduction. You could hear crickets in the background until it built and built and the song became all-encompassing. After the song ended, Booker T. came out in front of the stage, waved to the crowd, and tipped his hat. Instead of leaving the stage and coming back for an encore, he sat back down and the band tore into a rousing version of Outkast's "Hey Ya!," which Booker T. once recorded with the Drive By Truckers. He closed by returning to his guitar, and to the theme of Stax, by playing "When Something Is Wrong With My Baby," a song made popular by Sam & Dave, which was partly written by another Stax pillar, Isaac Hayes.
I am trying to think of a better way I have recently spent $20, but nothing comes to mind. I didn't turn around a lot to see if other people were getting into the concert, but I was dancing in my seat; being that I was in the front row, it felt like maybe I was hanging out in Booker T.'s backyard. Booker T. did seem to look out at the crowd to see people's reactions, though, with that same smile and charm that you can see him wearing in footage from the 1960s. His face pretty much is saying, "I'm bringing that funky soul blues groove. Forever."