The Milwaukee Admirals are set to begin another season this weekend. Along with more than six months of on-ice action also comes a new batch of promotions from the AHL organization that range from strange to random to awesome. Given the Admirals' semi-professional status, the team is always good for a few oddball extras for fans each year. Recent seasons featured a Huey Lewis post-game concert, a visit from pro wrestling heel the Million Dollar Man, and an Abe Lincoln bobblehead.
The Admirals recently released its full promo schedule for the 2016-17 season. By season's end, Ads' home ice will offer fans appearances from Nickelodeon stars, country performers, wrestlers, and giveaways like bacon hats, and a Donald Trump bobblehead. Here are some standouts.
Saturday, November 5 — Donald Trump and Hillary Clinton bobbleheads
Back in 2012, the Admirals attempted to predict the results of the Presidential Election by letting fans pick between the candidates during a bobblehead giveaway. Though the experiment proved inaccurate when more fans opted for Mitt Romney figurines than Barack Obama bobbles, the team will try it again with Donald Trump and Hillary Clinton bobbleheads. Apparently, you can also buy one now for $44.50 (plus shipping) on eBay.
Every Tuesday home game — Taco Tuesday
We love tacos. You love tacos. Everyone loves tacos. Every Tuesday home game, fans can get two tacos and a regular soda for $5. We can't attest to the quality of the concession stand fare, but even bad tacos are still better than most non-taco foods.
Monday, December 26 — Cowbells
If you want a cowbell or you feel like hearing 5,000 people ringing cowbells, this is the game for you.
Wednesday, December 28 — Admirals winter hat
Between this plush stocking cap and a Brewers hat (January 13), there's a few changes to look sharp and keep warm this winter.
Friday, January 27 — Patrick Cudahy bacon hat
…and there's also a chance for 3,500 fans to wear bacon on their head for some reason.
Saturday, January 28 — Lance Lim visits
We aren't exactly sure who the fuck Lance Lim is, but he's on some Nickelodeon show called School Of Rock that your kids or school-age siblings probably like. Make their month and expose them to hockey in the process.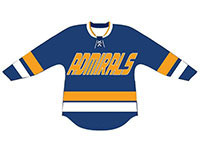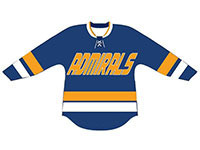 Friday, February 17 — 'Slap Shot' night
Forget flowers and dinner. Show that special someone how you feel on Valentine's Day weekend with a night devoted to Slap Shot. The classic comedy (and easily one of the best sports films ever made) will be screened on the video board after the game. Before that, the Admirals will be wearing Chiefs-inspired jerseys. Better yet, the Hanson Brothers will swing by.
Sunday, February 19 — Salute To Wrestling
Wrestling and semi-professional wrestling go together like…well, not at all, actually. Still, fans of fights between players are probably at least intrigued by the chance to meet an ex-wrestler. The talent hasn't been announced yet, but recent seasons brought the Million Dollar Man, Sergent Slaughter, and other WWF (or WWE, whatever!) notables from the '80s and '90s.
Sunday, March 26 — Dog Day Afternoon
For an extra $2, you can bring your dog. Dogs!