Caleb Westphal hasn't missed a Friday fish fry since 2013. Follow along with his never-ending adventures here.
On Fridays when I end up getting fish alone, I more often than not find myself at a barlike establishment, where I can unobtrusively sink into a stool, leaving the formality of table dining behind. As nightfall approached, and I had yet to find someone to join me for the weekly ritual, I went through my never-ending list of fish fry places I have yet to try out, with an eye for a neighborhood bar. For that reason, I settled on Slick Willies Bar And Grill (2301 12th Ave., South Milwaukee, 414-762-1974) as the first location to start my fifth year of consecutive Friday night fish fries.
As I got close to the front door of Slick Willies (also stylized "Slick Willie's" and "Slick Willy's"), it wasn't the smell of fish I noticed, but the sound of blaring music behind the door. I opened it and was almost blasted into the street by Paul Simon's "Kodachrome." I scanned the bar area on the left for a seat. It looked completely packed. I looked to the right, and the few tables situated there were full as well. "Keep moving," I implored myself, and at the very end of the bar I found one lone seat with a front row show to the deep fryer and grill.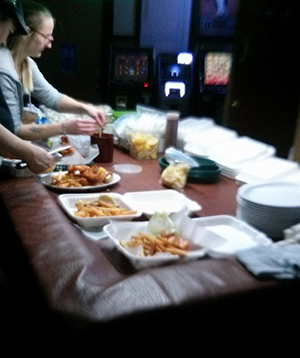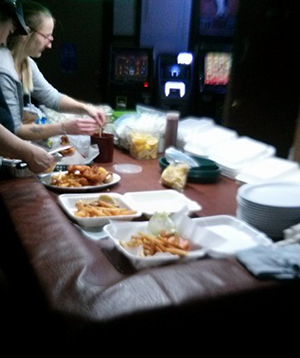 Slick Willies appears to be a working class bar, frequented by middle-aged folk. It is neither refined nor genteel, and at 31, I felt at least a decade younger than anyone else inside. Three ladies were working the whole place at a frenetic pace, and did not stop moving the whole time I was there: one woman cooked all the food, one finished assembling all the food and brought it to tables, and another made all the drinks, took some of the orders at the bar, and mumbled expletives underneath her breath. Bread, coleslaw, lemons, and tartar sauce were sitting on the pool table, which had become a makeshift food staging area. People were picking up their to-go orders there, too. "It's like an assembly line," one of the staffers told me.
It was also on the pool table that I found the menus. "You should just get the fish fry," a guy a few seats down from me chuckled. "I think I will," I deadpanned. Fish fry options at Slick Willies include cod for $8.99, walleye or perch for $10.99, a "Friday Sampler" with cod, walleye, and shrimp also for $10.99, and a "Mini Fish Fry" for $5.99. The fish can be deep fried, oven baked, or pan fried with onions and peppers. Potato options include french fries or potato pancakes. When I placed my order I asked about clam chowder, as I didn't see it on the menu. "Soup and salad comes with fish orders," was the response, which was a marvelous answer because I knew it would be a decent amount of time before I got my fry, being that the place was so packed.
I got a bowl of clam chowder, and it wasn't until after I had filled it that I realized that the bowls were probably for the salad, and the smaller cups were for the chowder. "Oh well," I thought, and used a bowl for salad too. The chowder was really thin with a small amount of potatoes and chowder in it, but it tasted okay. I wasn't going to complain, as it was included with the price of the meal, and I could eat as much of it as I wanted. Naturally, I went up for more.
After a few helpings of chowder and a bowl of salad, the fish arrived. I had ordered the deep fried perch, which came with four pieces. The batter was extra crispy, but didn't overwhelm the fish it encased. Overall, the fish was pretty solid. The tartar wasn't that exciting. The coleslaw came in a tartar-sauce-sized container, and was creamy, with maybe a small trace of horseradish. The bread was a thick slice of buttered marble rye.
The highlight of the meal was the homemade potato pancakes, which I probably saw get made more than anything else while I had been sitting and waiting. They were thin, but had such a large circumference that if they had been side by side they would have filled up the whole plate. They were made with shredded potatoes, but with the batter, they came out looking almost exactly like breakfast pancakes. As I cut through them, fresh onions could be seen. The pancakes had a sweetness to them that may have been maple. There also was what seemed to be a hint of curry in them. No matter what was used to make them, they were excellent.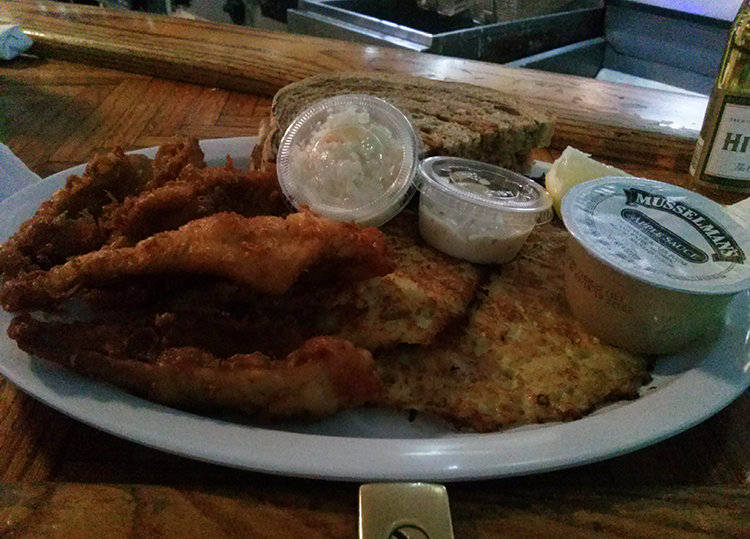 Despite the rather chaotic atmosphere, which could be attributed to the large amount of people ordering food in the somewhat-small bar, I'm glad I started off the year at Slick Willies. It is a another classic example of a thriving neighborhood bar, and the food wasn't that bad either. Especially those pancakes.
Takeaways: Excellent potato pancakes, solid perch, and fish fry orders come with soup and salad bar. The chowder isn't that good, but you can eat a five gallon bucket of it if you want. They have a "Mini Fish Fry," but I don't know who would ever want less fish than a normal-sized order. The place can be packed, so you may have to wait awhile for your food. Similarly, the place was so busy that I didn't have a chance to ask why the place was named Slick Willies…or Slick Willie's…or Slick Willy's.