Caleb Westphal hasn't missed a Friday night fish fry since 2013. Follow along with his never-ending adventures here.
Villa Vista, Embassy, Skyway, Oakwood Lodge—the motels zipped past me as I headed south on 27th Street. Jim Dandy's (8900 S. 27th St., Oak Creek, 414-761-7611) appeared on the left, its unassuming facade evoking a truck stop of yesteryear. A few signs were fully intact, calling visitors inside. Another was partially faded. Another was just a skeleton of its former self, with a neon "open" sign perched on its top.
If the exterior of Jim Dandy's is reminiscent of a truck stop, the interior is an amalgam of styles, allowing visitors to easily drift to different worlds. The bar is part sports bar and part corner bar. Glasses hanging above it and red-hued string lights around it aim to give it a more sophisticated feel. A popcorn machine and pool table sit adjacent. Booths line the wall immediately across from the bar, giving that area the feel of a diner. Beyond, the back dining room vacillates somewhere between family restaurant and supper club.
Karen and Jim Iwinski have owned the establishment for over 40 years. In the 1970s and '80s it was a country music bar fittingly called Country Castle. Frequented by truck drivers and local country music fans, it hosted a number of local acts, as well as nationally known artists such as Moe Bandy, Lois Johnson, and Gene Watson. In the 1990s, the Iwinskis transformed it into Jim Dandy's.
Perhaps it was the contrasts of the styles inside, or maybe it was that I was met at the door by two ladies asking if I wanted a sample of some sort of mini tequila sunrise shot, but it took me a moment to find where to put my name in. Eventually I found I was to do so in the area right before the back dining room, and I was then promptly seated in a booth that had just opened up.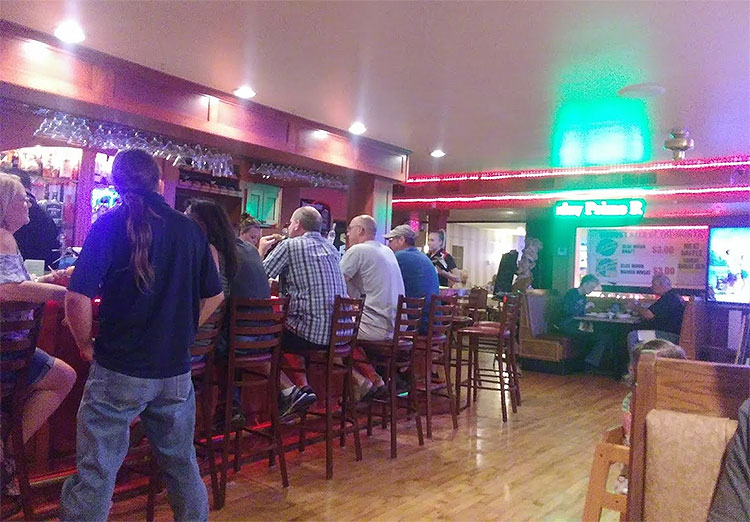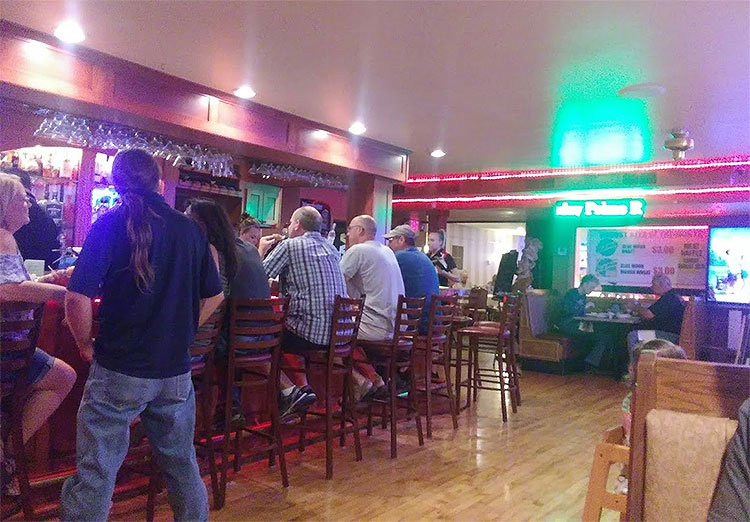 Although it was getting close to 7 p.m., the tables were still pretty full of people eating. My waitress was rushing from table to table, and was having a hard time keeping up. After ordering a Brandy Old Fashioned Sweet, it took awhile to get the rest of my order in, but it wasn't really my waitress' fault. It mainly just seemed like she could have used some help. The Old Fashioned did arrive quickly, though. It was heavy on mix and wasn't muddled, but it had a decent amount of brandy, basically being a boozy version of a kiddie cocktail.
Fish fry options at Jim Dandy's include fried or beer battered cod ($10.50, or $9.50 before 4:30), baked cod ($11), parmesan crusted cod ($14.50), hand breaded lake perch ($14.95), and fried or baked walleye ($15). Side options include french fries, baked potato, pasta, garlic mashed potatoes, or a potato pancake (for an extra dollar). I went with the fried cod and potato pancake, and also ordered a cup of clam chowder.
A plate with three pieces of cod arrived soon afterwards, and it also included two cups of tartar and two lemon slices. I thought it was a little odd that I had received two tartars but no coleslaw, and that my fish had been brought before my chowder. It turned out that my chowder had been forgotten, and that I had accidentally been given two tartars instead of a tartar and a coleslaw.
I enjoy any chowder, but there wasn't anything particularly exciting about what I received. The consistency was a little too gravy-like and the flavor was mediocre. The potato pancake was thin, but had a large circumference. It had a mild flavor and was uniform in texture, having a softer chew to it. The coleslaw was pretty standard, with a light cream and a sweeter flavor.
What made this fish fry notable was the fish itself—it was outstanding! It was high quality fish that flaked nicely, and was covered with a light, uniform breading. It paired extremely well with the homemade, pickle-heavy tartar sauce. The only drawback was that I only got three pieces and there wasn't an all-you-can-eat option.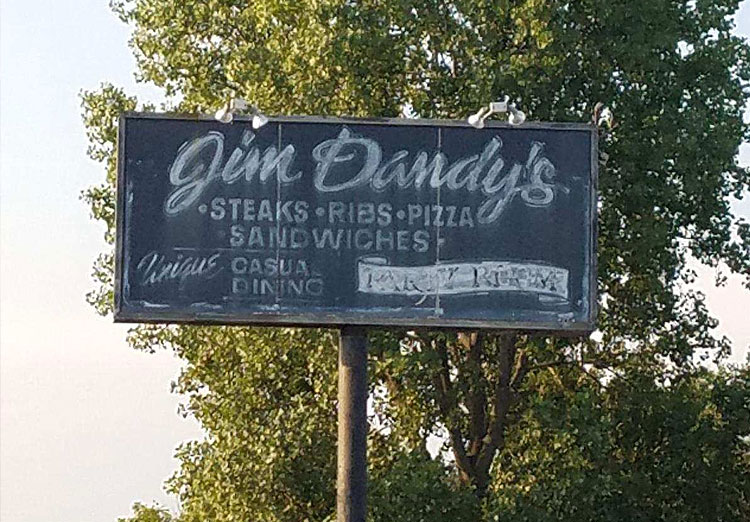 Is a trip to Jim Dandy's worth it if you don't live in the immediate area? The high quality of the fish may make it so, but it's hard to tell. When I got home I realized that not only had my chowder and coleslaw been forgotten, but I had never received any rye bread at all, even though it was listed on the menu! Was this all just a fluke occurrence or was it the norm? Maybe they just needed an extra set of hands and everything would have gone smoother. If you are looking to try out this fish fry, my advice would be to arrive before 4:30 p.m., to save a dollar with the early bird special, and to ensure you beat the rush.
Takeaways: reasonably priced fish fry, but no AYCE option; come before 4:30 for a dollar off; coupons are not accepted on Fridays; the fried cod and tartar sauce were both exceptional, and paired well together; it's hard to pinpoint the ambiance of the place—it's like a bar, diner, family restaurant, supper club, and truck stop all wrapped into one; I made it all the way home without realizing that I wasn't given any rye bread.