The following piece by Scott Gordon was originally published on Tone Madison.
As I met up with a friend last Friday to check out the State Street Taco Bell Cantina's long-awaited rollout of alcoholic drinks, I reflected on the long journey that got us here. This location of the tenacious franchise planted its flag in late 2017 with a pleasantly novel "cantina menu" in a space at 534 State Street that, through many interactions and occupants—including a previous Taco Bell—has always managed to be a late-night shitshow of public drunkenness. Paul Soglin, deep into the phase of his mayoral career where he flipped out about individual liquor licenses to an absurd degree, opposed the franchise's plans to serve beer, wine, and —most alluringly—fluorescent booze slushies.
The Cantina's quest for a liquor license escalated through a mayoral veto, then a lawsuit. Normally mild-mannered Channel 3000 commentator Neil Heinen ripped into the Taco Bell franchise, calling for "a consideration of a veto of Taco Bell," issued a second editorial apologizing for his harsh anti-Bell rhetoric. This yielded some of the most delightfully absurd local television in recent memory. Heinen had a point in his earlier editorial that Madisonians would do well to explore all the great Mexican spots we already have. Los Gemelos is just around the corner and already serves booze. Both have TVs, but Los Gemelos' TVs show awesome Mexican music videos.
But it also felt like, why shouldn't we have it? And as much as one might come to regret it, wouldn't getting a buzz on at Taco dum-dum Bell be a perfect way to celebrate the departure of a mayor who couldn't pick his battles?
As the city turned a corner into the era of Satya Rhodes-Conway, local officials and the Taco Bell franchisee hashed out an agreement. The Cantina announced that happy hours would be held on weekdays from 2 to 5 p.m., an idea so stupid that it felt like the place was getting away with something, despite the limited terms of the liquor license. The end of Taco Bell prohibition, when the long-dormant slushie machines would finally flow, was set for Friday, June 7.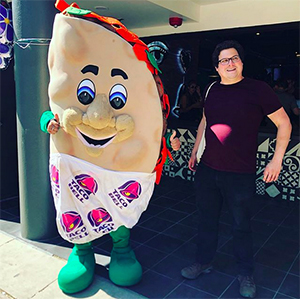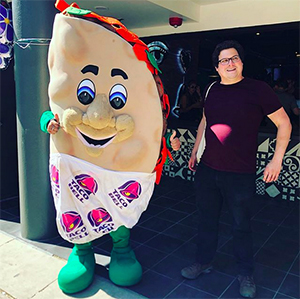 It turned out to be a pleasantly roasty afternoon, ideal for screwing off and day drinking. At around 3 p.m., the place wasn't all that busy. Come on folks, it's the middle of happy hour! A staff member escorted around someone wearing a taco costume. The taco was clad in a "wrapper" that sagged like an ill-fitting diaper. Of course I got my picture taken with it. It's the polite and decent thing to do.
A server at the registers was workshopping a bit where he looked at each drinker's ID and said, "Uh oh! Says here you're 20!" There wasn't much of a line. My friend and I each ordered a Twisted Freeze, which on this special day of celebration came with one free taco each, and settled in at a table next to some folks from the franchisee's corporate office.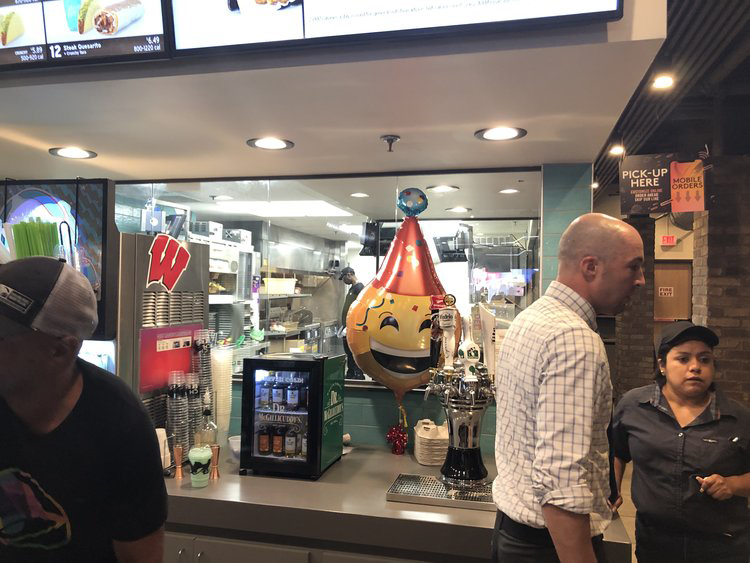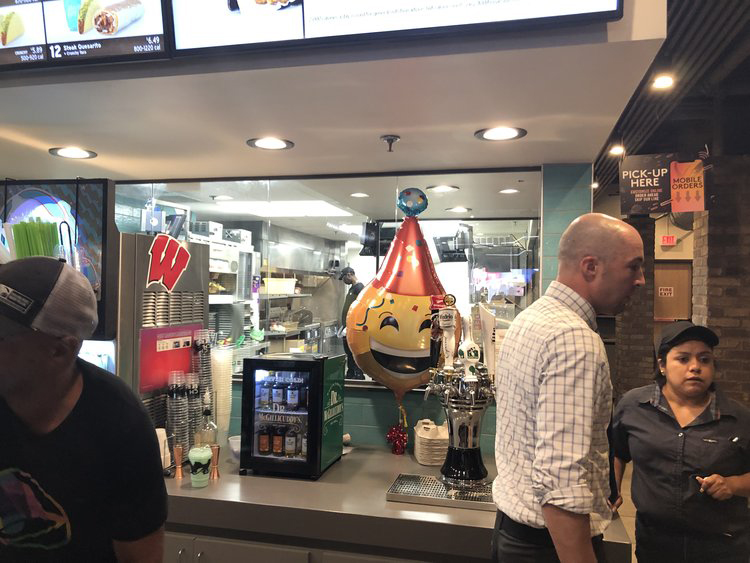 The Twisted Freeze is vaguely turquoise (I did not get to try the Berry Frosé Freeze, which looks summery and stylish), and the alcohol part of it melted a little tunnel down to the bottom of the cup. On the first few sips, we didn't taste much beyond a cloying Jolly Rancher sweetness.
"Stir it up a bit," one of the corporate folks advised us from the next table over. "Then you'll start to taste it."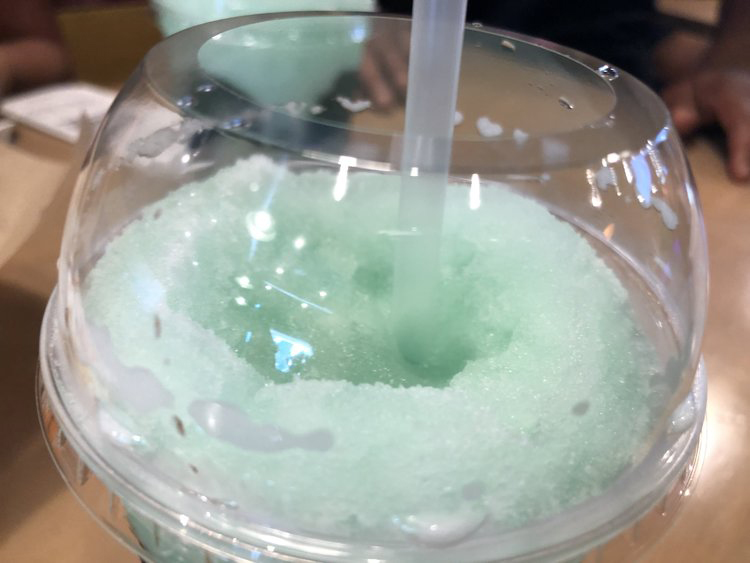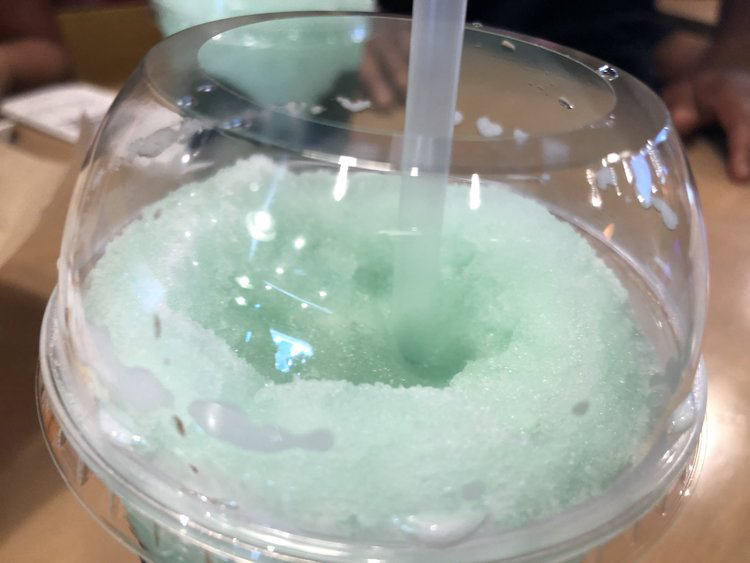 I stirred it up a bit and didn't notice much of a difference. I could tell I was drinking alcohol, because it was a hot day and I hadn't had a lot to eat yet. To be fair, this is not advertised as anything like a real margarita or similarly powerful frozen drink, and doesn't have much of a kick. The Cantina's liquor license allows it to serve beer and wine but not hard alcohol. The boozy freezes are made with a lower-proof agave wine. One executive told The Badger Herald that this agave wine "tastes like tequila." It does not taste like tequila. Or at least it doesn't provide anything like the sweetness-cutting flavor balance that tequila provides in a mixed drink. Yes, I know they're both agave-based. But the agave wine sucks, and you could spend $6 on much better or at least boozier drinks at any number of spots in Madison. One could at least hope for the trashy joys of a "sloshie," but this is jack shit in comparison.
Instead of adding a dash of cosmic spite to Soggy's well-deserved retirement, the Taco Bell that serves booze is, nevertheless, just a Taco Bell. It's a place to cram down something shamefully satisfying and jet. If alcohol makes it a gathering place, it'll probably mean gatherings of amateur-hour yahoos making life even harder for fast-food workers. Luckily, they're in relatively little danger of actually getting drunk.
I wanted to savor this silly, petty victory over Soglin, but some petty is like a good smoky tequila and some petty is like lame agave wine with melty diabetes in it. We fight for a lot of small things in this town, and sometimes we deserve to be left feeling small.
The Cantina also has beer on tap and small individual bottles of Sutter Home wine, kept for some reason in a tiny Dr. McGillicuddy's-branded fridge behind the counter. Promotional items handed out on Friday included Sutter Home sunglasses. We took them and headed out into the sweaty afternoon, in search of a place that serves drinks for adults.