It's been a rough year, Milwaukee. Still, between the endless onslaught of awfulness in an ever-worsening world, at least a few decent things happened. Come Saturday night, much of the city will hit the town to say goodbye to an unforgettable last 365 days and welcome a new year that will hopefully be better than its predecessor.
In effort to help those of you who've yet to cement your New Year's Eve plans and to aid those of who plan to bounce around and partake in a few of the festivities taking place around town, we've combed show listings (and more) to assemble this handy New Year's Eve entertainment guide. Be safe out there, Milwaukee. Take the bus—it's free! Happy New Year!
NYE Pre-Party @ Third Space Brewing
If you like the idea of going out on New Year's Eve, but the whole "stay out until midnight" aspect of the holiday isn't appealing, Third Space Brewing has you cover this year with a NYE Pre-Party. The Menomonee Valley brewery will be open from noon to 10 p.m. In addition to releasing two new beers, Third Space will also have live bluegrass music from Wheels North from 4-6 p.m.
'90s NYE Drag Brunch @ Crafty Cow MKE
Another early entertainment option is the '90s NYE Drag Brunch that's taking place at Crafty Cow's Bay View location. Brunch kicks off at 11 a.m., with Miss Spencer (and DJ Fresh Luggage) performing at noon and 2 p.m. Reservations are not required, but recommended.
Trixie Mattel's Fancy Cocktail Hour @ This Is It
Speaking of drag-themed New Year's Eve events, international drag legend Trixie Mattel will host a "Fancy Cocktail Hour" at This Is It on December 31. From 6-9 p.m., you can mingle with Trixie at this fancy affair. Guests are asked to "dress to impress." There will be complementary Honeypie appetizers and specials on SERV Vodka cocktails. There's no cover and no ticket required. After the soiree is over, stick around for Newd TITS: A New Years Eve Extravaganza with Gluttoni Sinn and other up-and-coming local drag performers.
Nate Craig @ The Laughing Tap
Nate Craig has come quite a way since leaving the Badger State. Since moving to L.A., the Wisconsin-born comedian has become one of Bill Burr's go-to openers, he's amassed a wealth of TV credits, he's written for Ridiculousness and A Prairie Home Companion, and acted opposite Emma Stone and Jonah Hill on the Netflix's Maniac. Though his acting and writing résumés have grown a great deal through the years, Craig is still a stand-up comedian first and foremost. The comic will return to his native state for a total of four performances, including a New Year's Eve show that includes the comedy show, a champagne toast, and a countdown to 2023.
Steve Byrne @ Milwaukee Improv
After headlining Milwaukee Improv's opening weekend back in August 2021, Steve Byrne—a veteran comedian, actor, and former star of the TBS series Sullivan & Son—will close out the Brookfield club's first full year in business with a total of five shows December 29-31. The New Year's Eve performance begins at 7 p.m.
Horseshoes & Hand Grenades + Armchair Boogie, Ryan Necci And The Buffalo Gospel @ Turner Hall
Exactly a year after this show was supposed take place over at the Pabst Theater, the rescheduled New Years Eve concert featuring Horseshoes & Hand Grenades, Armchair Boogie, and Ryan Necci & The Buffalo Gospel will finally take the stage for a December 31 show at nearby Turner Hall. This one will be well worth the wait.
New Yams Eve with DJ Bizzon @ Company Brewing
Prolific Milwaukee musical mainstay DJ Bizzon will help bring the year to an end (and start another) in grand fashion with six hours of music that will span the decades during Company Brewing's "New Yams Eve." Company will also have beer and cocktail specials, late night food service, a taco truck on the heated patio, and more.
Harlem Globetrotters @ Fiserv Forum
The Harlem Globetrotters have been a New Year's Eve tradition in Milwaukee for years and years. That tradition will continue this year at the Fiserv Forum with games at 1 p.m. and 6 p.m. Will this be the Washington Generals' year?
Milwaukee Wave vs. Utica City FC @ UW-Milwaukee Panther Arena
In other sports-related New Year's news, the Milwaukee Wave will kick off the holiday with a 3:05 p.m. home game against Utica City FC. If you want to make good on this year's resolution to watch more indoor soccer, or if you're in search of some family-oriented fun in the afternoon, Milwaukee Wave has you covered with all the things mentioned in the image below.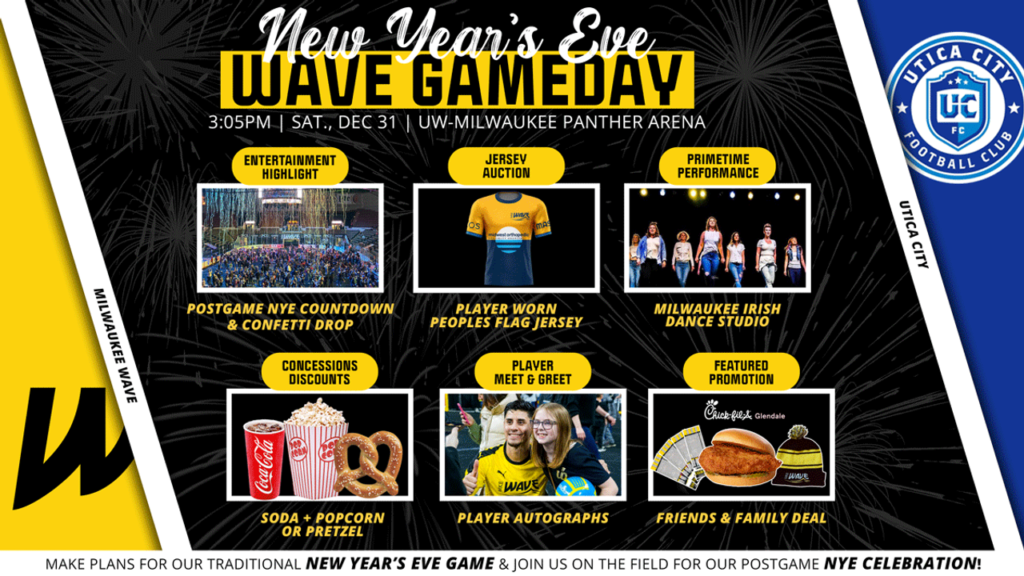 '90s NYE Party @ Boone & Crockett
It might be the end of 2022 (and the start of 2023), but it'll be a '90s-themed dance party inside Boone & Crockett this Saturday night. DJ Fuzzy Logic will provide the tunes. Boone's bartenders will be serving up '90s-themed cocktails. There will be a midnight ball drop on the big screen and a High Life toast when the clock strikes 12.
Stellar Spark New Year's Eve @ The Rave/Eagles Club
Stellar Spark returns to The Rave for another New Year's Eve affair. The 20th annual event will be headed up by Svdden Death, who will be joined by the likes of Space Laces, Vampa, SweetTooth, Nate Derus, Athenis, Finchie, DJ Reims, OpticBox, and more.
Family Friendly New Year's Eve @ Bounce Milwaukee
The fine folks at Bounce Milwaukee have a New Year's celebration that's fit for the whole family…and one that will allow you to be home by 9. Enjoy games and attractions, a buffet, and a champagne (and sparkling juice) toast at "midnight" (8 p.m.).
Bluey's Big Play @ Miller High Life Theatre
We're not quite sure what Bluey is, but we know it's HUGE with kids. And the upcoming two-day, five-show residency of Bluey's Big Play at Miller High Life Theatre only further proves it. Three of those shows will happen on December 31 at 10 a.m., 1 p.m., and 4 p.m.
New Year's Eve Comedy Shows @ ComedySportz
Dick Chudnow berthed the flagship ComedySportz location in 1984. Since then, the Milwaukee sketch and improv hub has become a full-blown franchise, now boasting locations in three countries and a list of now-famous players that's too long and impressive to even attempt writing here. Say goodbye to another year at CSz with two shows (8 p.m. "early bird" and a 10:30 match), all you can drink soda and champagne, free pre-show appetizers, and a bag of party favors for just $50. "Yes-and" your way into 2023.
New Year's Eve Bash @ Mad Planet
Mad Planet is already among the best places in Milwaukee to work up a sweat on the dance floor, but New Year's Eve brings the Riverwest club to another level. Experience a DJ Don Black-curated blend of hits from the '90s and this no-longer-so-young century from 9 p.m. until 4 a.m. The $20 cover includes a free champagne toast at midnight and late night pizza.
The Flood Brothers + Soulfoot Mombits @ Linneman's Riverwest Inn
Linneman's is hosting a New Year's Eve show featuring The Flood Brothers and Soulfoot Mombits. Beyond the live entertainment, the Riverwest venue will offer $3 "NYE Shots" and $5 pints of Lakefront Brewery beers. Doors are at 7:30, with the show running from 8:30 p.m. to 12:30 a.m. There's a $10 cover.
Tim Schweiger & The Middlemen + Cabin Essence @ Circle A Cafe
Elsewhere in Riverwest, a pair of local music mainstays—Tim Schweiger & The Middlemen and Cabin Essence—will play 2022 out on a strong note with a show at Circle A Cafe. Cabin Essence kicks things off at 8 p.m.
The Little Monsters: Tribute To Lady Gaga @ Shank Hall
If you love Lady Gaga, you're going to like what Shank Hall has in store for New Year's Eve. Little Monsters, a Gaga tribute act, will play two sets. Between performances, the venue will play a Lady Gaga playlist. There will be a champagne toast just before midnight. Cynthia Starich & Band will open.
The Get Down Funk And Soul New Year's Eve Party @ Enlightened Brewing Company
For the first time since New Year's Eve of 2019, The Get Down is back! The city's favorite dance party will treat Bay View's Enlightened Brewing Company to a night of Funk and Soul jams. Enlightened will have its tasty beers on hand and Sweet Smoke BBQ will be selling food. The fun kicks off at 9 p.m. and there's a $10 cover.
Cactus Club New Years Eve Show @ Cactus Club
The folks at Cactus Club are hosting a New Year's Eve banger. Better yet, it's a benefit for Carl Bogner.
NYE23GLOW: A New Year's Eve Glow Dance Party @ X-Ray Arcade
Subspace and Goth Barge have joined forces on a black light-heavy dance party. "NYE23GLOW" is a UV glow dance party. The 18+ event will start at 9 p.m. and feature an illuminating and invigorating blend of new wave, EBM, industrial, synth, goth, and darkwave music aplenty.
Follow The Call Of The Disco Ball @ Miramar Theatre
Follow the call of the disco ball to Miramar Theatre and dance your way into 2023 with house music by the likes of Thomas Xavier, Phox, Jet Blvck, Drty Drty, and more.