Caleb Westphal hasn't missed a Friday night fish fry since 2013. Follow along with his never-ending adventures here.
You've probably had similar thoughts. You've driven past a place that looked intriguing, and bookmarked it in your mind to check out at a later time. One weekend earlier this year, I took a circuitous route back to my hometown of Fond du Lac, stopping at Stardust Records in Thiensville on the way. My drive after the record shop took me past a corner bar on a country road, which looked like a hidden fish fry gem. This past Friday I decided to replicate the first part of the route, and stopped at that corner bar, the Landmark Inn (10634 W. Freistadt Rd., 262-242-9907).
On my way, I stopped at Stardust and dug for 45s until my stomach started grumbling. I continued toward my destination, turning west on Freistadt Road, right by Chuck's Place. After driving past barns and corn fields, a smile came upon my face as I saw cars lining the road ahead. I knew I had arrived.
Located on the north side of Freistadt Road, where it intersects with Granville Road, the building that is the Landmark Inn has stood for well over a century. The intersection is at the heart of Freistadt, a community in the western part of Mequon that was formed in October of 1839, when about 20 families emigrated there from Pomerania, after fleeing religious pressure from the King of Prussia. They fittingly called their new home Freistadt, which translates to "free city," or "free town," as they were now free to practice their religion as they chose. They built the first Lutheran church in Wisconsin the following year, and the congregation still resides on the same land, just south of the Landmark Inn.
One hundred and fifty years after Freistadt was founded, Jerry and Chris Block purchased the Landmark Inn. Jerry passed away in 2009, and his children have since continued to run the restaurant and tavern. Being that the business has no website or Facebook page, it may seem that the only way to find the place is to stumble upon it. But for those who live nearby, it appears the Landmark Inn is a very popular place.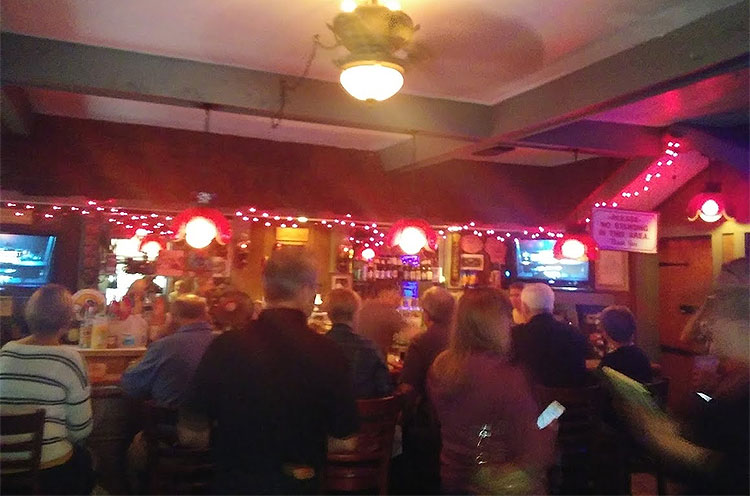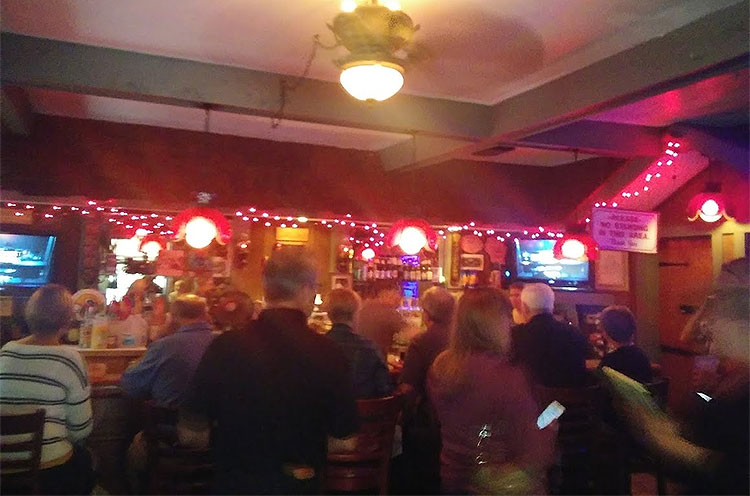 When I arrived, the dining area to the right was completely full, as was the bar, where some people were eating, while others were waiting for tables. I ordered an Old Fashioned, and told the bartender that I would be eating, but that I would just wait for a spot to open up at the bar. She told me to keep my eye out for a seat. As I was flying solo, and being that it was so packed, I figured it made more sense to eat at the bar—it would be quicker, and I wouldn't take up extra space for larger parties that wanted a table.
The place is small, but cozy. A shingled roof accents the inside perimeter of the barroom along the ceiling and above the dark wood walls, while carpeting covers the floors. Red lamps hang over the bar. The room was dimly lit, and many people were casually standing around holding drinks, waiting for their table to be called. No one seemed to be in any type of hurry. The clientele trended older, mainly being folks around retirement age, although this was not exclusively the case. The familial nature of the business seemed to extend to those who were dining. Many of the waitstaff and customers knew each other's names; customers were in conversation with other customers they had never met.
I awkwardly shuffled around sipping my Old Fashioned, listening in on conversations, and making a little bit of small talk. I heard some people talking about how it was the best fish fry in the area. Someone responded by saying they had never had a bad fish fry there. Someone was told it was going to be a little bit of a wait, and they said they weren't in any rush. I was pleasantly surprised to learn that one of the bartenders had been keeping an eye out for a spot to open up for me as well, after she alerted me that she thought a seat was about to be available. Sure enough, a seat soon opened up.
The fish options at the Landmark Inn include beer battered haddock ($10.50) and beer battered or breaded perch ($13.50). Potato options include homemade potato pancakes, homemade German potato salad, or french fries. I ordered the breaded perch and pancakes, as well as a cup of clam chowder ($3.25).
The clam chowder came out piping hot in a coffee mug, and was topped with gourmet croutons. The chowder had a lighter texture and a suitable taste. The potato pancakes were reasonably thick, with a soft inside where pieces of diced onion were evident, although the onion did not overpower their mild flavor. The coleslaw and buttered marble rye were a solid reflection of their type, but nothing beyond the ordinary.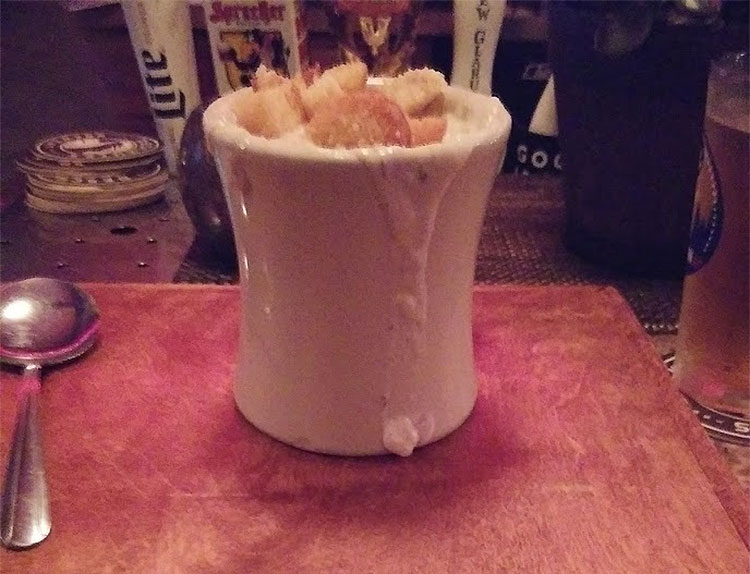 I was given four pieces of decent tasting perch. It had perfect breading, the texture of which all breaded perch should have. The tartar was a little too tangy for my liking, and I didn't particularly think it paired that well with the perch, although it's possible it would have went better with the haddock. The fish was good enough, though, that I almost thought it was better without the tartar than with it.
The meal ended with a bonus treat: a piece of pineapple had been hiding under the rye bread. "Is this dessert?" I asked the guy sitting next to me. This was some good pineapple, too—not chewy, tough, or stringy. Who says a Friday night fish fry can't be healthy?
Takeaways: familial atmosphere and friendly staff; you are probably going to have to wait awhile, so grab a cocktail and make some some talk; reasonably priced; the clam chowder comes in a coffee mug and is topped with croutons; homemade pancakes and German potato salad; excellent breading on perch; you get a piece of pineapple for dessert; it's really close to another inn; don't confuse it with the Landmark 1850 Inn.