Caleb Westphal hasn't missed a Friday fish fry since 2013. Follow along with his never-ending adventures here.
It was just after midnight last Friday, but I was not thinking about going to bed. Instead, I was thinking about where I would get fish later in the day. My excitement rose when I found a place called Walker's Maple Grove, which has been open since 1958. But, after doing some more research, I found out that they had just closed. What were the chances of such an unfortunate occurrence? Sixty years in business and they close right when I'm about to show up for fish. I was deflated. How would I find a place with the same historic nature as this, or the place I was at the previous week? I decided to tuck myself in, hoping that my fish fry prayers would be answered overnight.
And then in the morning, like a walleye pulling a slip bobber into the deep when you least expect it, my prayers were indeed answered. I found out that the oldest tavern in Milwaukee serves a Friday fish fry. Located near the airport, the Landmark 1850 Inn (5905 S. Howell Ave., 414-769-1850) was, you guessed it, built in 1850. It is an early Cream City brick structure designed in the Italianate style. This style was typical of shops and taverns in Milwaukee built during the following few decades. At the time, though, the building was not considered to be in Milwaukee, but in New Coeln, in the Town of Lake (the Town of Lake was absorbed into Milwaukee in 1954). It became the main gathering place in New Coeln, an area inhabited by German settlers who came to farm, and who had started arriving from Cologne, Germany, in the 1840s. Early on, a grocery store and the New Coeln Post Office were next door. At various times the floor upstairs was used both as a place for travelers to spend the night, as well as for dancing. Besides being frequented by local farmers, the building became a stagecoach stop for those traveling between Racine County and Milwaukee.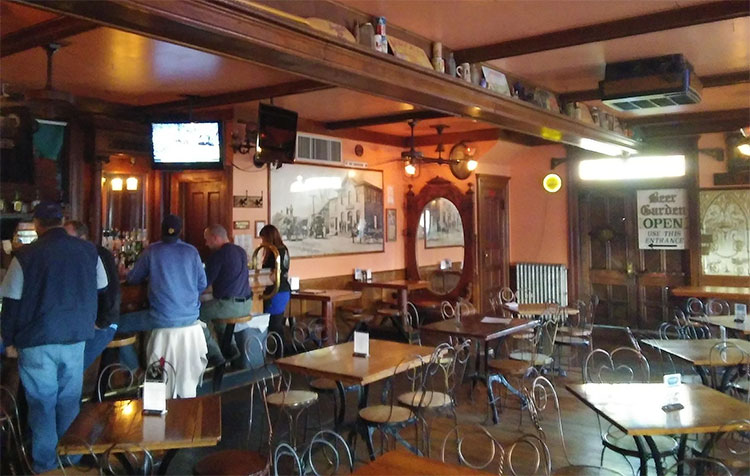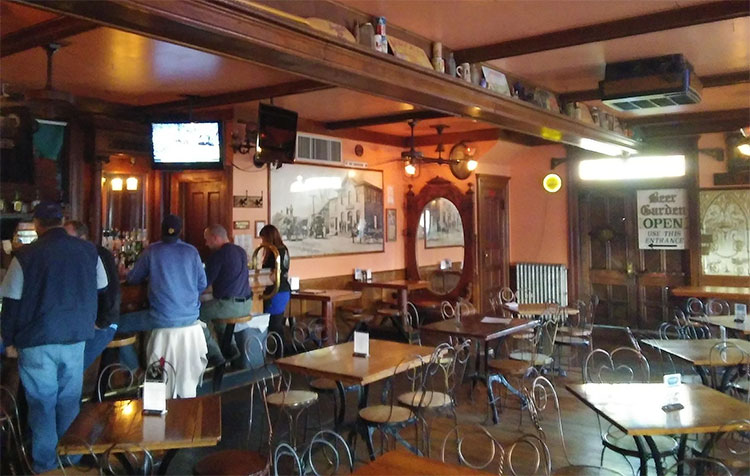 As you can imagine, it has gone by many names over such a lengthy period of existence. Some of its early names were the New Coeln House, New Coeln Housedance Hall, Duester's Saloon, and the Halfway House Tavern and Inn. In the early twentieth century, it was Klein's Tavern, where beer was a nickel, and lunches of cold cuts and sausage were free (I was not able to find any evidence of free Friday night fish frys). There was a scale in front of the tavern where farmers weighed their crops. In the 1970s it was On the Rocks, and in 1983, Joe Halser bought it, and opened it as the Landmark 1850 Inn the following year. Besides being closed between 2007 and 2011, it has been open as such since. It was added to the National Register of Historic Places in 1988.
Two rooms make up the Landmark 1850 Inn: the first has a bar with an open dining area, and the second also has a bar, and a few dining spots along the wall. This room is also adjacent to the kitchen. Most of the dining area was open, but most of the bar space was full, and I took a seat at the end of the bar in the back room. When looking around, the lines were blurred between what had been part of the building for a long time, what was original, and what was newer to the structure and made to look old. In short, a superb job was done in creating the atmosphere of a time long since gone. Tin covers the ceiling of the second room, where there also is a potbelly stove. An old General Electric Monitor Top refrigerator and a few antique cash registers sit behind the bar. Various old pictures and other antiques are placed about. I was told some of the stained glass as well as the staircase to the second level had once been in a mansion.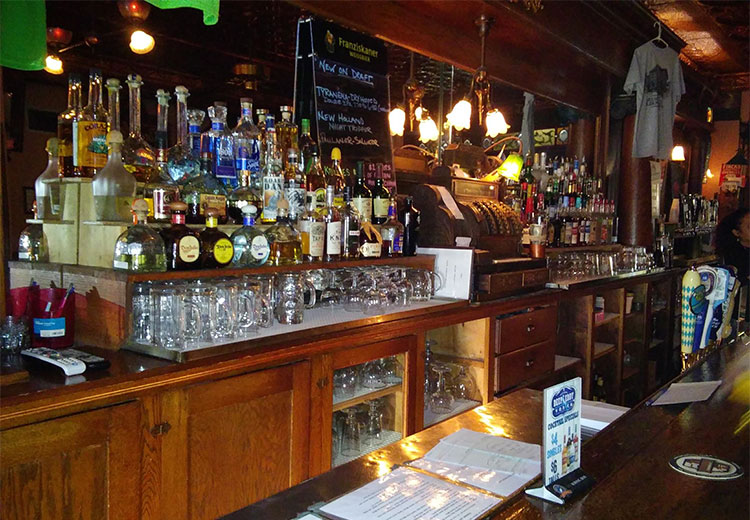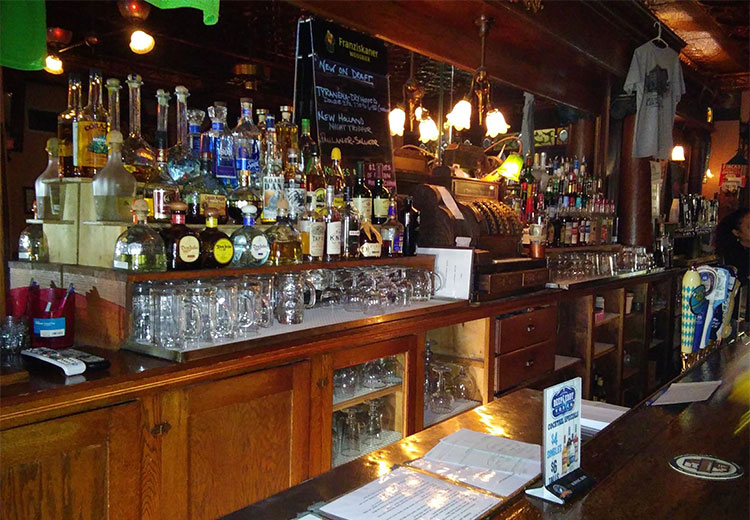 Fish fry options include fried or baked Alaskan cod, fried yellow lake perch, and fried walleye. I went with the fried cod, but after seeing a plate of large walleye fillets go past a few minutes later, I almost regretted not choosing walleye, as it looked amazing. The fry came with exemplary potato pancakes. They were thin and mild in flavor, and had an excellent texture that was crispy and nonuniform on the exterior, and soft on the interior. The rye bread was pretty standard, as was the coleslaw, which was creamy and quite mild, except for a little bit of a punch at the end. The pieces of cod, of which there were three, were very thick, but smaller in length, almost being cube-like. Nonetheless, shape didn't affect the taste, and with their thin breading and light seasoning they were considerably enjoyable. They were paired with a sweet tartar that was heavy on pickle relish.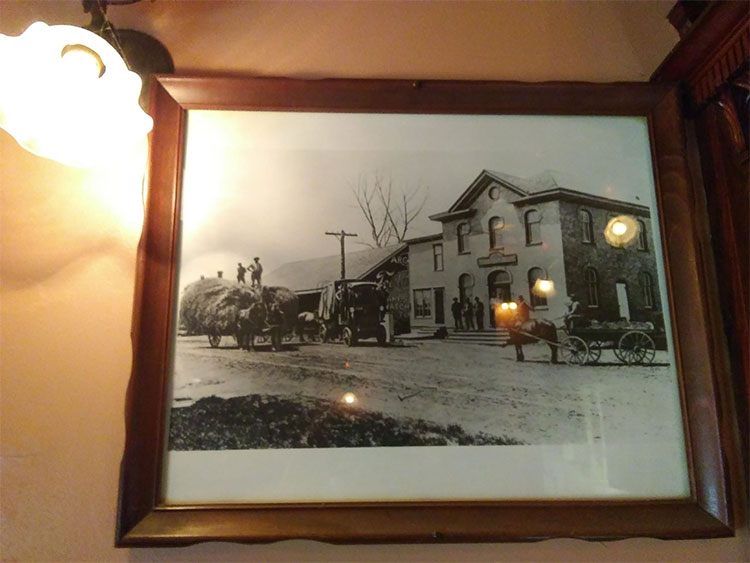 As I was finishing up, the guy next to me asked how my fry was, to which I replied, "Pretty good, a little better than average." He wanted to know what "better than average" meant, and thought that was a funny answer, but I really didn't feel like going into the details of how this one fried up compared to the last 220 weeks, so I sort of left my initial answer hanging out there. I'll say the same thing here. The fish fry at the Landmark 1850 Inn is better than average, and from the look of the walleye, it probably would have surpassed the cod. But, beyond the fish fry, I think this is a place that should be visited at least once anyway. If you find yourself in the area on another night of the week, stop in for a beer and have a drink in the city's oldest tavern.
Takeaways: You can get a fish fry in Milwaukee's oldest tavern, which is also on the National Register of Historic Places; pretty awesome potato pancakes; decent uniquely shaped fish; standard slaw and rye bread; large selection of beer on tap; they don't have clam chowder; apparently Hulk Hogan came here once; the guy next to me kept telling me he "came for the scenery" and I couldn't tell if he was talking about the cool architecture and ornamentation of the place, or if he was trying to make some lame joke about how the place was located next door to a strip club.