In 2021, WWE belonged to Bianca Belair. After winning the company's annual Royal Rumble match she went on to challenge Sasha Banks for the SmackDown Women's Championship at WrestleMania. It was the first time a world title match between two Black wrestlers had taken place at the event and the first time two Black women would be in the event. The match stole the weekend and Belair, the winner of the match, skyrocketed into the upper levels of WWE superstardom. Her year went on to be filled with more big moments which only further cemented her place as one of the company's biggest stars.
Ahead of WWE Raw at Fiserv Forum, Milwaukee Record spoke with Bianca Belair about her wild 2021 in WWE, Megan Thee Stallion, mental health, and Christmas in WWE.
Milwaukee Record: The last time WWE was in Milwaukee, you drove to Chicago on the day of the show to meet Megan Thee Stallion and then came back. I'm just wondering if you have any adventures planned for this Monday?
Bianca Belair: [laughs] I don't think I have any adventures planned for this Monday, but I will say that weekend that was spur of the moment—happened almost the night before. So we'll see if something pops up this weekend that would be great.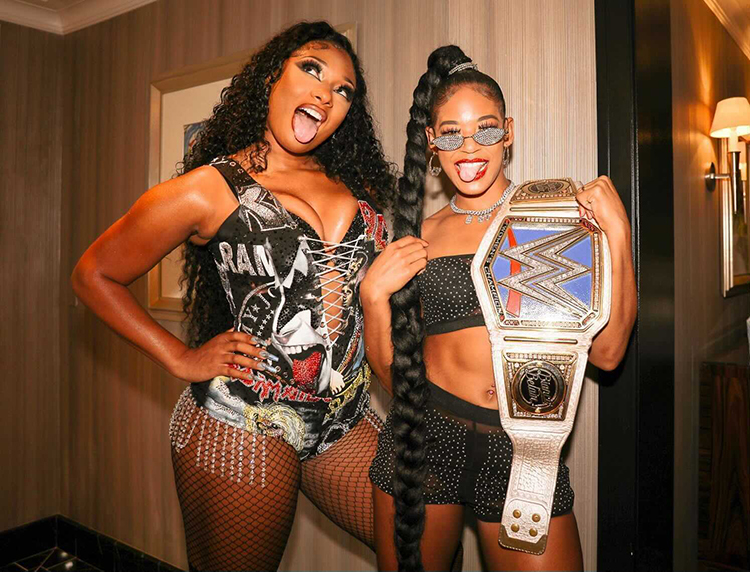 MR: Kind of on that theme, you have some really great theme music that really fits you, but if you had to switch it up and you had your choice, would you go with one of Megan's songs, or some J. Cole? Something else?
BB: I really love my theme music. I think it fits me. I think that whenever my theme music plays, you can't help but bounce around and move around, and I think it's really just contagious. You know, with the crowd and the crowd feels it. You see the crowd bopping around and their hands bouncing around. So, I don't think I would change my theme music ever. I'm a big fan of Meg's music. I'm a big fan of J. Cole's music. He even has a song called "K.O.D." that's the same name as my finisher: KOD, the Kiss of Death, so I think that might tie in very well in the future, but I really do love my theme music.
MR: It is great. In addition to great music, you also have great ring gear ,which I recently learned that you make all yourself. Are the other superstars hitting you up to make theirs as well because it's so good?
BB: Yeah, I make my own ring gear. I take a lot of pride in making my own gear. It's just an amazing feeling to go out there and stand in the ring and have these big, amazing moments in the ring gear that I made. Or I look at a video game and see that it's the gear that I made or an action figure. I try to make gear where I only wear it one time for big, major events so every single gear has a significance to it.
But yeah, sometimes maybe we're in the locker room and a girl might have a tear in her gear and I'm in there sewing the gear up, helping her with the tear. My husband, I do some of his stuff every now and then, but for the most part, I'm so busy with my stuff. I kind of put myself in a hole with building a reputation of every time someone sees me I kind of have a different gear on. So I'm always busy trying to make new gear so I can have new gear for Raw.
MR: Well, that's awesome. Your first appearance here in Milwaukee was actually right across the street at Turner Hall when you were in NXT. That place doesn't seat quite as many people, but now you're performing at the home of the NBA Champion Milwaukee Bucks on live TV. Was the shift to the main roster as dramatic as a shift between those two arenas?
BB: I would say for me when I first got drafted to the main roster, everything actually shut down. I got called to Raw, the Raw after WrestleMania, that's when COVID happened and we didn't have any fans. So I feel like it was actually a bit shocking for me to go from NXT to, you know, you're supposed to debut at Raw in front of a huge crowd, everyone knows that it's a very big difference. It's a wider audience, it's a larger audience, you're on the actual big stage so to have that expectation to then go to Raw and debut with no fans, it was a little shocking for me. You know, for us to go back on the road and actually have our fans back, it's been amazing. For me, it wasn't really overwhelming. I was just super excited for it and I embraced it all. It's a very big difference.
I think the biggest difference for me is just knowing that in my mind I feel like everything starts over. I did some amazing things at NXT, but on Raw and SmackDown there is a larger audience and you're reintroducing yourself. The crowd is bigger, the crowd is larger, it's more energetic, and it's more energy. It's been a great ride so far and I'm just embracing everything that's coming along the way.
MR: Well, you are one of the biggest success stories from NXT, from the WWE Performance Center. There's a lot of great coaches down there, is there anyone in particular or fellow wrestler who helped you out and helped you become who you are today?
BB: Well for me, my coach Sara Amato at NXT. She was the one person, she's been with me from the very, very beginning. She was my first coach when I first walked into the Performance Center. She was my coach all the way until I left the Performance Center. I mean, she taught me how to do my first headlock, my first wristlock. She taught me so many things inside and outside the ring, but there's so many amazing coaches in the Performance Center that you can just pick their brain.
Norman Smiley, I spent so much time with him in the ring. Those two are definitely the two that I spent a whole lot of time with and they taught me a whole lot. The Performance Center is just a really good resource to pull from and it's just, I'm very thankful for the Performance Center and my coaches because I really think they contributed the most to my success.
And also my husband, Montez Ford, he's one half of the Street Profits. I met him when I was in NXT and when I first came in I had never really watched WWE a whole lot and didn't know much about it, and my husband had been watching it since he was a baby so he really helped me play catch-up and helped me study the history of it. Helped me, you know, just giving me advice on the history of it and giving me advice on who I should watch and just learning about the business in general.
MR: Plus, you got to meet him there so that was also a bonus.
BB: Definitely. I found a husband in WWE.
MR: You've had a great year. 2021, you're the Royal Rumble winner, you had an historic main event with Sasha Banks and won the championship at WrestleMania, then you won an ESPY award for that, you placed #1 in the PWI Women's 150, got the key to the city in your hometown, and then you became the first person ever to overcome a 4-1 deficit at Survivor Series. Can it really get any better than 2021 for you?
BB: You know, whenever I think about 2021 and I think about 2022 all I can say is: 2022, keep that same energy. 2021 was an amazing year, you know. So amazing that even through my downfalls in 2021, it's just that I've had so many successes that my momentum has been able to just keep going and it's been amazing. I just want to continue to carry that momentum into 2022.
What I can say, I think that one thing that can make 2022 really just top 2021, not even top 2021, but just make it all just come full circle is to eventually get back my title from Becky Lynch. So that's really what I'm looking forward to in 2022.
MR: Well, we're rooting for you. Something else you did this year which I think is just as important or maybe even more important as all those accomplishments was you really opened up about your mental health on the WWE Chronicle special. The end of the year can be especially hard in that area. How have you dealt with this time of the year in the past or what would you tell someone who may be struggling?
BB: There's just so much to say when it comes to mental health and it's just so many different types of mental health that people can struggle with. I know especially around the holidays, people fall victim to it a little bit. I hate to use the word fall victim to it, but they just kinda fall into depression around the holidays a little bit. When, you know, it's just hard times financially or with family. It's so hard to just say, "just try to be happy or try to smile." I feel like that's a hard thing to tell someone.
All I can say is just try to stay positive, push through, try to lean on the people that you have around you and that love you, and lean on those people. Because that's really what I do, I just really lean on the people that love me and love on me. I really just rely on them and depend on them. And you have to also just find out a balance, find a balance for yourself and find out your triggers because dealing with mental health and depression or anxiety, it's a marathon. It's not something that you can take care of in one day, a week, or a year. It's a marathon and I even still struggle with it from time to time. So, I just don't want anyone to get discouraged if they feel like they're going through it and it's just taking them a while to navigate through it.
MR: Well, thank you for sharing that. One thing you said in there about relying on the people that are close to you, I agree with that. That's important. Which made me think, I'm sure you have a lot of friends backstage in WWE. One thing I've always wondered is, how does Christmas work in WWE? Do you have a big shopping list of fellow wrestlers or is it a "see you when I get back" kind of thing?
BB: Um. [laughs] Well, Christmas in WWE, we actually have Christmas at home and then we're right back on the road the next day on the 26th we'll be at Madison Square Garden. So, you know, we love Christmas in WWE. We have Christmas spirit. It's an amazing time, it's very festive being in WWE, and especially with any time we have shows around Christmastime. It's really about the fandom. We want to give them a Christmas show and just give them a Christmas present and celebrate Christmas together. So, it's always an exciting time in WWE for Christmas.
MR: One last thing: your hair is your trademark, it's definitely something that sets you apart and WWE recently released an E.S.T ponytail clip.
BB: [laughs] Yeah.
MR: Hypothetically speaking, can this clip be used for self defense?
BB: Well, I'm really excited about the braid that WWE Shop is selling. I will say the hair whip is not included with the purchase of the braid. It's only specifically to be worn for just fashion and just to be apart, just to be in the look of the EST. So, hair whip not included, at all.
So I'm really excited about it. I can't wait to walk out in my entrance and see everyone with a braid in their hair or even some people with a braid clipped to a hat if they have to. I'm really excited about it, I think it's a really cool item. I don't know if WWE has ever sold anything like that before, but all I can say is you can go get braided up at the WWE Shop. So go check it out, it's like $19.99 right now.
MR: Well, thank you so much. I'm sure you have a lot of great fans and on Monday you'll be seeing them.
BB: Thank you, I'm so excited.